When it comes to football, particularly Super Bowl 2019, Google Assistant has a favorite this year, while Alexa really isn't very interested. Alexa, as it turns out, is actually a baseball fan tried and true, she'll tell you, and whether it's the Los Angeles Rams or the New England Patriots that take home the Vince Lombardi trophy, she may not care.
"Baseball is my favorite," Alexa chirped out when asked if she even liked football. "I think the statistical analysis is fascinating and nothing is more exciting than a home run flying out of the ballpark."
Google Assistant, however, took a look at the odds this year, and centered right in on the team less likely to bring home the glory.

"The Patriots are favored to win," she noted correctly. "I can't help but root for the underdog. So I'll be cheering for the Rams."
As much as their voices may sound like the friendliest second grade teacher on the planet, digital assistants aren't human. We get that, and we also get that very real humans are involved in how these artificially intelligent systems respond to our queries. Which makes it extremely fun, during sporting events and elections, to hear how these disembodied voices — or their makers — may be leaning.
We did an extremely unscientific survey of four assistants: Siri, Google Assistant, Alexa and a new kid on the block, Portal, to query which team may have stolen their hearts, or at least perhaps a bet.
Siri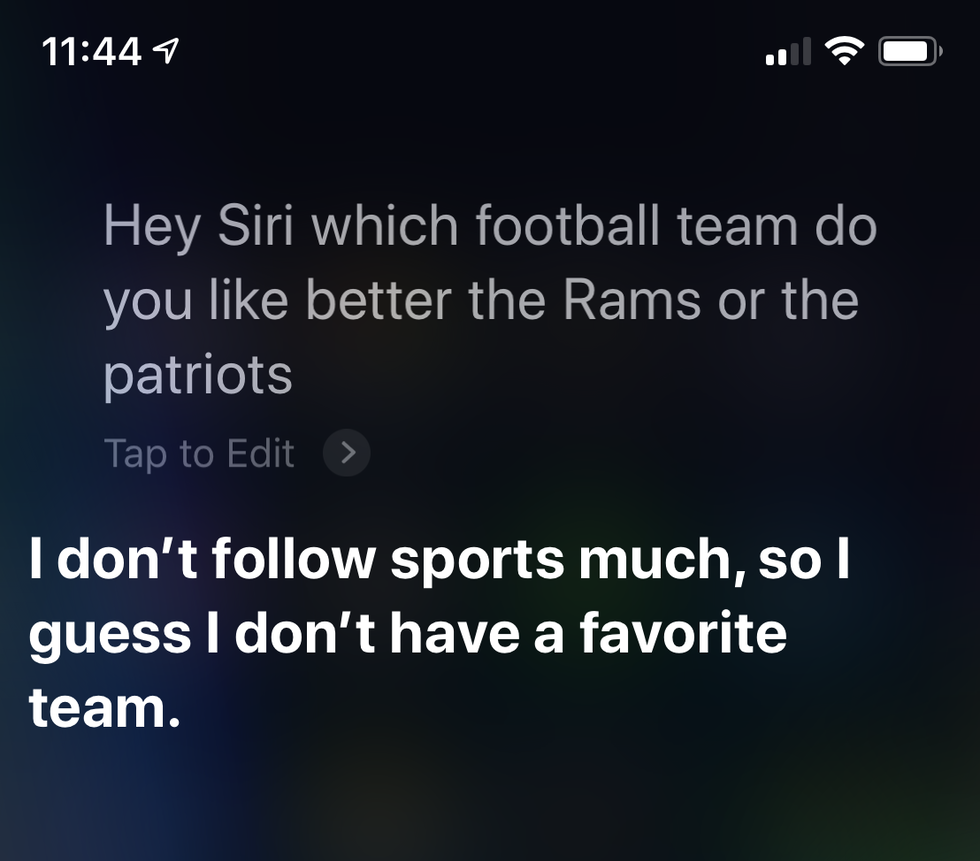 Siri did not seem to lean towards one team or another for Super Bowl 2019
GearBrain
The most uninspired of the four, Siri almost didn't care when asked which team she liked better between the Los Angeles Rams and the New England Patriots. She responded as if we'd torn her from the last five minutes of "CSI," and she maybe actually didn't hear the question.
"I like the Rams," she said dutifully. "But I like the Patriots too. I don't know."
Not exciting, nor not even helpful. What we can glean here is that it's likely Siri caught some games in the background of a bar, or has scrolled past a few headlines in the sports section of Apple's News app. But she's not going to be someone who is cooking up a batch of chili, and laying in a keg, in preparation for Sunday's big event.
Alexa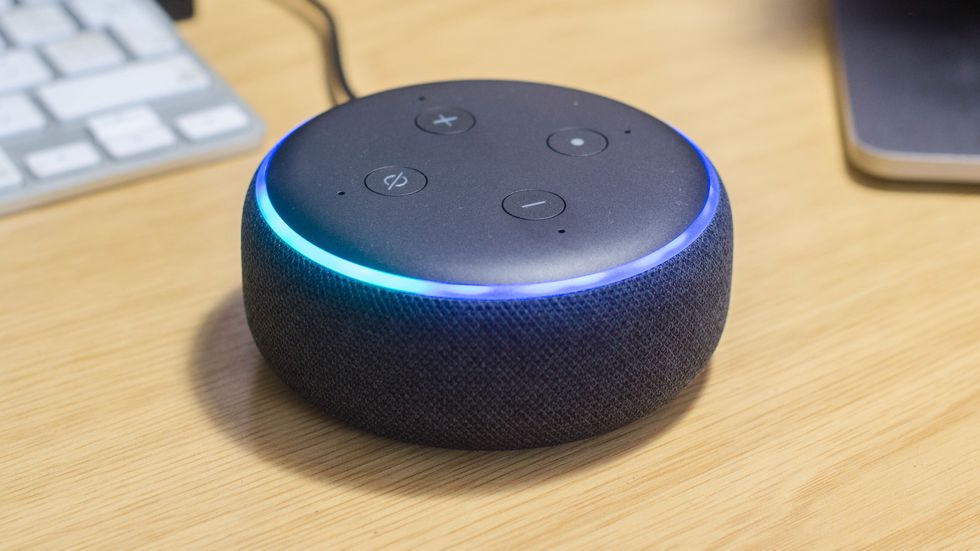 Alexa didn't have an opinion on which team should win the Super Bowl
GearBrain
At first Alexa's responses were so tepid, we wondered if she knew the Super Bowl was even happening at all. Questions such as, "Which football team do you like better, the Rams or the Patriots," resulted in her telling us she didn't have an opinion on that.
Something must have clicked in, because when we asked if she would be watching the game, she started to tell us the details of which teams were playing, and at which stadium.
Alexa also gave the Patriots the same odds as Siri, Apple's digital assistant, both of which put New England ahead of Los Angeles by 2.5 points.
Portal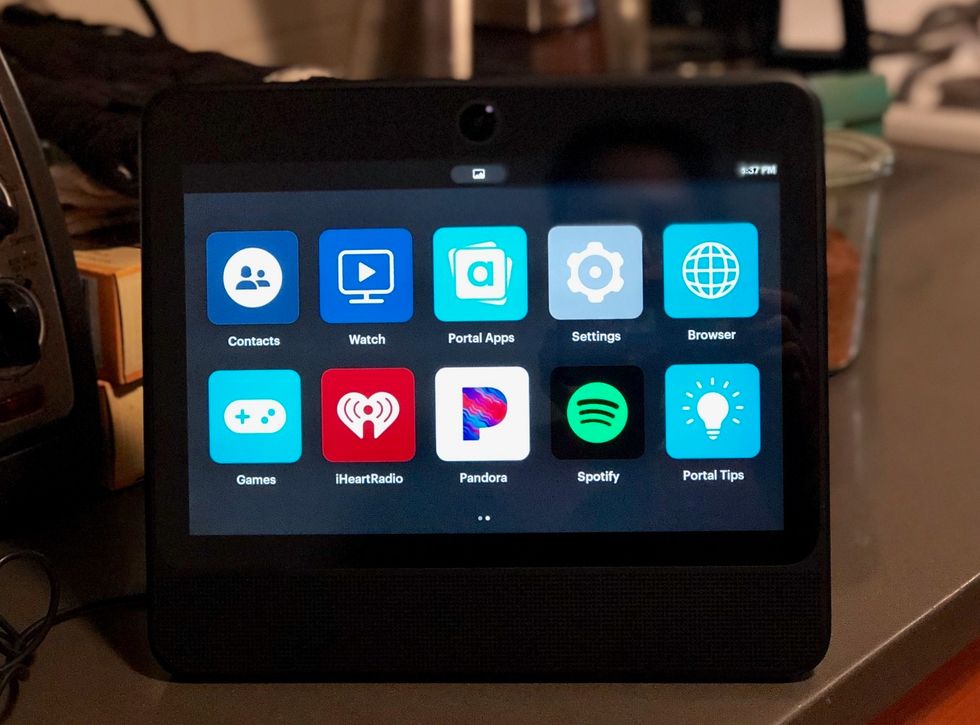 Portal isn't really setup to answer specific questions outside its interface
GearBrain
Facebook's new device Portal technically has a digital assistant baked inside. But it's abilities are extremely limited. While Portal certainly understood what we spoke to it, it never responded back aloud. Further, it just couldn't handle anything outside it's basic scripts.
Case in point: when asked who is favored to win the Super Bowl. Portal drew up several cards listing what we could ask, such as adding a contact to a call. Thank you — we like the clean interface — but this was a big Super Bowl fail. Next.
Google Assistant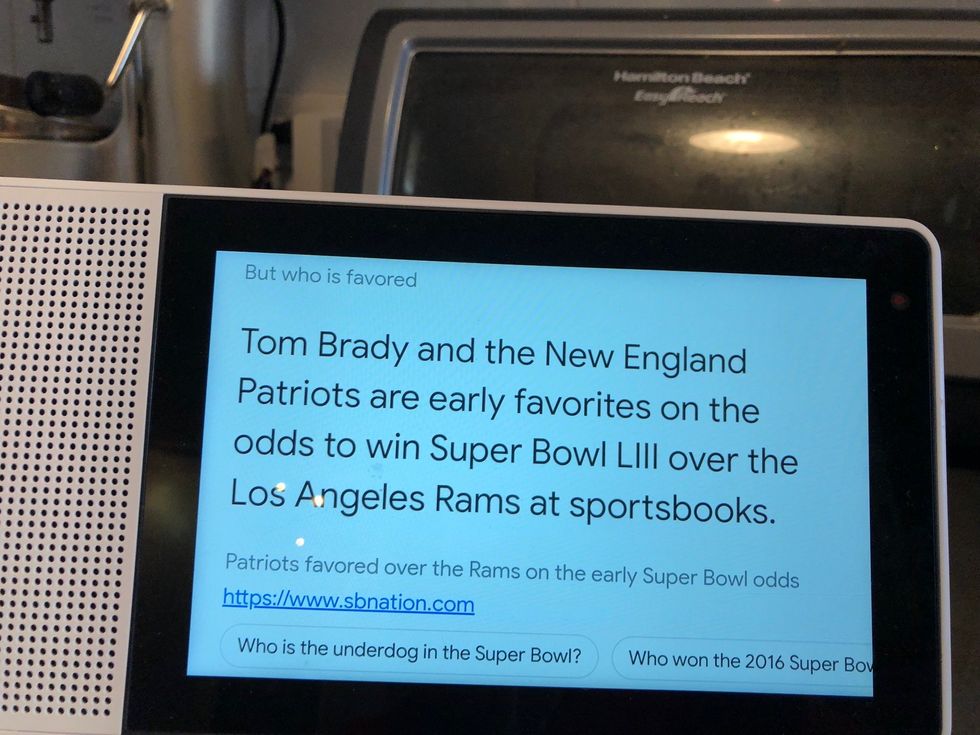 Google Assistant knew clearly who was favored, and who was not, for Super Bowl 2019
GearBrain
Finally, we turned to Google Assistant, the voice AI with the worst name, and yet the best digital assistant to chat with on a cold winter day. (No comments please.)
We started by tossing the easy questions, such as asking which team she preferred. We got a nice response with some sound effects even thrown in too.
"Football is exciting," Google Assistant responded, with the sound of cheering heard in the background. "I always like cheering for the underdog."
Aha. Now we were getting somewhere. We pressed further, asking if Google Assistant even enjoyed the sport. "I love football," she said.
Quickly, Google Assistant leapt into Continuous Conversation mode, its ability to continue a conversation you've started, and know the context of what you're asking. Questions that followed from me didn't need the 'Super Bowl' phrase, for example.
For example, I asked: "Who is favored at the moment?" And Google Assistant replied slyly, "I'm rooting for whoever you're rooting for." Well that's not fun. So we asked directly, "Who do you want to win?" And that's when we finally got the truth: that Google Assistant may understand which team has the odds in its favor, even as she'll be "cheering for the Rams."
Check out The GearBrain, our smart home compatibility checker to see the other compatible products that work with Google Home and Home Mini as welll as Amazon Alexa enabled devices.
Unboxing in 10 Seconds - Lenovo Smart Display with Google Assistant www.youtube.com