Like GearBrain on Facebook
The Google Assistant can now be used to assign reminders to members of your family. By speaking to any Assistant-enabled device, you can have Google remind to buy milk, or take out the trash, for example.
The reminder system also takes the recipient's location into account, so you can ask the Assistant to remind your partner to pick up something when they leave work, or when they arrive at the grocery store. Time-based reminders can also be set instead.
Read More:
The feature will be available over the next few weeks, Google says, and is initially coming to all Assistant devices in the U.S., U.K. and Australia.
Assistant-equipped devices include smartphones with the Google Assistant, as well as smart speakers like the Google Home and Home Mini, and smart displays like the Google Nest Hub. It will also work on the Nest Hub Max when that launches later in the fall.
To assign a reminder you'll first need to make sure the person you are reminding is a member of your Google family group (which is limited to a maximum of eight people), or that their Google account is linked to the Assistant device you are talking to, and that both you and they are Voice Matched to that device.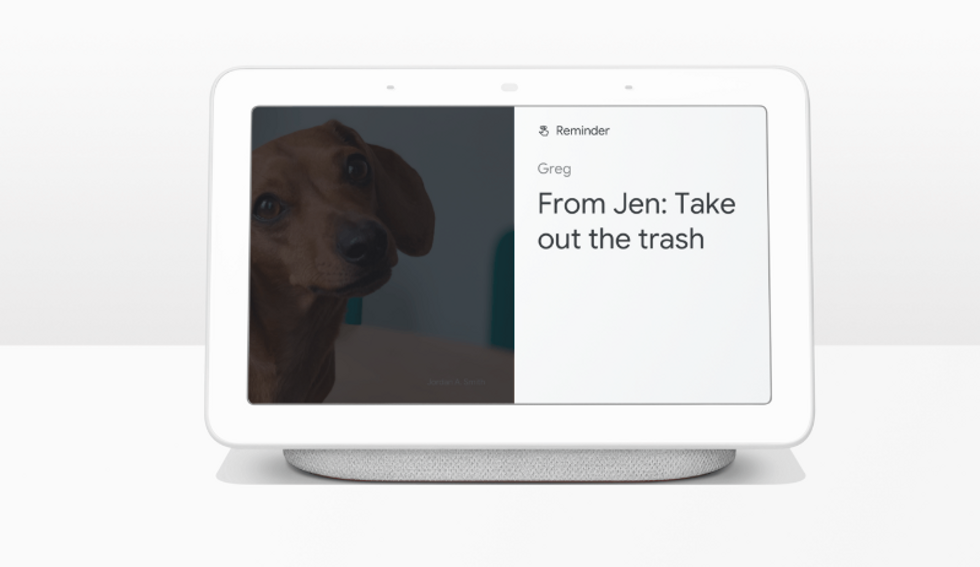 Reminders are issued on all Assistant-equipped devicesGoogle
Essentially, this works when a family or group of roommates are all linked up to the same device, ideally a Google Home smart speaker of Nest Hub smart display.

Once setup, you can assign a reminder to a member of the group by saying: "Hey Google, remind Ben to take the trash out at 6pm today." Ben will first get a notification to his phone and Google Home device to say the reminder has been set, then will be reminded again at 6pm.
You can also set location-based reminders. For example, if you want to remind your partner to pick up milk on their way home, but don't know exactly what time they'll be at the store, you can say: "Hey Google, remind Jessica to pick up milk when she gets to [store name]."
The person will get a notification right away to say the reminder has been set up, then again when they are at the store, as noted by the GPS location of their smartphone.
If the reminder is for something which is recurring, the Assistant can cater for that too. Just say: "Remind Ben to take out the trash every Wednesday at 7pm" and the reminder will be issued at that time every Wednesday until you ask the Google Assistant to switch it off.
Check out The GearBrain, our smart home compatibility checker to see the other compatible products that work with Google Assistant devices.
Like GearBrain on Facebook