Google has announced a new smart display called the Nest Hub Max. A larger version of the Google Home Hub, the new model also features a camera which can be used to video chat, act as an indoor security camera, and recognize your face.
The smart display was announced on stage at Google's I/O developer event in Mountain View, California.
Read More:
Google has rebranded its Home division, changing the name of Home smart speakers and Home Hub smart displays. Instead, these now live under the company's Nest brand, which already included smart home thermostats, security cameras, smoke sensors and an alarm system.
The new Nest Hub Max features the same touchscreen interface as the smaller Home Hub, but adds better audio with larger speakers and a rear-facing subwoofer. Google is pitching the device as the perfect kitchen television, as it can show YouTube videos, but also display a live video feed from select security cameras and smart video doorbells.
Aside from its scale, the biggest difference with the new model is its front-facing camera. This can be used to video chat using Google Duo, but also acts as an indoor Nest Cam security camera when you are away from home. You can view a live video stream from the camera via your smartphone, and be alerted when motion is detected.
Finally, and perhaps most interestingly, Google is giving the Nest Hub Max a new feature called Face Match, which recognizes your face (if you allow it to and set everything up). With this knowledge, the device will only display information relevant to whoever is looking at it. For example, if you look at the screen when eating breakfast, it will show your calendar events for the day ahead, and information about your commute to work.
If your partner then looks at the device after you have moved out of shot, they will be shown their calendar events and other information relevant to them. This system also means the Google Assistant will make suggestions tailored for you when you ask for music or YouTube recommendations.
Google says Face Match works entirely on the device itself, with no cloud computing taking place. This means any images taken of your face to calibrate the system are saved locally, and not uploaded to Google's servers. It sounds like a similar system to Apple's Face ID on the iPhone, but using a regular camera instead of a time-of-flight sensor.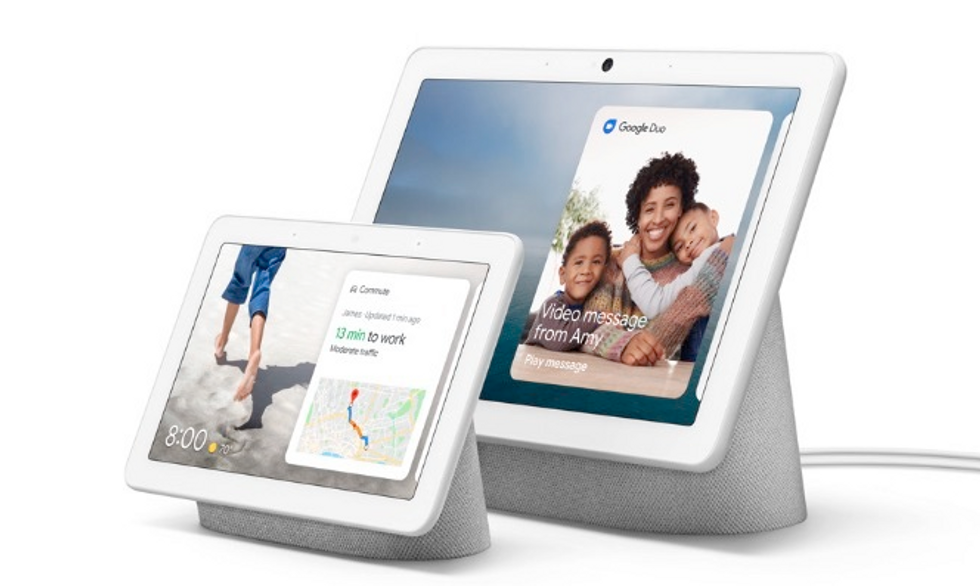 Nest Hub and the new, larger Nest Hub MaxGoogle
Further cementing the Nest Hub Max's privacy credentials is how the mute switch on the back of the device cuts the power of its camera and microphones, so when they are muted they cannot function at all, Google says.

Finally, the camera can be interacted with via hand gestures. For now Google demonstrated just one of these, where a raised hand will instantly pause anything playing on the Nest Hub Max - for when your phone rings, for example.
As with the smaller Hub, the new model has a relatively low resolution at just 1200 x 800, and will display photographs from your Google account when not in use (or can show a set of images curated by Google instead, if you prefer). Although a simple use case, we actually really enjoy using our Home Hub as a digital photo frame and a quick way to glance at the current time and weather, which is always displayed in standby.
The Nest Hub Max goes on sale later this summer, Google says, and is priced at $229. The Nest Hub (previously known as the Google Home Hub) has today received a $20 price cut to $129. The Hub also gets nine new languages this week, and is now available in 12 more countries.
Check out The GearBrain, our smart home compatibility checker to see the other compatible products that work with Google Home and Home Mini.
What you need to know about Google Assistant Devices www.youtube.com