Like GearBrain on Facebook
Gone are the days when booking a holiday meant a trip to the travel agents and returning home with a mountain of brochures to search through.
Now, voice assistants like Amazon Alexa and the Google Assistant can do a lot of the work for you. With just a few voice commands, you can use both assistants to search for flights, trains and hotels, check into your flight, and keep an eye on its status.
Read More
Alexa does this by tapping into various skills offered by travel agents, trains companies and airlines, while the Google Assistant relies on baked-in technology to serve up flight information and check you in by looking up the booking confirmation in your mail inbox.
How to search for and check into flights with Google Assistant
As it doesn't rely on the availability and quality of third-party skills, the Google Assistant is our preferred choice when it comes to holiday planning by voice.
It's quick and simple to ask the assistant about flight information and prices, and you can be as vague or precise as you like. For example, if you know exactly what you want, say: "Hey Google, how much are direct, economy flights from British Airways to New York in October?".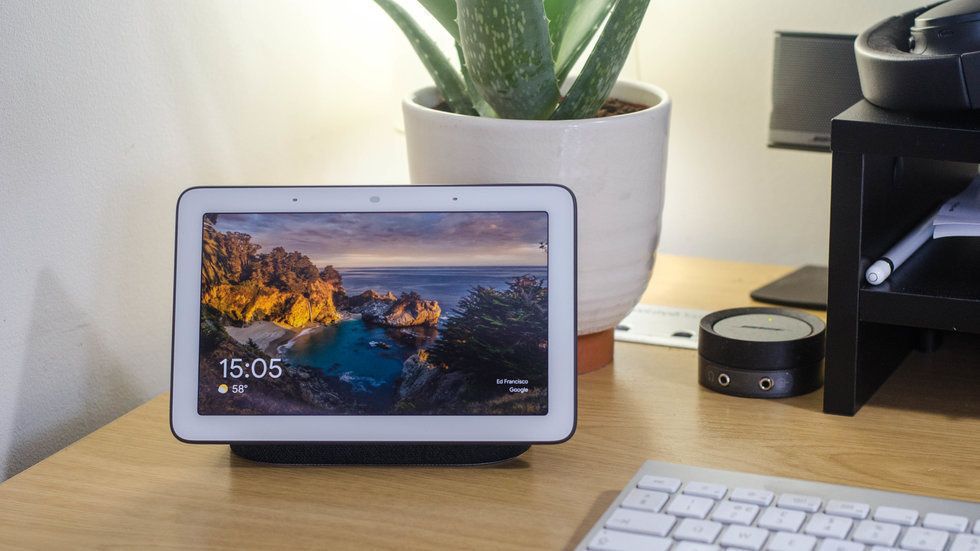 The Home Hub shows flight information on its display, as well as speaking out loudGearBrain
Because the Assistant knows your location, it will automatically look for flights departing from local airports. Another smart feature is how, once it has told you the price for your specific request, the Assistant will ask if you want it to email you whenever the price of that flight changes.

Also useful is how the Assistant remembers what flight you were asking about, so you can say: "What about business class?" and it'll tell you the prices for the last route you asked the Assistant to look up.
Using the Google Home Hub (or new Nest Hub Max) shows flight options on the screen, complete with date, time, cabin class, airline and price, in a simple and digestible way.
What the Assistant cannot do, is book a flight for you. This is too complex for now, but with the abilities of Google Duplex, the computer voice which can make restaurant reservations over the phone, we wouldn't be surprised to see this change (if the airline companies allow it) in the future.
A newly added feature means the Google Assistant can be used to check into your booked flight, providing you are flying domestically within the US with United Airlines, and booked your flight using the same Google and Gmail account the Assistant is associated with. Lastly, you can ask the Assistant on your iOS or Android smartphone to show you your boarding pass, ready to take to the airport.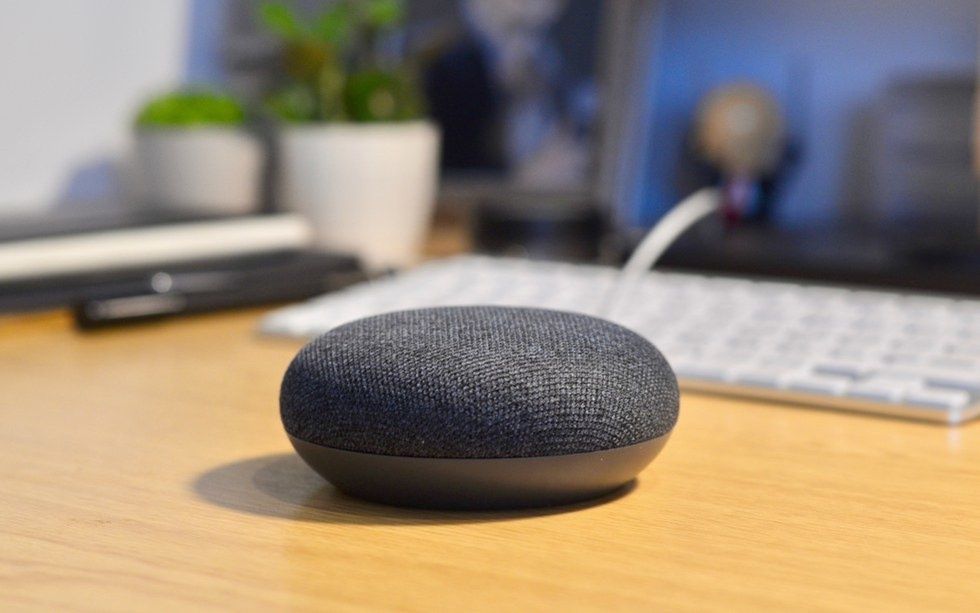 The Assistant will soon proactively alert you to potential flight delaysGearBrain
Google says it hopes to soon have the Assistant proactively warn you about flight delays and cancellations, using artificial intelligence to predict problems.

For more information on using Google Assistant to search for flight, visit our complete guide.
Booking a hotel with Google Assistant
A more complete service is offered with hotel bookings, which can be initiated and completed by speaking to the Google Assistant. This makes more sense with the Assistant on your smartphone or smart display (like the Home Hub), as it's quite a visual process.
Start by saying: "Hey Google, I'd like to book a hotel in [city] on [date]". The Assistant then serves up options, with prices. From there, you can complete the booking, as long as your credit card details are tied to your Google account.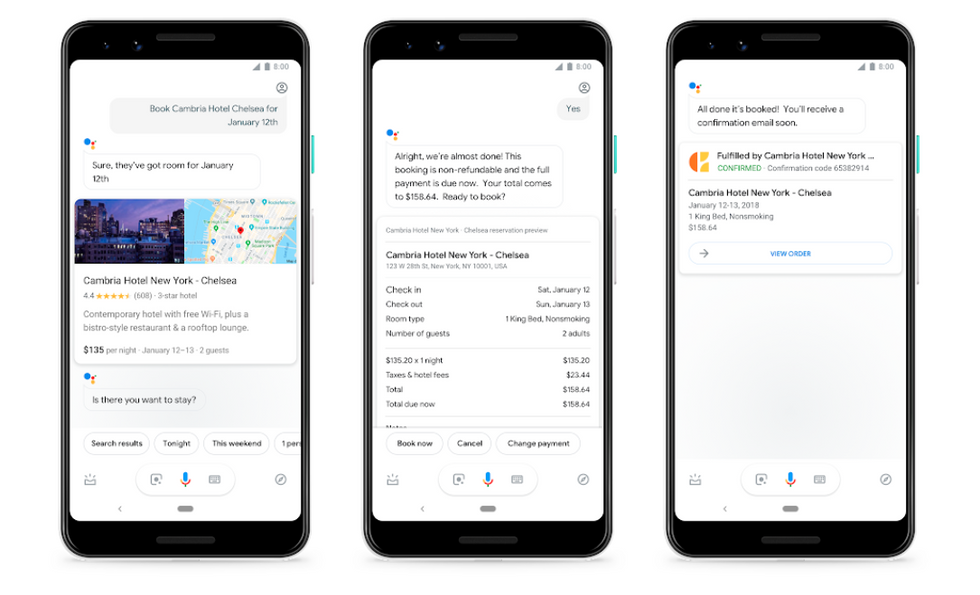 The Assistant can be used to search and book hotel roomsGoogle
Google has big plans for booking holidays with the Assistant, saying in January 2019: "We're working with a range of companies to enable fast, simple hotel bookings, from hotels like Choice Hotels, AccorHotels and InterContinental Hotels Group, to online travel agencies and partners such as Priceline, Expedia, Mirai and Travelclick...This feature is currently available in the US on Android and iOS smartphones and is just the first step in our goal of easing the hotel booking process with the Assistant."

How to book a vacation with Alexa
As we mentioned earlier, Alexa relies on third-party skills to access flight and hotel information. These skills are offered by airlines and travel firms, and often rely on you already having an account with that company, which is then linked to your Amazon account to get everything working correctly.
All that Alexa can do without any skills installed is tell you the status of a flight, so long as you know the airline and flight number. This makes the system feel far more limited that what the Google Assistant is capable of.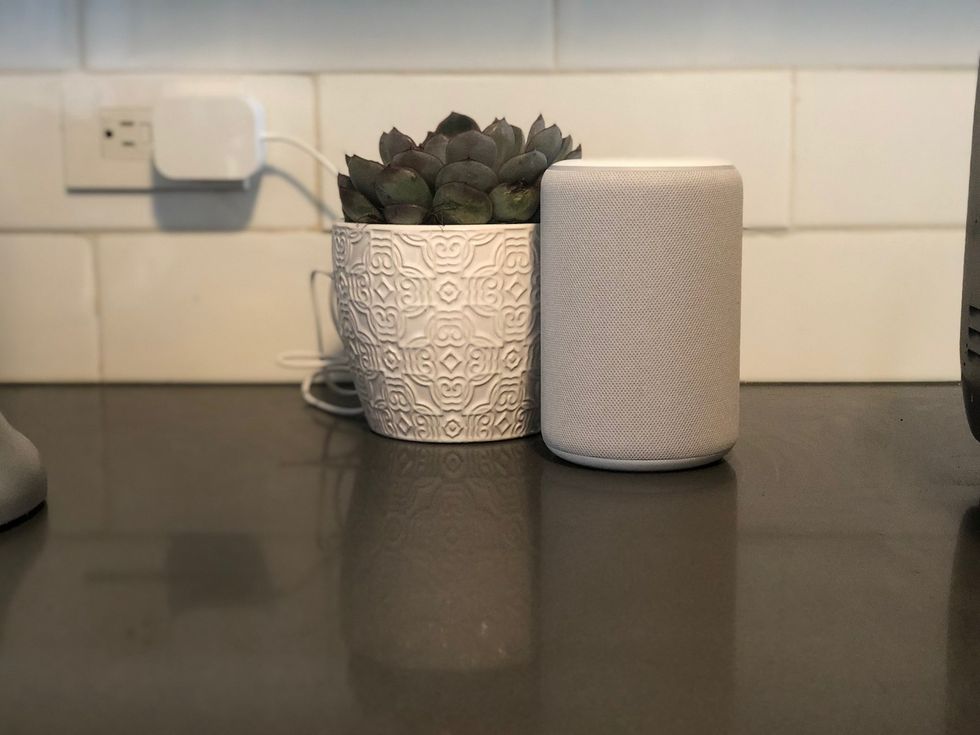 All Echo devices use the same form of Alexa, but the assistant's holiday booking skills are often lackingGearBrain
We were also disappointed to find that the SkyScanner skill is no longer available, as in the past this had served as a good way to gather flight info and prices by speaking to Alexa.

Hoping to find an alternative, we tried Runaway Flights, but after enabling this skill Alexa repeatedly told us she couldn't access it. Another alternative called Flight Deals fared a little better, but couldn't find any deals for flight from London, even without being restricted to a certain date or destination.
In better news, the Kayak skill lets you perform a basic flight search by telling it the airports you wish to fly between, and the dates of your trip. The skill then returns the price and airline of the cheapest option. However, the times and flight numbers of this flight are not offered, leaving you at a dead end.
We found airline apps designed to only deliver a flight's status are better. Skills from easyJet and RyanAir, two of the largest budget airlines in Europe, worked as hoped. As for the US, United's Alexa skill also tells you if certain flights have Wi-Fi and power sockets, and can check you in to domestic flights within 24 hours of departure.
Flight Tracker is also an option for US readers wishing to use Alexa to check the status of an upcoming flight. At the time of writing, this skill works with Alaska Airlines, Air Canada, American, Cathay Pacific, Delta, JetBlue, Southwest, United and WestJet.
The most complete option for booking flights with your voice is offered by SunExpress, a German airline whose skill lets you complete the entire booking process by speaking to Alexa, then using Amazon Pay. This is only available for Alexa users in Germany, however. We hope other airlines follow suit soon.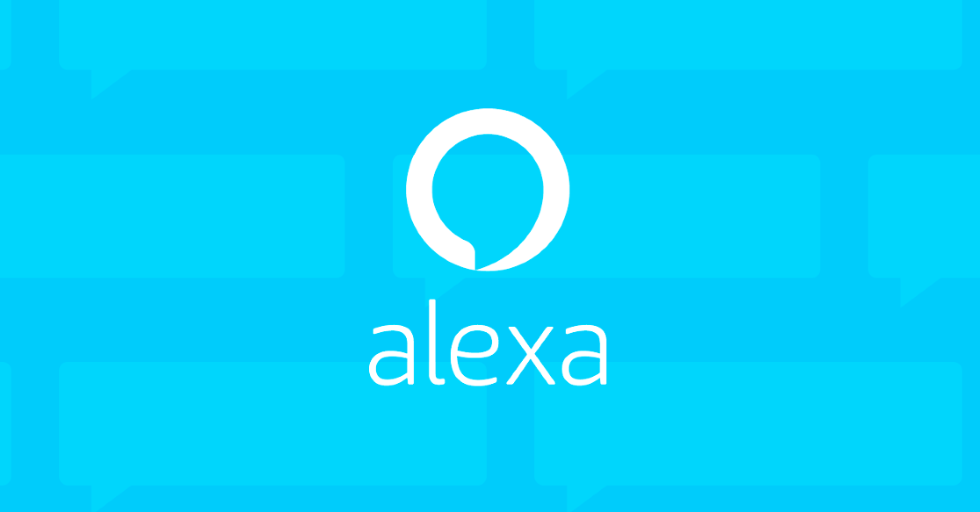 Alexa cannot serve up flight prices in the way Google Assistant canAmazon
Another European option is from Eurostar, the international train service which runs from London to Paris, Brussels and Amsterdam. The skill, although rather slow, works well and serves up the cheapest ticket price for any return trip you have in mind. Information is then emailed to you, where you complete the booking.

As for searching and booking hotels, Alexa admits she cannot yet help with travel arrangements. But if you enable the Kayak app, you can at least use this to quickly find information on the service's most popular hotels in a given city. Tell Alexa the location, date and duration of your trip, then the assistant will read out some options, giving their name, location (including what's nearby), customer rating, number of stars, and nightly price in your local currency.
You can then skip to the next suggestion, or save each hotel to your Kayak account to view later.
Conclusion
Alexa's holiday-booking abilities don't feel as polished as Google's. Amazon needs to sign up with a travel partner and begin offering the same detailed flight info easily found by asking Google. Amazon also needs to ensure third-party skills are up to the job, as many in this sector struggle to comply with the simplest of commands.
That said, we doubt many consumers would want to book a holiday using only their voice, especially when it comes to hotels - unless they wanted to rebook a location they have visited before.
Eurostar's Alexa skill works particularly well, and we were impressed with the email sent right after our conversation with Alexa, letting us quickly book the trains the assistant had just told us about.
We also suspect Google will harness its artificial intelligence powers (and access to our Gmail inboxes) to make the Assistant an even more useful travel companion. We also wouldn't be surprised to see Duplex add flight, train, hotel and hire car booking to its skill set in the near future.
Check out The GearBrain, our smart home compatibility checker to see the other compatible products that work with Google Home and Home Mini as well as Amazon Alexa enabled devices.
What You Need To Know About Smart Speaker Assistants www.youtube.com
From Your Site Articles
Related Articles Around the Web
Like GearBrain on Facebook