Like GearBrain on Facebook
Despite the name of Google's "Launch Night In," the company held its virtual unveiling in the morning, Pacific time, showing off a two new Pixel phones, a new smart speaker, as well as a new way to watch TV. Many items were leaked early — including Home Depot's flub in selling the new Chromecast, under its code name "Sabrina-Abbey Rock Candy," days before the big event. But the new products are ready now for pre-order, if not outright purchase.
The new Nest Audio is a new design for Google, but features the same fabric covering and muted color schemeGoogle
We'll start with the new Nest speaker, called Nest Audio, which originally launched years ago as Google Home, but has been integrated with Nest devices since Google bought the company in 2014. The new Nest Audio has a squared off, oval shape, stands tall, and is covered in the muted fabric colors we've grown to expect from Google, including chalk, charcoal, a sky blue, green sage and a sand pink. Google says the material, which completely surrounds the speaker, is made from 70 percent recycled plastic. The speaker also has a new 19mm tweeter and a. 75mm mid-woofer, to enhance the sound.
Just $99.99, the new speaker was leaked earlier in stores. But we've got a bit more detail now, learning it has 50 percent more bass and 75 percent more volume than the original Google Home. It will also integrate into the existing Google smart home speaker system, meaning you can shift music from the Nest Audio to others in your setup just by asking, "Hey Google move the music to the living room pair," or "Hey Google, move the music to the whole home group."
Of course Nest Audio will work as a smart home speaker, and connect to devices through the Google Home app and also Google Assistant. People can then control other products including Nest devices, like the Nest thermostat, to outside brands including TP-Link smart plugs and more. You can also turn the speaker into privacy mode, by sliding the microphone switch, and looking for the orange color to know that's been turned off.
Nest Audio will start shipping October 5 to 21 countries.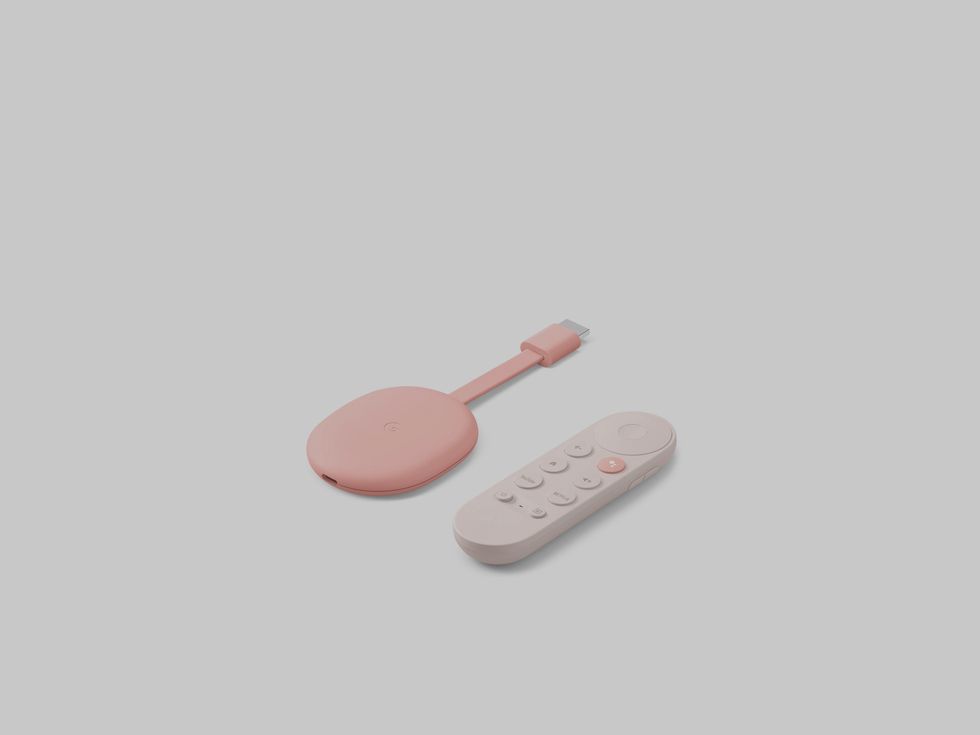 Google pushed out a new Chromecast with a remote for the first timeGoogle
The new Chromecast is what we saw a few days earlier, an oval shaped device that immediately connects to most streaming services, from YouTube (owned by Google), Netflix and HBO Max, to Disney+ and more. It plugs into your TV's HDMI port, and sports HDMI pass-through of Dolby audio content. It's the first entry device to show off Google TV, which is a new system that is designed to help organize the way you search and find content to watch.
Shows are grouped in categories — and also around your subscriptions. You can also pick from selections that are trending on Google, and other recommendations as well. It looks a bit like Apple TV+, but also other channels too. Google TV has a new Watchlist feature, where you can bookmark shows you want to watch, and you can add to the Watchlist from your phone and a laptop. Of course YouTube TV is completely integrated, and Google TV also has a DVR — completely unlimited — so you can start recording even from a phone.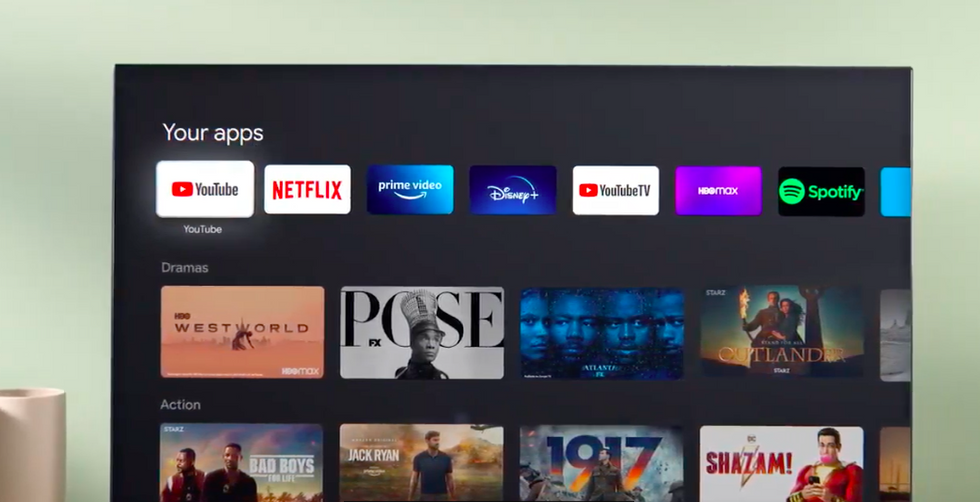 Google TV is launching via Chromecast, a new way to access and find contentGoogle
There's an Ambient Mode feature built in, so you can push out photos using your TV screen as a digital photo frame. And yes, you can grab imagery from your Nest video doorbell and throw that on to your screen if someone rings while you're trying to finishing watching, "Lovecraft Country." And you can add the Chromecast to your other Nest speakers to play music through it as well.

New to Chromecast is a remote control, with a dedicated button for Google Assistant meaning you can pull up shows and search via voice. And of course since you have access to the voice assistant you can use it to access other information, including devices you have installed in your home. The remote also has a dedicated button for YouTube and Netflix as well.
As we've seen, you can already pick one of these up at stores now, in three colors including snow, sky and sunrise, a deep pink, for $49.99 in the U.S. and it will be coming to more countries by the end of 2020.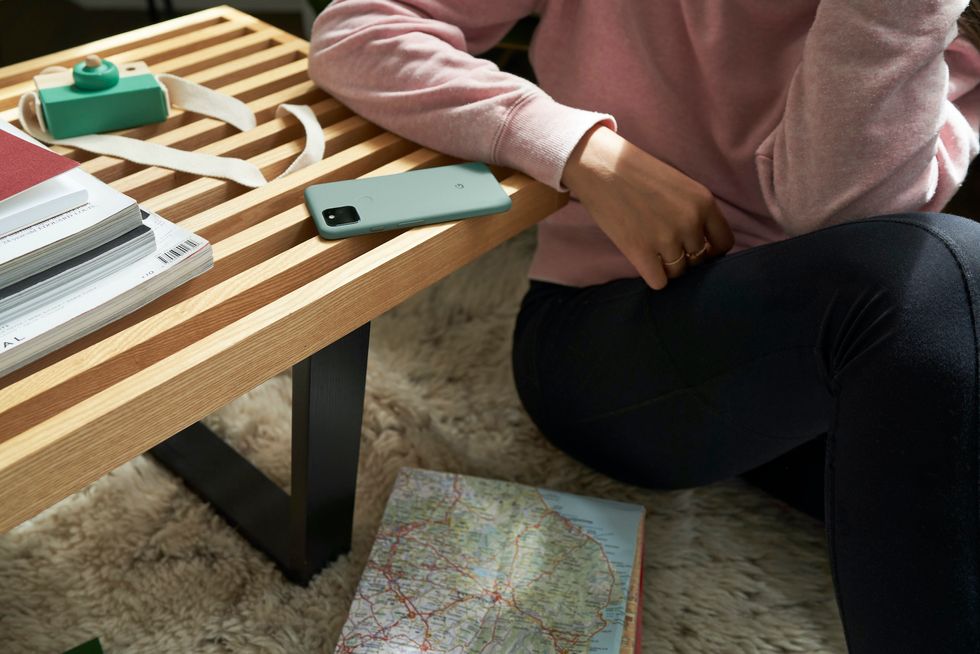 The new Pixel 5 has 5G, supports wireless and reverse wireless charging and starts at $699Google
Pixel 5 phone

Google also launched two new smartphones, the all new Pixel 5, which will connect to 5G, and sell for $699. The phone comes with 8GB of RAM, is water resistant, and will support both wireless and reverse wireless charging, so you can boost your earbuds just from the back of the phone.
There's also a 5G version of the Pixel 4a, which launched earlier this year, which has a larger edge to edge OLED display, a more powerful battery, and will start at $499.
Both new 5G phones will have a new ultra wide lens, Night Sight, which will make front subjects pop in low light, plus Portrait Light, a feature that can illuminate portraits even if they're backlit — and can be added after a photo has been taken. There's also three new video features, locked, active and cinematic pan, which creates a more stabilized flow to movement as you shoot.
Two new features will come stocked with the new 5G phones. One of called Extreme Battery Saver, which lets people choose which elements they want active on their phone, and can extend the battery life up to 48 hours — although that's unlikely if one of those features is playing Google Stadia. A second is called Hold For Me, and actually makes Google Assistant sit on hold for calls when you don't want to, then ping you when the call is ready. Both those features will also come to older Pixel models later this year.
We have more details on how the newest Pixel phones as well, but people can start pre-ordering the new Pixel 5 today, with pre-orders for the Pixel 4a 5G starting on October 29.
Like GearBrain on Facebook