Like GearBrain on Facebook
The Google Assistant can be a hugely useful feature of your smartphone or smart speaker, answering general knowledge questions in an instant, or controlling smart home devices without so much as lifting a finger.
But there are some occasions when you don't want Google to be listening — even if the Assistant is only listening constantly for the 'Hey Google' and 'Okay Google' hot words.
Read More:
You may want to temporarily mute the microphone of your Home speaker because you're having a conversation about Google and don't want Google Assistant to get confused. You might find the Assistant on your Android smartphone keeps interrupting when trying to talk to Google Assistant on your Home smart speaker.
Or you might feel uncomfortable with the idea of an always-listening, internet-connected artificial intelligence in your home, or specifically in more sensitive places like your bedroom.
Thankfully, there are ways to address all of these concerns. You can flick the mute switch in a moment, disable the Assistant on certain devices, or take the nuclear option and completely block Google from accessing the microphone of your smartphone.
Is the Google Assistant always listening?
It's easy to be sensationalist about the answer here, but yes; in short, the Assistant of your Home smart speaker (or other speakers with Google Assistant enabled) are always listening. However, they are only listening for the 'hot word', which is either 'Okay Google' or 'Hey Google.' Google Assistant sometimes mistakenly thinks it has heard one of these phrases, then starts listening.
In our experience, we have found Google makes this mistake less often than Amazon Alexa, but we would estimate that it mistakenly listens (and then often says it doesn't understand) around once every couple of weeks. This is in a household with four people, with the Google Home Hub located in the most-used room, where a TV or radio is often on. In other words, the Assistant and its live mic are in a room with a lot of talking taking place, so is bound to mistakenly hear its own name every so often.
When Google Assistant hears the hot word, it will start listening (and recording) what comes next. This recording it uploaded to Google's server, where it is quickly analyzed by artificial intelligence, then an answer or action (like the switching on of a smart light) is returned.
Once this interaction has ended, the recording stays on Google's server until you delete it.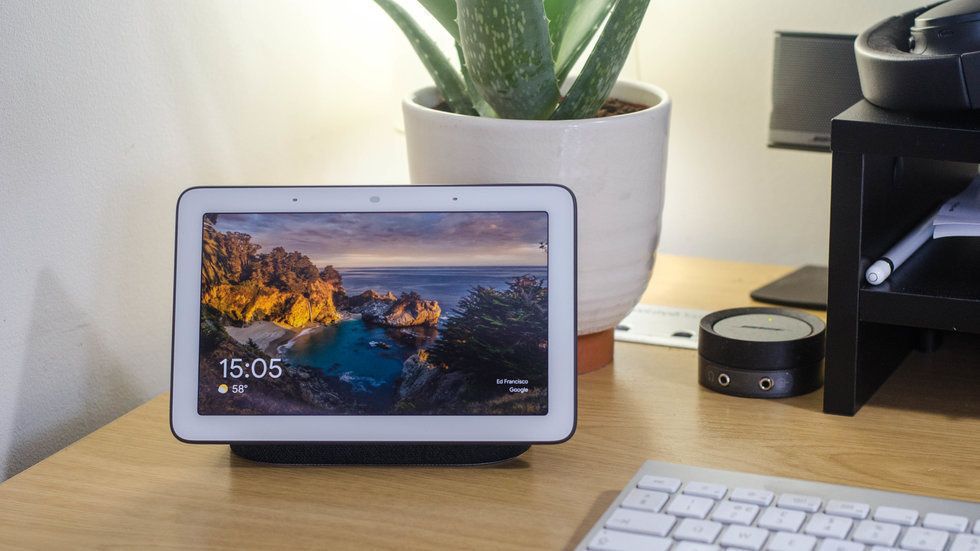 The Home Hub has a mute switch on the backGearBrain
How to mute Google Assistant on Google Home devices

All Google Home devices have a mute switch. This shuts off the microphones, and in the case of the new Nest Hub Max, cuts the power of the integrated camera, too. When flicking the switch, Google Assistant says "The mic's off" and a red light appears next to the microphone — or in the case of the Home Mini, its volume and status lights turn red. Switch the mic back on, and the Assistant says: "The mic's back on".
On all Google Home and Nest Hub devices (as of May 2019), the mute switch is on the back and easily identifiable.
How to stop Google Assistant listening on Android
Most recent Android smartphones offer a system where Google Assistant can be summoned when the device is locked and the display is off. In effect, they act a lot like a Google Home smart speaker, as you can shout at your phone from across the room and it will reply, or do as you ask.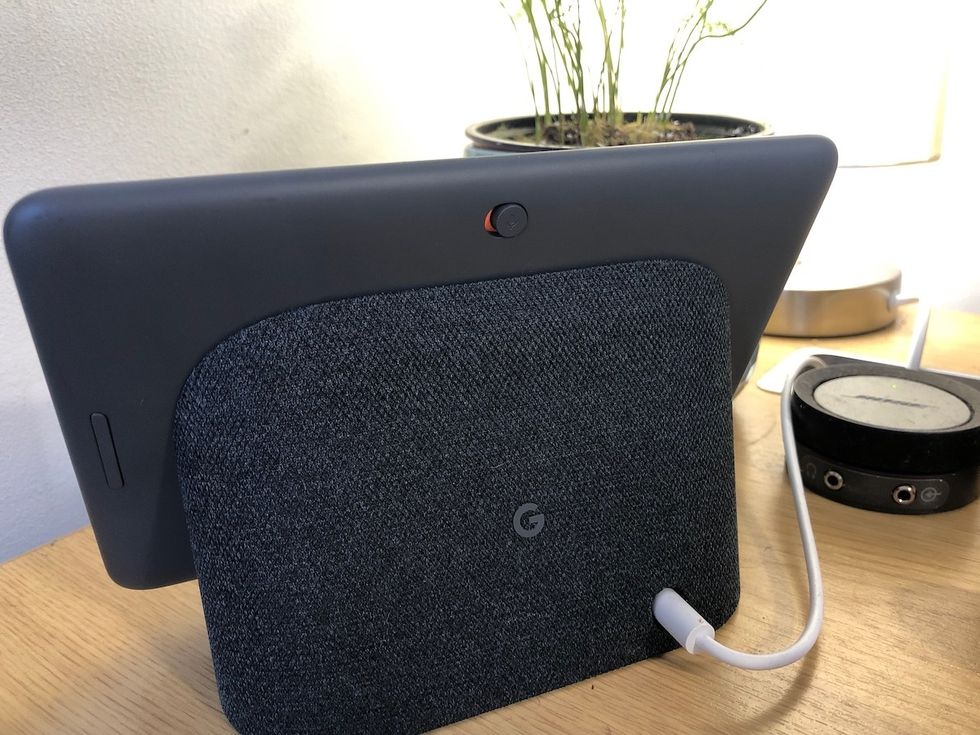 The mute switch on the back of a Google Home HubGearBrain
This voice-recognition feature is known as OK Google and is presented to you when you set up Android smartphones for the first time. You can skip this stage of set up, but if you initially set things up and now no longer want it, it can be easily switched off.

You may also want to do this if Google Assistant on your Android phone keeps replying when you speak to your Google Home speaker — something which is commonplace and quickly becomes annoying.
To stop Google Assistant from listening on Android:
Touch and hold the Home button or say 'Okay Google'
Tap the circular icon in the top-right corner, then More, then Settings
Under the Devices tab, tap on the name (or make/model) of your phone
Tap 'OK Google' detection to switch the feature on or off
Alternatively, you can take the nuclear option and prevent Google from accessing the microphone entirely. The instructions below apply to Google's Pixel phones, but the settings menus differ slightly between Android manufacturers.
Open the Settings app
Tap on Apps & Notifications then select Google
Tap Permissions on the App Info page
Locate the Microphones section then tap the toggle switch
A warning message will appear saying: "If you deny this permission, basic features of your device may no longer function as intended." This is basically Android saying the Google Assistant won't work. But if you're fine with that, tap 'Deny anyway', and you're done.
To stop Google Assistant from listening on iPhone:

Open the Settings app
Scroll down until you find Assistant
Toggle the Microphone switch off, revoking the app's access to your iPhone's mic.
Of course, the Assistant app on iOS is completely useless without being able to use the microphone, so you may as well delete it. Do this in the usual way — press and hold on the app icon on your home screen, then one it starts shaking tap the X in the top-left corner of the app icon to delete it.
Check out The GearBrain, our
smart home compatibility checker
to see the other compatible products that work with
Google Home and Home Mini
Unboxing in 10 Seconds - Lenovo Smart Display with Google Assistant www.youtube.com
Like GearBrain on Facebook