Like GearBrain on Facebook
A year ago, Microsoft opened up its Xbox One games console to work with Amazon Alexa, having previously been limited to the company's own Cortana assistant.
Now, Google Assistant has joined the party. This means Xbox gamers can use any assistant they like (apart from Siri) to do things like switch on their console, launch a certain game, adjust the volume, pause the game, and take a screenshot or video recording.
Read More:
Instead of using the microphone of your Xbox headset, Google Assistant integration works by using your Google Home smart speaker or smart display. Providing one is within earshot of where you sit to play Xbox, you can say 'Hey/Okay Google' as normal, then issue a command — all of which end with, '...on Xbox'. The Assistant then controls your Xbox via the internet.
The new system is still in its beta development stage for now, so isn't available for everyone. However, it is available to all Xbox One and Google Assistant users who have the language of each set to English. Being a beta, Assistant controls could still be buggy, but you can nevertheless try it for yourself by following these instructions:
First, head to this Google Groups page , then make sure you are logged into the correct Google account by clicking your profile picture in the top-right corner. You'll need to be logged into the account linked to your Google Home.
Next, click on the blue 'Join group' button on that page, then switch on and log into your Xbox One.
While the console is booting up, open the Google Home app on your iOS or Android smartphone, then tap '+ Add', followed by 'Set up device', then 'Have something already set up?'
Search for 'Xbox' then tap on '[beta] Xbox', and sign in with the Microsoft account associated with your Xbox.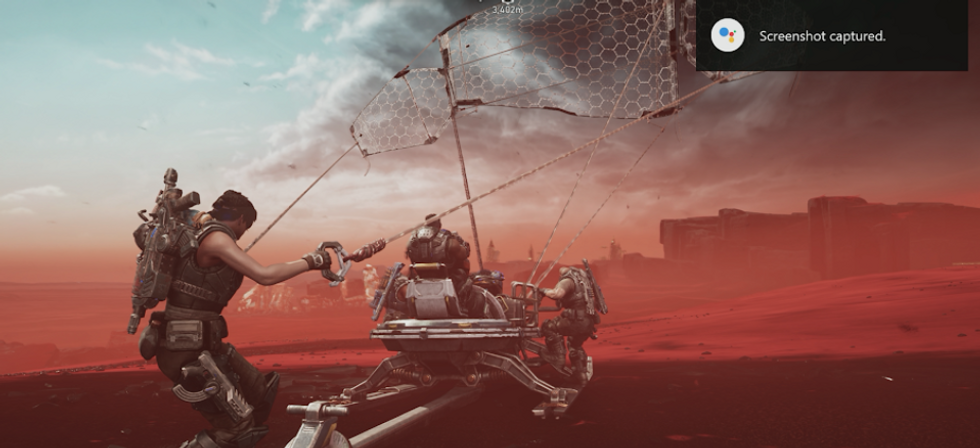 Google Assistant can be used to take screenshots while playing Xbox Google
You'll then be asked to give the Xbox a name for reference in the Google Home app, just like how the app asks you to name a Chromecast, speakers and other smart home products. If you have more than one Xbox in your home, you'll need to give each a unique name, like 'Bedroom Xbox'.

Once set up, you'll be able to control some aspects of your Xbox One by speaking to the Google Assistant on your phone or a nearby Home or Nest device.
Xbox One S All-Digital Edition
Here is a list of examples of what you can say:
"Hey Google, play Gears 5 on Xbox"
"Hey Google, turn on Xbox"
"Hey Google, turn off Xbox"
"Hey Google, launch YouTube/Netflix/Spotify on Xbox"
"Hey Google, pause on Xbox"
"Hey Google, resume on Xbox"
"Hey Google, volume up on Xbox"
"Hey Google, take a screenshot on Xbox"
"Hey Google, record that on Xbox"
"Hey Google, switch to [TV channel] on Xbox"
Some of these might not be used too often, but we think it's rather useful being able to issue an instruction to our Google Home to have the Xbox fire up and load the game we asked for, all at once.
Similarly, taking screenshots and recording snippets of gameplay are the kind of things which work best when you can ask the Assistant to do it hands-free, instead of interrupting the game and doing it manually with the gamepad.
As with its adoption of Alexa last year, it's interesting to see Microsoft invite voice assistants other than its own Cortana onboard, and suggests the company sees more strength in being open to all, instead of locking the Xbox into a walled garden.
Check out The GearBrain, our smart home compatibility checker to see the other compatible products that work with Google Home and Home Mini .
Xbox Wireless Controller - Black
Like GearBrain on Facebook