Like GearBrain on Facebook
Google has revealed the Home Max, a new high-end speaker and smart home hub, which uses machine learning to automatically retune to sound its best — wherever you place the device.
The Home Max was announced at Google's media event in San Francisco on October 4 — and the speaker includes the same voice-activated personal assistant, called Google Assistant, as the company's other smart speakers, the Home and newly-announced Home Mini.
Google is making a big deal about the sound quality of the Home Max, focusing on a newly designed system called Smart Sound, which automatically tunes the speaker based on where it's located.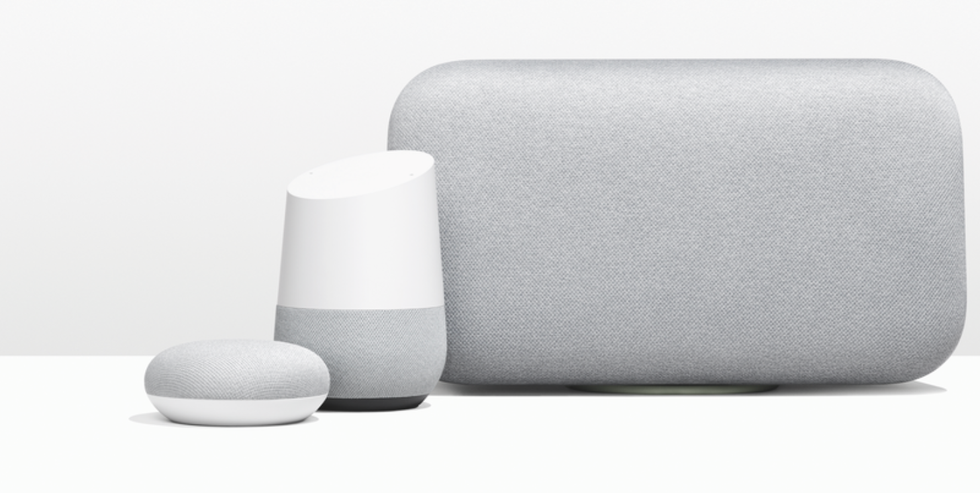 The Google speaker family now consists of Home Mini, Home and Home MaxGoogle
The company claims Home Max can adjust its sound quality automatically — no matter where it's placed, even on a shelf in the corner of a room where audio can often sound too bass-heavy and muffled. Using artificial intelligence and machine learning, Google says the speaker changes its output in seconds, depending on its surroundings. Pick the speaker up, move it a few feet, and the device will quickly retune itself to its new environment.
The Home Max also adjusts its volume based on the time of day and what's going on around it. Google says the speaker will, by default, play a little quieter first thing in the morning (but of course you can override this if you need waking up a little more urgently). The speaker will also turn itself up on its own when in a noisy environment, say if a washing machine is on its spin cycle.
As with the Home and new Home Mini, the Home Max uses Google Assistant to give you voice control of a huge range of smart home gadgets. Google says over 1,000 smart home products now work with Assistant. This includes light bulbs by Philips, thermostats and camera-equipped door bells from Nest, door locks from August and much more.
The Home Max went on sale in December 2017 — just as Apple has said of its competing HomePod — and costs $399, a little more than the $349 Apple smart speaker, which is powered by Siri.
The Home Max, which comes in chocolate and charcoal colors, is available in the US at launch and will come to more countries in 2018. It can stream music from YouTube Music and Spotify (with a free or paid-for subscription). You can also stream music from a second device to the speaker via Bluetooth, or from another device like a record player, suggests Google, plugged into its auxiliary input.
Check out The GearBrain, our smart home compatibility checker to see the other compatible products that work with Google Home and Home Mini.
Like GearBrain on Facebook