A year ago, Google Maps added search results for electric car charging stations. But a major feature was missing — the ability to search by plug type. That's frustrating for electric car drivers as different car makers use different plugs, and if you don't have an adapter, you run the risk of arriving at a charger that's incompatible with your vehicle.
Read More:
For example, BMW and Volkswagen use CCS plugs, Nissan uses CHAdeMO, while Tesla has its own plug type, although the Model 3 in Europe also works with CCS chargers. For first-time electric car buyers, charging can be confusing.
To help combat this problem, Google Maps is now showing the type of plugs available at each charging station. You can also tell the app the plugs your vehicle needs, and filter for those chargers in the search results.

The update works now on the Google Maps app for iOS and Android, and plug data is available internationally.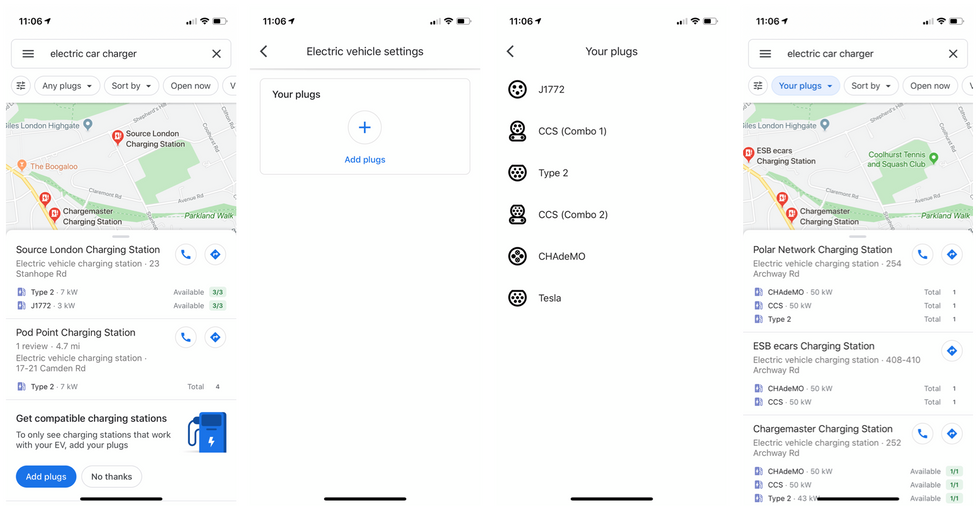 Google Maps update to search by car charger plug typeGearBrain
To get started, simply search for a local EV charging station. A new button called Your Plugs now appears below the search bar. Tap on this, and you are shown a list of all six electric car plug types. You can then tap on the ones which work with your vehicle, which will start Google Maps to filter for charging stations that only have those plugs, and this will carry over in future searches as well.

If you change your vehicle or buy an adapter (a CHAdeMO adapter for a Tesla, for example) you can then go into this page and edit your plug options.
Search results also show how many of each plug type are available at every charging station has, and the top charging speed of each outlet. Because their speeds can vary significantly, from as little as 3.0 kilowatts, to over 60kW, this is very useful information to show.

Unfortunately, Google Maps doesn't yet show how many outlets are currently available or in use at each charging station in real time. While it does show how many outlets the station has, you can't yet access live data on which outlets are being used and which are currently vacant. Some electric car navigation systems, like that of Teslas, do include this helpful information. Despite this shortfall, we are still glad to see Google working to keep its Maps app updated with new features for EV owners.
GearBrain Road Trip Gadget Guide www.youtube.com