Like GearBrain on Facebook
Hard plastics and cold metal covers are giving way to touch-friendly fabrics on our home devices. Where we once hid our speakers, and even our TVs behind cabinetry, tech is now something we want to showcase in our space, leading to softer elements weaving their way into these gadgets. But while hard cases are easy to dust, fabric is a dirt-magnet. How to keep them clean? That's a little tricker than picking up a feather duster every week. Here's how companies suggest you maintain these products, along with some tips we've gleaned ourselves.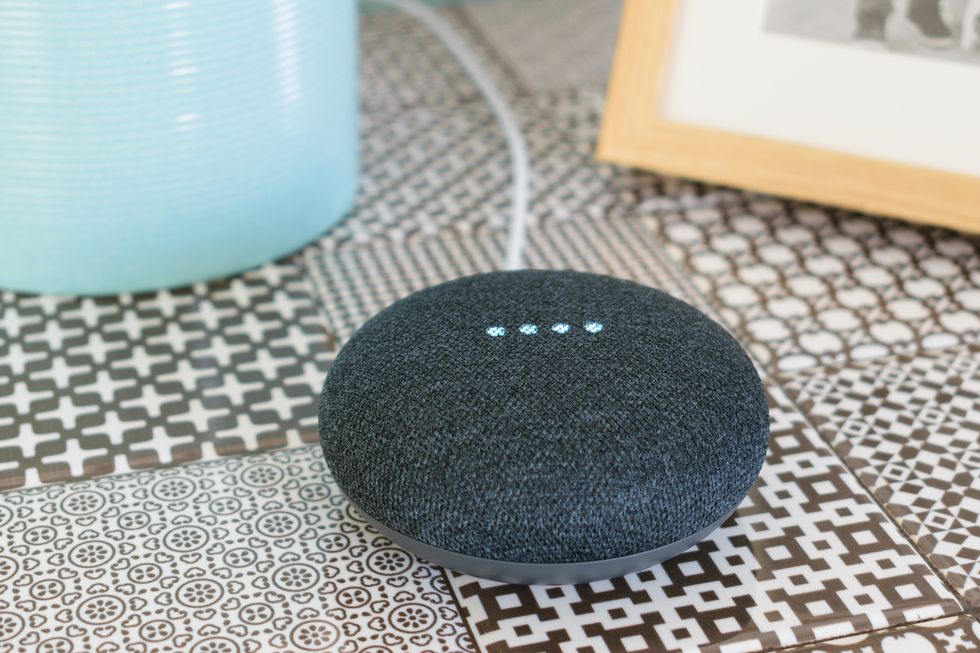 The fabric cover on Google smart speakers is a mixture of nylon and polyester, making it fairly stain-resistantGoogle
Google Home
One of the first to wrap its smart home products in fabric, Google is fairly clear on its support pages on how to maintain the Google Home, Google Home Mini and Google Home Max speakers.
The fabric itself is a mixture of 33 percent nylon and 67 percent polyester. This combination likely makes it harder to stain than a pure cotton weave, but it's not impossible
No matter which Google smart speaker you own, the company tells people in its specs, to use a dry cloth when cleaning the fabric material, one that's both soft and clean, to avoid scratching or marring the surface. Most people dust their products using a cleaning product like this to start so this makes sense.
However, Google warns to not use any chemicals — whether that's a liquid, powder or even a spray that contains alcohol or benzene. Leading fabric cleaners and protectors often include these chemicals to lift and remove stains on fabric surfaces. That includes Scotchgard Fabric Protector, which lists isopropyl alcohol as its second ingredient.
For those who don't care about following the official line, posts on Reddit point people to using a damp cloth or even a toothbrush to spot clean the nubby fabric.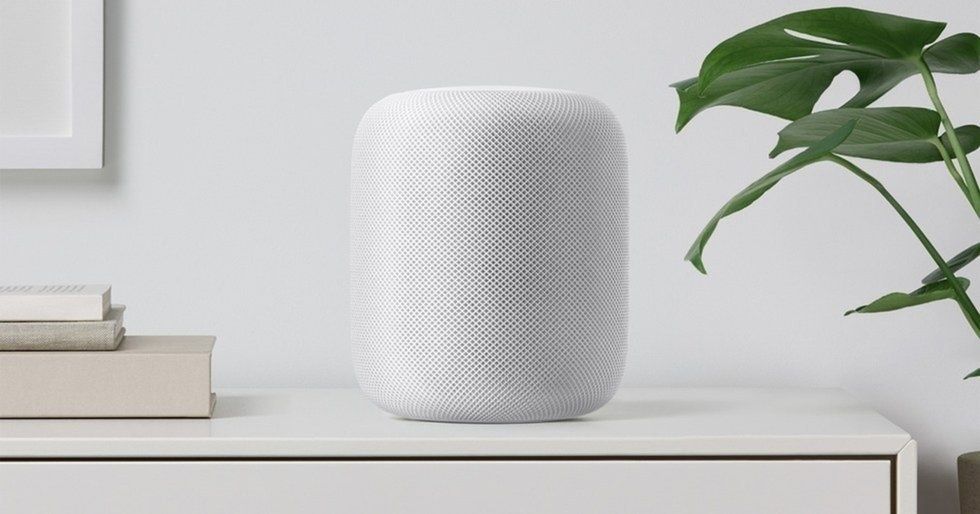 Apple has filed a patent for its mesh fabric coverApple
Apple HomePod
The Apple HomePod debuted in 2017, went on sale in 2018, and has almost uniformly earned positive reviews for its great sound, and not as solid reviews for its usefulness in the home. Nevertheless, it's the one smart speaker from the leading three that has all-white option for its mesh fabric cover, which the company filed a patent for in 2017.
Google Home and Amazon Echo offer light gray fabric colors, among others, but all-white can present a unique cleaning concern, as anyone who has white rugs, furniture or even walls in their home can attest.
Unlike Google, Apple gives the go-ahead to use a damp cloth on its surface, but only "if necessary," said the company. Ideally, the HomePod should be cleaned with a dry cloth.
Apple also spells out all sorts of cleaners people shouldn't use on the HomePod including window and household cleaners, as well as "…aerosol sprays, solvents, ammonia or abrasives…," on the device.
Notably, Apple also lists compressed air as something that should not be used on the speaker. Most people have a container of compressed air they'll use on their laptops and desktops to push out dirt and debris on their keyboards. This is clearly not meant, according to Apple, for the HomePod however.
As usual, Reddit users have their own suggestions, including fabric and carper cleaners, a damp cloth, and yes, compressed air. We haven't tried these, and therefore cannot recommend them.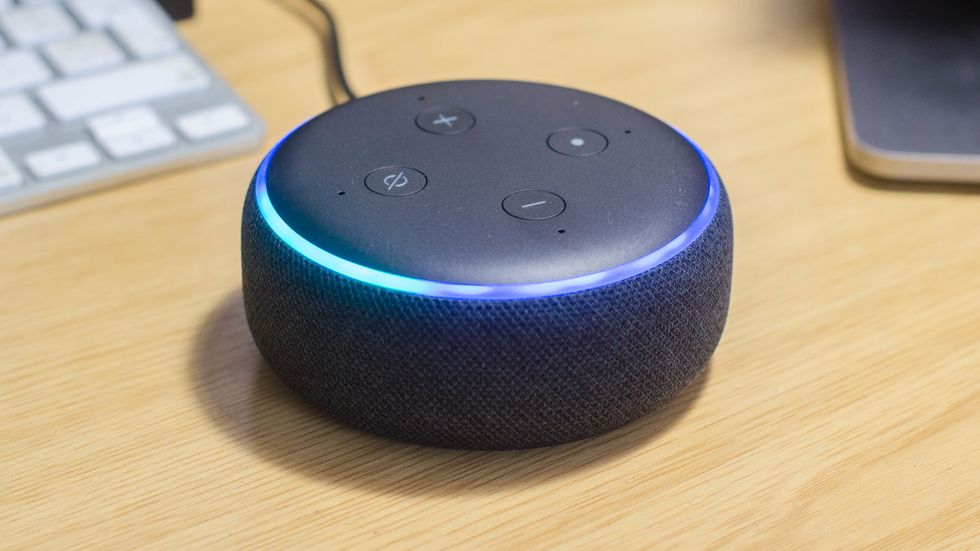 Amazon now offers fabric covers for its Echo and Echo Dot smart speakersGearBrain
Amazon Echo
Amazon does not offer clear guidance on its web site on how to care for the fabric coverings that are now optional on the Amazon Echo and Echo Dot speakers as of 2018.
The company does state that the Echo smart speakers are covered in a polyester blend, while the Echo Dot covers are made up of a nylon-blend. While the make-up of what's in the blend, or the percentage of polyester or nylon in the fabric, isn't clear, it's best to approach the cover like the other leading brands.
Spot cleaning for the Amazon Echo fabric covers then is likely best done with a dry cloth. Using any other solvent or bringing water into the equation should be decided by each person, and how much they're willing to risk their device.

For those completely worried about damaging the original device, there are wraps that can be placed on top of the Echo and Echo Dot made of material such as vinyl and silicone from companies including MightySkins and Mission. Again, GearBrain hasn't tested these so we can't tell you if they work well at keeping your speaker clean or not.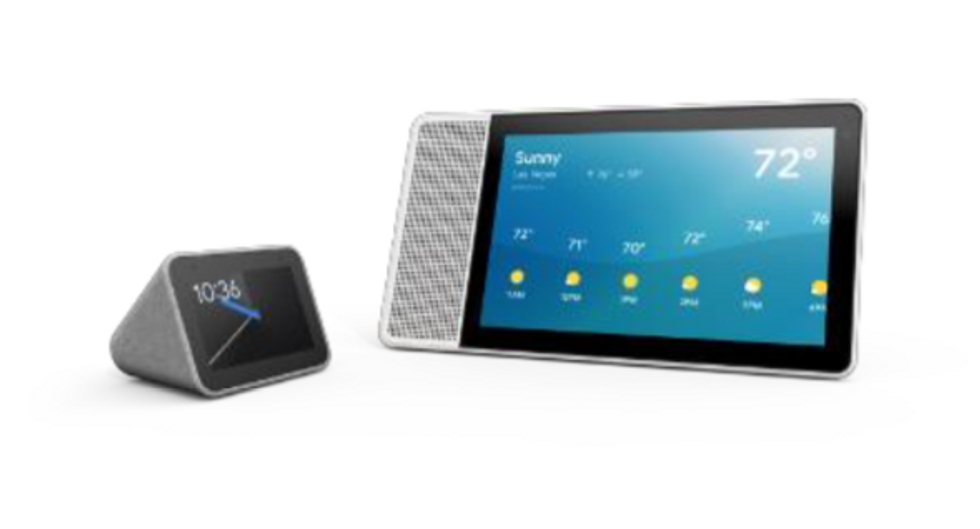 Lenovo Smart Clock will feature a grey fabric cloth cover when it launches in the spring of 2019Lenovo
Lenovo Smart Clock
The latest of the fabric-covered smart home devices is the Lenovo Smart Clock. This Google Assistant product isn't even on sale until spring 2019. But the grey-colored fabric covering the small clock looks very similar to the textile that cover the Google Home line of speakers, which follows given it's part of the Lenovo's partnership with the brand.
Lenovo describes the cover as a "soft touch cloth grey," but doesn't elaborate on what it's make up is in terms of fabric content. As the device isn't yet on the market, there aren't any user suggestions either on how to clean the surface. Once Lenovo releases the Smart Clock, and we get more specs on the cover, there will hopefully be more guidance on maintaining this small display.
Check out The GearBrain, our smart home compatibility checker to see the other compatible products that work with Google Home and Home Mini as well as Amazon Alexa enabled devices.
What You Need To Know About Smart Speaker Assistants www.youtube.com
Like GearBrain on Facebook