Like GearBrain on Facebook
If you have installed a new router, you'll need to reconnect all of your smart home products to the new network. This is easier for some devices (like smartphones and laptops) than it is for others (like smart lighting and groups of connected speakers.)
For this article, we will be explaining how to connect a Sonos speaker (or multiple Sonos speakers) to a new Wi-Fi network. By default, this should be a quick and painless process, but in our experience we found things can go wrong. Thankfully, there is a backup option for if the first option doesn't work for you.
Read More:
First, this is how reconnecting your Sonos speaker to a new Wi-Fi network should play out…
Open the Sonos smartphone app and let it try to connect to your speaker (or speakers) as normal. This will fail, then display the message "We can't connect to Sonos." Tap on the button marked "This isn't working," to begin the reconnection process, which begins with a press on the single button on the back of your Sonos.
All-new Sonos Beam , Compact Smart TV Soundbar with Amazon Alexa voice control built-in. Wireless home theater and streaming music in any room. (Black) (Renewed)
Next, tap on More Options, followed by Update Wi-Fi Settings.

After telling the app you are connecting either a single Sonos speaker or multiple speakers, the app will communicate with one and tell it to create its own Wi-Fi network. You are then asked to join this by going into your phone's settings app and tapping on the new network, which is called Sonos.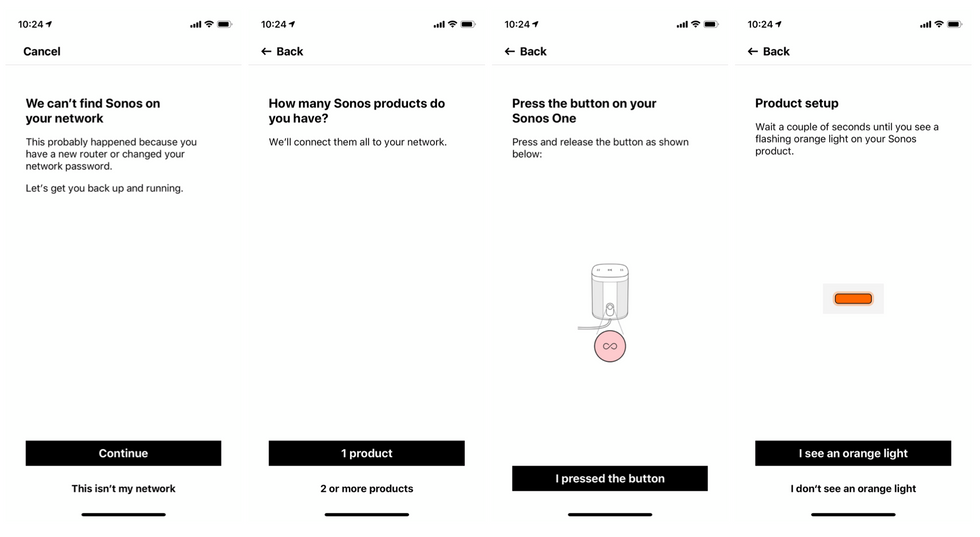 Sonos app instructions for connecting to a new WI-Fi networkGearBrain
Connecting to this network can take two or three minutes, so patience here is important. We rushed through this step a couple of times, resulting in failure. But once your phone has connected to the new Sonos network, head back to the Sonos app and continue.

At this point, the Sonos speaker (or multiple speakers) should be introduced to your home Wi-Fi network. But, again, we couldn't get this to work. After a couple of failed attempts we tapped on Alternative Setup, which involves connecting one Sonos speaker to the router using an Ethernet cable.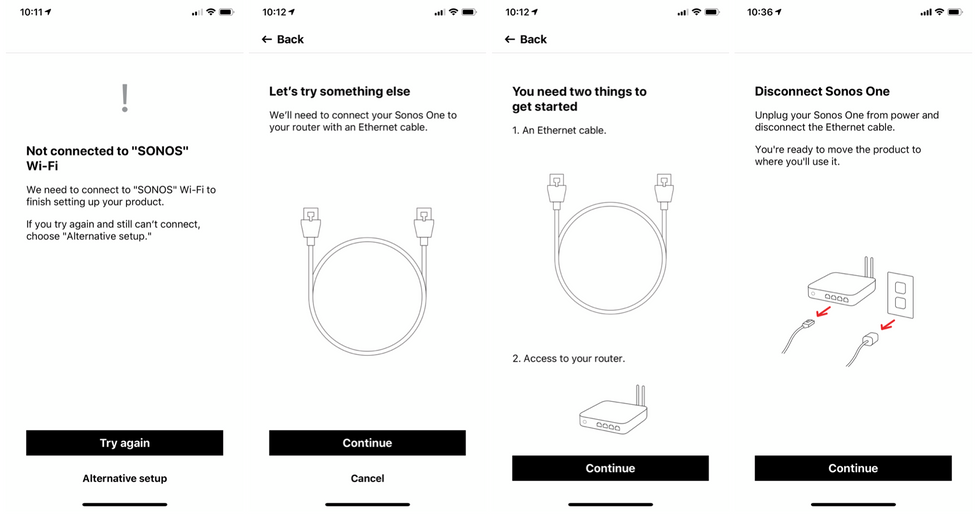 Sonos app reconnecting over Ethernet instructionsGearBrain
Tap on the Continue button until you reach the screen asking you to "wait for the solid white light." For us, the light on our Sonos One was green instead of white, but unplugging the speaker from the wall and plugging it back in again resulted in a solid white light. Although the app doesn't say to take this extra step, it worked for us.

You will now be asked to pick your Wi-Fi network in the Sonos app, then enter its password. After this, you are done; unplug the speaker from your router and put it where you plan on using it. Now, when you switch it back on it will automatically connect to your Wi-Fi network, and you are good to go.
For a system which normally works flawlessly (at least for us), we were disappointed to see the initial wireless connection process fail. This could be a security issue with our new router, but at least we are thankful that the Sonos app recognizes the problem and offers a workable alternative.
Three Room Set with all-new Sonos One - Smart Speaker with Alexa voice control built-In. Compact size with incredible sound for any room. (White)
From Your Site Articles
Related Articles Around the Web
Like GearBrain on Facebook