Like GearBrain on Facebook
Huawei has decided it is time to make its own smartwatch operating system, as it steps away from Google and Wear OS.
Announced at a launch event in London today (October 16), the new Huawei Watch GT uses Lite OS, an operating system made by Huawei itself, instead of using Google's Wear OS, as used by previous watches from the Chinese company.
Read More:
Huawei says the decision to walk away from Google was in the pursuit of better battery life. The company claims its Watch GT has a battery life of up to 30 days.
This extraordinary claim - a smartwatch with over 30 times the stamina of the Apple Watch Series 4 - is achievable, according to Huawei, even when the watch is set to show notifications from a connected smartphone, and constantly track the wearer's heart rate.
Huawei went on to say that, if sleep tracking is enabled, the Watch GT's battery lasts for two weeks - and this includes a total of three hours of exercise tracking over that fortnight. When all sensors are turned on and the time is constantly displayed on the illuminated display, this drops to a still-impressive 22 hours.
We will be very interested to see if the Watch GT's battery can match Huawei's claims - especially as we struggle to get much more than 36 hours of light use out of the Apple Watch Series 4.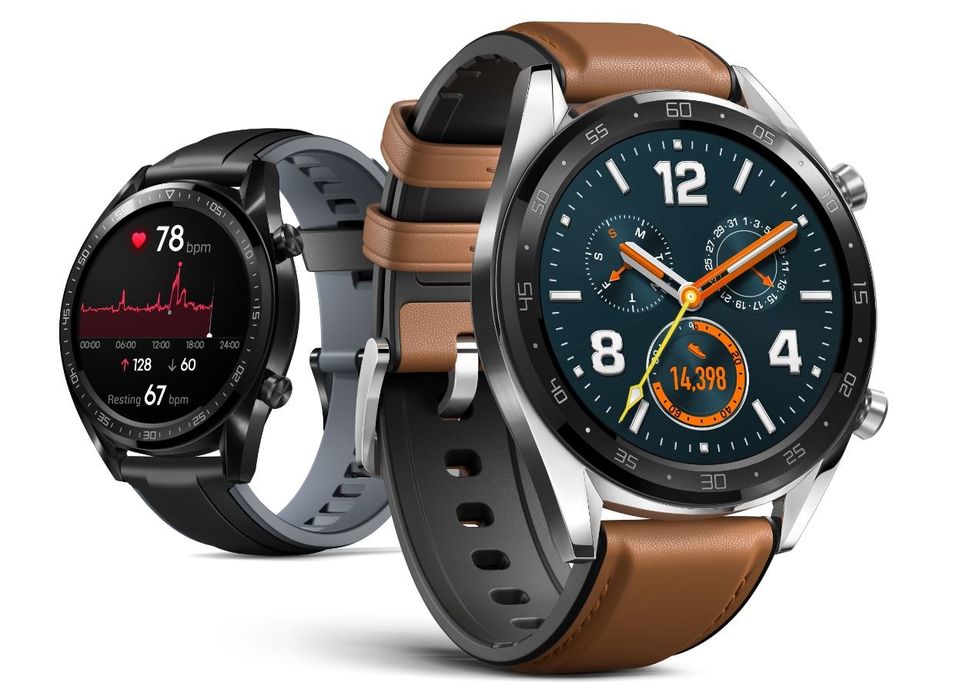 Huawei
The Watch GT has a circular 1.39-inch OLED display and 10.6mm-thick steel case, along with regular quick-release spring bars for attaching different straps.

There are two buttons for interacting with the software (which is also done via the touchscreen), and although there is a ceramic bezel with minute markings, this does not rotate as it would on a conventional watch.
But, despite the watch-like design, it behaves more like a fitness tracker to rival those from Fitbit, Garmin and others. Inside, the watch has sensors to track your walking, running, cycling and swimming, and has an altimeter for tracking hiking, plus GPS.
There is also sleep tracking and what Huawei claims is AI-powered heart rate tracking which is more accurate than on other devices.
The Watch GT works with iOS and Android phones (not just Huawei handsets), but does not include NFC so there's no way to use Google Pay
This smartwatch represents a bold change in direction for Huawei, stepping away from Google's Wear OS and making some very impressive battery life claims. But it also shows signs of Huawei backing itself into a walled garden, as - although the fitness tracking features seem impressive at first glance - there is no way to install more familiar apps, like popular run-tracker Strava.
Huawei is to sell the Watch GT in two variants. The Sport, with its rubber strap, costs €199 (about $230), and the Classic with a leather strap costs €249. Both of these price points are considerably lower than the Apple Watch Series 4, which starts at €429.
Huawei is yet to announce a release date for the new watch, but says it will be sold in the UK, France, Italy and the UAE soon. There is no word on a US price or release date at this time.
From Your Site Articles
Related Articles Around the Web
Like GearBrain on Facebook