Like GearBrain on Facebook
Where CES is mostly focused on far-out concepts without steering wheels, the Detroit Auto Show remains rooted in the here-and-now. That means a show floor where, for the most part, SUVs, trucks and perhaps the occasional hybrid usurp the self-driving concepts and artificially-intelligent prototypes of CES.

Read More: CES 2018 reveals the future of the car - here is everything you need to know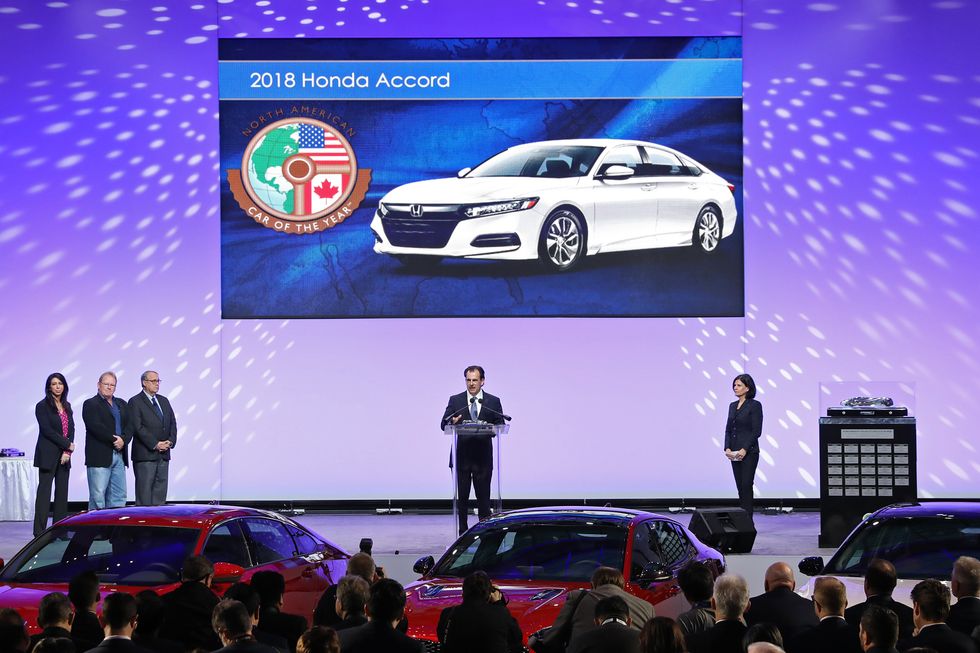 The winners were announced at the show opened on January 15NAIAS
Here are some of the technological highlights of Detroit 2018
Ford goes all-in on electrification (again)
Having previously earmarked $4.5 billion to invest in hybrid and electric vehicle development by 2020, Ford has bumped that to $11 billion by 2022.
That extra cash will go towards a global initiative to place no fewer than 40 hybrid and fully-electric vehicles into the company's lineup over the next five years. Of those, Ford says 16 will be fully electric, with the rest plug-in hybrids.
Unlike the approach taken by BMW — where its electric i3 and hybrid i8 are built on entirely new platforms — Ford wants to build electrified versions of cars which are already popular.
"We're all in on this and we're taking our mainstream vehicles, our most iconic vehicles, and we're electrifying them," the company said, adding: "If we want to be successful with electrification, we have to do it with vehicles that are already popular."
Spending $11 billion might sound like a lot. But consider rival Volkswagen, which said in late 2017 that it will be investing $40 billion into electric cars, autonomous technology and mobility services between now and the end of 2022.
Ford teases an electric SUV called the Mach 1
Ford also used the Detroit show to tease an upcoming electric SUV — dubbed the Mach 1 — set for release in 2020. The Mach 1 name, more commonly associated with the Mustang, suggests Ford will incorporate its performance car's heritage with the new electric offering — a car likely to rival the Tesla Model X.
Mercedes launches new performance hybrid range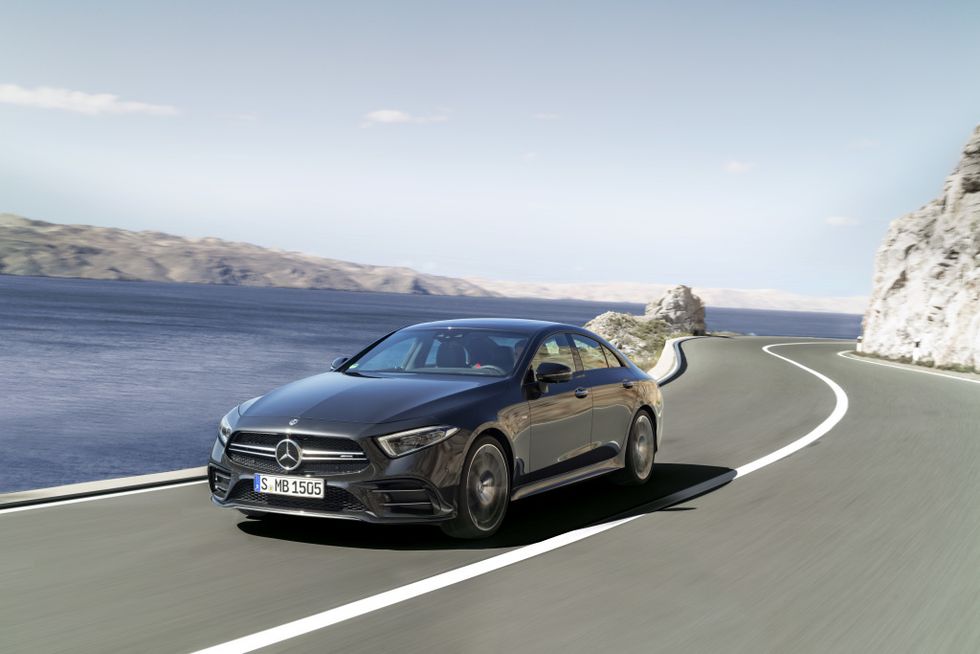 The Mercedes CLS53 features a mild-hybrid engine from AMGDaimler
The Mercedes-AMG badge is synonymous with V8-powered sedans that hit top speeds of 155mph, alongside thunderous exhaust notes. In Detroit, Mercedes revealed three mild-hybrid additions to the AMG range. These are the CLS53, E53 Coupe and E53 Cabriolet.
"With the new 53-series models, we are extending our portfolio in the first step towards a hybridized future," said AMG chairman Tobias Moers.
The new engine is a 3.0-liter, six-cylinder unit with twin turbocharging from both a conventional exhaust gas turbocharger and — here's where the mild hybrid tech comes in — a 48 volt electric compressor. That extra component delivers an additional 21bhp and 184 lb-ft of torque when accelerating from standstill. Expect to see this in more AMG models soon.
Besides providing extra power, the mild hybrid system lets the car coast with the engine off for short periods of gentle cruising. Doing so lowers emissions, while boosting the car's economy. Mercedes says the engine's restarting when you press the accelerator is "virtually imperceptible."
Mild-hybrid tech also comes to the Dodge Ram pickup truck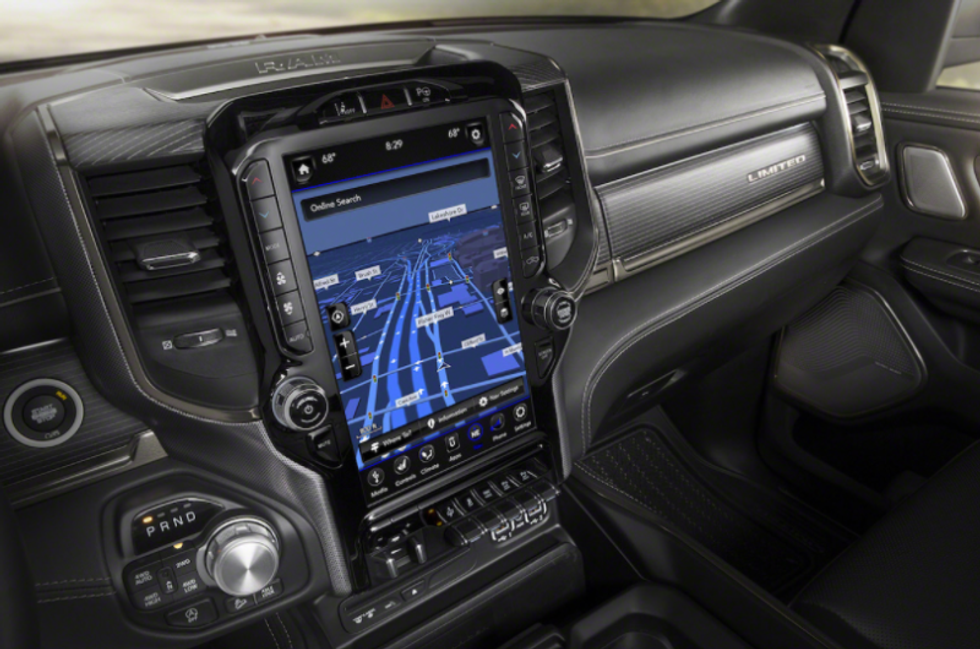 The new Dodge Ram has a 12-inch touchscreen displayDodge
Both the 2019 Dodge Ram's V6 and V8 engines — set for the first mass-production hybrid pickup truck — benefit from a small hybrid boost in power of 90 lb-ft and 130 lb-ft of torque respectively. The extra power is fed from a 48V battery to the powertrain through the engine's drive belts.
And, as with the Mercedes above, this is a kind of hybrid vehicle which cannot be plugged in — instead, power is restored to the battery during regenerative braking. Inside, the Ram gets a huge 12-inch portrait touch screen in the middle of the dashboard.
Acura/Honda shows off Insight hybrid prototype to rival the Toyota Prius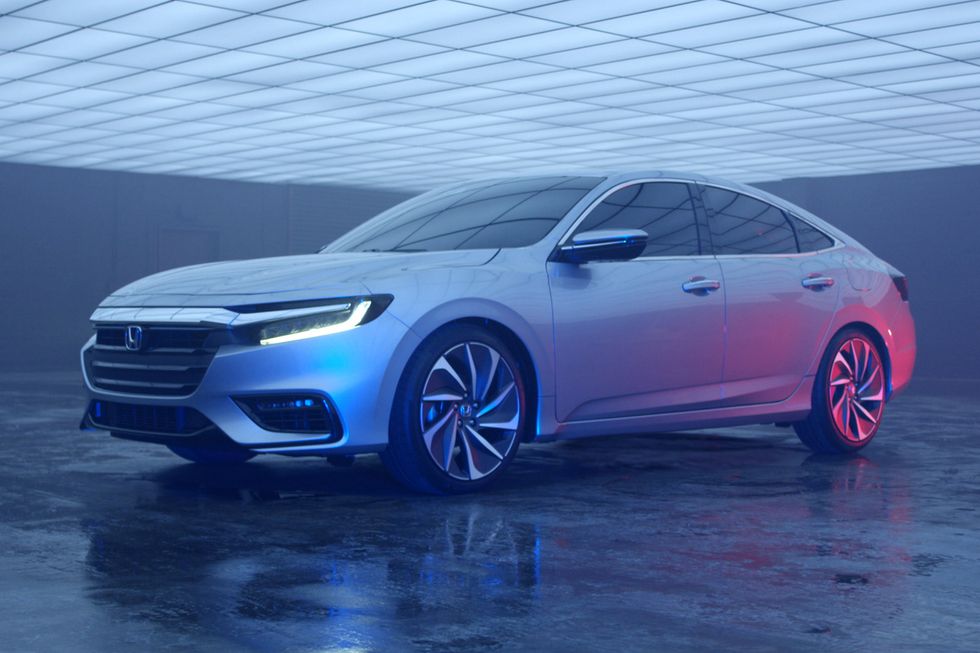 Labeled a prototype for now, the Insight will likely go on sale soonHonda
Before every Californian bought a Toyota Prius, the Honda Insight was the first hybrid production car to go on sale in the U.S., back in 1999. But poor sales left it floundering behind the Prius and the car was taken out of production. Now, though, Honda and its U.S. brand Acura is back with the 2018 Insight, revealed in prototype form at Detroit this week.
But unlike those glitzy prototypes at CES last week, this one appears close to production-ready, and will likely go on sale this year or next to take on the Prius once again.
New Mercedes G-Class SUV shrouds high-tech cabin with boxy Seventies body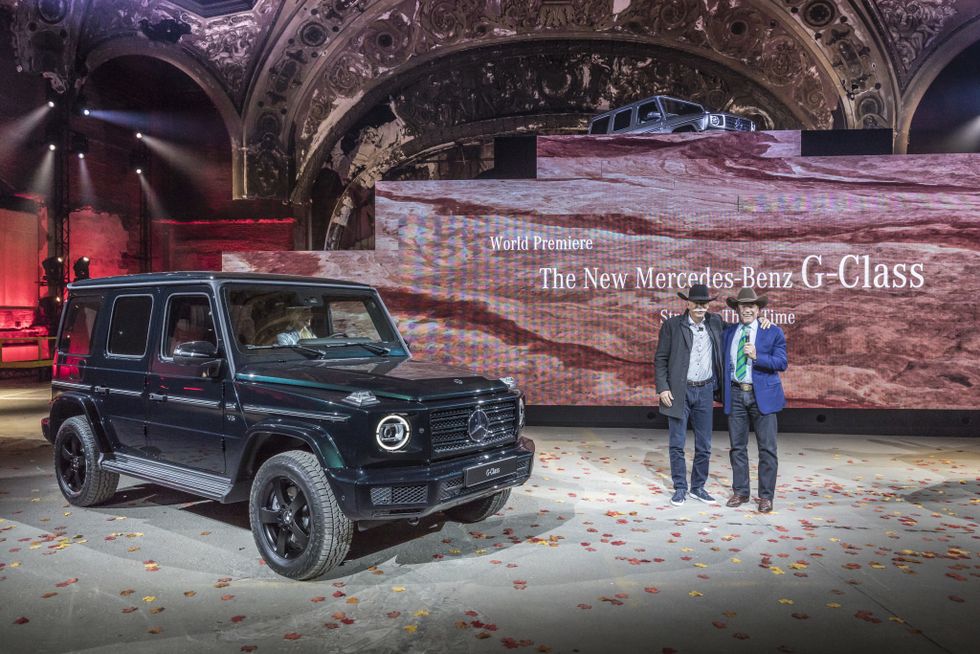 Arnold Schwarzenegger helps launch the new G-ClassDaimler
You'd be mistaken for thinking the new G-Class was something of a relic — but Mercedes claims it shares just three components with its predecessor. Although little has changed on the outside since the 1979 original, the latest G-Class' interior takes a giant leap forward thanks to a dashboard consisting of two, 12.3-inch displays, controlled by a rotary dial and laptop-style touchpad.
The G-Class remains firmly a fossil-burner for now, but none other than Arnold Schwarzenegger was on hand at the launch to ask Daimler boss Dieter Zetsche about the potential for an electric G-Class, to which he replied: "Last year we said we would electrify the whole Mercedes portfolio. Stay tuned."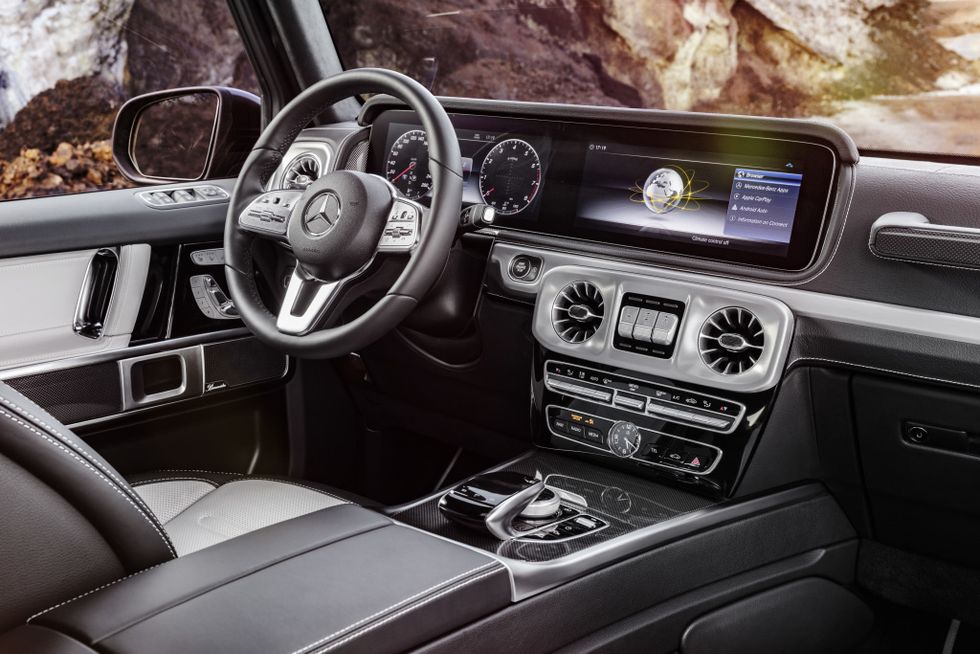 Two huge screens make up the G-Class' dashboardDaimler
Lexus LF-1 Limitless Concept is a flagship crossover of the future
Only a concept for now — and not intended for mass production — the LF-1 Limitless shows how Lexus and parent company Toyota is working to produce cars compatible with various powertrains. This concept is designed to work with a hydrogen fuel cell, or a hybrid electric, plug-in hybrid electric, or entirely electric platform.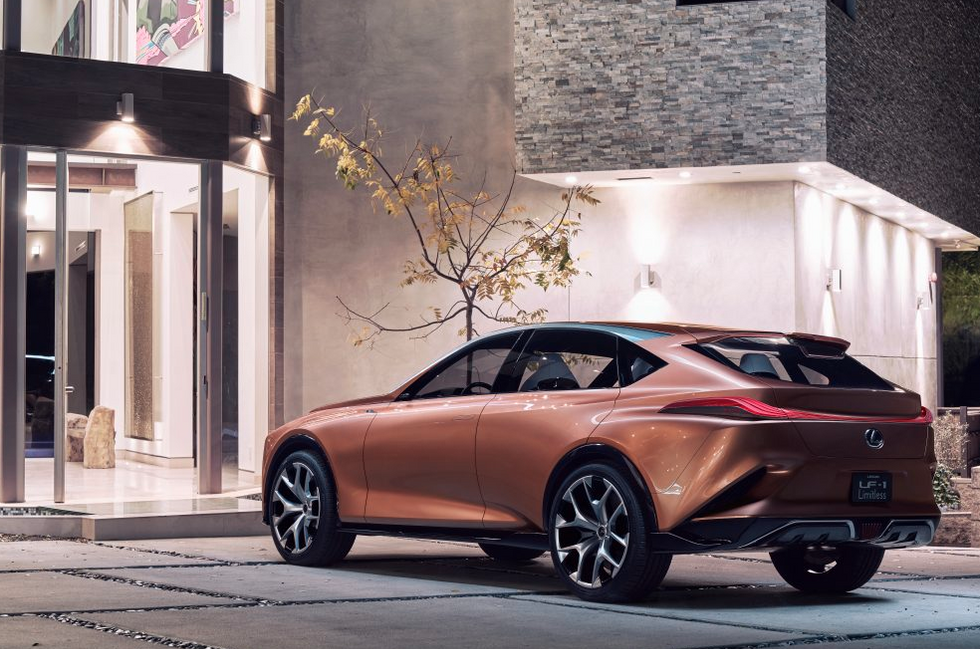 The LF1-Limitless is an example of one vehicle offering multiple powertrain optionsLexus
In true concept-speak, Lexus says the satellite navigation is "four dimensional," which means it can "act as a concierge, anticipating the needs of the driver and passengers based on the progress made, traffic and road conditions...suggesting fuel stops, rest breaks and restaurants." Lexus says it will even make hotel reservations for you, apparently.
Here are also the winner and runners-up for the Detroit auto show's car, SUV and truck of the year competition:
Detroit Auto Show Car of The Year 2018
Winner:
Runners-up:
Detroit Auto Show SUV of The Year 2018
Winner:
Runners-up:
Alfa Romeo Stelvio
Honda Odyssey
Detroit Auto Show Truck of The Year 2018
Winner:
Runners-up:
Chevrolet Colorado
Ford Expedition
It is worth noting that the Honda Accord, Toyota Camry, Volvo XC60 and Honda Odyssey can all be bought with a hybrid drivetrain, although none of these vehicles are fully electric like last year's winner of Best Car, the Chevrolet Bolt.
Like GearBrain on Facebook