Like GearBrain on Facebook
If This Then That, the decade-old smart home automation system, has introduced a paid-for 'Pro' tier for the first time. The new service means that current IFTTT users will be limited to only creating and using three custom-built applets at a time. If they want to build more, they're going to have to pay.
Read More:
Users will still be able to use an unlimited number of applets created by others, as well as those by IFTTT partners like Ring, Hue and other manufacturers of smart home devices — all for free. But they won't be able to personalize them, or modify them for their own smart home set up. Only those who pay can create and use an unlimited number of applets, or modify existing ones.

IFTTT founder and chief executive Linden Tibbets announced the new Pro service via a YouTube video, embedded below. While Tibbets suggests the Pro tier is worth $9.99 a month, current IFTTT users are invited to pay as little as $1.99, or whatever they like above that, for the first 12 months.
UPDATE: After complaints by users, IFTTT has now said that Pro customers can pay whatever monthly price they like for life, as long as they decide before October 7. IFTTT had previously said the user-decided price would only last for 12 months, before switching to $9.99 a month. Now, so long as you switch to the Pro plan by October 7, you can pay as little as $1.99 a month (or whatever you like above that) for life.
Users have until October 7 to pick their price. Those who upgrade to IFTTT Pro after that date will have to pay $9.99 a month. IFTTT has since said it is working on a way for users to try the Pro tier for free for a limited time, to see if it right for their needs.

What's new with IFTTT Pro
IFTTT promises a range of new features with its Pro tier. These include faster applet execution, which should help solve problems where there is too much of a delay between a trigger and an action taking place. For example we have found an IFTTT applet, designed to switch on a Hue light when the Withings Sleep Analyzer notices the user getting out of bed, takes a few seconds too long to function. Hopefully the faster execution with IFTTT Pro will address this issue.
Adding to this, with Pro it will be possible to set a duration for an applet to function. For example, bathroom and hallways lights switched on by someone getting out of bed could automatically turn off again after a set duration.
Another feature of IFTTT Pro is how applets will let users set multiple actions. That way, a single applet can take one trigger (you arriving home, for example) and perform several actions at once (turn on lights and adjust the thermostat, for example). So effectively what you get is 'If This, Then That, That and That.'
IFTTT Pro will also let users create applets that run queries. For example, if a Ring video doorbell is rung, the applet could first check if you are home or not (based on the GPS location of your phone), then perform an action based on whether you are home, within a short distance of home, or a long way away. The applet then performs the function most relevant to your location at that moment.
Tibbets explained how the Pro features could be used by an applet designed to trigger when you have finished work for the evening. "For example, a Pro can create an applet that in the evening queries both their Google Calendar and Slack before deciding to turn on their Philips Hue lights and play their favorite Spotify playlist."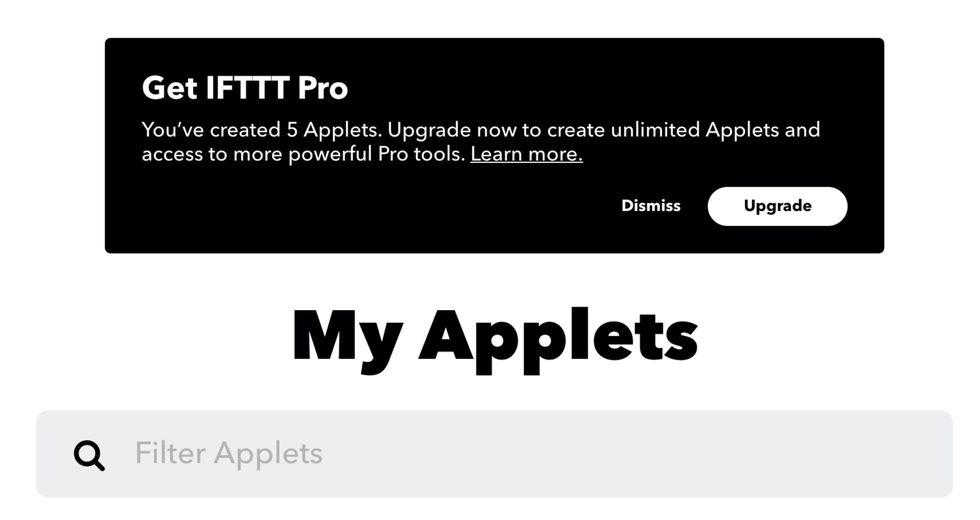 IFTTT users with more than three applets are shown this messageGearBrain
Smart home subscriptions

Adding a paid-for subscription in a bid to cover ongoing server costs and create new features is an increasingly common move in the smart home business, but one which has angered many customers.
Wink caused controversy earlier this year when it asked all users to start paying $5 a month to keep using their existing system. Wyze also introduced a pay-what-you-like option for its AI-powered person detection system, after realizing it couldn't be added to the company's cut-price security cameras for free, as originally hoped. This year also saw Mellow introduce a $6 monthly subscription, which if not paid meant the smart sour vide customers had paid $400 for would stop working.
IFTTT's plans have received a mixed reception from users. Posting on Reddit, one said: "I was pretty disappointed...Three [custom applets] for free is just not enough. It will turn off new users. They will never know how great IFTTT is." To which another user replied: "It'll turn off old users as well. This is the straw that'll severely hurt the camel."
Addressing the wider shift to subscriptions among smart home services, another user summed up the feelings of many: "I understand companies have to make money. I get that services cost. But honestly, I am getting tired of so many apps and services going to the subscription model...sure it's only a couple bucks a month but it starts adding up fast with so many developers going down this road."

Many IFTTT users don't mind the addition of a paid-for Pro tier with new features. But they also expressed disappointment at how, by limiting custom applets to three per user, those who don't want to pay will have their current smart home systems downgraded. One user said: "By all means introduce paid premium features, but kneecapping the current free tier is just scummy. [I] might have paid for the new and improved service but this hobbling of my current setup leaves a bad taste in my mouth".
Regarding IFTTT's new subscription plans, CEO Tibbets says the revenue generated will be used to build new features for subscribers. "We've already begun work on improving Pro's conditional logic interface and will continue evolving that offering in response to user feedback."
Addressing the new limit on free users only being able to create three custom applets, Tibbets said IFTTT "made this decision to better align our Pro product roadmap with the needs of our most active applet creators."
Introduction of The GearBrain, The First Compatibility Find Engine for Smart Devices www.youtube.com
Kwikset 99390-002 Halo Wi-Fi Smart Lock Keyless Entry Electronic Touchscreen Deadbolt Featuring SmartKey Security, Venetian Bronze and Works with IFTTT
Like GearBrain on Facebook