IFTTT, the smart home automation platform also known as If This Then That, caused a stir in September when it announced a new Pro tier costing $9.99 a month. It also angered current users, who would see the functions of the free tier severely restricted.
A month later, and IFTTT is going ahead with the introduction of the Pro tier, with restrictions taking effect on the free version from tomorrow, October 7. Here is everything you need to know about the changes, including what features the new Pro tier offers, how to pay as little as $1.99 a month, and what other free options are available to IFTTT users who wish to jump ship.
Read More:
What is included with the new IFTTT Pro tier?
The biggest new feature of IFTTT Pro is how a single applet can have multiple outcomes, and it can perform queries along the way. That way, a single applet can take one trigger (you arriving home, for example) and perform several actions at once (turn on lights and adjust the thermostat, for example). So effectively what you get is 'If This, Then That, That and That.'
The applet can also be configured to query data before acting. For example, an applet could check the day's sunset time through a weather service before switching a set of smart lights on when you arrive home. This means the lights won't be lit up unnecessarily during the summer, but will come on when needed in the winter.
IFTTT also promises that its service will work more quickly for Pro subscribers, meaning a shorter delay between the 'This' and 'That' elements of an applet – in other words, less time between a sensor seeing movement and a light switching on, or however you have the applet configured.
IFTTT has published a video on YouTube, embedded below, explaining how to work with the smarter Pro applets, demonstrating how queries and multiple outcomes can be created. However, an understanding of JavaScript is required to make these functions work. When asked by a user if JavaScript knowledge is required to make the most of the pro features, IFTTT's YouTube account replied: "In this version, yes. But we will be adding a UI [user interface] for conditional logic in the couple of months [sic]."
The company then told another concerned customer that the "more graphical" users interface would be added "in the near future."
How to pay $1.99 a month instead of $9.99

When IFTTT announced its new Pro tier on September 9, it said the service would cost $9.99 a month. But it also explained how users of the free tier would, after October 7, be unable to run more than three custom-made applets at once. This meant a severely restricted experience for many users, and was met by a consumer backlash online.
Users were told they could pay whatever they like (from as little as $1.99 a month) for 12 months, so long as they started paying before October 7.
But the backlash was such that IFTTT then decided to honor the user-selected price for life. As such, if you sign up to IFTTT Pro today (October 6) you can pay $1.99, or whatever price you choose above that, for the lifetime of your IFTTT account.
Users who decided to upgrade to Pro after October 7 will have to pay the standard rate of $9.99 a month. Otherwise, they can stick with the free version. But that is about to lose an important feature...
What is happening to the free version of IFTTT?

From October 7, users of the free version of IFTTT will only be able to have three custom-made applets active at a time. Previously, they could have an unlimited number active at once, but that privilege is now only offered to Pro subscribers.
Free users can have as many third-party applets running as they like, such as those created by other users and IFTTT's hardware partners like Wyze, Philips Hue, Blueair, Dropbox, Weather Underground, iDevices, and many others.
But a major feature of IFTTT has always been how applets can be created to work exactly how you want, configured specifically for your smart home. Now only three of those custom-built applets can run at once, limiting the functionality of your smart home.
Are there any alternatives to IFTTT?
Yes, and there are a lot of options available, many of which are free. Some offer more home automation support than others, and some are incredibly complex with a steep learning curve. There is no way to simply transition from IFTTT to another service, so if you have a very complex IFTTT setup then you are likely best off paying $1.99 a month for the Pro tier.
If your IFTTT setup is simpler, but still requires more than three active custom-built applets, it should just be an afternoon's work to get everything set up on a new platform.
As you might expect, the IFTTT pages of Reddit have been discussing free alternatives for the past few weeks. Stringify was always the go-to IFTTT alternative, but that service unfortunately closed down in 2019.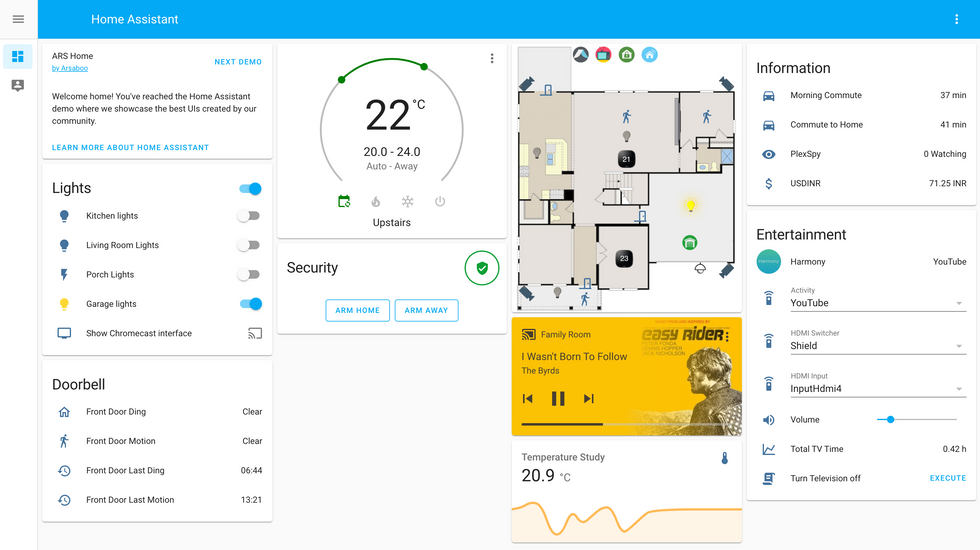 Home Assistant smart home user interfaceGearBrain
A popular alternative, but one that requires its own server in the form of a Raspberry Pi computer, is the aptly-named Home Assistant IO. Where IFTTT operates in the cloud and is therefore sometimes slow to react, Home Assistant runs on a Raspberry Pi on your home network, so is much quicker to respond. It also has a comprehensive control panel interface, shown above, acting as a central command center for your smart home.

Other automation options to replace your IFTTT setup include Zapier, n8n and Automate IO, but these tend to focus more on workflow automation, with applications talking to each other more than smart home products telling each other what to do.
It's worth remembering that the Alexa and Google Home systems each have a routines function for smart home control (explained by GearBrain here and here), and Apple's HomeKit has an equivalent system called automations. These offer some of the basics covered by IFTTT, but lack the granular controls offered by the new IFTTT Pro tier.
Ultimately, those who have invested a lot of time into creating IFTTT applets will see enough value in the Pro tier at $1.99 a month. But the regular asking price of $9.99 a month will be harder to stomach, especially for those who wish to use between three and, say, 10 custom applets. Switching to another service is possible, but time-consuming for all but the very simplest smart home setups.
Introduction of The GearBrain, The First Compatibility Find Engine for Smart Devices www.youtube.com