Like GearBrain on Facebook
When looking for a good indoor security camera to help protect the inside of your smart home, it's important to make sure your security camera comes with key features like quality video resolution, customized motion detection, two-way communication, night vision and a wide field of view (FOV). These features will provide the type of coverage you need to secure your home. We tested a new security camera from Imou called Rex which had all these qualities, and we were very impressed with this powerful yet affordable smart security camera.

What is Rex Pan and Tilt Security Camera?
Rex is a pan and tilt smart security camera with 360-degree coverage inside your home. It features human detection, a warning light and a siren to help scare off unwanted quests. It also comes with smart tracking, privacy mode and color night vision up to 33 feet. Rex has a sleek designed and comes with a wide viewing angle. It can pan and tilt 355 degrees horizontally and 90 degrees vertically. It also has a 4MP sensor which provides crystal-clear QHD video (1440p). This will come in handy when you try to zoom in on someone or something.
Rex also has two-way communication and diversified storage capabilities. You can store your pictures and videos locally using a microSD card or an NVR connection. Or you can sign up to one of the Imou Protect plans for cloud storage.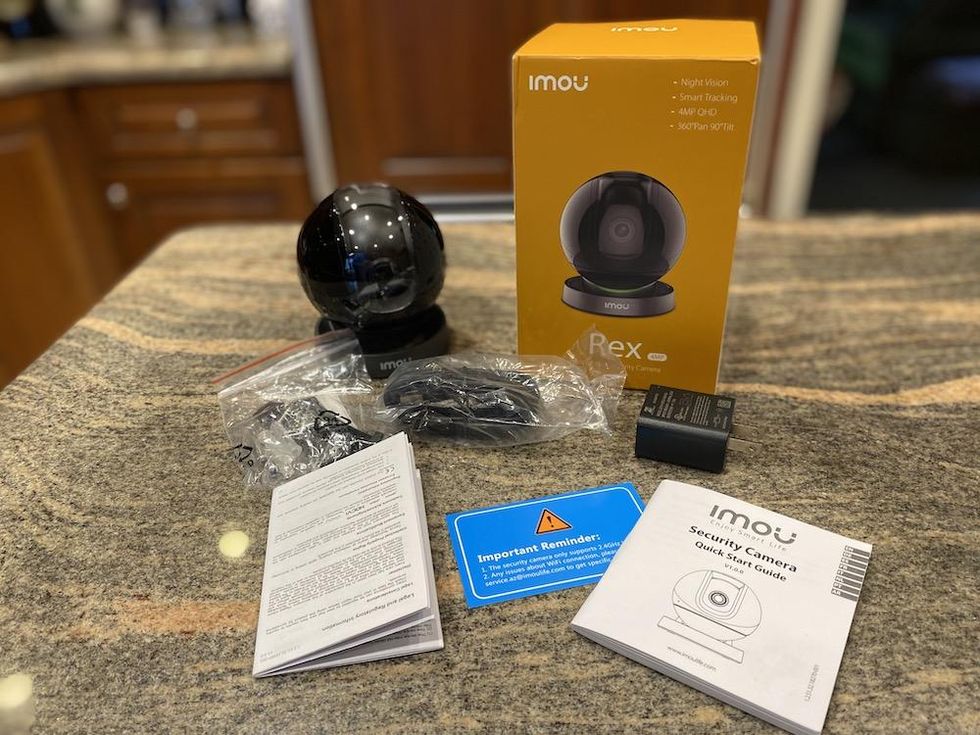 Imou Rex 4MP Security Camera unboxedGearBrain
Key Features
One of the nice features Rex brings to your smart home is the ability to scheduled and adjust the sensitivity of the camera's motion detection. You can modify the settings, so motion is triggered when a human is detected. This feature is good for households with pets (i.e., dogs or cats) which might be roaming around. Adjustments are made using the Imou app which is available for both Android and iOS mobile devices. Just go to settings and setup notifications and alerts for when human detection occurred.
How does Rex's unique motion and human detection work? The camera comes with an advanced AI human detection technology built into the camera. This unique technology uses image processing technology to accurately find humans in the live stream from your camera. Once the human is detected you will receive a notification on your smartphone. Once detected, you can decide to either speak to the person or sound the alarm.
The Rex Pan and Tilt security camera is also easy to setup, works on a Wi-Fi connection (2.4GHz only) and compatible with Amazon Alexa enabled devices. If you have a dual band router, make sure your router settings are for the 2.4 GHz.
Another nice feature with the Rex security camera is its night vision. Rex security camera uses advanced IR algorithms to give you a clear view of what's going on if anything in your house in complete darkness. This technology lets you see any objects or persons up to 33 feet in the room clearly. And if privacy is a concern, Rex security camera comes with a privacy mode. All you must do is tap on the apps screen and it'll automatically lower the camera's lens protecting anyone from accessing your camera and seeing what's going on inside your home.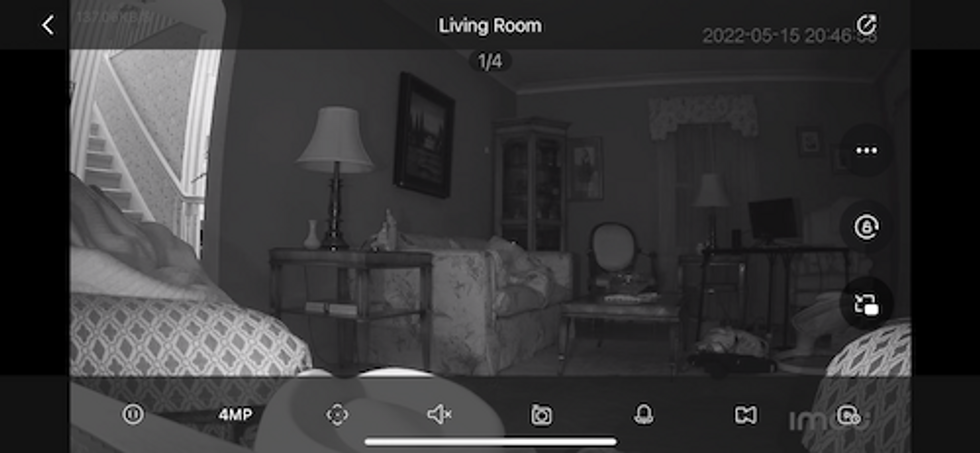 Imou app provides the controls and live video feed from your camera. Here is an example of night vision picture.GearBrain
What do you do with all those videos you record?
Rex offers you three ways to store your videos. You can store them locally using a microSD card or, if you have an NVR, you can easily connect Rex to your NVR system to store videos. Another way you can store videos is by using cloud storage from IMOU. IMOU cloud storage is called the Imou Protect Basic, and it provides seven days of cloud storage at a cost of $2.50 per month per camera or $8.33 per month for up to five cameras. If you need more storage, you can upgrade to the Imou Protect Plus plan which is $5.83 per month per camera or $18.33 per month for up to five cameras. This plan gives you 30 days of cloud storage plus AI detection and security report and local storage as well and you can adjust motion sensitivity with this plan.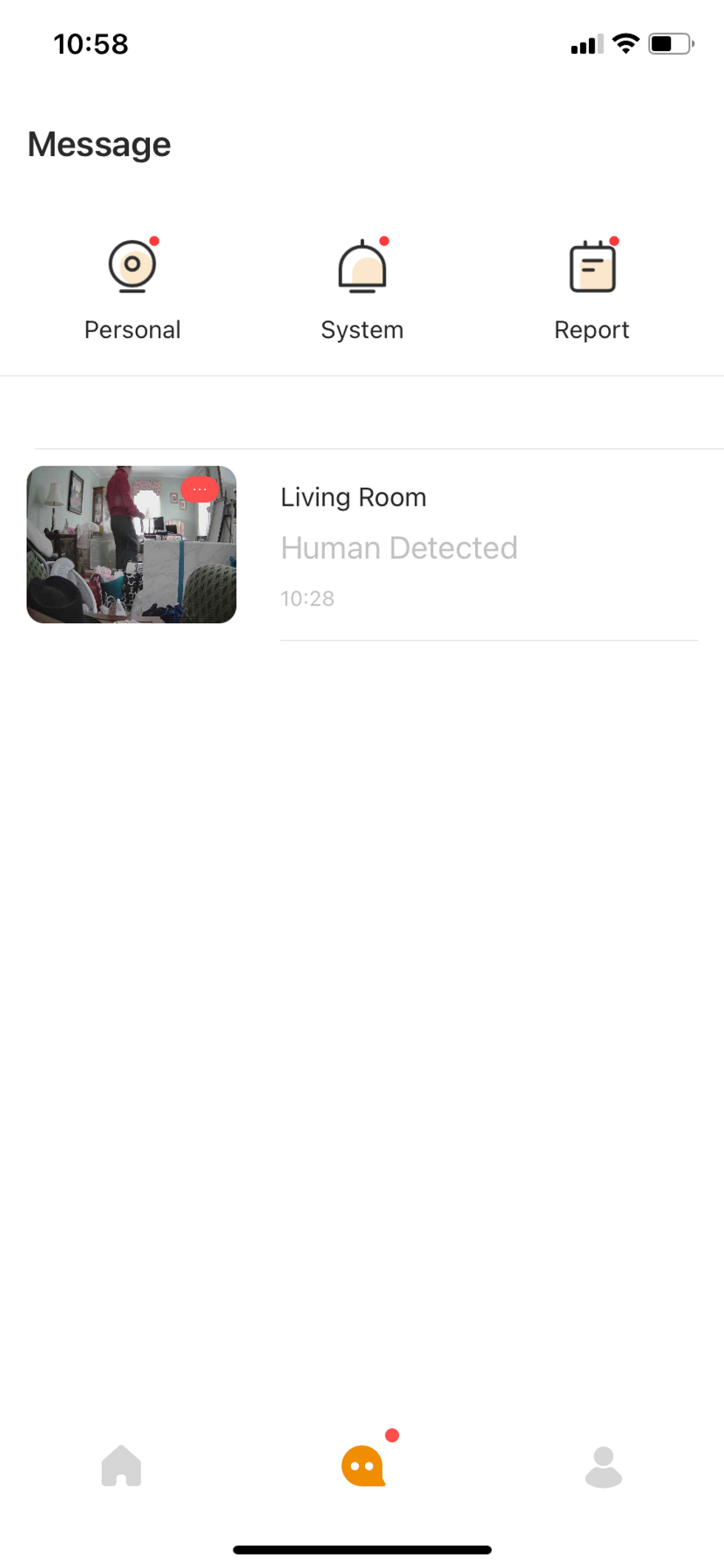 Imou app will send messages when Human detections is triggered.GearBrain
How much does Rex cost?
Rex Pan and Tilt security camera costs $79.99 and is available on Amazon today for $68.99, a 14% savings. Is this a good price for an indoor security camera with all these features (i.e., motion and human detection, two-way talk, built in siren, local storage), it's a good price.
Also, Imou is providing GearBrain users with an exclusive 20% OFF discount. Just use this code, "GEARBRAIN" when you purchase Imou Rex or any Imou product in the company store on Amazon. (Note: This code applies to all regular price products of IMOU Direct store and is valid for 1 year.)
Performance
The Rex Pan and Tilt camera performed well during our testing. The night vision was clear. We were able to easily view objects in the distance as well as zoom in with just a pinch of the screen. The privacy mode was simple to activate. By just touching the video screen in the app, Rex camera went into privacy mode as stated.
One of the new features we tested early on was human detection. Imou mentioned it will take time for the camera to learn overtime people coming in and out of the room. Also, we were surprised the AI Human Detection will only work if you have a Protect Plus plan. It's not free.
When comparing the design of Rex security camera with other indoor pan and tilt security cameras we recently tested, we found Rex to be nicely designed but not as durable or sturdy as the other security cameras we've tested over the years.
One of the best features of the Rex pan and tilt camera is its mobile app. The home screen of the app provides the essential controls you will use with this smart home security camera. You can take pictures, talk to someone, and record if someone is in the room. The pan and tilt controls were slightly delayed which we have seen in other security camera with cloud storage. But if you have a good Wi-Fi connection, you should be able to easily move the camera up and down or side to side with just a touch. We also liked how the camera has a spotlight which is good to put on to see things clearer when the room might get dark early in the evening.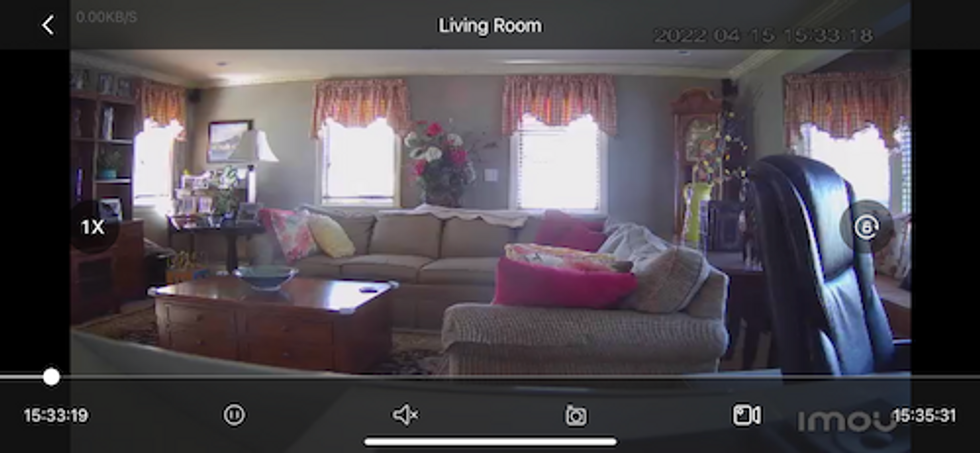 Imou app provides the controls for your Rex camera.GearBrain
When using the Imou app, we did like how easy it was to transition from portrait mode to landscape mode. It was quick and we were able to get a good look of the room. The zoom in capability was very clean. We could easily pinch in to see objects. And for those of us who like to know when a video is being recorded, Rex provides a timestamp which we think is essential for all security cameras.
Regarding settings in the app, we found it easy to set motion detection as well as human detection and smart tracking. The human detection will record videos and only send notifications when it detects a person is in the room. This is good to use if you have a pet. The smart tracking will track the moving object and start to record when it is detected. Good to use when you're not at home.
Custom Motion Zones
Use Imou app to set customized motion detection
GearBrain
Use the Imou app to set customized motion detection zones for Rex.
How to Setup Custom Motion Zones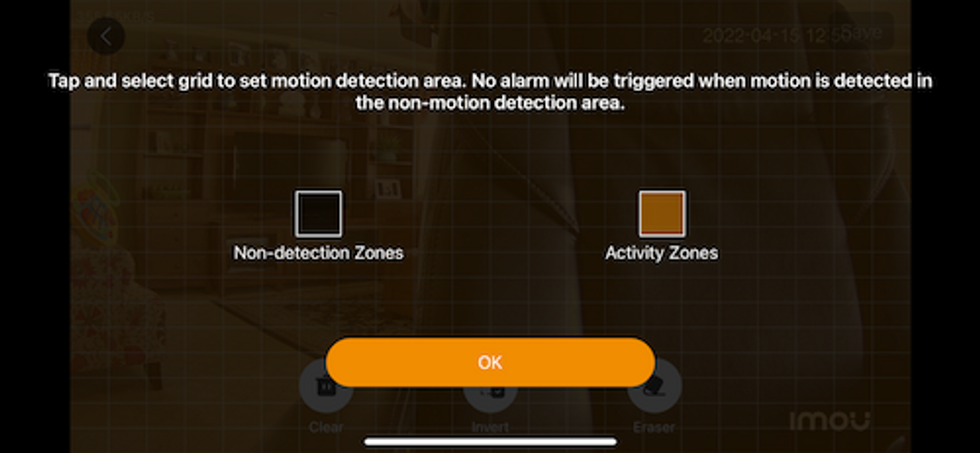 Imou app will show you how to set them up.
GearBrain
Imou app will walk you through how to setup your customized motion detection zones.
The Imou app allows you to set schedules for when you want detection on and off in your house as well as the sensitivity for motion detection. For our testing we found when you put the sensitivity to Max you will get a lot of notifications. Depending on the traffic in your house and if you have a pet or pets you might want to set the sensitivity at two or three to prevent those unwanted alerts. But like all good security cameras, Imou Rex offers custom general activity zones. When you go into the app you could set specific areas on the screen that you want the camera to monitor. These areas could be high or not high traffic areas. Every time a human or motion is detected the camera will start to record. This is good for areas in your home where you want to keep a closer eye on in case something happens, or someone goes there, and you want to get notified. You could easily set these motion activity areas in the Imou app.
Another key feature of this camera is its smart tracking which will allow Rex to follow the moving person and record video. We normally find this type of motion detection in outdoor security cameras. It's nice to have in an indoor security camera. IMOU Rex security camera does have AI Detection, but it is still an experimental function. The company is asking for your help by activating it so that they can improve the accuracy of the AI detection. However, keep in mind, to get the AI detection you must sign up for the Imou Protect Plus plan.
The Rex security camera comes with HDR technology. This is the technology that can optimize the image quality for those high contrast light conditions. If your room has a lot of windows and the camera is facing those windows, you're going to get a lot of glare and the images will be hard to view. The HDR technology will give you backlight so you could see those images in front of the windows clearly.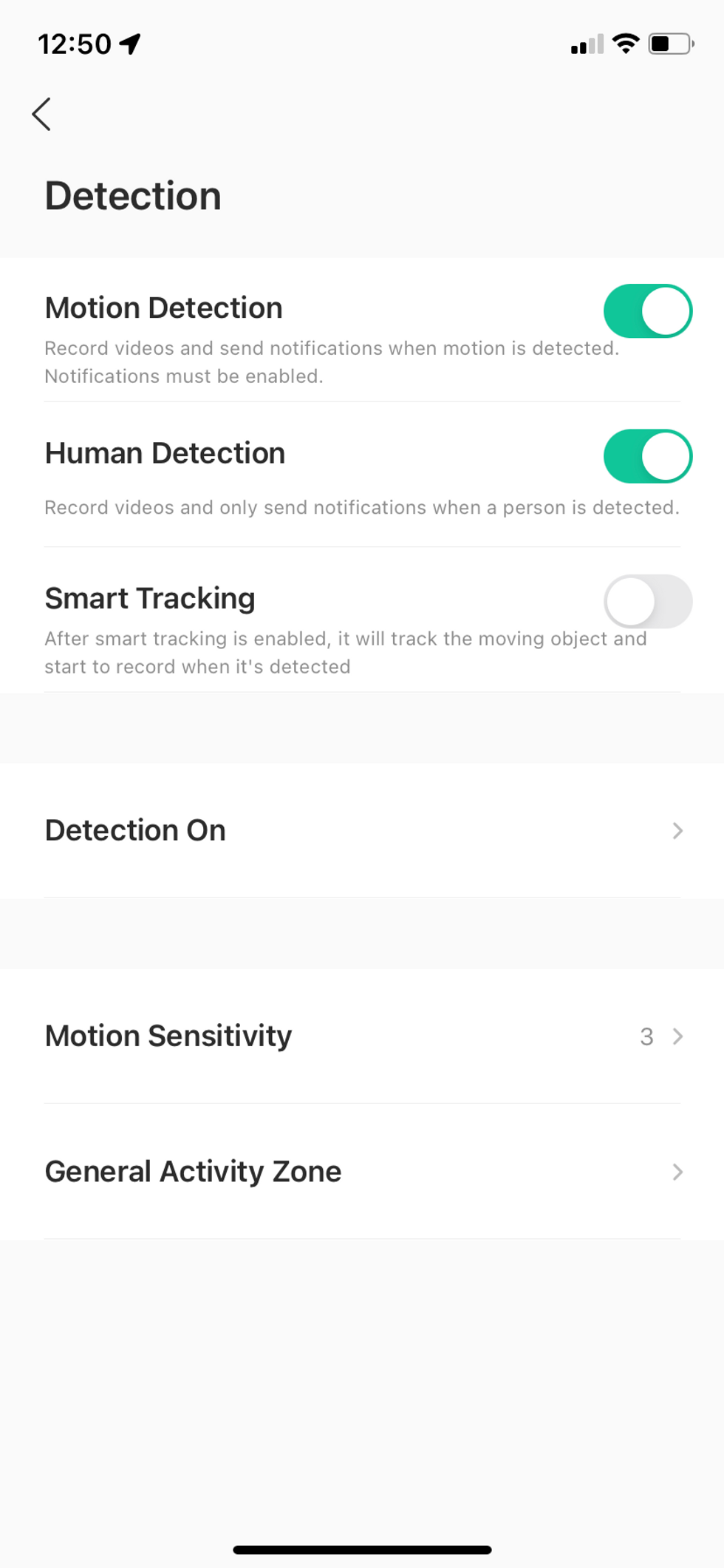 Use the Imou app to set motion detection and any other detection feature for Rex camera.GearBrain
Summary
If you're in the market for a good indoor security camera with pan and tilt capabilities, two-way communication, motion and human detection, ability to customize detection zones, color night vision and plan to store videos locally or using an NVR, Rex is a great addition to your system. It's not expensive and you can easily mount it inside your home. Just make sure you have an outlet nearby.
What is the best way to use your Rex Security Camera? There are several effective ways to use this smart AI security camera in your home. We can see this camera being used as a baby monitor, an indoor security camera monitoring multiple points in your home from one location. And as a camera which can keep an eye on your pets while you are at work or away from the home. You can pan and tilt the camera various ways to find the optimal viewing angle. It comes with HDR and night vision which is helpful on those bright sunny days or dark nights. Rex also has two-way communication which you can talk to your pet or even the kids when they come home from school.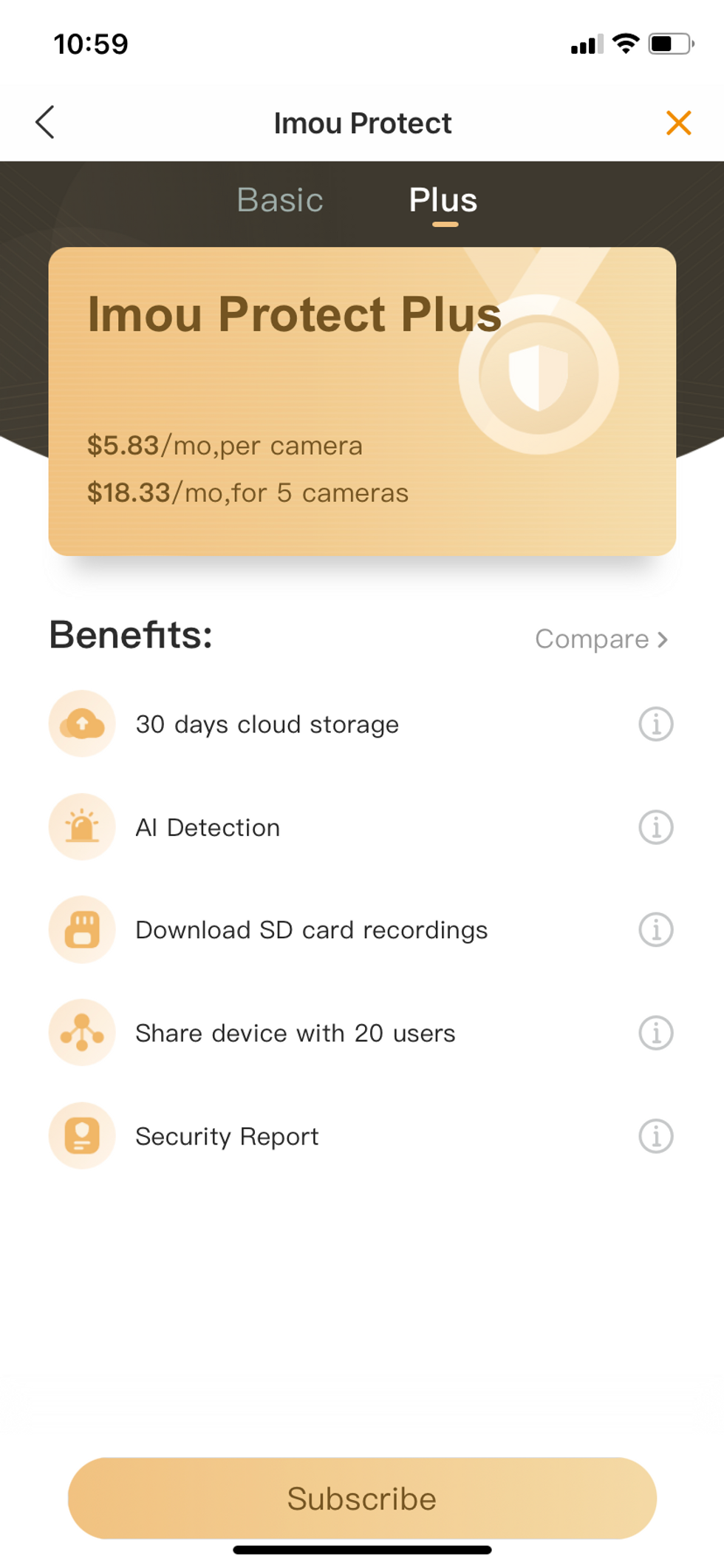 Imou Protect Plus plan GearBrain
What we were surprised to see with Rex security camera is the need to get the Imou Protect Plus Pan for AI Detection. It would be nice to have this feature be part of their general feature set. Rex costs only $75 which is a good price for an indoor security camera with these features. However, if you add in the cost of Imou Protect Plus plan ($6.99 per month per camera or $69.99 per year), the camera starts to get expensive for just adding AI detection.
Overall, Rex is a reliable indoor pan and tilt security camera with a good set of security features, excellent field of view, human motion detection which can be customized and a diversified storage for all those video recordings and pictures you take inside your smart home. If you have an NVR or plan to store videos locally on a microSD card, Rex is a good security camera to consider adding to your NVR system or home. Just make sure you have good broadband Wi-Fi signal in your home. If you don't, Rex might have performance issues. Videos and two-way talk will be delayed, and you don't want that with your indoor security camera.
Pros
Excellent field of view
Human motion detection
4MP sensor and QHD video resolution
Diversified video storage – works with NVR
Cons
Must upgrade to monthly plan for AI feature
Limited Amazon Alexa features
Build is flimsy – lightweight camera
Home Security Camera 4MP Indoor Camera Pan/Tilt, Plug-in WiFi Camera (2.4G ONLY) Baby Monitor Dog Camera with Spotlight & Siren, Night Vision, 2-Way Audio, Human & Sound Detection, Motion Tracking
Don't forget to check out The GearBrain, our compatibility find engine for smart devices. It can help you find other smart home security camera as well as any other smart device compatible with the devices you already have in your home.
The GearBrain, First Compatibility Find Engine for Smart Devices www.youtube.com
From Your Site Articles
Related Articles Around the Web
Like GearBrain on Facebook