Like GearBrain on Facebook
In late April, GearBrain reported Insteon devices were not working because the company had shut down their cloud servers. The home automation platform was no longer being serviced by the company and Insteon users were left to themselves to figure out how to get their Insteon hubs working again with their Insteon and other compatible smart devices. We are happy to report Insteon is back up and running today.

Last week Insteon was purchased by a group of passionate Insteon users. This new group of owners did not want Insteon's unique dual-mesh technology to go away. They made a commitment to existing and new Insteon on restoring the platform and all its functionality but there will be some new terms.
The New Insteon
The new Insteon is going to be slightly different from the old Insteon. You will be able to use all your existing Insteon devices and integrations. However, the company is rolling out a new subscription model for getting your Insteon Hub and devices back up and running. The company is offering one- and two-year plans for users to subscribe and help pay for the services. A one-year access plan includes Insteon Hub service, mobile app access to the Insteon hub, email and push notifications, voice assistant integrations with Amazon Alexa and Google Assistant and more. The cost is $39.95 per year.
Insteon's two-year plan is the same as the one-year plan but costs $69.95, a $9.95 savings. Note you will have to create a new Insteon account. The company doesn't want you using your old Insteon hub account.
Subscription plans were very common in the early days of DIY home automation. We remember 6-7 years ago when companies like Nexia (now part of Trane) and Iris by Lowes sold their DIY home automation kits with monthly subscription fees. These fees covered just the cost of the automation capabilities. That was a big deterrent for potential buyers back then. It was hard enough getting users to pay $200 for a DIY smart home starter kit let alone pay a $10 a month fee to have all the devices talk to each other on a wireless connection. But for Insteon, we understand their reasoning. The new owners are not a big company coming in and snatching up a home automation platform. These are passionate users of the platform that want to keep their platform up and running for their sake and the sake of other Insteon Users. We get it and applaud them for it.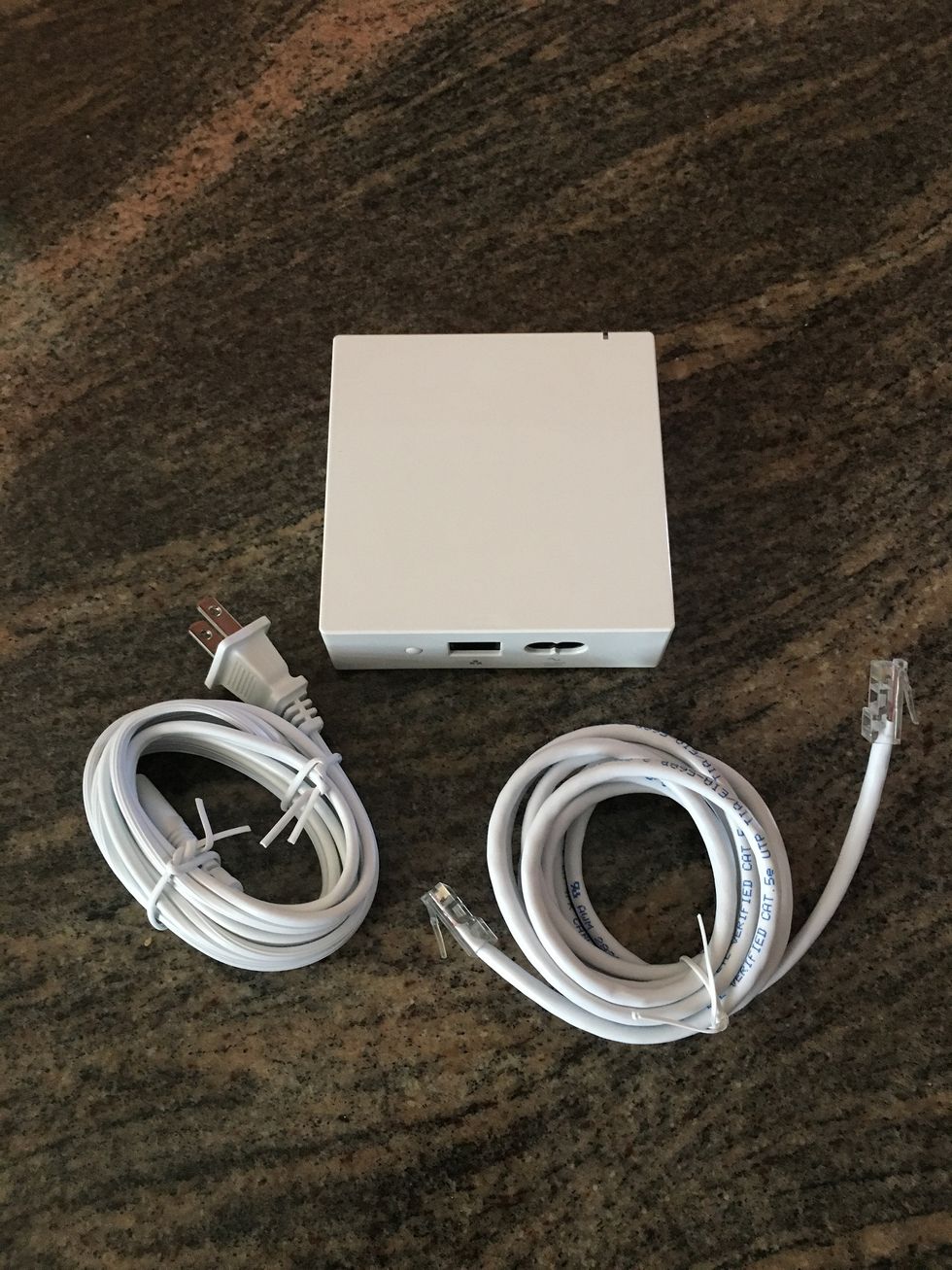 We used a Insteon hub to check when Insteon system went back up. www.gearbrain.com
Testing
When we heard the news about Insteon being back online, we had to see how the Insteon switches and hub worked in our Insteon test house. First, we checked the Insteon app, and it was up and running. Then we checked the connection between the Insteon app and our devices. That was working. Next, we checked the integrations we had set up with Google Assistant and Amazon Alexa. The Amazon Alexa skill was not working but we were able to turn on Insteon switches using the Google Home app. We were not able to use voice commands or set up routines for Google Assistant enabled devices.
The new owners did mention they are working on getting the Amazon Alexa and Google Assistant integration back up and running. This is good to hear.
GearBrain has tested many Insteon's products over the years in real homes. We like how their dual-mesh technology works in the home, especially older homes with thick walls. Though they had limited integrations in the beginning with other smart home devices like the voice assistants, Amazon Alexa and Google Assistant, as well as Nest Thermostats, the company was able to make these integrations happen in time over time.
If you are a Insteon user and want to get your Insteon hub and devices running again, you should visit Insteon support page. It has all the instructions you need to help diagnose any issues with your Insteon Hub and system. If you want to buy Insteon products, you will be able to do so in time. The new owners are working with the factories to get the production of Insteon devices up and running again. There will be more to come from Insteon as soon as they iron out the production details.
Summary
Insteon is a unique smart home automation system. They were one of the first to market a dual-mesh technology for the home and had built a solid ecosystem of useful smart devices. These products helped make your home smarter and more secure. We are happy the new owners are bringing the company back to life, though we are not a fan of monthly subscriptions for home automation service. We understand why the new buyers are installing it and will give them a pass this time. Hopefully over time the company will have other revenue streams to offset their costs so they can give Insteon users a break and eliminate the subscription fees. But if not and you want to find a way to connect all your Insteon devices with a new hub, remember you can use The GearBrain. It's our compatibility find engine for smart devices which allows you to research, find, buy and learn how to connect and optimize smart devices. And it's easy and free to use. No subscriptions required.
How to Find Products in The GearBrain, Our Compatibility Find Engine for Smart Devices www.youtube.com
HomeSeer HomeTroller PRO Smart Home Controller Hub | Locally Managed Automation | Also Compatible with Alexa, Google Home & IFTTT and Insteon
From Your Site Articles
Related Articles Around the Web
Like GearBrain on Facebook