Amazon has just given Alexa one of Google Home's most useful features, the ability to understand several different people purely by their voice.
After users set-up the new feature through the smartphone app, Alexa's new Voice Profiles system understands who is speaking to the Echo. The Amazon smart speaker can then perform relevant commands based on who spoke.
This means if you ask Alexa to call your friend Ben, the Echo will call the right person. If your partner also asks the same Echo to 'call Ben' it will dial their friend Ben — not yours.
Amazon began rolling out the feature to US customers on October 11, but as yet there is no timescale on when the feature will land in the UK and Europe.

Below is everything Alexa Voice Profiles can do so far. Once set up, any member of the household can perform these tasks by saying the same thing. Alexa will recognize their voice without you having to manually switch between profiles, or tell Alexa who you are. Going forward you can:
Call or message a contact saved in your address book by saying 'Alexa, call dad' or 'Alexa, message Ben'
Have Alexa read your personalized flash news briefing. Alexa will recognize your voice and read from the news sources you have previously assigned to your profile in the Alexa app
Buy items from Amazon. Alexa will recognize who is speaking and bill the right person
Play songs and playlists from Amazon Music Unlimited, if you have a family plan. Alexa will recognize your voice and play your music, including playlists you previously created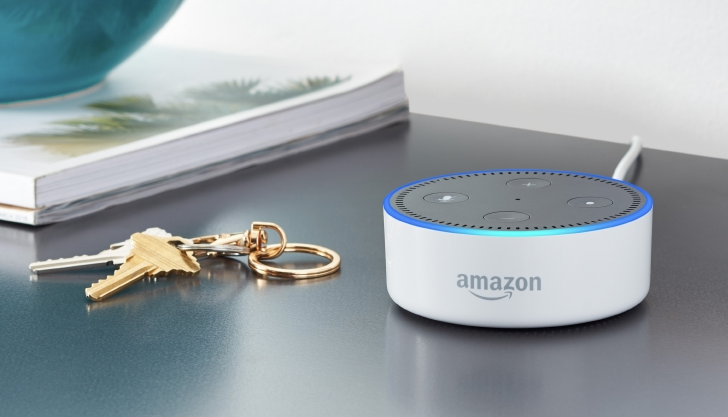 Voice Profiles also work on the smaller, $49 Echo DotAmazon
Here's how to set everything up:
Make sure the Alexa app on your iOS or Android device is up to date and open, and that you are logged in.
Tap the menu icon in the upper-left corner, then tap Settings.
Scroll down to the end of the Accounts section and tap on Your Voice. If the feature isn't available in your country yet then Your Voice will not be shown, and instead you will only see Voice Purchasing and Household Profile, which are two different features.
Tap begin, then pick the device you want to teach from the drop-down menu. Voice profiles work with the Echo, Echo Dot and Echo Show, as well as the upcoming Echo and Echo Plus.
Now you will be shown 10 phrases to read outloud, so that Alexa can learn your voice.
Tap Complete after the last phrase to finish the training.
Congratulations, Alexa now understands your voice. If you live alone, or are the only person who uses your Echo then you are unlikely to get any immediate benefit from doing this. But if you live with someone else, or own an Echo which is often used by visitors, teaching Alexa to understand their voice is where Voice Profiles starts to shine.
To set up another person's voice:
Ask them to download the Alexa app onto their phone and log in with your account details. Alternatively, if they don't want the Alexa app, logout of your own Alexa app, then log back in with your credentials and tap 'I'm someone else'.
They will then be asked to enter their name.
Now have them tap Settings and Your Voice, just as before.
Finally, let them follow the same 10-step tutorial.
It would be fair to say Amazon is playing catch up here, as the Google Home has been able to recognize six different voices since April. But it is nonetheless a strong update for Alexa, and we expect to see more voice-specific features made available soon.
Apple must surely be feeling left out, as Siri cannot yet perform this trick. With the HomePod speaker due on sale in December, a lot is riding on Apple bringing some smart home-centric improvements to Siri to keep itself in the race. Being able to identify different members of the household, especially for a speaker intended to reside in your living room, is surely vital to its success.