Like GearBrain on Facebook
Ask Alexa and it'll tell you whether it's going to rain, or if the sun will shine where you are. But Alexa can get far more personal than that, by learning your voice for someone else's in your home. Training Alexa to know how you sound when you speak lets you create what's called a voice profile, and open the doors to other Alexa features from your music playlist, to your personal messages. Here's how to get started.
Teach Alexa to know your voice
To start training Alexa to know your voice, ask it simply to "Learn my voice" in an Echo device. First Alexa will list people from the account, and start reading names on the account until it comes to you.
It will also start calling you by name. (And let's just say, it won't always get the pronunciation exactly right.) You can even ask the voice assistant, "Alexa, do you know who I am?" And it will respond, in my case, "I'm talking to Lauren. This is Lauren's account."
If someone else asks "Alexa, do you know who I am?" It answers, "I don't know who is speaking, but you're in (in my case) Lauren's account." It's a pretty neat trick.
There's some training to do here. Use a different tone, and you may get "I don't know who you are, but this is Lauren's account." Or as it learns, it may say, "I think this is Lauren. This is Lauren's account."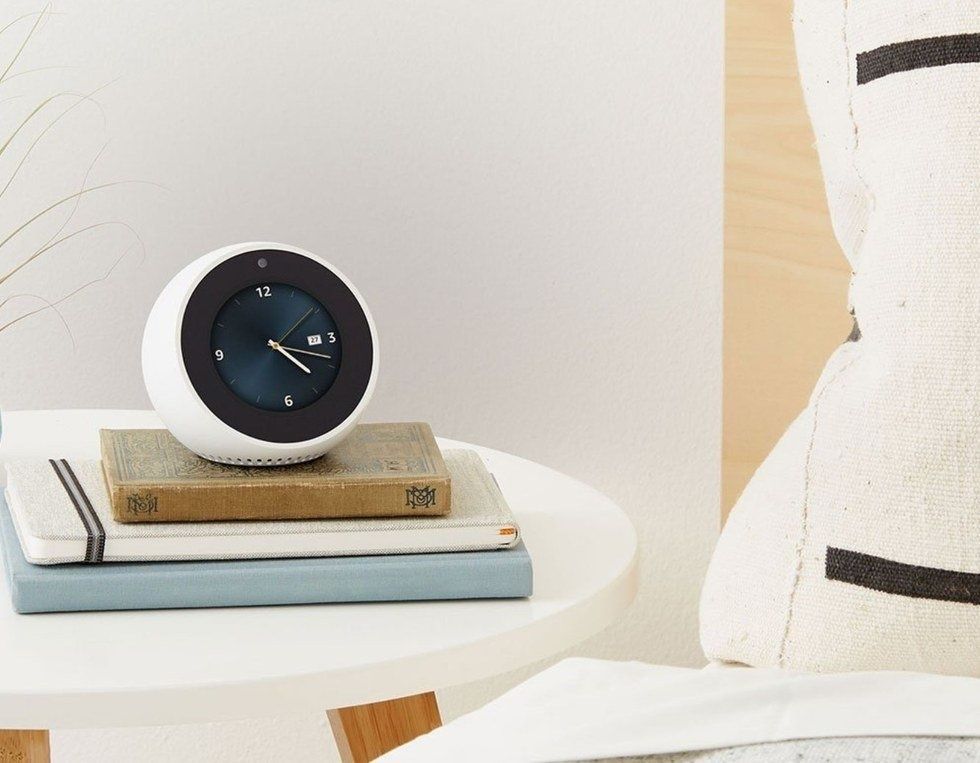 Alexa's Voice Profiles work on all Echo devices, including the Amazon Echo Spot Amazon
Alexa Calling and Messaging
Once you've trained Alexa, the voice assistant will tailor a lot of its answers just for you, starting with Alexa Calling and Messaging. This feature works on Alexa devices.
You need to enable this feature in the app, by adding your phone number. Alexa then sends an SMS message to verify that this is your number — and then people who have your number can try and reach out to you through Alexa.
If you've set up a voice profile, then when someone leaves you a message, you can access those — and only you — if you have a voice profile. As you expect, you can also send a message just from you as well once a voice profile is set up.
Flash Briefing
Ask Alexa to play the news, or launch a morning routine, and you'll get what Amazon calls the Flash Briefing. When Alexa knows your voice, it will remember what it's told you already, and won't repeat stories.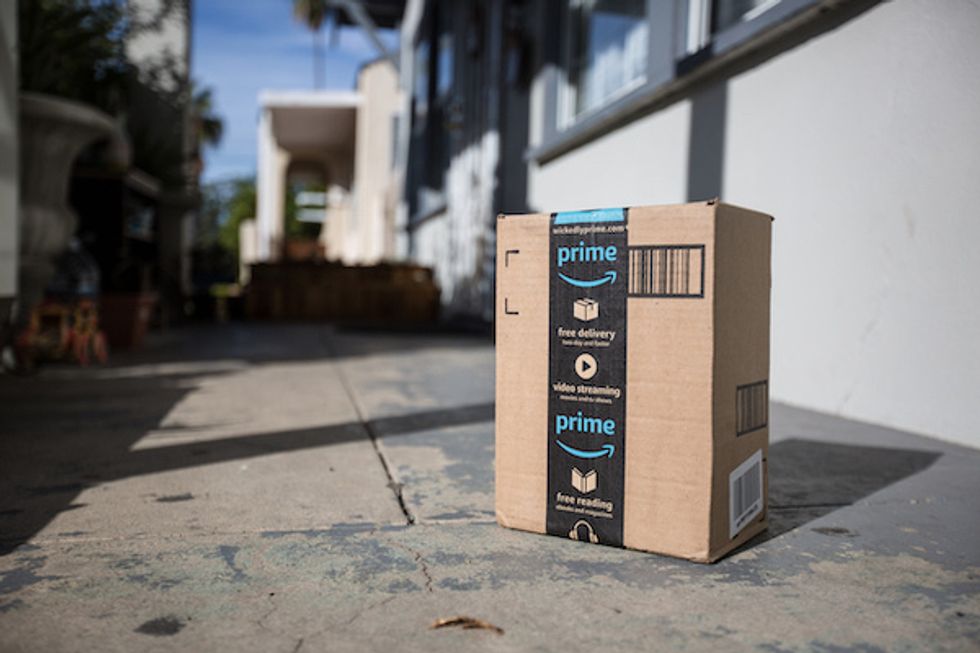 Once Alexa recognizes your voice, you can shop through the device without ever needing a PIN number or codeGearBrain
Shopping

Shopping by voice is a default feature. To turn this off, or make sure it's on, you go to the menu in the app, select Settings, then Alexa Account. Then click Voice Purchasing, which only works if you've set up 1-Click shopping in Amazon.
Many people choose to add a Voice Code, also under Voice Purchasing, to confirm that you really do want to buy 144 rolls of paper towels. This allows you to create a four-digit pin which protects you from roommates or young children from accidentally buying things under your account.
Once Voice Code is enabled, the feature Recognize Speaker will appear, and toggling this to work will now let you shop just from your voice profile. Alexa will recognize your voice and assume
If you've enabled shopping from Alexa, and have a voice code set up, you won't actually have to say that code if you have an active voice profile. Instead, Alexa will just know it's you — and consider your voice your ID.
Music

You can set up personal playlists from the Amazon Music Unlimited Family Plan. When you first set up your voice profile, it will start its training, playing different music stations to see what you like.
I really found Alexa had a hard time finding anything I liked. But invest some time, and eventually you'll train the voice assistant. You can say, "Alexa, I don't like that." Alexa will respond "Got it."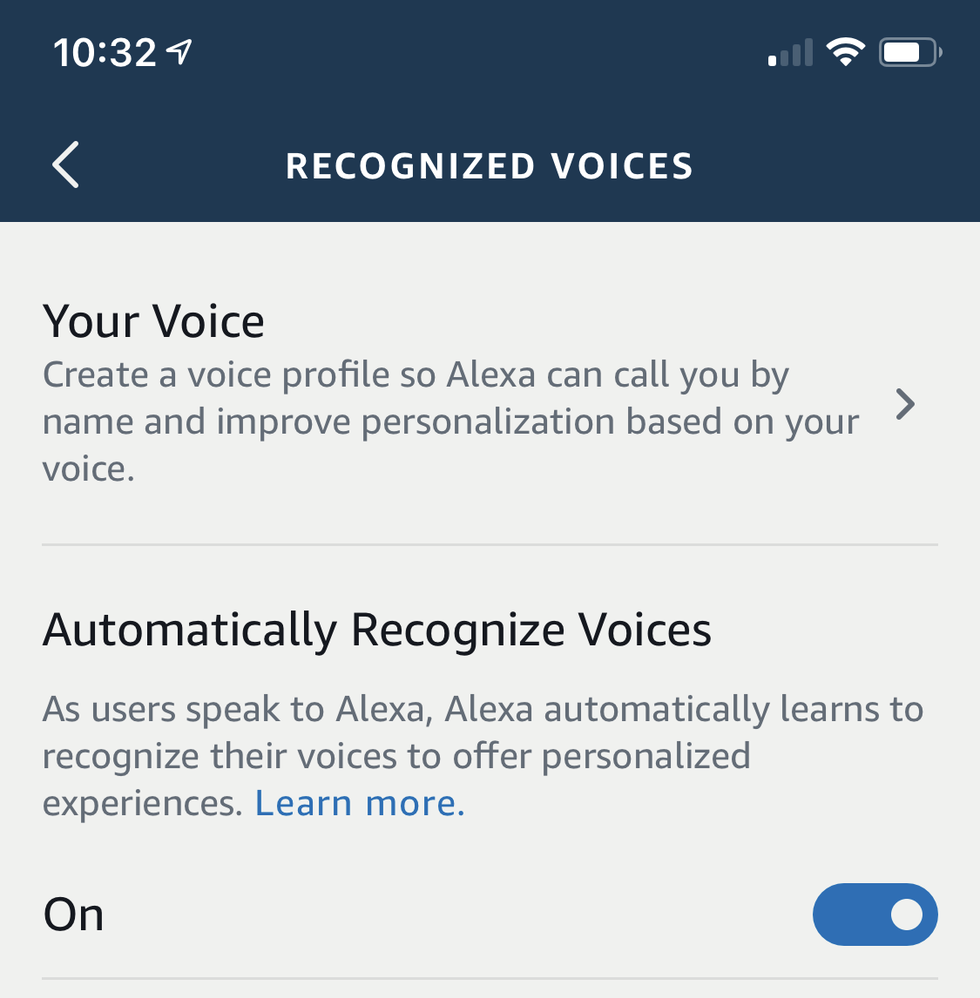 Create a voice profile for yourself, and other people who live in your homeGearBrain
Alexa can learn your roommate's voice too
If you live with a significant other, family member or roommate, the voice assistant can learn their voice too. They have to log into the same account that register the Alexa. From there they need to click into their personal profile, and then ask Alexa to "Learn my voice."
But if they don't have a personal profile, they can build one right there. Just choose the option, "I'm someone else," and then follow instructions in the app to set up their personal profile. Once that's done, they can ask Alexa to "Learn my voice" too. Note that setting up a personal profile has to be done in the Alexa app.
Deleting your voice profile

Privacy is important, and just as you can delete the recordings Amazon has of you when speaking to Alexa, you can also delete your voice profile should you decide to stop using the smart assistant, or switch to another.
To delete your specific profile, you go into the Settings menu of the Alexa app, then click Alexa Account, then Registered Voices, and then Your Voice. Then click "Delete my voice."
Once you've deleted that profile, it's gone and can't be restored. You can however, create a new voice profile again. Just in case you miss having Alexa know your name.
Check out The GearBrain, our smart home compatibility checker to see the other compatible products that work with Amazon Alexa enabled devices.
From Your Site Articles
Related Articles Around the Web
Like GearBrain on Facebook