Like GearBrain on Facebook
In early November we reviewed the top-of-the range Roomba 980 robotic vacuum cleaner from iRobot. Priced at almost $900, it's a significant investment for anyone wanting to add convenience and autonomy to their smart home.

So what happens if you strip away most of the Roomba's smartness? Throw away Alexa and Google Assistant support — throw away the Wi-Fi connection, and the smartphone app. Even get rid of the weekly scheduling feature, and tone down the vacuum cleaning power, too.
What you end up with is the Roomba 600 Series: made up of the 614 and 618 in the US, and the 616 in the UK, which is the model tested by your London-based correspondent. Despite these variations in name, the three cleaners are almost identical in terms of what they offer, and are the cheapest Roombas in their respective markets.
The most important thing to remember is the price. The 614 retails for $269 in the US — less than a third of the flagship 980.
The Roomba still drives itself, mapping each room as it goes, and still parks on its charging dock when finished. But what about everything else? We swapped out the 980 for a 616 to find out.
As we said in our review of the 980 , inviting a robotic vacuum cleaner into your home is a sign you've truly stepped into the future. There was nothing particularly wrong with conventional vacuum cleaners. But a robotic one driving itself around can't help but raise a smile from whoever sees it. Roombas make cleaning fun.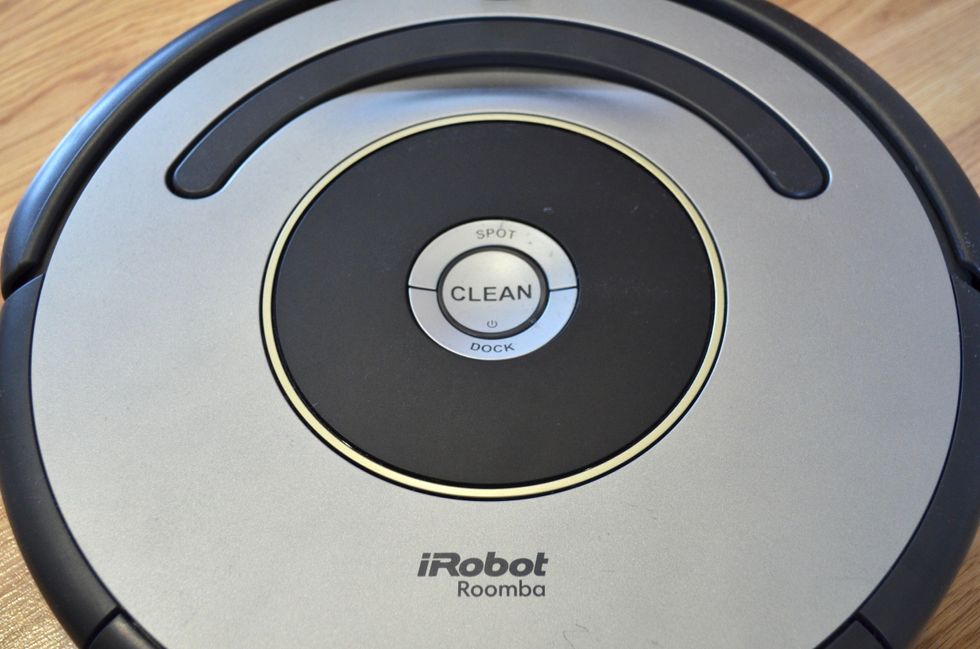 Three buttons are all you need to control the Roomba GearBrain
Just like all other Roombas, the 614, 616 and 618 charge from a docking station on the floor. It's small and can be placed neatly beneath a table or in a corner and out of the way. The Roomba knows to return there when finished, told from pressing a button on its top, or when the cleaner needs to recharge.
Speaking of buttons, this model has just three. One switches it on, starts cleaning, stops cleaning and switches the cleaner off. Another returns Roomba to its charging dock. The final button commences 'spot cleaning,' where the Roomba vacuums in an expanding then contracting circle to clean up a specific area of your floor.
The 980, and other more expensive Roombas, have Wi-Fi plus a smartphone app to use instead of the buttons. You can use this to name the cleaner (kinda cute, we won't lie) and set a weekly cleaning schedule. The app also receives notifications when the bin is full or the Roomba has finished.

These are all useful features — and no one can argue Alexa integration isn't fun — but they are far from crucial. After spending time with the 980 — and then again with the 616 — we think we could live happily without the extra app-based garnish. In fact, we often controlled the 980 via its buttons anyway, because a quick prod of one is often quicker than reaching for your phone and opening the app.
Is the 616 as smart?
On the whole, yes. All models of Roomba have sensors to navigate safely around each floor of your home without supervision or assistance. They bump into the walls gently to feel their way around, but don't leave any marks or scratches while doing so. They also all have 'cliff sensors' which detect stairs and other sudden drops to prevent any nasty falls.
The 616 knows to go and recharge when it runs low and power. But the vacuum will not continue cleaning from where it left off; instead, you will have to take it to the right place and press the 'clean' button. Only the two most expensive models of Roomba, the 966 and 980, resume from where they left off.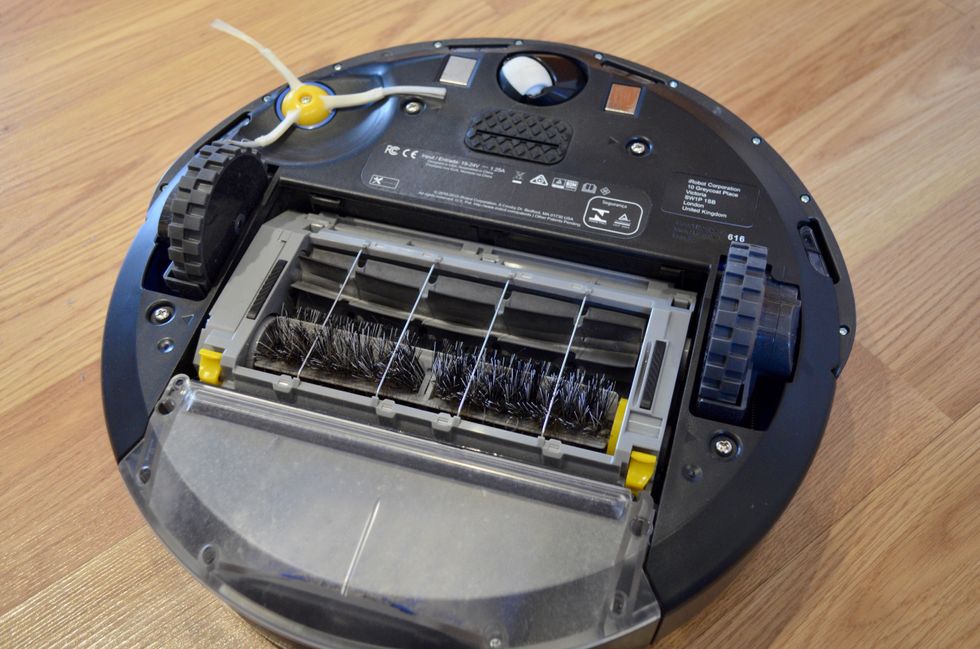 iRobot's patented suction system does a great job, but the bin fills quickly GearBrain
Our 616 managed to get itself stuck under the couch once, prompting an audible alert calling for help. This didn't happen with the 980, which was used in the same room. But this have occurred because something had moved under the couch, confusing it and potentially blocking its path.
This is the only time any Roomba has ever got stuck during our testing, which goes to show just how capable they are at navigating around tight spaces without assistance.
We have also found Roombas are unlikely to suck up anything they shouldn't, like cables left on the floor. However, letting a robotic vacuum cleaner loose around our home — and often unattended — encouraged us to be tidier. Cables were picked up and put away, and furniture was arranged neatly to help make the Roomba's job easier.
But you can only help so much, and as with any Roomba the 616 cannot tackle the stairs or tops of skirting boards, so you'll have to clean those yourself.
What about the suction power?
A good question, because once the Roomba novelty has died down you need to count on it to clean up as well as — or even better than — a conventional vacuum. Comparing the 980 and 616 quantitatively is difficult, but iRobot proudly states how the more expensive model offers 10 times the suction power of lesser variants.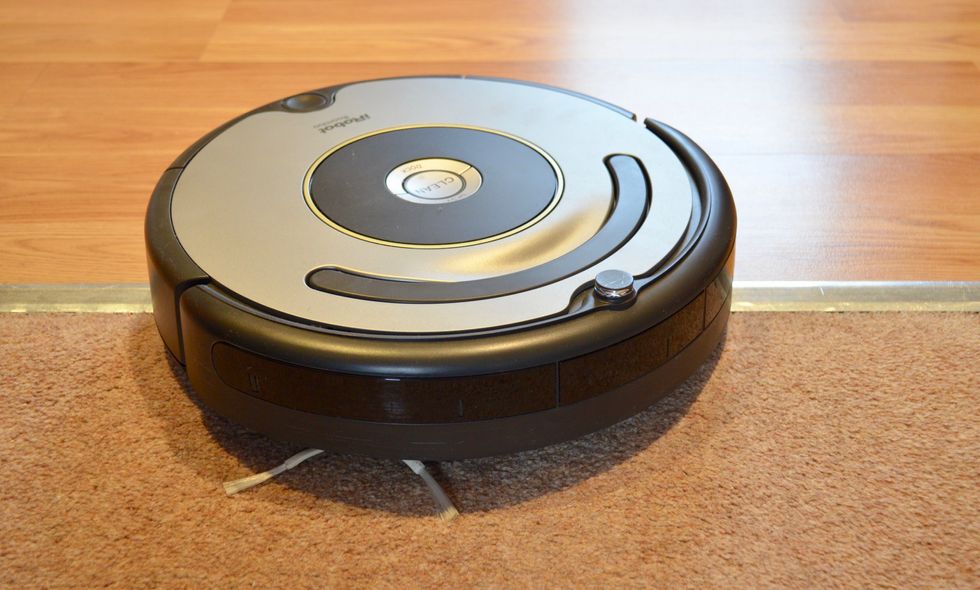 The Roomba adjusts how it cleans when it detects a different surface GearBrain
The 980's extra power is most obvious when it spots a particularly dirty patch of carpet, as it will automatically crank up to full power and clean more deeply (and loudly). The 616 remains at a steady suction level throughout, however it will go over dirty areas several times to give them a deeper clean.
That being said, the 616 left our carpets and hard floors in generally the same condition as the 980, and appeared to be filling its (slightly smaller) bin with the same amount of dust and dirt. Like its more expensive sibling, the 616 can sense different floor surfaces and adjusts how it cleans accordingly.
If we had pets then we might notice the 980's extra power in cleaning up hair. But if you plan to use your Roomba every few days to keep your floors looking perfect then both give impressive results.
Both also have a rotating brush at their side, which flicks dirt from the edges of your room and into its path, ready to be sucked up.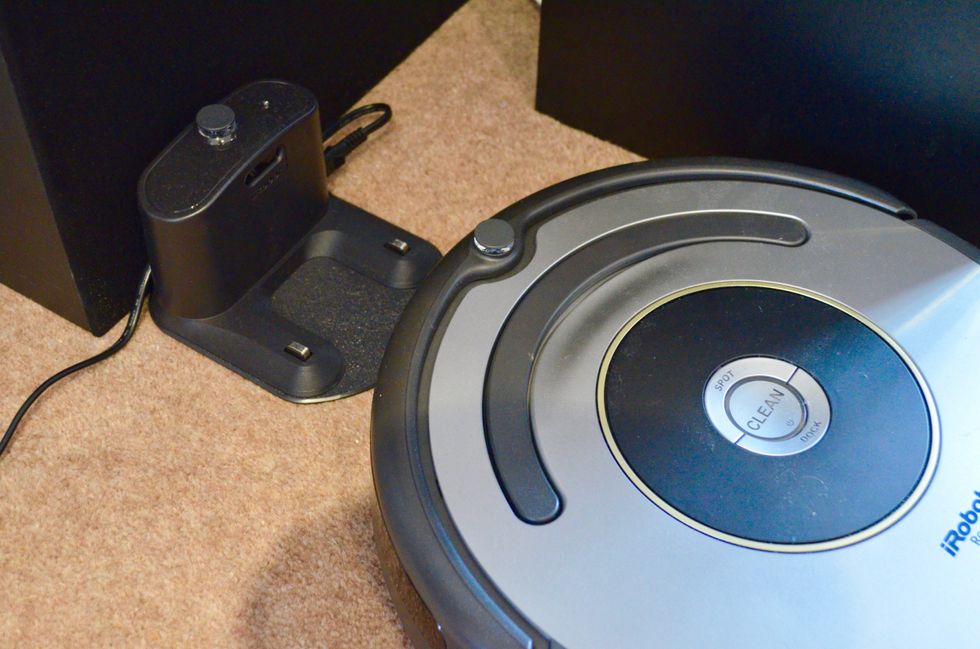 The Roomba automatically docks to recharge when the battery gets low GearBrain
Battery life
iRobot claims the 616 has a battery life of up to 60 minutes, while more expensive models can last 75 minutes and the 980 cleans for a full two hours. In practice, we found 60 minutes to be plenty for our needs. This might not be enough to clean an entire large house in one go, but for us this was more than enough. We would be willing to bet that for the majority of users battery life is a complete non-issue.
Although not included in the box — as they are with the 980 — the 616 is compatible with iRobot's Virtual Wall Barrier. Sold in pairs, these small boxes create a virtual wall which the Roomba can detect, preventing it from entering rooms you don't want it in, and away from objects it might damage or knock over, like a dog's water bowl.

Finally, the 616's brushes and filters can be replaced when they wear out.
Conclusion
Having jumped in at the deep end with the Roomba 980, we thought switching to the far cheaper 616 would be a backward step too far. But we were wrong.
As fun as it is to ask Alexa to clean your house, or manage the cleaner while we're out, the real reason to buy a Roomba is the technology shared by the entire range. Their ability to navigate around a cluttered room, adjust how they clean depending on the floor surface and how much dirt there is, and how they never fall down the stairs; these are the features worth paying for.
Cleaning power takes a hit when you opt for the cheaper option, but the difference in performance is less obvious than we were expecting. When cleaning rooms twice a week we felt our carpets and wood floors were of the same cleanliness with the 616 as they were with the 980.
However, pet owners or parents of young children might want to spend more as their circumstances will likely demand more from a Roomba than ours. For them, iRobot has a full half-dozen range of cleaners to pick from - and of course, for the technology lovers who demand the best, the 980 has all the smart home bells and whistles you could ask for.
Pros:
• Clean and very simple to use
• Cleans surprisingly well for the price
• Automatically recharges
Cons:
• Lacks smart home connectivity of more expensive models
• Dust bin fills quickly
Check out The GearBrain, our smart home compatibility find engine to find other smart robot vacuum s and compatible products that work with Google Assistant and Amazon Alexa enabled devices. You can also ask questions and troubleshoot any problems.
How to Find Products in The GearBrain, Our Compatibility Find Engine for Smart Devices www.youtube.com
Like GearBrain on Facebook