Like GearBrain on Facebook
It's been a very strange year, so of course 2020 is ending with potentially the most bizarre technology story we've ever seen.
KFC, the chicken company, has announced a video game console with 4K resolution, 240FPS capabilities, VR...and a heated compartment for keeping your chicken warm while you play.
Read More:
Powered by Intel, the console was first teased back in June, the day after Sony revealed its PlayStation 5. It was assumed the publicity stunt was no more than that; a prank from a marketing department tasked with bringing a bit of chicken-flavored joy to a torrid year.
But no, it seems that KFC really meant it. Called the KFConsole, it is powered by a ninth-generation Core i9 processor from Intel, along with graphics hardware from Asus that is fitted to a hot-swappable GPU slot to make upgrades easy. Storage is taken care of thanks to a pair of Seagate BarraCuda 1TB SSDs.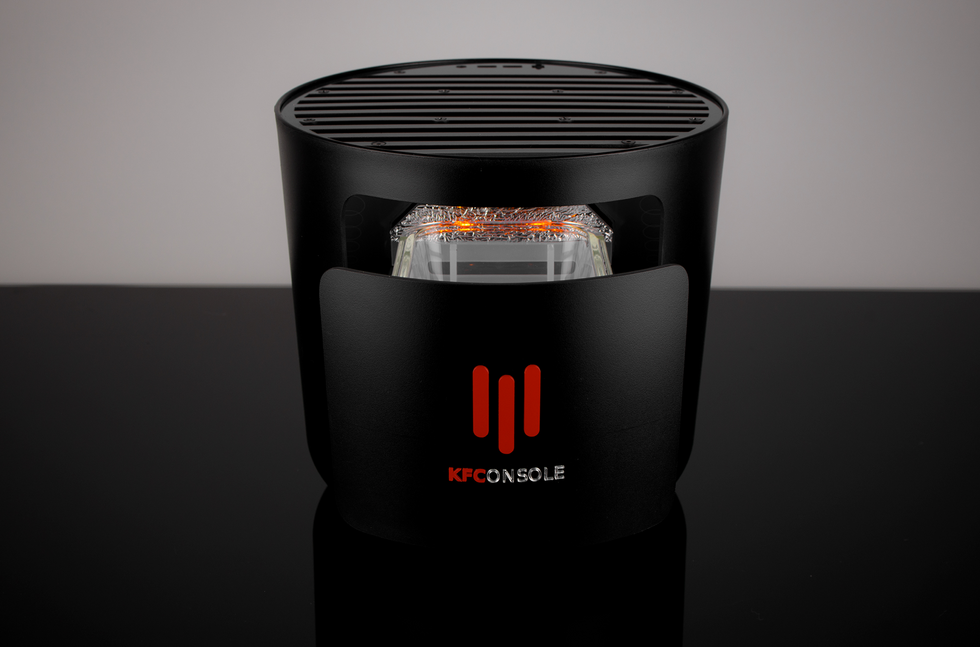 The console recycles heat to keep chicken warm. Of courseKFC
Built in partnership with Cooler Master, a Taiwanese computer hardware company, the KFConsole is compatible with virtual reality gaming, offers ray-tracing for improved visuals and lifelike reflections, and supports 4K resolution at up to 240 frames per second – double that of the PlayStation 5 and Xbox Series X.

In short, this is a high-end gaming PC with a custom case featuring an integrated heater to keep food warm while you play – or a 'chicken chamber', as KFC calls it. Powerful gaming PCs, as the KFConsole claims to be, produce a lot of heat, so in a sense it's logical to recycle that energy and use it to keep food warm.
With no mention of a price or release date, we are still suspicious as to whether the KFConsole will actually go on sale. But we applaud KFC and its marketing team for raising our spirits this winter. The company's Twitter has told those interested in buying the KFConsole to "get in line", and that it runs the bug-filled Cyberpunk 2077 "better than any other console".
Mark Cheevers of KFC UK & Ireland said: "Moving forward from our initial teaser campaign earlier this year, we're so pleased to finally give the fans exactly what they wanted; making the KFConsole a reality."
Referring to the recent PlayStation and Xbox launches, Cheervers added: "We all know the console war is vicious, but we're very confident in the KFConsole as our flagship entry. This machine is capable of running games at top-level specs, all on top of keeping your meal warm...what's not to like?"

Although both KFC and Cooler Master seem deadly serious about the console, there has been no mention of a price or release date. If it does indeed become available to buy, it is sure to be expensive given the high-end components inside and its, erm… unique design.
KFC's marketing department is no stranger to publicity stunts. In 2019 it released a video game called I Love You Colonel Sanders Dating Simulator, and the company has previously encouraged fans to build KFC restaurants in the Minecraft virtual construction game.
From Your Site Articles
Related Articles Around the Web
Like GearBrain on Facebook