Like GearBrain on Facebook
LG has confirmed that its next flagship smartphone will be called the G8 ThinQ, and it will be revealed at the Mobile World Congress technology show in Barcelona at the end of February.
The handset comes a year after the G7 ThinQ and will go up against other flagships like the Samsung Galaxy S10 (to launch on February 20), the Google Pixel 3, the Huawei Mate 20 pro, and of course the iPhone XS.
Read More:
Speaking of Apple's smartphone, LG says the G8 ThinQ will feature a time-of-flight (ToF) sensor as part of its front-facing camera. This sends out beams of infrared light, then maps its surrounding environment my measuring the time light takes to bounce back and return to the phone.
This can be used for 3D object recognition, like how Face ID works on the iPhone X series, and should give the G8 ThinQ strong augmented reality credentials. The sensor can also be used to improve the front camera's ability to spot subjects and focus on them accurately.
The sensor, LG says, "will deliver a new level of front camera capability in a smartphone."
The South Korean company adds: "While other 3D technologies utilize complex algorithms to calculate an object's distance from the camera lens, the ToF image sensor chip delivers more accurate measurements by capturing infrared light as it is reflected off the subject. As a result, ToF is faster and more effective in ambient light, reducing the workload on the application processor thereby also reducing power consumption."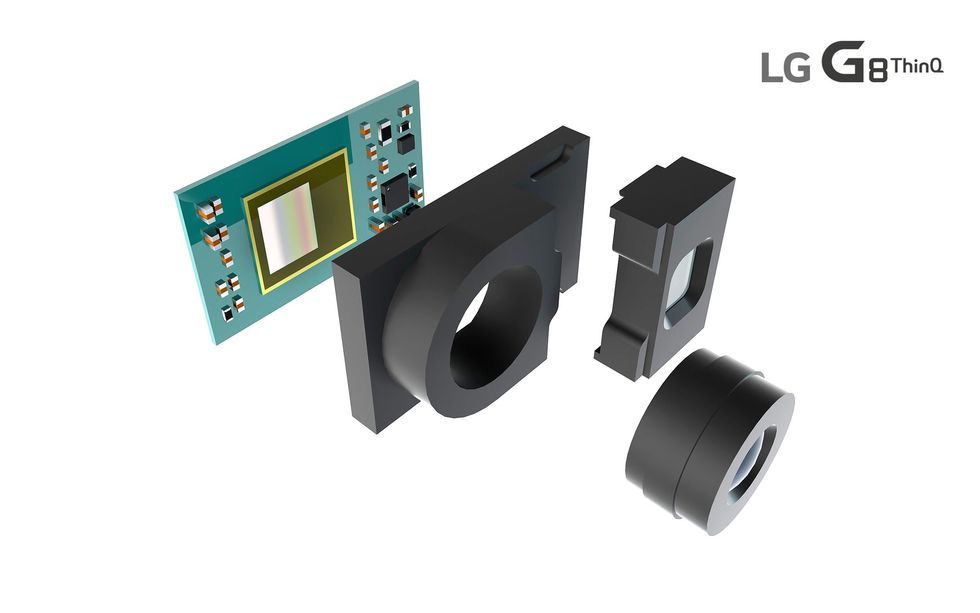 LG shows off its ToF sensor for the G8 ThinQLG
With a nod to how the system can be used to unlock the phone with facial recognition, LG says how ToF technology "is widely used in various biometric authentication methods, such as face-recognition."

The company also says how the technology can help improve both augmented and virtual reality applications, so we can expect these to feature prominently in the launch of the G8 ThinQ, along with the company's ThinQ artificial intelligence system.
As well as all models of the iPhone X series, ToF technology is also used by the rear camera of the new Honor View 20, and in the selfie camera of the Vivo Nex Dual Display Edition. You can expect to see the technology appear on more smartphones through 2019 and 2020.
LG is hosting a media event in Barcelona on February 24, the day before Mobile World Congress kicks off. GearBrain will be there to bring you all of the news and our first impressions of the G8 and whatever else LG has to offer.
From Your Site Articles
Related Articles Around the Web
Like GearBrain on Facebook