LG debuted new smart home appliances at CES 2020 that tap into cooking trends and promise tools that will genuinely make cooking and entertaining at home simpler — and more efficient. The new smart appliances line includes updates to existing washer and dryers, new refrigerator abilities, and even new products like a wine cellar that keeps each level the right temperature for a perfect Tempranillo pour. (The company announced new TVs this week as well — eight new 8K screens8K screens to be exact.) While LG is debuting them all at CES 2020, not all have prices or release dates — but many should be coming this year.
Air Fry feature
Tapping into the air fry craze, LG is helping to clear some space form your kitchen counter putting the ability right into its InstaView ThinQ Range. Using the new Air Fry feature won't require any pre-heating of the oven — you can start cooking the moment you push start.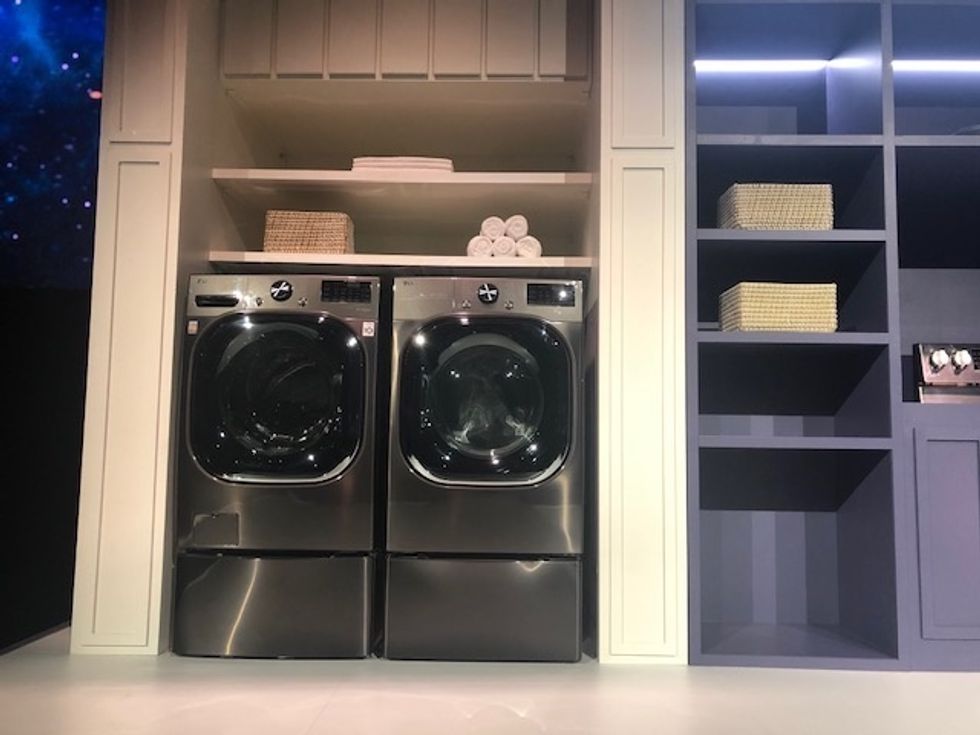 A new feature from LG will be able to detect the kind of fabric you're putting into your washer and dryerGearBrain
Washer and dryer knows what you're cleaning

LG's injecting some AI smarts into its washer and dryer, with a new precision washing and dryer feature that can tell the kind of fabric you've asked it to clean. In other words, it should know you put in a load of towels and not your socks and T-shirts. The company says this new feature should be able reduce wear and tear on clothing by 15 percent. Smart pairing also sends information to the dryer to tell it the optimal amount of time to dry their clothes.
Craft ice
LG's new InstaView Refrigerator with Craft Ice will create a perfect sphere of ice — 25 to be exact — in a special freezer drawer. Each cube will be two-inches in diameter. You'll pay $4,399.99 for the deluxe fridge, which will also feature LG's InstaView feature, letting people peer inside without opening the door.
Craft ice, of course, is a trend with so-called mixologist (yes, you can call them bartenders) who like the spheres for their slow-melting feature which keeps a drink cold without diluting the cocktail. We saw a similar device from GE that promised to carve an ice sphere at CES 2019, and it took a few minutes. Having 25 available at once should keep you covered for a busy weekend, or a small house party.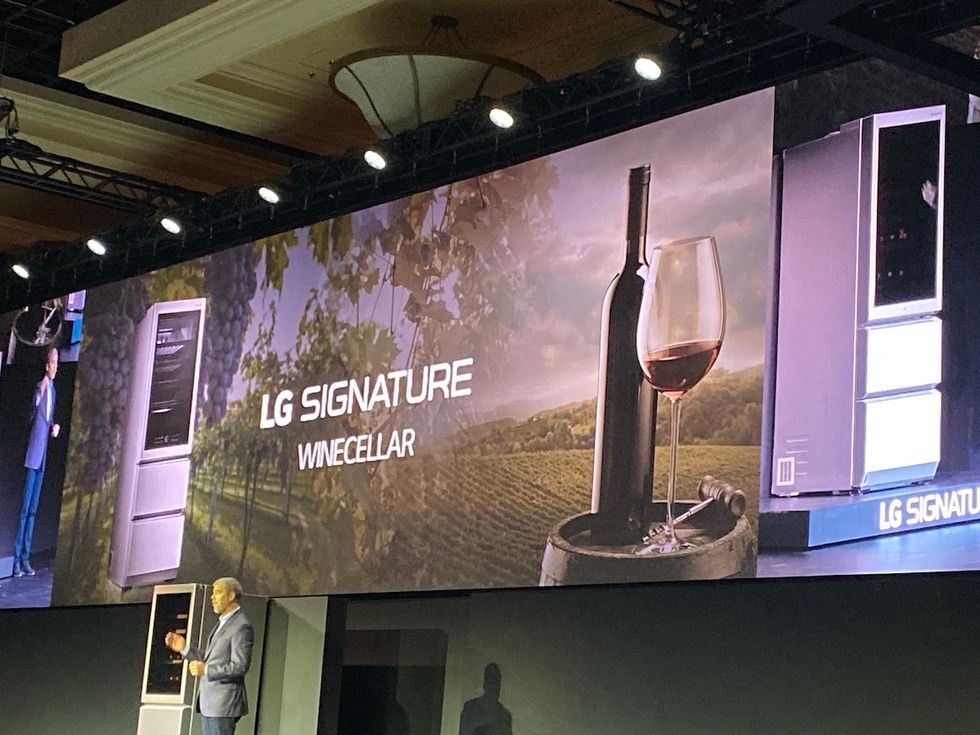 LG is debuting a new wine cellar with InstaView and gesture controlsGearBrain
InstaView comes to your oven, and a new wine cellar

InstaView is coming to other appliances in your kitchen too, including your oven and a new wine cellar. The feature works by just knocking twice on the door, as it does with the refrigerator, and with the oven it will light up the contents inside, letting people check on rising cakes or browning roasts, without opening the door or turning on a light.
You'll also be to used InstaView with a new wine cellar, which can also open its doors with gesture control. Each level will have different temperature settings for the kind of wine inside from champagne to red and whites.
Proactive Customer Care
Keeping all of these high-tech kitchen appliances working? LG is focusing on taking the pain points out of repairs with a new AI feature that is designed to look ahead for issues before they bloom.
The new Proactive Customer Care, which the company has already been testing, will be able to reach out to technicians, and find the ones near you who have the product your device needs, without you needing to call. It will deliver maintenance tips and also suggest shifts in how you're using an appliance. For example, if it detects there are too many suds coming out of a washing machine, the feature may suggest toning down the amount of laundry detergent being used.
There are more than 70 Wi-Fi appliances that will be able to take advantage of this new feature including its washer and dryer and the ThinQ Range oven — and the tool will be free, launching in 2020.