Like GearBrain on Facebook
Over the past few years GearBrain has tested a number of smart locks and video doorbells, plus some video doorbell/smart lock combos in real homes. But none of them really worked as we'd hoped, save for a new device we just tested — the Lockly Vision Doorbell Camera Smart Lock. Here's our review, after spending several weeks of testing this video doorbell/smart lock combo device that works.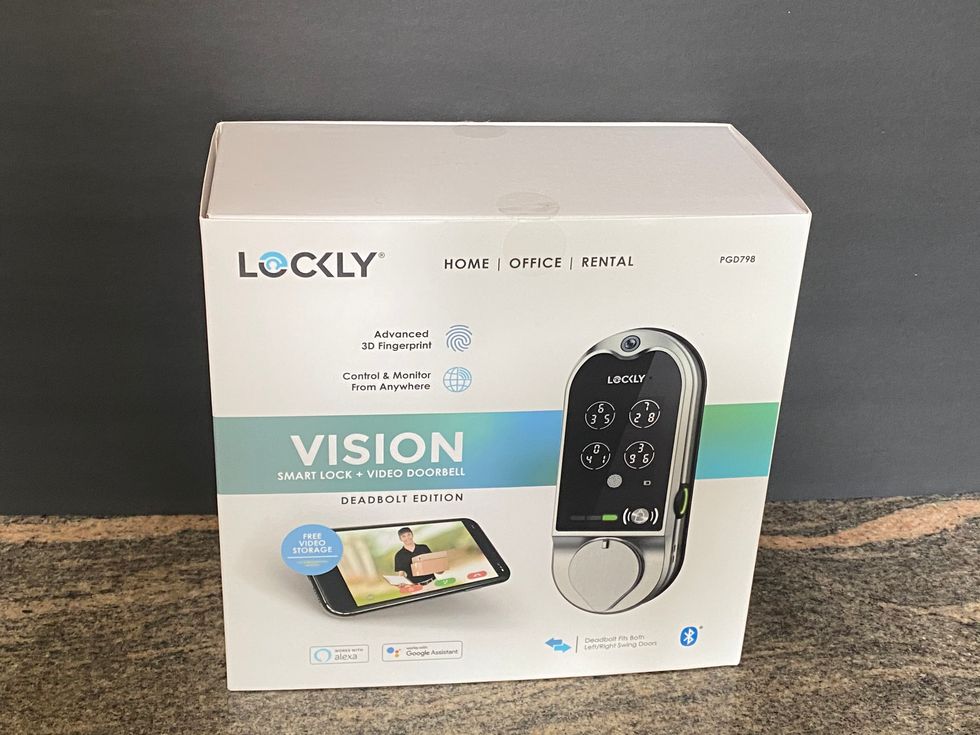 Lockly Vision Doorbell Camera Smart LockGearBrain
What is Lockly Vision?

Lockly makes smart locks that use a 3D Biometric fingerprint sensor and PIN Genie touchscreen to lock and unlock your door. PIN Genie technology works by rotating the dials every time you input a number on the touchscreen so that anyone looking over your shoulder can't see the access code. Lockly uses this technology on all of its smart locks, including the Lockly Vision, which also has a built-in 720p (1280x720p) HD video doorbell, with a 150 degree viewing angle (FOV).
Smart locks have made different kinds of set-ups from those with touchscreens or keypads that require an access code, to others that allow you to lock or unlock your door lock using your voice or a key. Lockly Vision offers the same options, letting you use a key, your finger, a mobile app, your voice, plus a peek-proof digital keypad (touchscreen). The video doorbell functions similarly to other smart video doorbells, with a speaker and a microphone for two-way communication. The lock also has a bell sound and has real-time high video resolution from a HD camera on the top part of the lock. This video is then streamed to your smartphone, with recordings stored on an SD memory card in a hub which comes with the lock.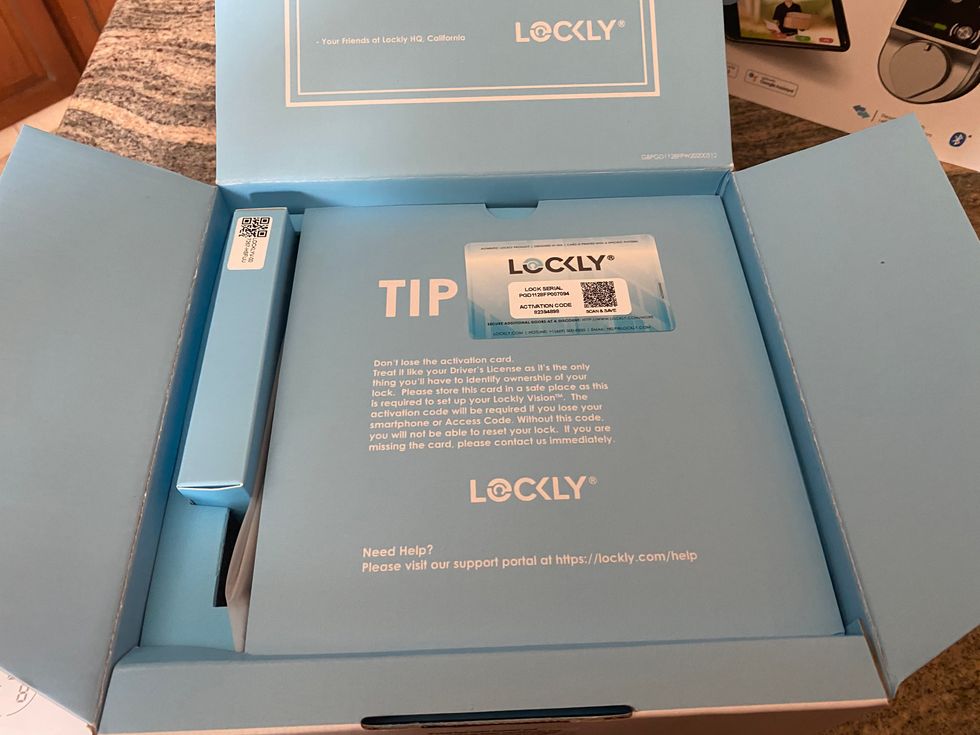 Make sure you keep your Activation code handy during installation.GearBrain
Another nice add-on to Lockly Vision is a door sensor which can help alert you when a door is open, and can also record when the door opens and closes. This feature comes in handy if you have kids who come home late, but tell you in the morning they arrived home before curfew. And Lockly Vision also lets you lock and unlock the smart lock while you are speaking to a visitor via the mobile app. This is a particularly nice feature, as many smart home users often find their smart locks aren't compatible with a video doorbell and can't make these two interact. Lockly Vision can.

You're going to need a strong wireless connection to get Lockly to run all of these features, and since it's going to be installed at your door, you're going to need a separate Wi-Fi hub, which Lockly provides, called the Vision Connect hub. This connects to your home router, and also stores your video recordings, which keeps them secure and also private.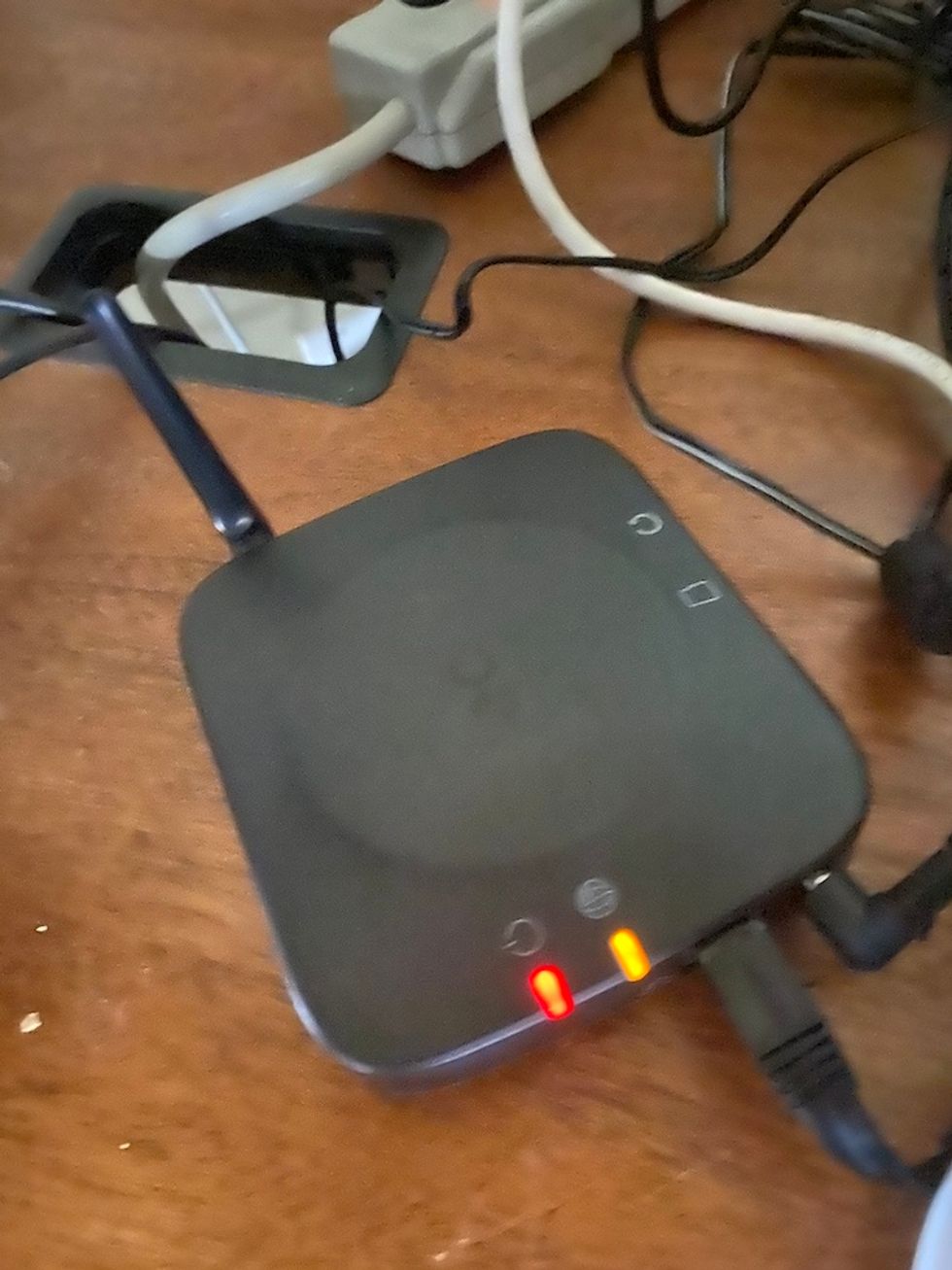 Connect Lockly Connected hub to. your home router.GearBrain
Installation of Lockly Vision

Installing smart locks is rather easy, especially if you've been doing them as long as GearBrain. First, remove the old deadbolt lock and install the new smart lock, which will comes with similar hardware as a regular lock. The only real difference is a smart lock has a cable that runs from the front part of the lock to the backside. If this is the first time you are installing a smart lock, Lockly Vision might be a little bit of a challenge. You are installing two devices in one, but you should be able to do it.
To start, download the BILT app which Lockly uses for installation purposes. You'll also download the Lockly app, which you'll use to manage your device later. Both apps work on iOS and Android devices, and there is a QR code inside the box which will help you download them. When you are ready to start setting up your Lockly Vision, our recommendation is to use the BILT app even though there are written instructions inside the box, as it includes a video guide which is easy to follow and understand, especially if you are a first time user.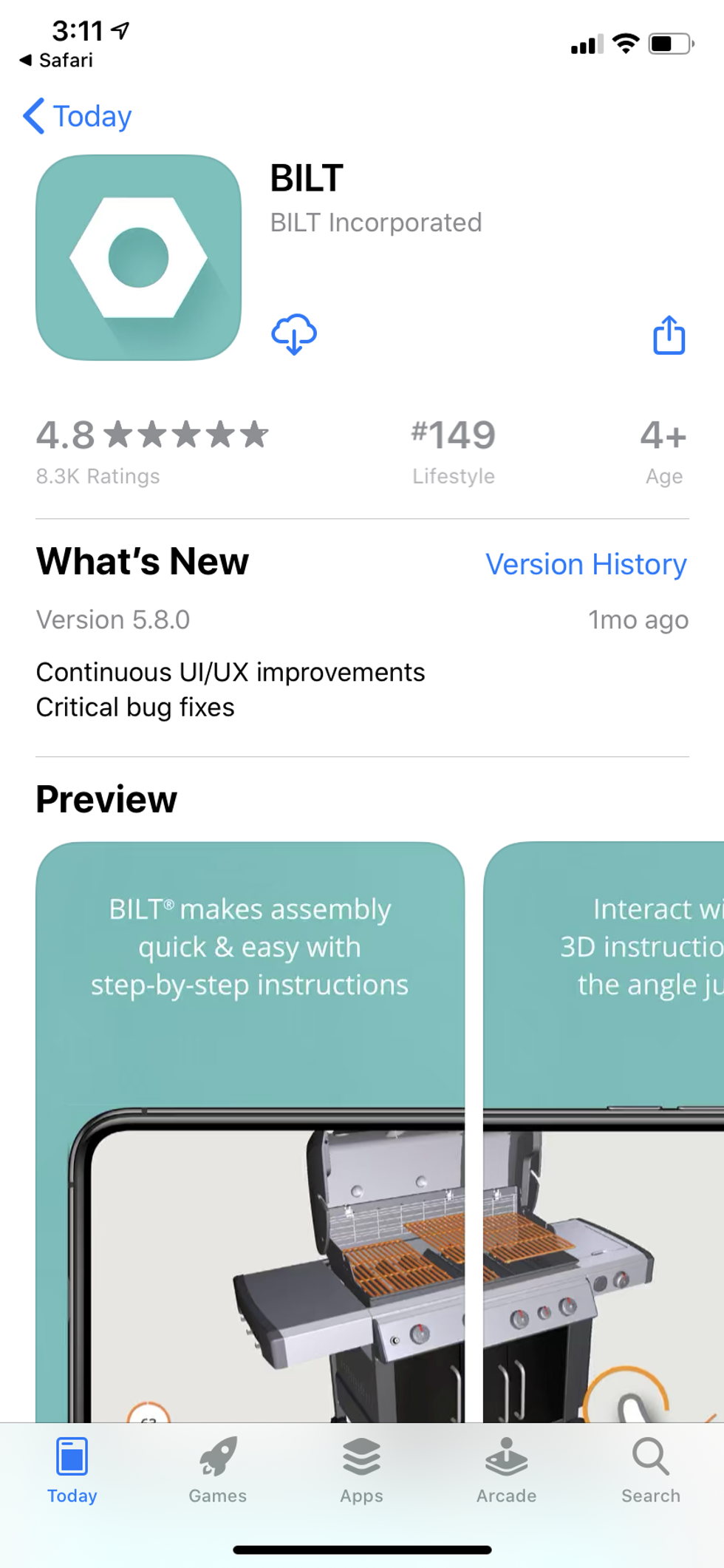 Use BILT app to setup your Lockly Vision.GearBrain
Here are a few additional tips we have when installing your Lockly Vision:
Make sure you have a good wireless connection at the door where install Lockly Vision. You can do a speed test to see if the signal is strong enough. If not, you might need to get a range extender.
If the door where you're installing Lockly Vision has a screen or storm door, you will have vision issues.
Lockly Vision is a single deadbolt smart lock.
Do you have an outside light by your door? If you do, Lockly Vision will be able to pick up crisp videos during the night. If you don't have a light, this smart lock/video doorbell does not have night vision and it will be hard to see visitors. Coming at the end of this year is Lockly Vision Motion Security Light which will work in conjunction with your Lockly Vision to detect motions and illuminate instantly so video can capture the images. The light will be solar powered and provide the light you find in competitive video doorbell camera with night vision.
This smart lock/video doorbell combo device comes with a motion sensor. You don't have to use it if you don't want to but we recommend you do. But note it will be a challenge to make sure you place the door sensor where it needs to next to the outside part of your lock. You will need to run the cable from the inside to outside. Just make sure you align the wires with the slot on the back casing. You can also use the supplied pads to align up your sensor which come with an adhesive backing to stick to your door.
Both sides of your Lockly Vision come with adhesive which you will use to secure your lock to the door. Just make sure your lock is aligned perfectly before putting pressure on your adhesive backing.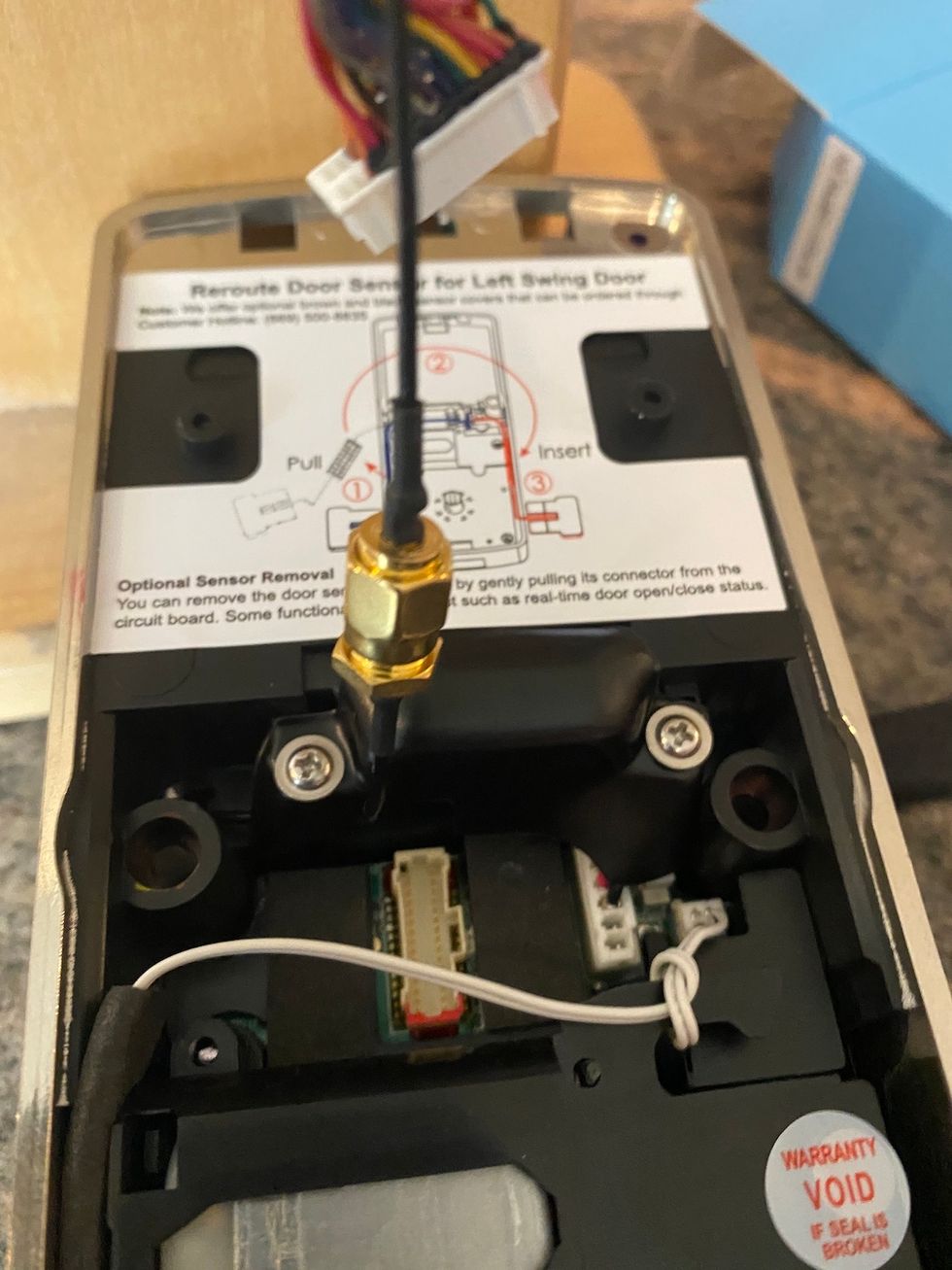 Tricky part of installing Lockly Vision is making sure your cables fit securing inside the backing of your Lockly Vision.GearBrain
Once you have installed your lock and paired it to the Lockly Connected hub, you are will add the lock to the Lockly app. Here is when you name your lock and set up your passcodes and biometric fingerprint access. You can also set up alerts and notifications. If you are using the lock on a rental property of Airbnb, you can setup access codes and add users. The app will also provide you with access history which is helpful.
Regarding the push notifications, Lockly app allows you to setup push notifications when users or eKeys are used. You can even set up to record when keypad is used for unlocking. Interesting data for parents or rental owners.
Settings page is where you can setup your notifications and settings for Lockly Vision and door sensor.GearBrain
Smart Home Integrations
Lockly Vision works with both Amazon Alexa and Google Assistant enabled devices. Setting up a connection with either of these voice assistants is rather easy. For Google Home, go into the app and then select, "Add a device." Search for Lockly and then follow the prompts to add the Lockly account. For Alexa devices, go to the Alexa app, search for the Lockly skill and then enable the skill. Both will require you to log in using your Lockly credentials.
In setting up Lockly with Google Home app, Google asked us if we wanted to use a PIN to unlock our Lockly lock using voice commands. We recommend doing this if you have a Google Assistant-enabled device and plan to use voice commands to lock and unlock your Lockly Vision. For Amazon Alexa, they have set as default the ability to only lock your Lockly lock with your voice. If you want to unlock your Lockly using your voice, you will need to go into the settings for your Lockly Skill and enable unlock by voice. Then you will be prompted to add a code for you to use to unlock your Lockly by voice.
Amazon Alexa Setup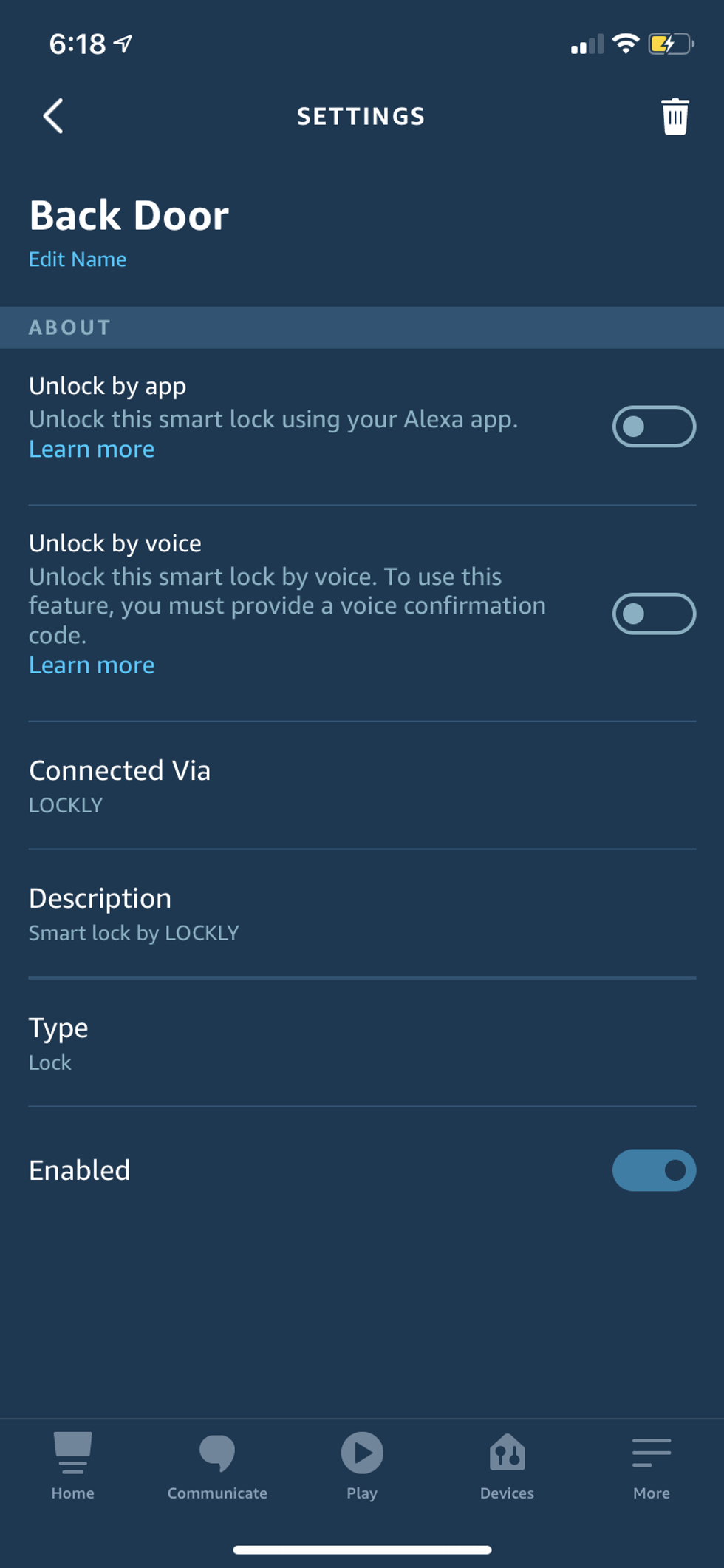 Alexa app for pairing with Lockly Vision
GearBrain
Use the Alexa app to pair your Lockly Vision with Amazon Alexa enabled devices.
Google Assistant Setup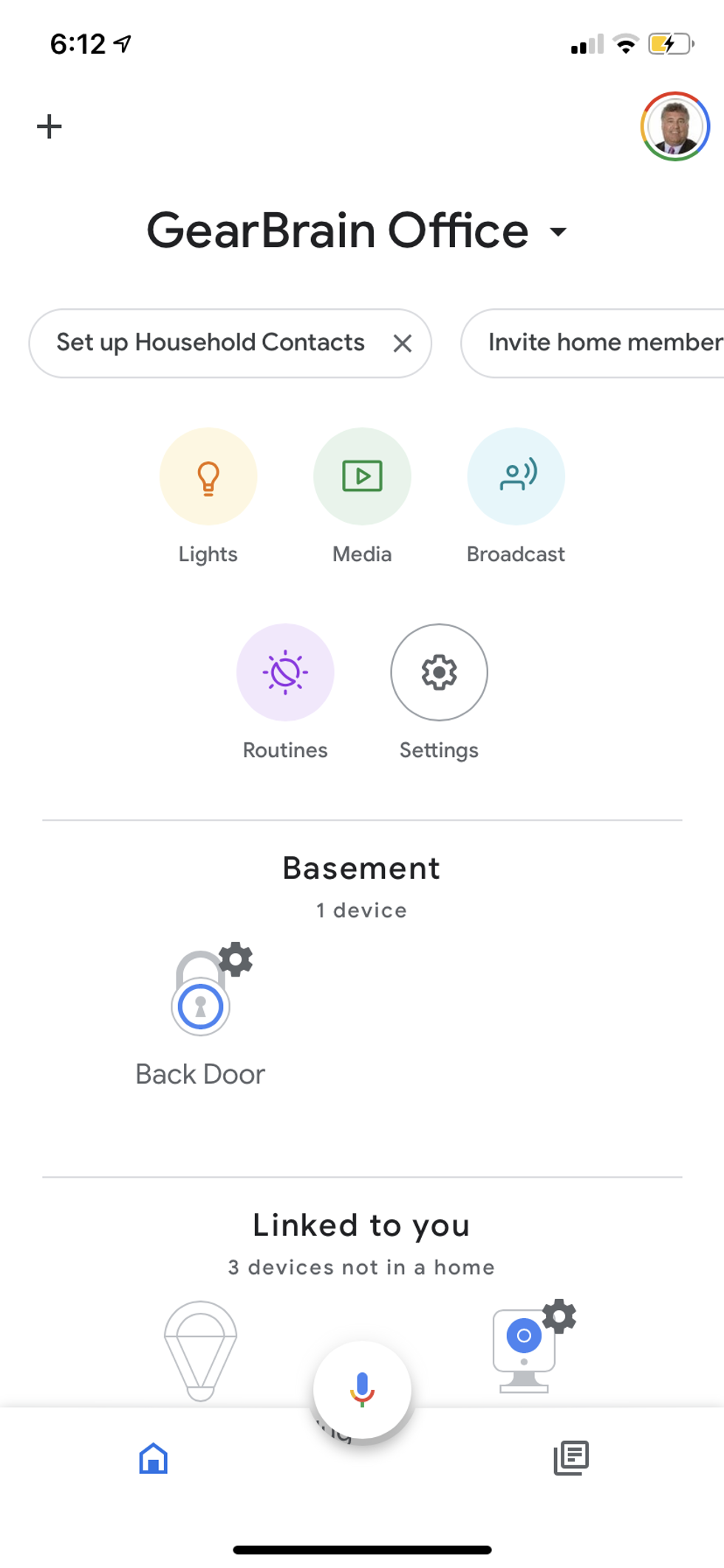 Google Home app for pairing with Lockly
GearBrain
Use Google Home app to pair your Lockly Vision with Google Assistant enabled devices.
Cost
Lockly Vision Doorbell Camera Smart Lock is not inexpensive. It has a MSRP of $399.99 and comes in only one finish, Satin Nickel. It's available on Lockly's website and Home Depot. Buy here or on Amazon.
Performance
We mentioned earlier that we have tested video doorbell/smart lock combo devices and none have performed at level where we felt we could recommend one to our readers. This might have been due to the fact these devices didn't come with Wi-Fi bridges or hubs to improve the wireless connection at the door. But Lockly Vision has been able to create a solid level of performance.
Though the video and voice quality of Lockly Vision is not as good as some of the high performing video doorbells, like Ring or August Doorbell Cam Pro, its smart lock features totally outweigh these negatives and provides users with a powerful and secure device for their home. While there are multiple ways for you to unlock the door, the lock's touchscreen feature of randomly shuffling PIN numbers while you input your code is great. And if you can't remember your PIN, you can also use your finger to unlock the Lockly device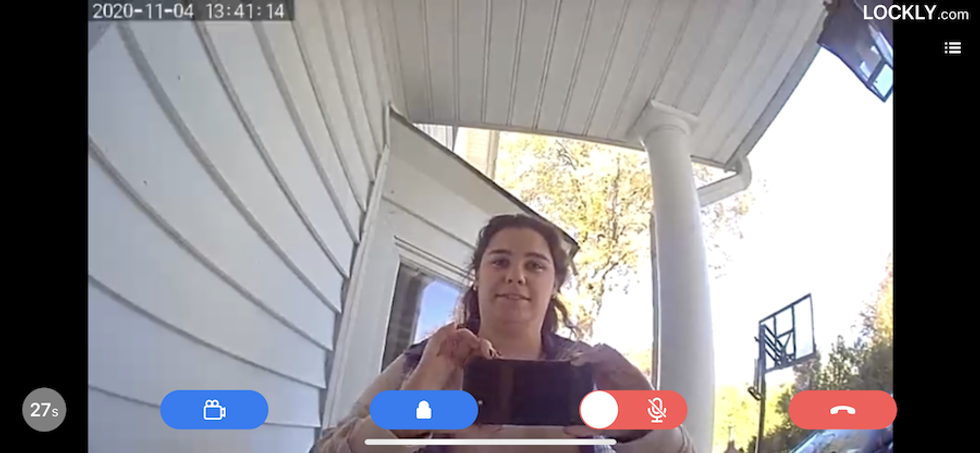 Lockly app allows you to speak and unlock your door at the same time. You can even record the visitor by hitting the video button in the app. GearBrain
Who should buy Lockly Vision?

If you have a rental property, and want a smart lock and smart video doorbell that lets you unlock your smart lock while you are speaking with visitors in the app, Lockly Vision is a good solution. And you don't have to worry about a power source for your doorbell, since that is built into the lock. Though the price might be high for Lockly, it is roughly the same as if you were to buy a good smart lock and a separate video doorbell that work together. For instance, Ring Video Doorbell 3 Plus costs $159.99 and Schlage Encode Smart Wi-Fi Deadbolt lock, which is compatible with Ring doorbell, costs $246.99. The total cost of these two devices is about $407, $8 more than Lockly Vision ($399).
If you are in the market for a smart video doorbell and don't have space to put one on the side of your door, Lockly Vision also offers a good alternative. However, if you want the doorbell and smart lock to integrate with your home security system directly, Lockly Vision might not be the solution for you, as Lockly would not automatically lock or unlock when you arm or disarm your security system.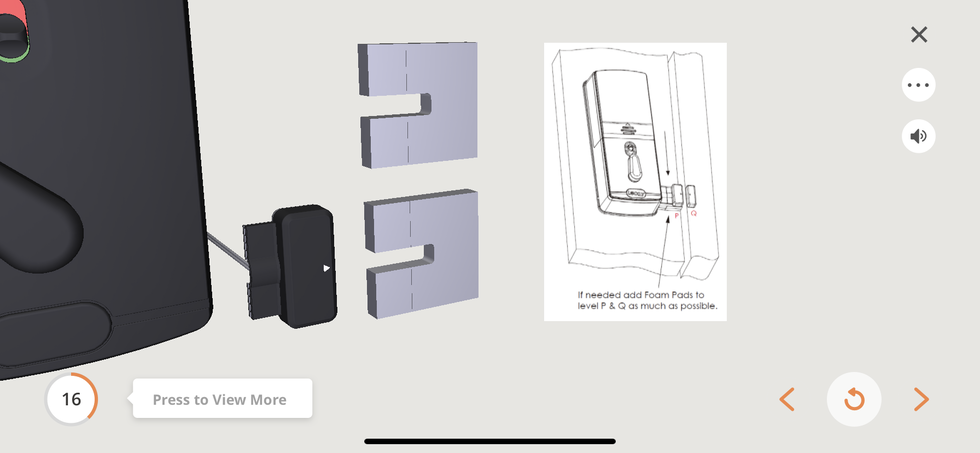 BILT app will help you setup your Lockly door sensor.GearBrain
Summary

Lockly Vision Doorbell Camera Smart Lock is the first smart lock/doorbell camera combo we have seen on the market that we've felt performed well. It offers an array of choices for you to lock and unlock your smart lock rarely found today. Many smart locks offer a few ways to secure your smart lock, and even fewer offer biometrics or "peek-proof" digital keypads. However, Lockly's video doorbell qualities are lacking when compared to individual smart video doorbells, and the two-way communication is scratchy sounding and video is fuzzy in dark light.
Still, Lockly Vision's design is clean and the device is sturdy and well-built. The outside of the lock is waterproof and looks like it can both hot and cold weather extremes. But it only comes in Satin Nickel right now, which may be a design concern for some.
Overall, Lockly Vision is a quality 2-in-1 smart home device, a powerful smart lock that can secure your smart home, rental property, Airbnb or office, that also includes an HD camera that acts as a smart video doorbell. If you want a nice looking well-built smart lock/video doorbell combo device — and you plan on using Google Assistant or Amazon Alexa enabled devices as the hub for your home — Lockly Vision is a device we would recommend.

Pros:
Design
PIN Genie Touchscreen and biometric fingerprint sensor
Works with Google Assistant and Amazon Alexa
Cons
Price
Video quality at night
Does not integrate with smart home security systems
Check out The GearBrain, our smart home compatibility find engine to find other smart video doorbells and compatible products that work with Google Assistant and Amazon Alexa enabled devices. You can also ask questions and troubleshoot any problems.
Best Smart Home Locks www.youtube.com
From Your Site Articles
Related Articles Around the Web
Like GearBrain on Facebook