Pros: Extensive device, user and prioritization network controls, easy to set up, small, nondescript nodes.

Cons: Low speeds, no "on" status LED, expensive
It's easy to find a high-performing Wi-Fi mesh system. In these virtual pages, we've already extolled the speedy service delivered by the Netgear Orbi, Portal, Linksys Velop, eero and others.
What's not easy to find is a Wi-Fi mesh system that gives you intricate control over who and what devices connect to your network and when. Why can't there be a system that delivers both high performance and high-level control over your network?
Luma promises to be that dual high performance/high control Wi-Fi mesh system. But Luma fails to deliver on at least one of those promises. On the one hand, Luma offers the widest—and still evolving—array of network, people and device control I've encountered in a mesh system. But it also provides the slowest, least consistent connections among the mesh systems I've tested; the next slowest system delivered speeds twice as fast.
Let me qualify that last statement: just because Luma was the worst-performing system in my tests, it does provide enough connectivity juice to accommodate folks with 50Mbps or less internet service.
Unfortunately, however, Luma is priced like a premium product; $399 for a three-pack, $299 for a two-pack and $149 for a single. A higher performing system such as Ubiquiti Amplifi or Plume can be bought for less than Luma, but you don't get Luma's array of features. So the dilemma is: do you pay for the Luma's fine-tuned network controls or overpay for potentially weak connections? That's a question you'll need to answer for yourself.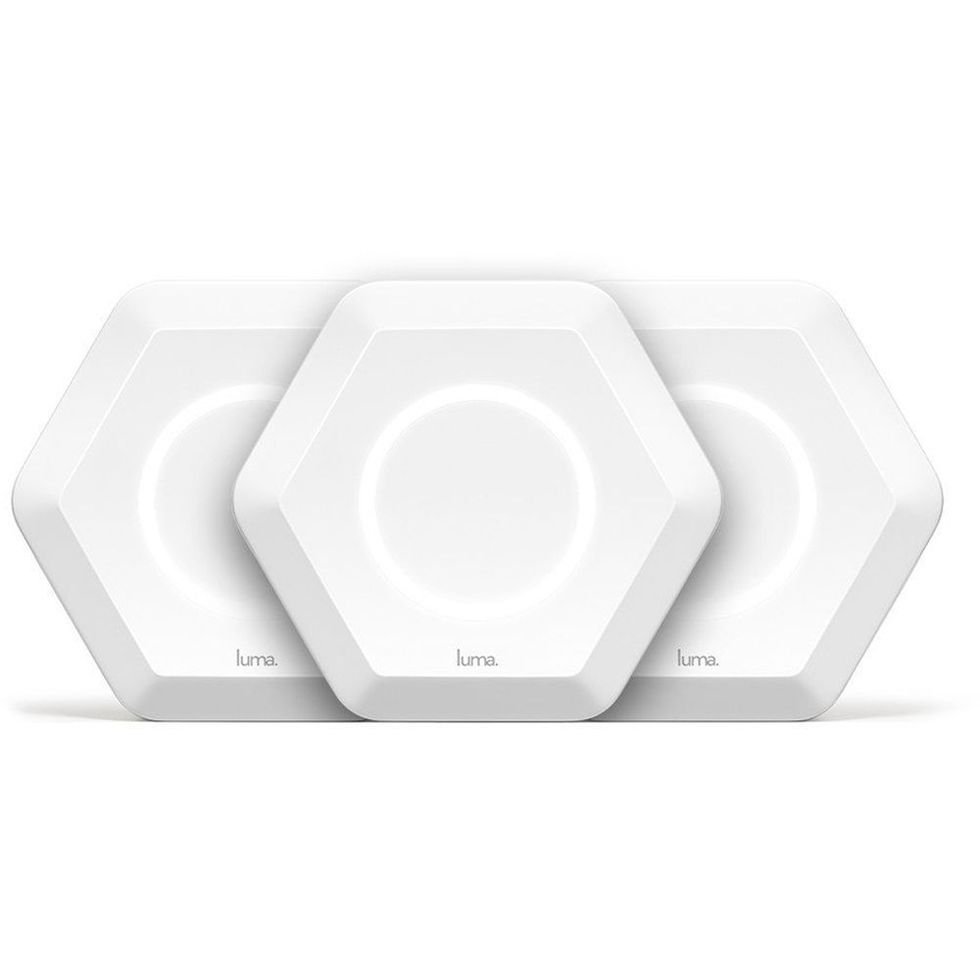 Ergonomics

The hexagonal Luma measures 4.6 inches at its point-to-point widest (4.16 inches from flat end to flat end) and 1.2 inches deep. You stand the Luma up on one of its bottom perimeter rather than lay it flat, which means it takes up a lot less area than the much larger Portal or similarly-sized but horizontal eero. Luma's jacks are located on the rear, so trailing cables are disguised behind each node.
Lumas are theoretically available in four colors—white, gray, orange or black—depending on which package you order. Theoretical because of inventory issues, at this writing the two-pack is available in white, gray or orange—no black, and both single units and the three-pack are available only in white.

There is no LED to indicate the Lumas are on or operating correctly. Luma lights up—an LED circle in the middle of the hexagon – only during set-up and updates.
Set-up
Luma gets off on the wrong foot. In the included manual, you are instructed to proceed to a Luma web page to download the app, but all you have to do is a simple app store search on your smartphone to find the Luma app.
Thankfully that's the only set-up blip you'll encounter, other being asked for your phone number, which no other mesh system required and for which I cannot fathom a reason. Once you download the Luma app, your hand is tightly held through the set-up process.
Even better, like the Velop, you don't have to unplug your cable modem to add the Luma. Practically, this means you can set Luma up at any time since you don't have to worry about interrupting anyone in your home who can't be disconnected.

During the set-up process, you are asked what type of home you live in (single family, condo/apartment, townhouse, etc.), where you're placing the Lumas in your abode, and how many floors your home has. Theoretically, these location details help Luma configure its nodes to create a coherent network. Theoretically.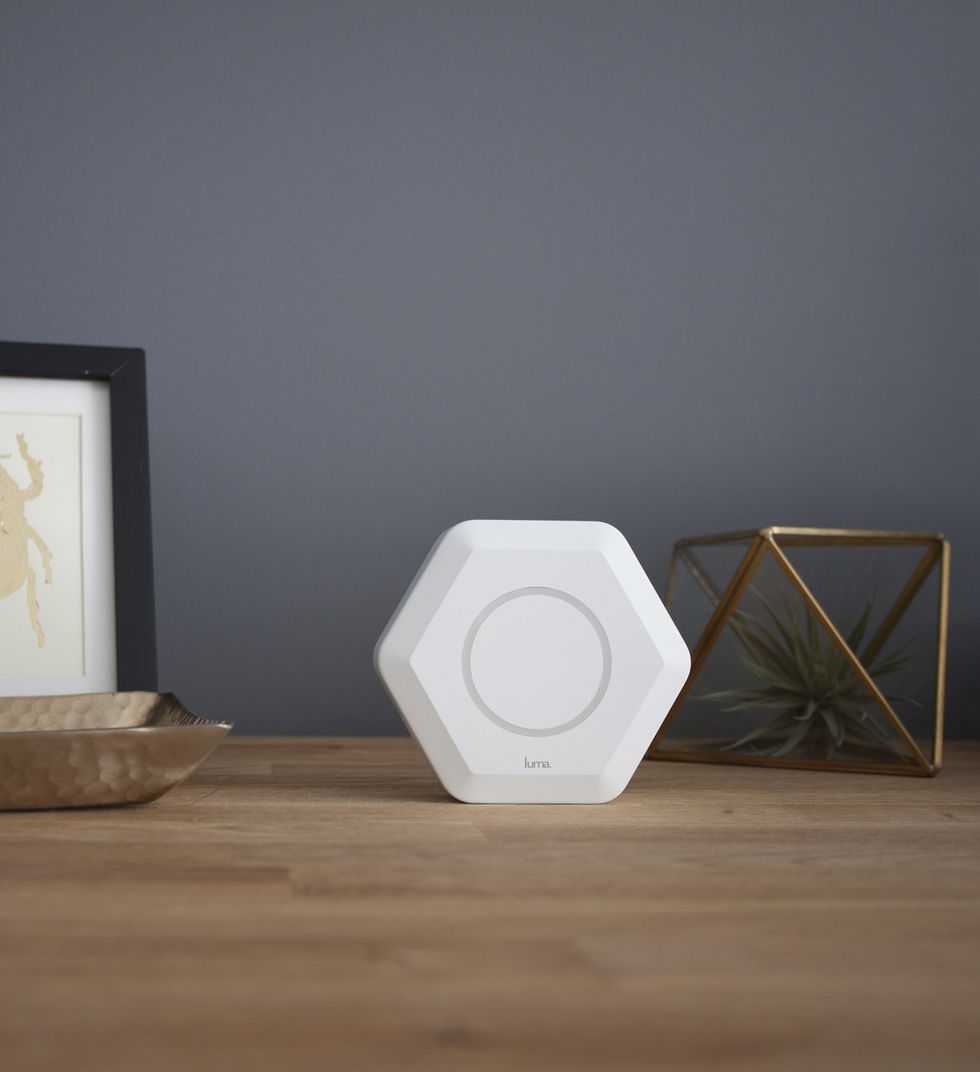 Performance
Once I got the Luma set up, I navigated to the app's front page. Displayed at the bottom of the screen are the current system status—number of connected devices along with download and upload speeds.
Two problems.
First, these readings bounced around like a ping-pong ball in a lottery bubble blower. Within just a couple of minutes of several ratings refreshes, the download speeds wildly zig-zagged from 22Mbps to 109Mbps to 3Mbps to 89Mbps to 9 Mbps to 201Mbps to 146Mbps to 24Mbps to—nothing—to 165Mbps. You get the idea. And that was the app's own reading; nearly simultaneous Ookla Speed Test tests resulted in much lower speeds, often in the single digits.
Second, even at their best, Luma's connection speeds were the lowest of all the mesh systems I've measured—never higher than 56Mbps with a steady average of around 35-45Mbps, in complete contradiction to the app ratings, occasionally dipping into single digits. This poor result was so stunning I kept testing and retesting, resetting the Ookla settings, rebooting the Luma—anything I could think of, but I could not coax any better performance from the Luma.

Practically, it took the Luma 22 minutes to download a 3GB video file, nearly 9 minutes slower than the next slowest system I tested, the Plume. By comparison, the eero took around 10.5 minutes to download the same file, while the Orbi and Portal completed the download in just over 8 minutes.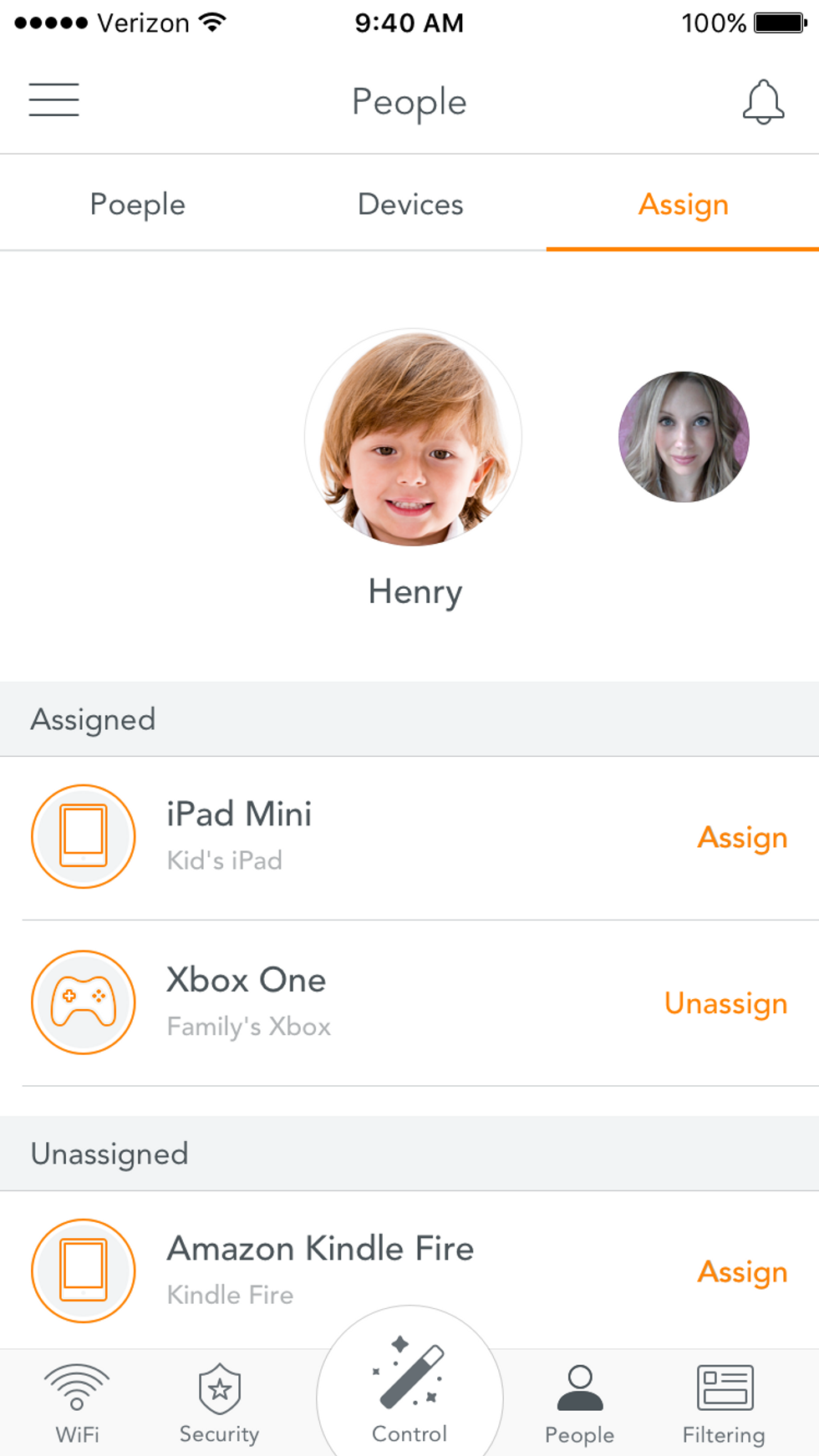 Could Luma be more susceptible to interference from the mass of adjacent mesh devices it's surrounded by next to my cable modem? Possibly, but no other mesh system seemed bothered by its mesh neighbors, and any Luma is certainly going to encounter other Wi-Fi networks in a crowded urban environment. Are my nodes too far apart? Luma tells me each node's range is 1,200-1,500 square feet, and the two Lumas I have are located within this coverage area. Even so, I moved the second node 12 feet closer, nearly half the distance to the primary node connected to my cable modem, to little effect in speed.
As noted, where Luma gets an A is its app network controls. For instance:
You can set a priority device from the devices the app can find on your Luma network.
You can enable a guest network, and customize both the default name and the password.
You can set a "Default Pause Person"—in essence a network administrator authorized to control the system.
You can assign devices to individual "People," although you can't assign one device to multiple people (such as a shared device), and you can't pause specific individually assigned devices, just all devices assigned to a specific People.
You can "filter" content according to movie ratings – R, PG-13, PG or G – across the board or for specific People.
You can set a total daily usage time limit from 1 to 8 hours (or Unlimited) for each People, or set specific "off" hours under "Bedtime."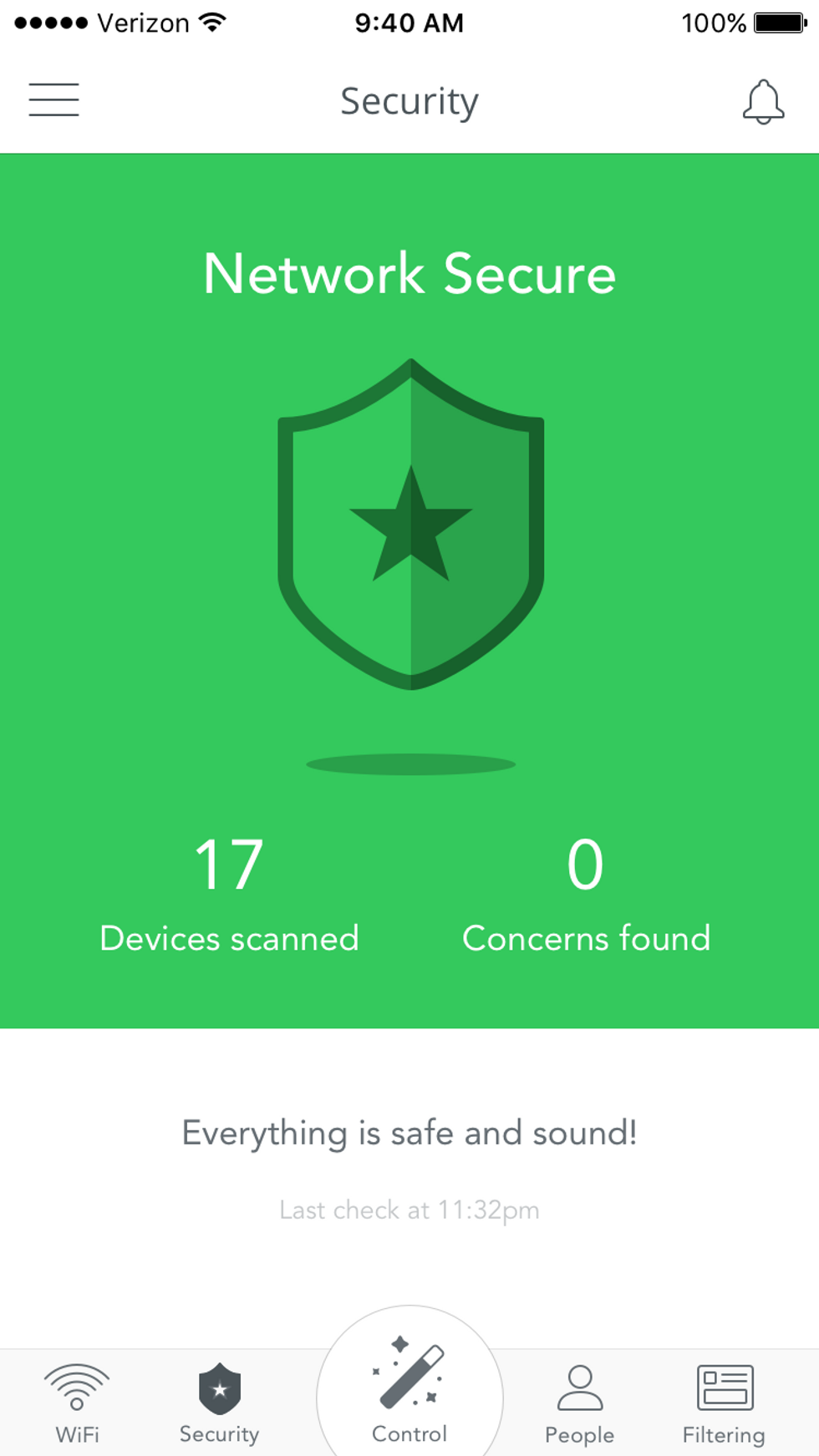 Luma also includes unique built-in security—it can detect a number of different types of cyber threats to your connected devices. You can adjust Luma from merely "Detect" to "Off" or to "Detect & Block"—if you can spot the barely visible carrot on the Security main screen that leads to these options.
Finding and figuring out all these settings can be a bit of a challenge. For instance, you have to tap "Control" to get the pause network icon, but there's no way you would know how to do this unless you accidentally hit "Control." Overall, it took a bit of studying the manual and experimenting on the app to find the bulk of these otherwise useful options.
Once set-up, you can operate a lot of these controls via Alexa voice command on the Amazon Echo, which is a great shortcut. But you'll find yourself double-checking the app to make sure the command worked.
Regardless of my minor navigation quibbles, these controls are 100 percent more than offered by the more powerful Orbi, Velop and Portal, which offer no network controls of any kind.
Conclusion
Luma's disappointing connection performance makes it hard to recommend, especially considering its price. But I will cop to Luma's lack of proficiency possibly being caused by interference from the other mesh systems it's competing against in my compact apartment. Still, I found that other reviewers also got similar mixed, slower-than-expected results as well.
Where Luma rises above all other mesh systems is its array of app network controls, which are unmatched by its mesh competitors. Maybe one of the high-performing/low feature mesh systems ought to merge with or buy Luma for its app, which would create a great pairing of performance and control.
In a clean wireless environment and for folks subscribing to less than 50Mbps internet service and in need of its network controls, Luma could be an option—and that conditional is generous. For around the same price as Luma, the more predictably powerful eero or the lower-priced Google Wi-Fi might be a better option if you need help to control your kids' internet access, or Plume or Ubiquiti Amplifi if you just want no-frills whole home Wi-Fi for a lower price.