Smart thermometers made their appearance a few years ago, devices you bring into the kitchen to help you broil, grill or bake chicken, beef or fish. While not designed for baking (and definitely not for making candy), these thermometers can be used on top of the stove in a frying pan, or on a grill pan.
Yummly is a recipe app that's been around since 2009 — but its meat thermometer first made an appearance in 2020, when we saw it at CES. It's very similar to others on the market — Meater comes to mind. Yummly sent with us to test and we put it to work over a few days during our dinner-making process, and here's how we, and our meals, fared.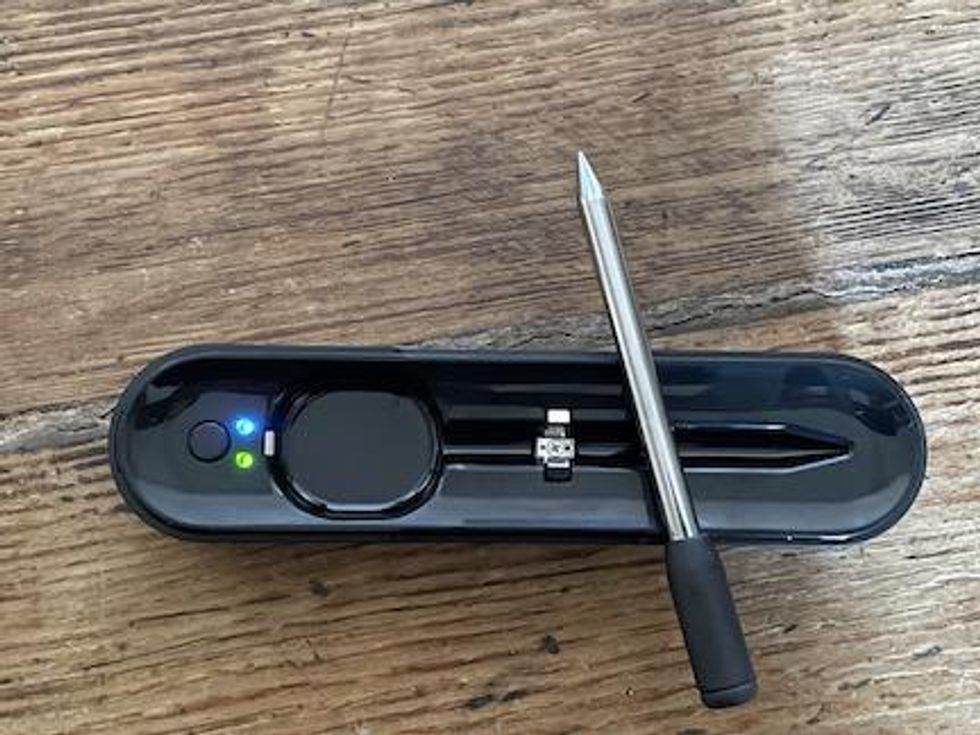 Yummly is wireless, and connects back to the charging base and the app in real timeGearBrain/Lauren Barack
What's inside

Yummy is battery-operated, and comes with two AAA batteries, which you'll need to install in the base to get it working. The thermometer connects to the base wirelessly, which acts a charger, and to a smartphone app via Bluetooth and then Wi-Fi.
The thermometer itself looks a bit like a small pencil, sharp at one end, silver in color with a black, flat tip on the other end, and Yummly connects to charging base and also your smartphone to help you keep live tabs on what you're cooking. You can set the entire thing up in about five minutes, and that also includes downloading the iOS and Android app — and creating an account.
The charging case, nicely, also has two magnets on the back so you can attach the entire thing to a metal cabinet or the refrigerator and have it ready to pick up when you start cooking.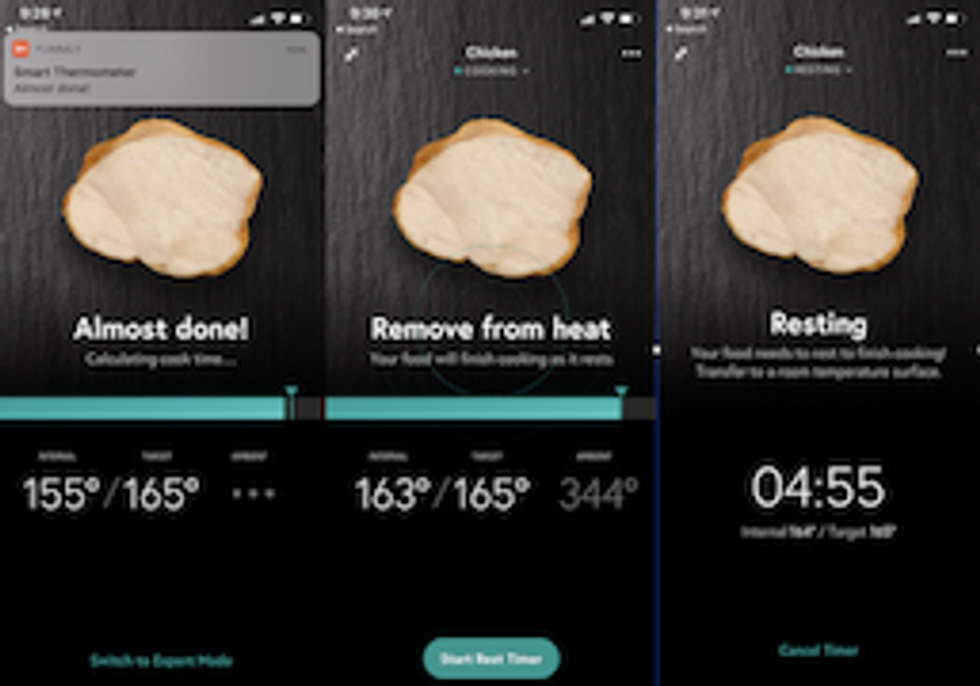 You'll get alerts on when your cut of meat is almost done, done and a timer for resting.GearBrain
The app

The app that operates Yummly's thermometer is a little complicated in terms of getting the device up and running. That's because you're actually funneled, while setting up the app, to create a Yummly account — with a subtle push to subscribe as well. Yummly itself is a recipe program, which if you like that sort of thing, is pretty popular. But if you're only there to launch the thermometer — and you don't want the subscriptions — it's a little tricky to figure out how to get the smart thermometer running, and not subscribe actually to Yummly itself.
To save you the trouble, when you're in the app, click on the bottom right icon that looks a bit like an oven. That opens up a section called, "My Connected Kitchen," and from there a photo of the Yummly thermometer should show up, with a green button encouraging you to "Connect."
You do need to make sure you keep the base in range of the thermometer — within five feet. Your smartphone can be up to 150 feet away, but you're also going to want to keep the app open while it's in use, and the smartphone not on silent.
I also found that the app downloaded and connected to my Apple Watch, which was a nice surprise, as I did get alerts on that device as well.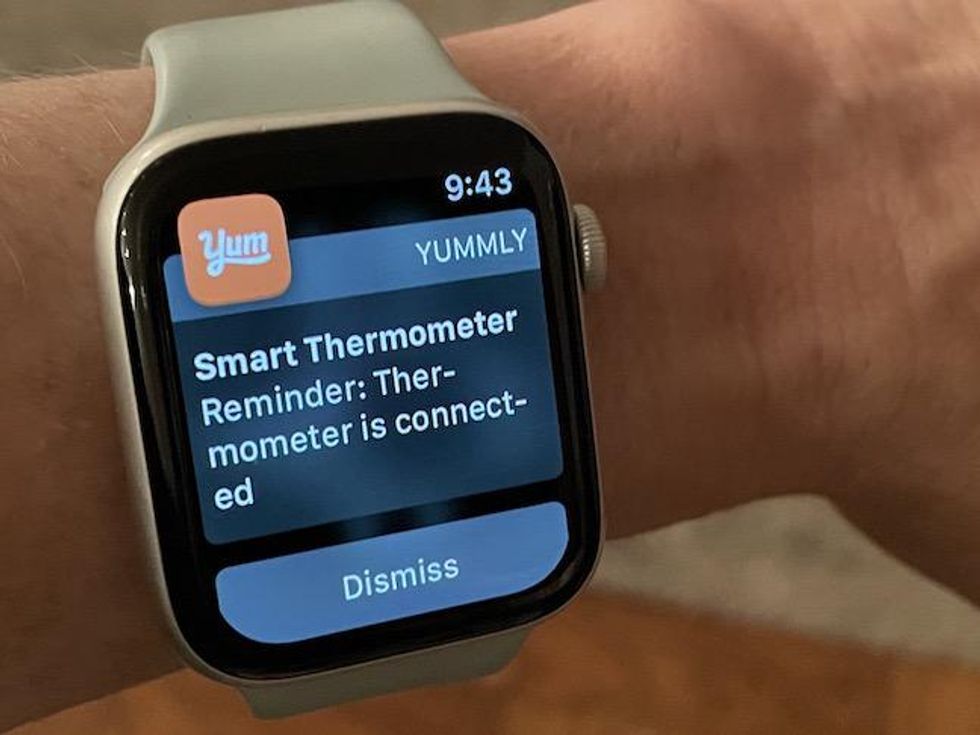 The Yummly app works on the Apple Watch as wellGearBrain/Lauren Barack
Using Yummly

Using Yummly is pretty simple. You'll need to connect the wireless thermometer to the app — and you'll have to do this each time you use it. Lifting the thermometer from the base, you'll look for a blinking blue light which will allow the device to connect to the app.
You'll then select what you're cooking —meat, chicken or fish — and then push the metal end of the thermometer into your upcoming meal. We did this with a piece of salmon and also a chicken breast. The app will walk you through asking how you want your meal prepared from well down to rare, and then you will start to see the temperature of what the meat is at that moment show up in the app. You'll also see the temperature that Yummly says is the optimum temperature. And then you can start cooking.
Here's the mistake I made when I cooked my first meal, which was the salmon. I did not keep the app live on my smartphone, and instead took a phone call. After about 20 minutes, I realized I hadn't heard anything and opened up the app to discover that the salmon was long since cooked. I did see alerts pop up on the smartphone — and also on my Apple Watch. But for me, these popups did not audibly send an alert. The phone was not on silent, so I am not sure why the alerts did not send an alert. But be aware to test and see that alerts come through.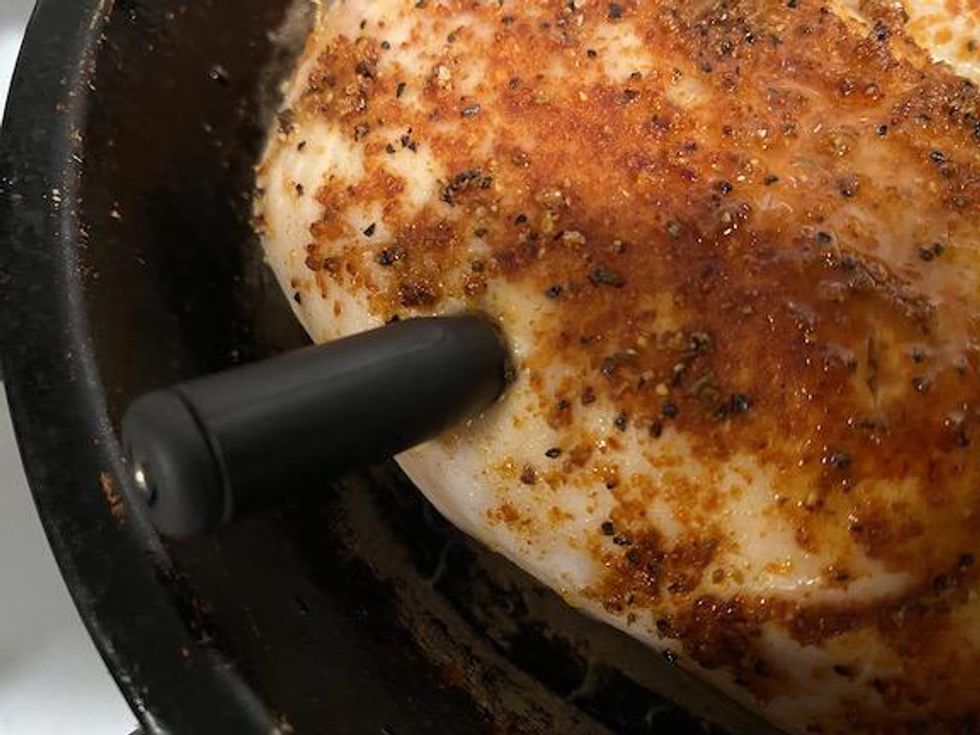 We had excellent results cooking chicken using the Yummly meat thermometerGearBrain
The best result I had with Yummly was baking a chicken breast — and was one of the most perfect chicken breast I've cooked. Let's just say dry is an understatement when it comes to me and cooking chicken. Yummly not only sent me an alert a few minutes before the chicken was ready, it also told me when I should start to pull the chicken out to finish cooking while it rested. I did hear the alerts on this round — but then I also kept the app open to Yummly the entire cooking time.

Price
You can pick up Yummly for $129.99 in black on the company's web site. We saw it for sale a couple of weeks ago in white, but that appears to be sold out. At full price, Yummly is a bit more expensive that competitors like Meater — but it's certainly one of the more affordable smart kitchen devices you can pick up today. We've also seen it at lower prices on other sites, and occasionally the site has the thermometer on sale as well.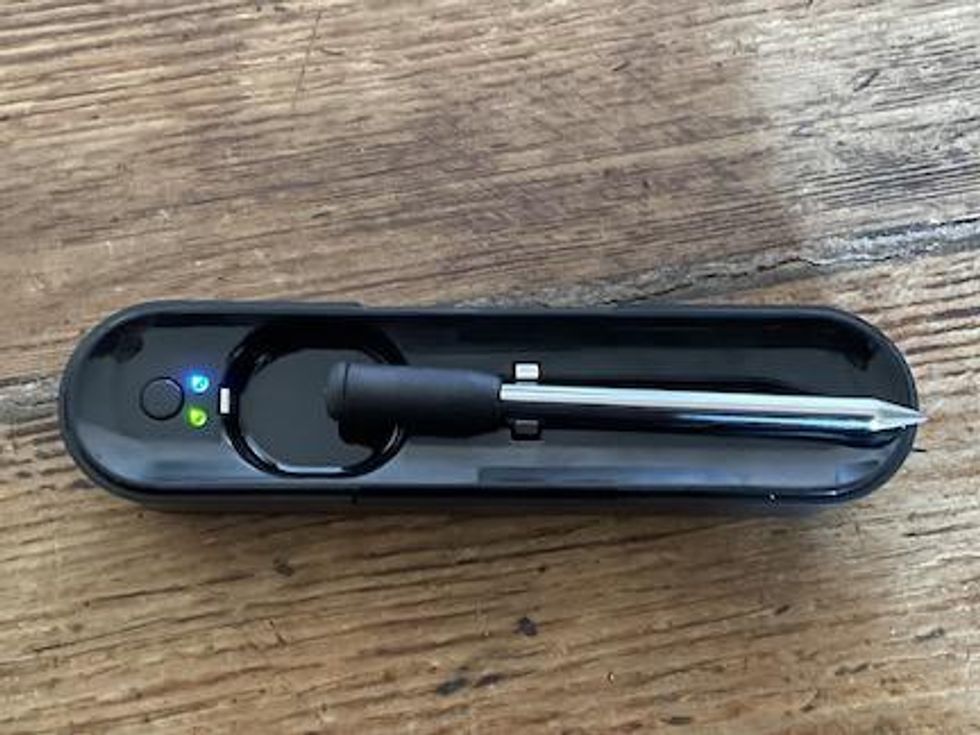 The back of the charging base has magnets, so it can be attached to a refrigerator or metal cabinetGearBrain
Worth buying?

A smart thermometer can be really helpful, especially during the summer if you're grilling outside and want to walk back in the house. You can get an alert to get that T-bone off the grill before it gets too well done, for example.
It's certainly easy to clean the thermometer, which can be just rinsed off with some soap and water, and Yummly is not gonna take up a lot of space in your kitchen. You can choose to subscribe to some recipes if that's of interest too. Overall, if you're in a heavy meat or fish eating home, and you really don't want to overcook your dinner, a smart thermometer can be a nice smart kitchen to have. They're small, easy to use — and Yummly was very accurate in terms of timing our meals. And with summer coming up, this could be a fun tool to add to your cooking kit.
Pros:
Easy to use
Clean simple design
Cooks meat extremely well
Cons:
Didn't always hear audible alerts
Price
Encouraged to subscribe to the Yummly app