Like GearBrain on Facebook
Welcome to the first installment of a new series from GearBrain, where we take a deep dive into the connected features of today's biggest car companies.
Starting with Audi in this article, we will look at the internet-connected features of various cars, plus how your smartphone works with them. This isn't just a case of using Bluetooth for streaming calls and music, but also addresses Apple CarPlay and Android Auto, and digs deep into the car's own applications, connected services, and smartphone apps.
Read More:
Without further ado, here is everything you need to know about Audi's connected car and infotainment systems, including Audi Connect and the company's 'MMI' system.
What is Audi Connect and what can it do?
As tempting as it is to hook up a smartphone and exclusively use Apple CarPlay or Android Auto, we're going to park those for now and focus on Audi's own system, called Audi Connect.
Primarily a system for accessing the car's navigation, plus your phone's contacts and calendar events, Audi Connect has three main components, called Connect Care, Connect Prime and Connect Plus.
The first is designed for emergency situations, allowing you to make an SOS call through the car if you have an accident, or call up roadside assistance. Unlike some SOS systems from other manufacturers, this is available at no additional cost for the lifetime of the vehicle.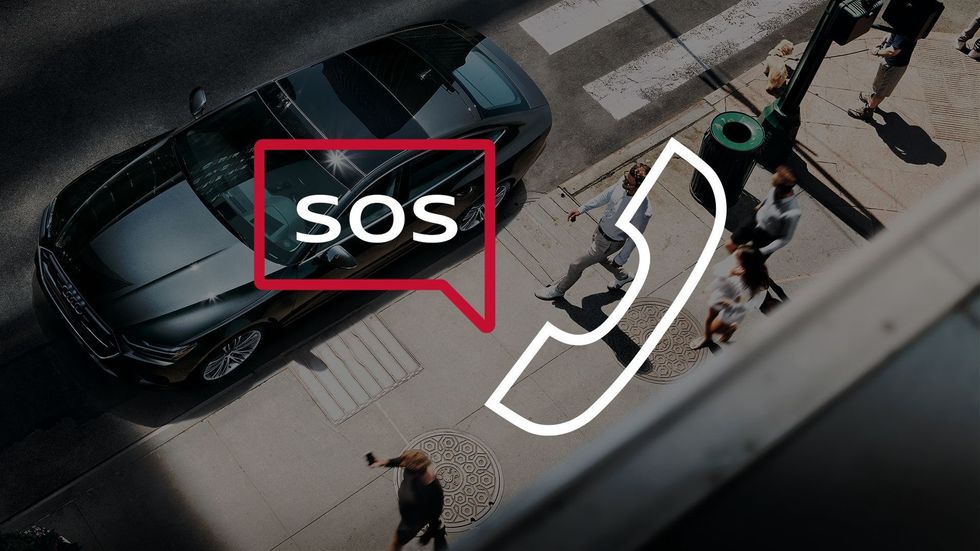 Audi Connect Care includes free SOS emergency callingAudi
Connect Care also includes remote locking and unlocking of the car, via the free myAudi app for iPhone and Android. The app contains a car-finder feature for locating your car if you can't remember where you parked, and Care also helps law enforcement locate your vehicle if it is stolen.

Owners of the electric Audi E-Tron gain additional Connect Care features, including trip planning with charge stops taken into consideration, remote control of the interior temperature from your phone, and control over how the car charges its battery, also via the app.
Connect Prime and Connect Plus both come with a free six-month trial with all new Audis, after which you can stop using them, or pay for a subscription.
These are not particularly cheap. Connect Prime is priced at $199 for six months or $499 for 18 months. Connect Plus is a more reasonable $10 per month if using your smartphone's data connection, or $25 a month for the car's own unlimited data service.
Prime features include Google Earth mapping imagery in the car's navigation system, a voice assistant that uses natural language to control things like the cabin temperature, and Amazon Alexa integration for asking questions, playing music and controlling your smart home devices.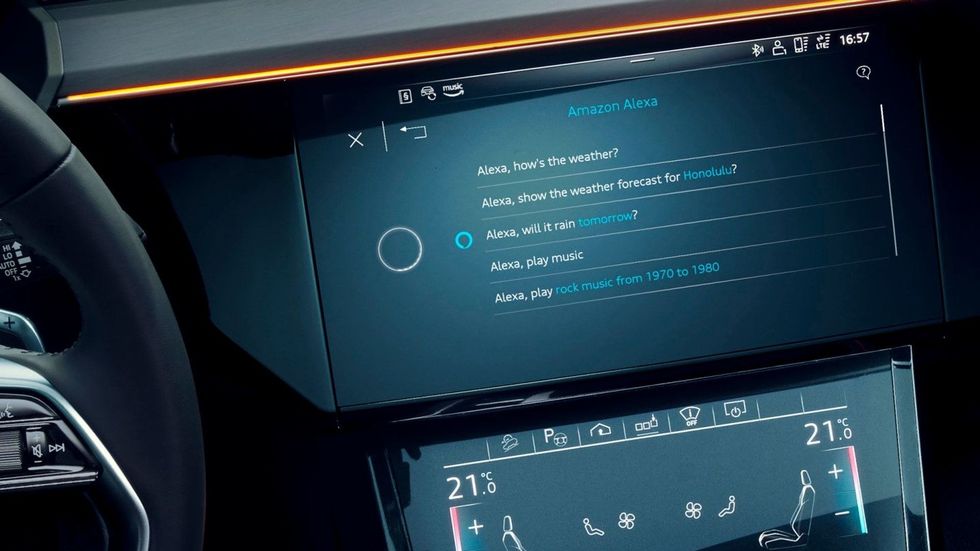 Audi Connect Prime with Amazon AlexaAudi
Finally there is Connect Plus, which creates a Wi-Fi network in your car, to which you can connect devices like smartphones and tablets. Connect Plus also includes internet radio streaming, and access to Amazon Music.
Data for the entire Connect system is received via the car's own SIM card, which is either embedded and hidden from sight, or found in a slot in the glove box.
What is Audi MMI?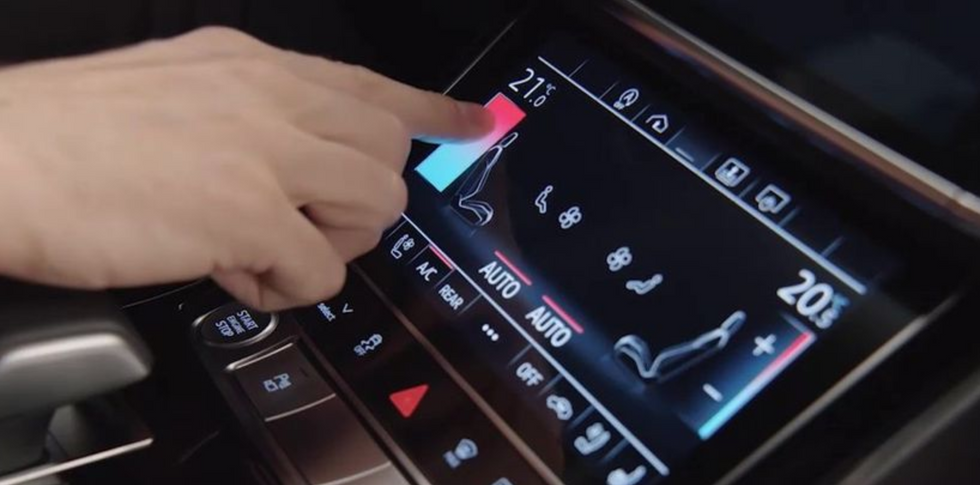 The lower touchscreen is used for climate controlAudi
Standing for man and machine interface, MMI is the user interface of Audi's infotainment system. This is split across three digital displays; one acting as an instrument panel behind the steering wheel, one in the center of the dashboard for maps and entertainment, and a screen below this for controlling the climate, heated seats, and other key systems. The latter is pictured above.
This lower screen can also be used to write on with your finger to enter information, like a destination for the navigation system. In some models this display is replaced by a more traditional scroll wheel that can be rotated, pressed, tapped and swiped across to navigate around the interface. This is pictured below.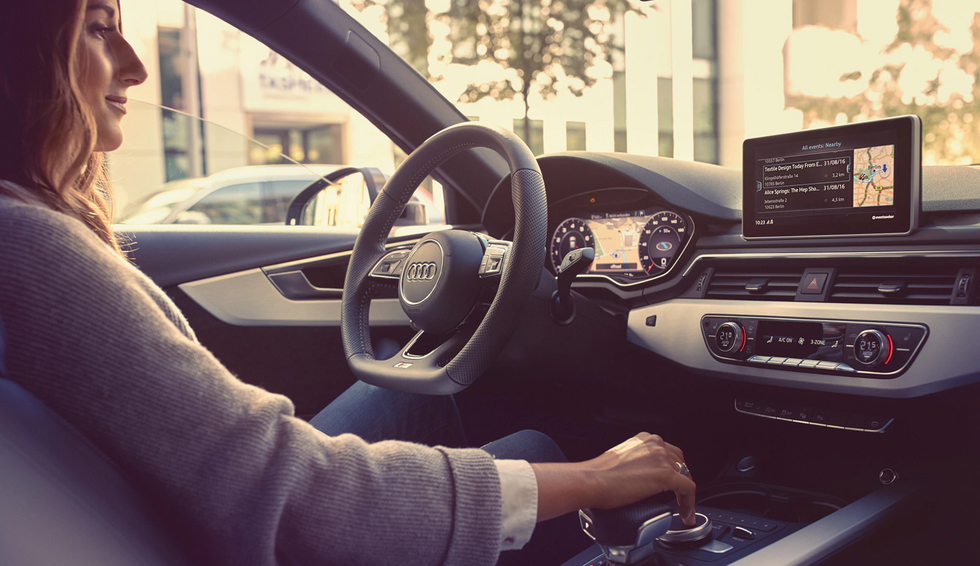 Scroll wheel control for navigating the Audi Connect systemAudi
The instrument display behind the steering wheel can show a traditional speedometer and rev counter, with temperature and fuel gauges either side. Or these can be made smaller, giving way to a large map display taking up most of the screen.

Do Audis have Apple CarPlay and Android Auto?
For the 2020 model year onwards, all Audi vehicles are equipped with Android Auto and Apple CarPlay as standard. Wireless CarPlay is also on some models, but as with most manufacturers this is still somewhat limited in its availability for now.
Is there a smartphone app available for Audi cars?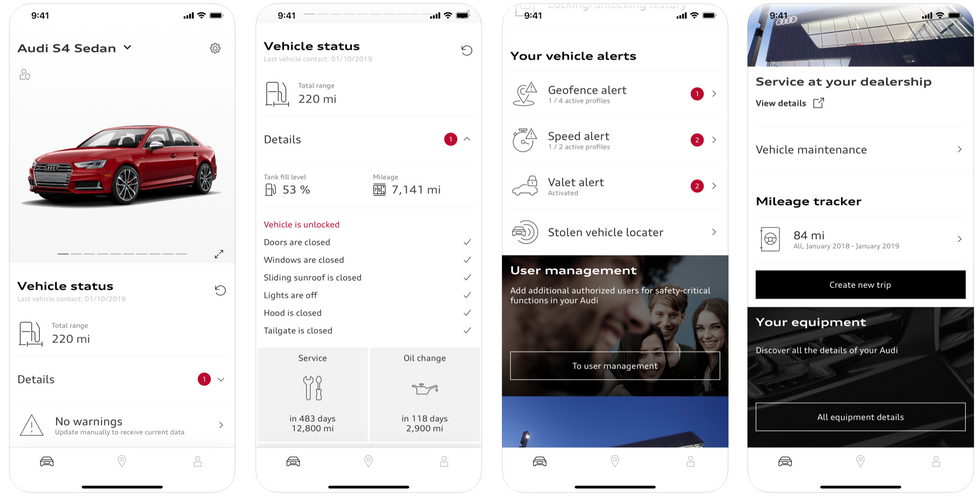 The myAudi app for iPhone and AndroidAudi
As we mentioned earlier, the free myAudi app for iOS and Android lets you lock and unlock the car remotely. You can also check the windows, hood, tailgate and sunroof are closed, and that the lights are off. The app shows how much fuel or battery charge is remaining, along with the expected range, the current mileage of your car, and any warnings that its computer is currently displaying (such as low oil or incorrect tire pressure).

The app tells you how many miles or days to go until your next service and oil change, and helps locate your nearest dealer. Alerts can be set up for if your car leaves a certain geofenced area (so you know if your children have driven somewhere they shouldn't), or breaches a certain speed.
Finally, valet mode can be enabled in the app to restrict the car's performance and functionality while someone else, like the hotel valet, is driving it.
There is also an Apple Watch app to show your remaining range, total mileage, if any windows are open, and the location of your car.
CarQiWireless Wireless Phone Charger Pad Fast Charging for Audi Q5/ SQ5 2018 2019 2020 Center Console Phone Wireless Charging Pad Mat fit for Audi Q5 SQ5 2020 2019 2018 Accessories
From Your Site Articles
Related Articles Around the Web
Like GearBrain on Facebook