Like GearBrain on Facebook
Genuine surprises are few and far between in today's consumer technology market — especially when it comes to smartphones, whose annual launches are so predictable you can set your watch by them. And yet Microsoft managed to deliver a real surprise this week.
At first, the company's annual Surface hardware event felt like any other, full of attractive new products to tempt Apple fans away from their iPads and MacBooks. But then the company announced a folding dual-screen tablet which doubles as a laptop. And, as if that wasn't enough, it announced it was making a new phone — a phone running Android, no less — with the same two-screen form factor.
Read More:
These two products won't be ready until the fall or even winter of 2020 — so a full year away — but, if anything, showing off products so far away from their release date only added to the shock and awe.
First off, Microsoft is at pains to say the smaller of the two products, called the Surface Duo, should not be described as a smartphone. But it isn't fooling anyone here. As much as Microsoft wants us to call it a Surface, like the brand is now somehow the name of an entire product category too, the Duo is a phone. Perhaps a 'communication device,' as Steve Jobs called the iPhone back in 2007, is closer to the mark. But it still runs Android and handles phone calls, so for us it's a phone.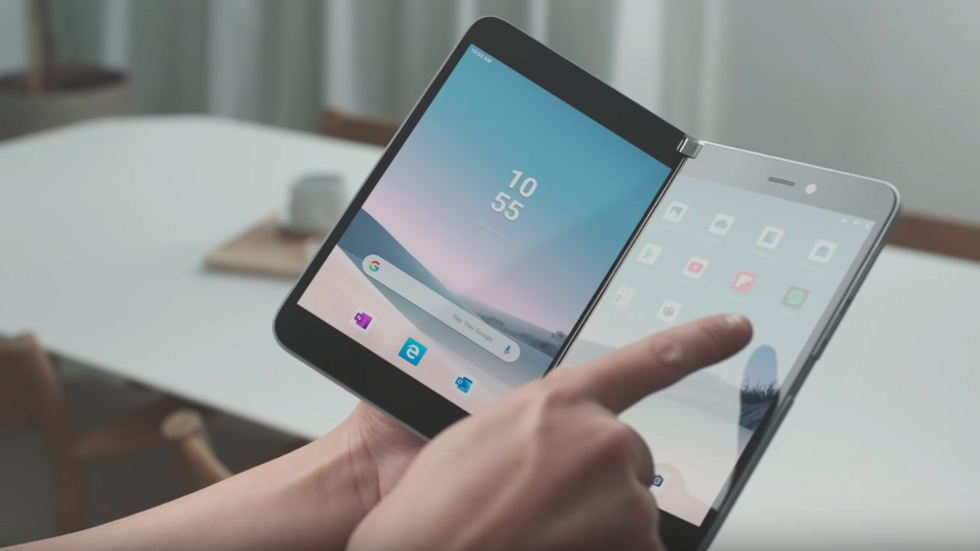 Each smartphone-sized display measures 5.6 inchesMicrosoft
But that's where the similarities between this and most other phones end. The Surface Duo is perhaps most similar to the Samsung Galaxy Fold, but instead of a bendable (and undeniably fragile) display on its inside, there are two flat and rigid screens. Each measures 5.6 inches and when folded open they create an 8.3-inch space to run Android. The 360-degree hinge means the Duo can be folded right back on itself, with the rear display switched off and the front screen acting as a regular Android smartphone.

This is broadly all we know about the Surface Duo for now, and we're unlikely to see much more for the next six or perhaps even 12 months. Revealing the phone so early (and a promise to get it into developers' hands around year-end) is a smart move from Microsoft, and to us this shows the company has learned from the death of Windows Phone.
With that ill-fated operating system, which failed to put a dent in the domination of Google's Android and Apple's iOS, Microsoft struggled to convince developers that applications were worth making for it. With a limited app selection, Windows Phone quickly become unappealing to smartphone buyers and, despite good hardware and cameras in its Lumia handsets, Microsoft bowed out of the market.
With the Surface Duo, the company will not go it alone. Instead, it has smartly teamed up with Google and is ready to take advantage of Android's new abilities to work with folding and multi-display devices.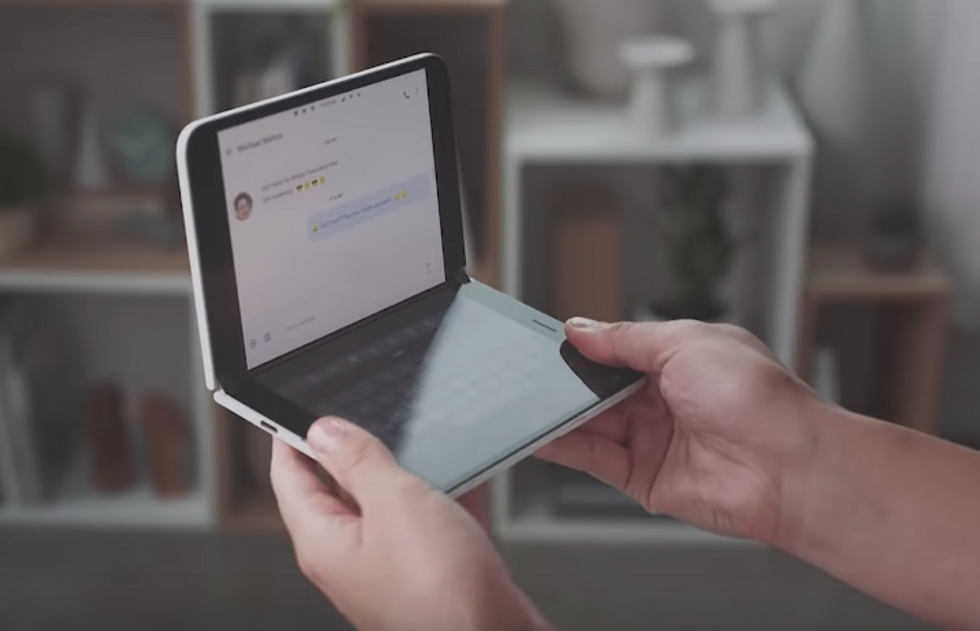 The Duo can be folded into the shape of a laptop for typingMicrosoft
And even if some app developers don't see promise in the two screen layout, their apps can happily run on a single display of the Surface Duo — unlike on the Samsung Galaxy Fold, where the front display is tall but tiny, and the internal screen is uniquely square.

To further convince developers its new phone is worth working with, Microsoft can show them its larger sibling, the Surface Neo. Also revealed this week and due to go on sale in a year's time, the Neo has the same two-screen folding form factor, but is larger and runs a new version of the company's computer operating system, called Windows 10X.
Just like its other two-in-one Surface devices, the Surface Neo is designed to work equally well as a tablet and a laptop, using a 360-degree hinge to satisfy both use cases. There's also a magnetic keyboard which is stored on the back, then snaps to the front when folded like an open laptop.
Microsoft is redesigning Office and the Edge web browser to work across both screens, and it will surely expect other developers, like Adobe, to do the same. These applications will demonstrate to mobile app developers that the smaller Surface Duo is worth getting behind, and the two-screen format makes sense.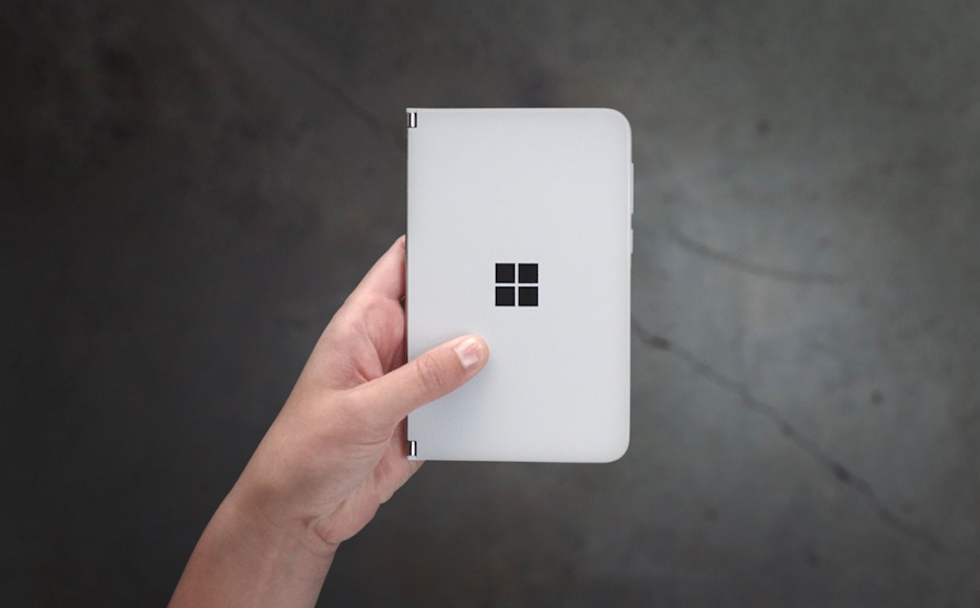 The Surface Duo is to go on sale in late-2020Microsoft
Microsoft is clearly very proud of its growing Surface range, and sales must be strong enough to warrant their annual updates. But as ubiquitous in offices and coffee shops as anything made by Apple, they certainly are not. That said, it's difficult to be more than anecdotal about this assessment, as the Surface range straddles both the laptop and tablet markets, and has fewer variants than that of the iPad and MacBook. As a result, comparing shipments, sales and profit data is tricky.

This situation will likely be shared by the folding Surface Neo and Duo, especially if Microsoft insists the latter is much more than just a smartphone. They'll be niche products, and likely expensive ones too, with a subtle but justified slant towards business users instead of casual consumers.
As such, we doubt Apple, Samsung and Google will lose sleep over any of this. But that shouldn't equate to an inevitable and familiar failure for Microsoft. The company isn't trying to topple those giants, but instead it has offered a smart, considered alternative to the Galaxy Fold. One that doesn't sing and dance quite like that flexible phone, but which offers a similar transforming experience in a more sensible package.
We wrote earlier in 2019 about how, finally, the stagnant smartphone market is getting exciting again. There have been a couple of haphazard false-starts from Samsung and Huawei since then, each discovering the tough realities of fragile folding phones.

But now, as 2019 draws to a close and Apple remains in its comfort zone for at least another year, it is Microsoft who is making sense of it all. That's a surprise of its own.
From Your Site Articles
Related Articles Around the Web
Like GearBrain on Facebook