Like GearBrain on Facebook
The Huawei Mate X has been delayed again and is unlikely to go on sale until at least November, well beyond its most recent estimated release date of September.
The phone was first revealed back in February and shown off (albeit from the safety of a glass box) at the Mobile World Congress trade show. It was then intended to go on sale in June, but was delayed shortly after Samsung also delayed its own folding phone, the Galaxy Fold, which broke in the hands of multiple reviewers.
Read More:
Huawei then said the €2,300 Mate X would arrive in September, but now it looks like November or even later is more likely. And of course, given Huawei's icy relationship with the US government, the phone's availability here is unknown for now. Importing from European or Chinese sellers might be the only option at launch.
According to TechRadar , which attend a press conference at Huawei's Shenzhen headquarters, the September release date Huawei previously set itself has "no possibility" of being met, and now the phone is "unlikely to come out before November".

The publication also said Huawei in looking at ways to improve the Mate X for a second-generation handset. Potentially launching sometime in 2020, the second Mate X could replace the original's steel back for glass, which would allow for a display underneath.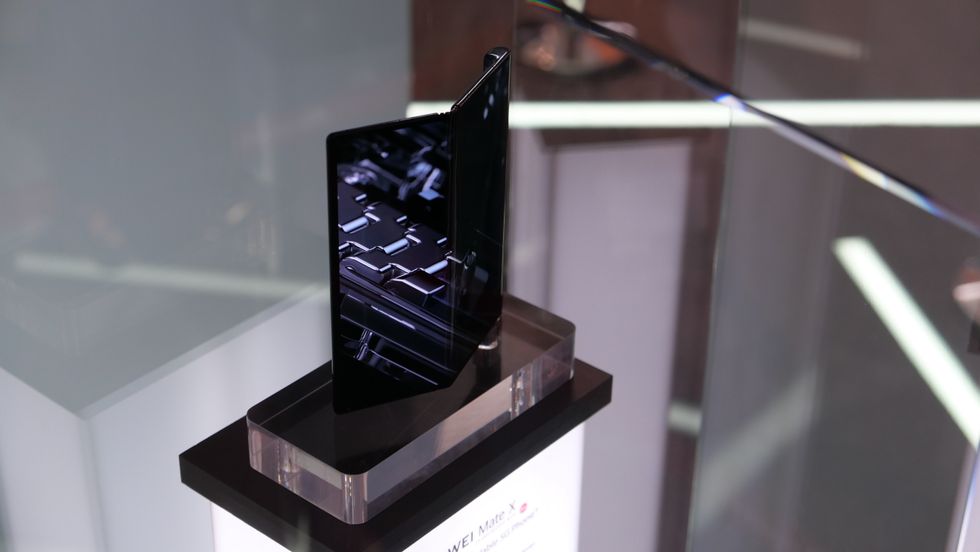 The Mate X was shown off in February, but only from behind a glass barrier GearBrain
This could lead to a handset which is usable as a regular candy bar-shaped smartphone when folded closed, as the rear could house a touch screen.

Whatever ends up happening with the Mate X, one thing is clear - folding smartphones are tricky to produce. So far, only the Royole Flexpai is actually on sale, but offers a clunky experience which lags some way behind what both Samsung and Huawei are close to making a reality.
With Huawei now hoping to launch in November, Samsung says its Galaxy Fold will arrive in September , but is yet to announce an exact release date. It will be interesting to see if Samsung fans first expecting the phone in April will still be prepared to hand over $1,980 for the supposedly fixed version.
From Your Site Articles
Related Articles Around the Web
Like GearBrain on Facebook