Motorola's Moto E5 Plus, is a going to make quick fans of those who hate watching their phones hobbling by the end of the day. While no one — well, almost — buys a phone for the battery life, the Moto E5 Plus 5000mAH battery means if you're a light phone user, and aren't great about remembering to recharge daily, this phone is something that will be working, and well, on day two, and potentially day three.
Moto E5 Plus: Getting Started
The middle you get the Moto E5 Plus in your hand, you're likely to appreciate the feel. Gorilla Glass covers the device, which has a curved back. There's a fingerprint reader on the back, a 12MP camera on the back and a 8MP on the front.
The phone is going to need to be charged, as all do, right from the box. The Moto E5 Plus comes with a TurboPower charger, and it needs one with that battery, which Motorola says can give you up to 36 hours on one charge. I found I was able to extend with light usage. If you're a regular phone user, though, plan on 36 hours tops. The TurboPower charger can refill up to six hours in just 15 minutes.
The phone comes loaded with Android Oreo, has 32GB of memory, 3 GB of storage and the screen features an 18:9 display across its 6-inch screen, all in a body that weighs 200 grams. For comparison that's about the weight of a cup of sugar. It's not light. The iPhone X, one of the heavier smartphones, clocks in at 174 grams. Bear that in mind.

Read more: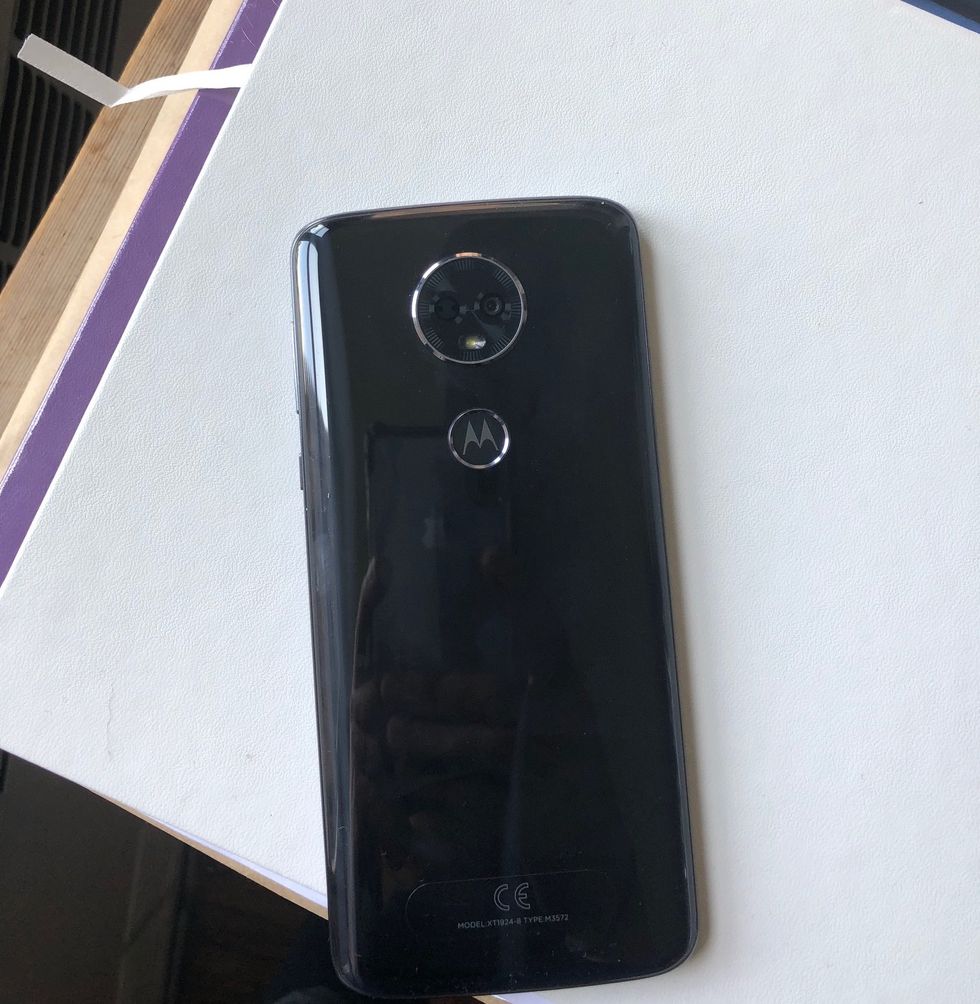 There is a hefty 12 MP camera on the back of the Moto E5 PlusGearBrain
Moto E5 Plus: Camera
Besides texting, social media and the occasional rare phone call these days, we all know what most people use (or think they'll use) their smartphone for: the camera.
The Moto E5 Plus comes with two. The 12MP camera on the back lets you shift to manual mode, where you can adjust ISO, shutter speed and exposure if you want. (This is worth trying on occasion if you don't.) The camera supports burst shots, laser autofocus, can read QR codes and has a barcode scanner.
The front camera was a little more interesting — because of its selfie mode. The Face Beauty feature is going to appeal to many, from social media users to anyone looking for a simple way to add filters to these photos.

A slider on the screen appears when you're starting a selfie, with numbers ranging from 1 to 7: the higher the number the more intense the filter. While filters are easy to apply to digital photographs — there are too many apps to mention — having one built into the phone, specifically for selfies is a nice addition. Many smartphones have these, like the Samsung Galaxy S9.
The filter on the Moto E5 Plus really takes a number of adjustments into account all at once from whitening teeth, balancing skin tone by taking away any pimples and even shine, and blurring some details. You can't cherry-pick what you want, just decide if you want a light touch up, or the full overhaul. (We'll let your ego decide which one is right for you.)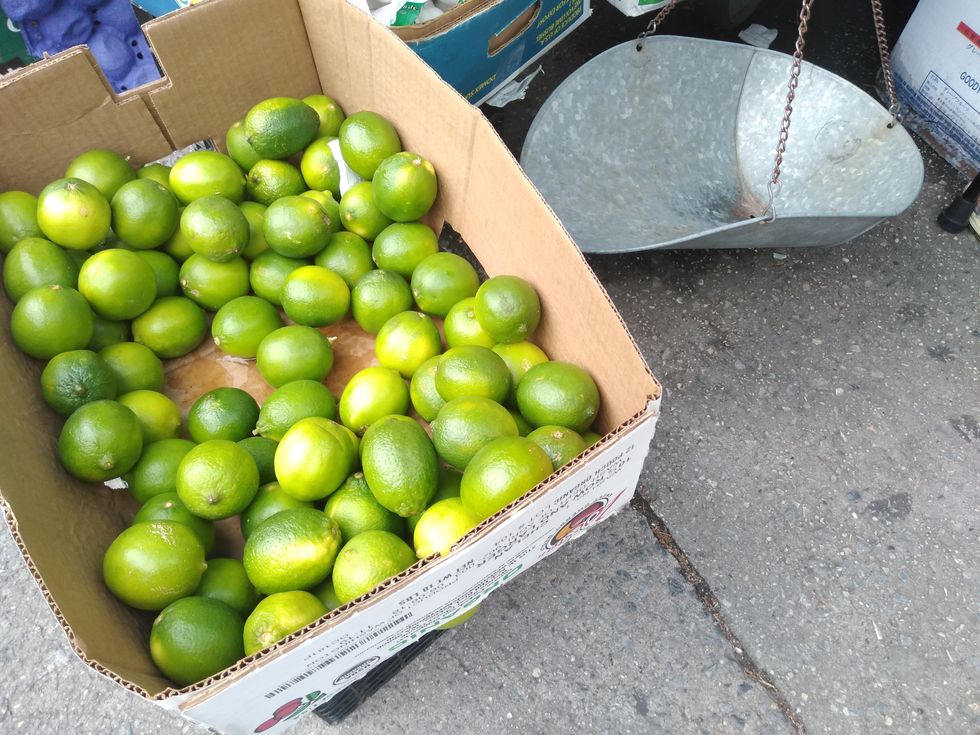 Unfiltered shot from the Moto E5 Plus through the smartphone's rear cameraGearBrain
Moto E5 Plus: Features
The phone comes with a feature called Attentive Display, interesting because it stops the Moto E5 Plus from falling asleep or dimming if it can tell you're looking at it. When you're actively using your phone, this isn't normally a problem. But if you're focusing on something for awhile, a screen can dim. The feature needs to be turned on in settings, and you have to give the phone permission to take pictures of you, and record— that's how the device knows you're still watching it.
One of my favorites was the three finger touch to tales screenshot mode. Taking a screenshot on any big smartphone can be a little bit of a coordination dance for some of us with smaller hands. On the Moto E5, you need to push the Volume Down and Power button, which is fairly common with many smartphones. But on the Moto E5 Plus, both buttons are on the right — that's makes for fumble city. So the three fingers option was appreciated.
The phone also has a security mode, checking and sending updates about app running on the device — and can tell you if there are apps that are running in the background in danger of draining your battery very quickly. The phone also shows you battery life with a visual circle — as the circle's line disappears, so too your time left that you can use it. That was a nice add.

Moto E5 Plus: Should you buy one?
A smartphone with a 36-hour battery life's a nice thing to have. One that also packs a 6-inch screen, Gorilla Glass case, and two solid cameras makes the Moto E5 Plus a strong contender for your next smartphone.
You need to keep in mind a big caveat: the phone is not sold in the U.S. unlocked, and where you can get it is through two carriers only at the time of writing this review: Sprint and Cricket. The Moto E5 Plus is priced at $288 with Sprint, or $12 a month for 18 months, with the balance due at the end, and priced at $180 with Cricket for new phone lines or $205 for those upgrading.
Tying smartphones to carriers feels a little outdated of an option to us — and a set of constraints we think it's time to lift. While we get that brands need to make these kind of offers to carriers, consumers are the ones who buy the phones. We're going to choose a carrier (we practically have to) — but the more options consumers are given, the more ownership of how we choose to use and run our devices (all of our devices) — the more likely we are to feel a brand gets us. Just our two cents.
Should you buy one? If you're a plan with another carrier, or you already are using an unlock smartphone, that may make it harder for you to choose this particular Moto. If you're a Sprint or Cricket customer, however, the Moto E5 Plus is certainly worth a look, especially if you're in the market for an upgrade.
Pros:
36-hour battery life
Selfie mode on front camera
Self-monitors apps
Cons:
Limited availability in the US, and only through carriers
Heavy
Awkward button placements