Muse S, the wearable that helps train people to meditate, is moving into the sleep space with updated features that will help track how well people rest at night.
The new features will allow wearers through the device to track different sleep cycles from deep to light, and even REM sleep so they can see how well they're staying asleep, and the kind of restorative rest that they're actually getting. The end result will be a Sleep Efficiency Score they'll be given in the morning.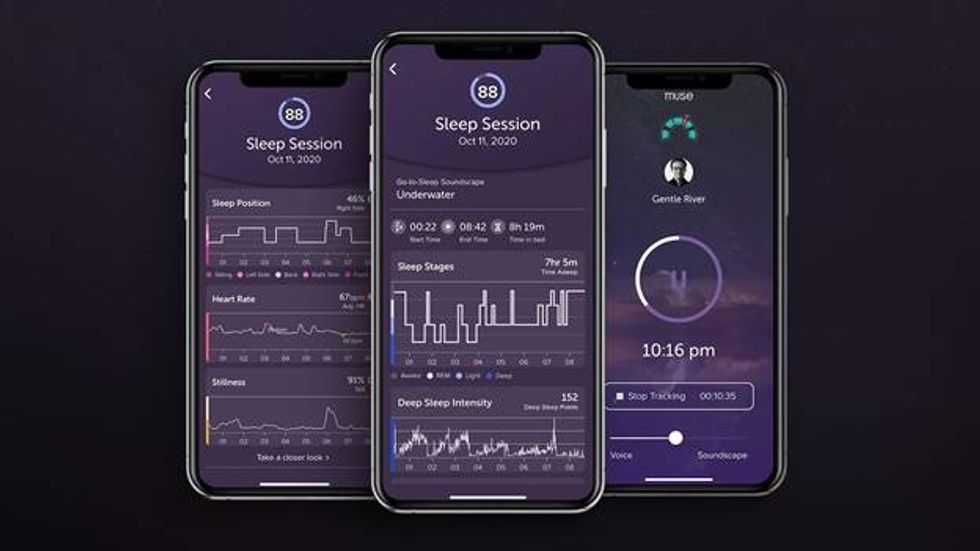 The new update will deliver a Sleep Efficiency Score through the appMuse
Muse S is the latest version of Muse's wearable, a soft headband that offers guided meditation to help people learn relaxation techniques. The device reads brain waves, rewarding you when you reach what Muse considers an optimal level of calm.

The newer style Muse S, which launched in January 2020, replaces the harder structure of the original, and that new design is what makes wearing the Muse S at night more of a possibility. The update will also give more details about someone's sleep, including how quickly someone fell asleep, and even how long someone spent in different sleep positions.
Additional features will be coming later in January 2021, including the intensity of the your deep sleep — and how long you spend in that stage. And Apple users will be likely excited to hear that the features will be integrated into Apple HealthKit, so Muse can continue to pick up details about your health and wellness while your other devices — like your Apple Watch — is charging.
The first set of features will be free for all users, and released automatically on December 1 through a software update. While the rest, including the Apple HealthKit integration and deep sleep reading, will arrive in January 2021.
Check out The GearBrain, our smart home compatibility checker to see the other compatible products that work with Apple HomeKit enabled devices.
MUSE S: The Brain Sensing Headband - Meditation & Pre Sleep Tracker Multi Sensor Headset Device - Responsive Sound Feedback for Brain Wave, Heart, Body & Breath Activity