Like GearBrain on Facebook
Google is planning to launch a new Nest-branded router with signal boosters which double as Google Assistant smart speakers.
This is according to a report by 9to5Google which claims the new product will be announced at Google's annual hardware launch taking place on October 15. The new Pixel 4 smartphone and a revised smart speaker called the Nest Mini are also expected to debut at the event.
Read More:
Back to the new router, and it is claimed the device will fall under Google's Nest smart home brand. There will be a main router and modem that broadcasts a Wi-Fi signal, which is then strengthened by a pair of included boosters designed to be located across the home.
These boosters, the report claims, will include a speaker, microphone and the Google Assistant voice butler. That way, you can speak to the assistant in rooms where you don't currently have a compatible smart speaker - and play music where there were no speakers before.

It is said the router and boosters will be available in three different colors, and are designed to fit in neatly in the home, instead of being hidden away. This is important, given owners will want to locate the boosters in a place where the speakers can be heard clearly.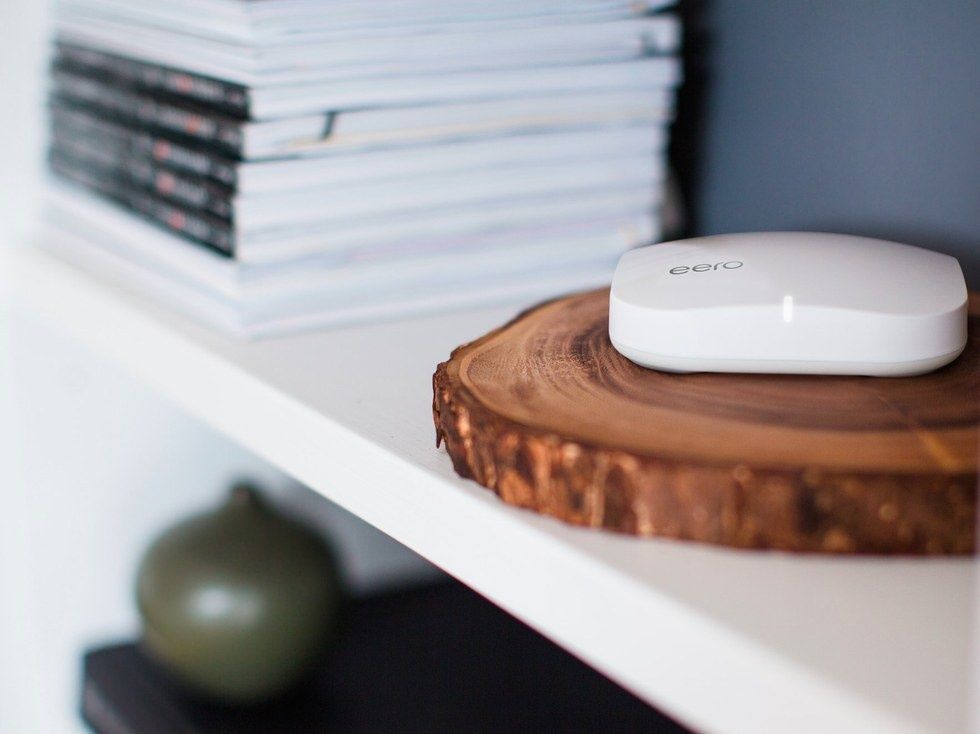 The boosters could work like Amazon-owned Eero Eero
The Google Assistant of these boosters is said to work just like every other Google Home smart speaker, but with new Wi-Fi-related capabilities. These will let you switch off the internet in a room, or even for a single connected device, with a voice command. We can see this being useful for parents wanting to stop their children using the internet in their bedrooms at night.

Should this product launch at the Google event next month, we wouldn't be too surprised. We have said recently how the future of the smart home will bring voice assistants to devices beyond dedicated speakers. We expect to see assistants increasingly appearing in light switches and thermostats - devices which are already present in the home.
Adding the Google Assistant and a half-decent music speaker to a set of Wi-Fi signal boosters feels like a step in the same direction, making your home more intelligent without filling it with smart speakers designed for a single use.
That said, Google is also expected to reveal a new Nest Mini smart speaker, similar to the existing Google Home Mini but improving sound quality and giving owners the option of wall-mounting the device.
The expected Nest Wi-Fi launch comes seven months after smart home rival Amazon acquired Eero, makers of a Wi-Fi mesh router designed to rival Google's Wi-Fi products.
Check out The GearBrain, our smart home compatibility checker to see the other compatible products that work with Google Home and Home Mini and Amazon Alexa enabled devices.
From Your Site Articles
Related Articles Around the Web
Like GearBrain on Facebook