Like GearBrain on Facebook
Just as the smartphone market had started to acclimatize to folding displays, Chinese phone maker Oppo has shown off a handset that expands using motorized rollers.
As impressive as smartphone concept demonstrations come, the phone appears to stretch with the press of a button, its display expanding from an already-large 6.7 inches to a tablet-like 7.4 inches. Meanwhile, applications adjust in real-time to fill the growing or shrinking display.
Read More:
We can see a future where smartphones are smaller when used for simple tasks, then use their rolling system to expand when the user wants to watch a video on a bigger display.
Called the Oppo X 2021 and revealed at the company's Inno Day event on November 17, the rollable phone is strictly a concept for now. Yet it clearly functions as intended and gives a good look at what the Chinese technology company has planned for the future of the smartphone. It also demonstrates how flexible OLED displays can be used to create phones that roll as well as fold.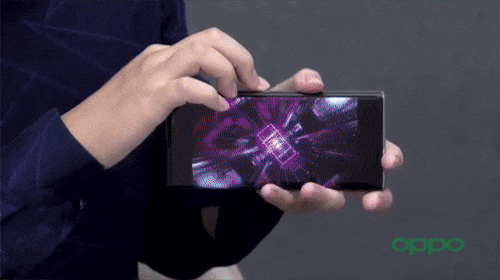 Rolling concept smartphone by OppoOppo
Oppo's Henry Tang said: "Compared to foldable technologies, rollable displays are a lot more adaptable as they are adjustable between minimum and maximum sizes for different use case scenarios..Underneath, [a] two-in-one plate on the rollable OLED concept uses a comb-like internal structure for consistent strength, whatever the shape."
Rollable OLED screens aren't new. LG impressed crowds at the CES technology show in Las Vegas a couple of years ago with its rollable televisions concept, which rolled up into a box when not in use. That TV set is now on sale, but costs $87,000 for the 65-inch model and is only offered in South Korea now.

But rollable displays clearly have potential, as much on huge televisions as on pocket-friendly smartphones.
As well as impressing visually, Oppo also points out how its rolling concept doesn't suffer from the creases seen across the middle of folding phones like the Samsung Galaxy Z Fold 2 and Motorola Razr. Oppo's concept doesn't appear to be overly bulky, which is something today's folding phones are still working to overcome.
Oppo hasn't revealed any other details about the rollable phone, but the brief video demonstrations shown this week really do speak for themselves. It's a hugely impressive piece of design that is clearly functional and we hope will arrive in consumers' hands in the coming years.
Today Oppo also announced a new pair of augmented reality glasses, above, which it claims, can create an image equivalent to watching a 90-inch television from three meters away. The glasses, called Oppo AR Glass 2021, also have a time-of-flight sensor, plus gesture and voice recognition.

OPPO R11s 4GB+64GB 6.01 Inches Dual 20MP Cameras Smart Phone Ultra-Wide Full Screen VOOC Flash Charge 3205mAh Battery (Black)
From Your Site Articles
Related Articles Around the Web
Like GearBrain on Facebook