Like GearBrain on Facebook
Bluetooth trackers are some of the most versatile and affordable tech gadgets around today. They can slipped into luggage, help someone locate their keys (even a remote) and also reverse find a smartphone should you misplace that as well.
We're reviewed a number of these, but two of the better known trackers still include Tile Mate and Orbit. They both work with iOS and Android devices, and have a number of differences — and common features. Here's how to choose which one may work best for your needs.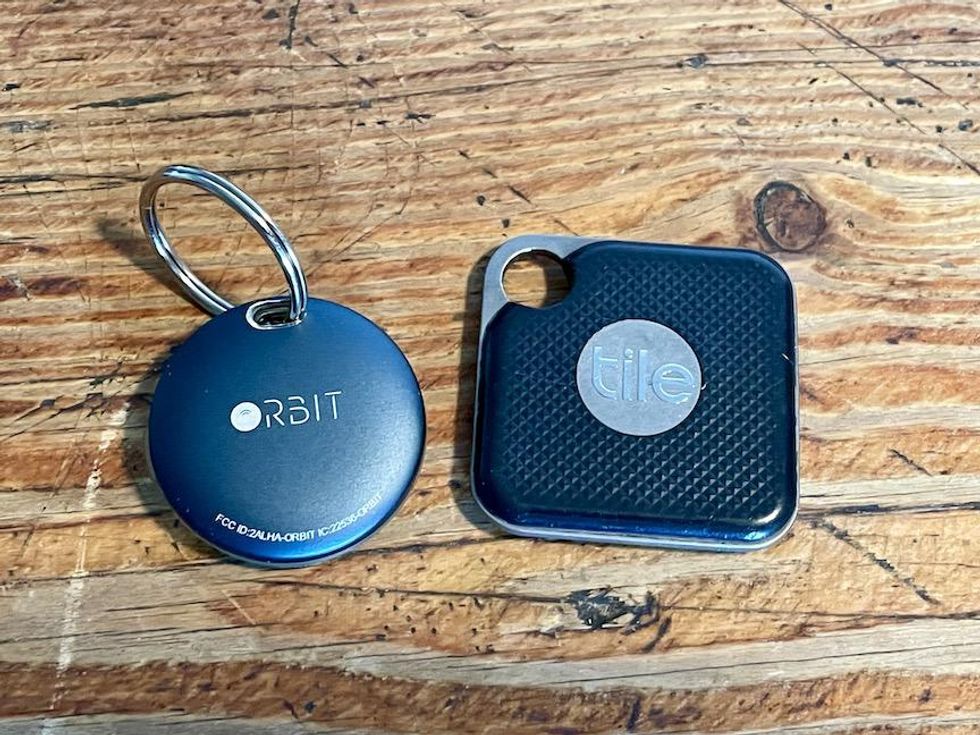 Orbit and Tile are of similar size, but have different shapes and color optionsLauren Barack/GearBrain
Design

Orbit and Tile come in different design variations, with the latter having the most options for style choices and sizes.
Orbit has several options in terms of products, but several are sold out on its site. The original design though is available, and is a rounded button, fairly thick, that has a hole on the top to slide a keyring. You actually get a ring in the package which is great, but you can certainly slide this onto an existing set of keys easily.
The tracker is also made of metal, which I find easily scratches, but is very sturdy and it has a waterproof rating as well of IPX6 meaning it can handle some fairly strong direct jets of water.
The original Tile Mate is actually square-shaped, and has a cut-out as well ion the upper corner. The hole here is more sturdy, but the device is only listed s water-resistant only and able to handle a splash or "quick accidental drop in water," according to Tile.
Tracking features
Both Orbit and Tile work by communicating via Bluetooth with their respective apps. They need to be within range of those apps — and the smartphone where the app is downloaded — to be picked up or seen.
Orbit can track something up to 100 feet away. Outside that range and the Orbit app won't be able to detect the tracker. Instead, you can then click on a button that will pop up in the app, 'Notify if found,' and that will send out an alert on the Orbit Net. Basically, if other people have Orbit on their phone — and the app activated — the Orbit will now ping that app, and then notify your app, of the location seen.
Tile Mate can actually be tracked up to 200 feet. (And you can get Tiles that track further, like the Tile Pro which can track up to 400 feet away.) And if it's outside that range Tile also has a program called the Tile Network that works similarly as Orbit's, by pinging other Tile apps if someone walks by a Tile — and then sending that location to you.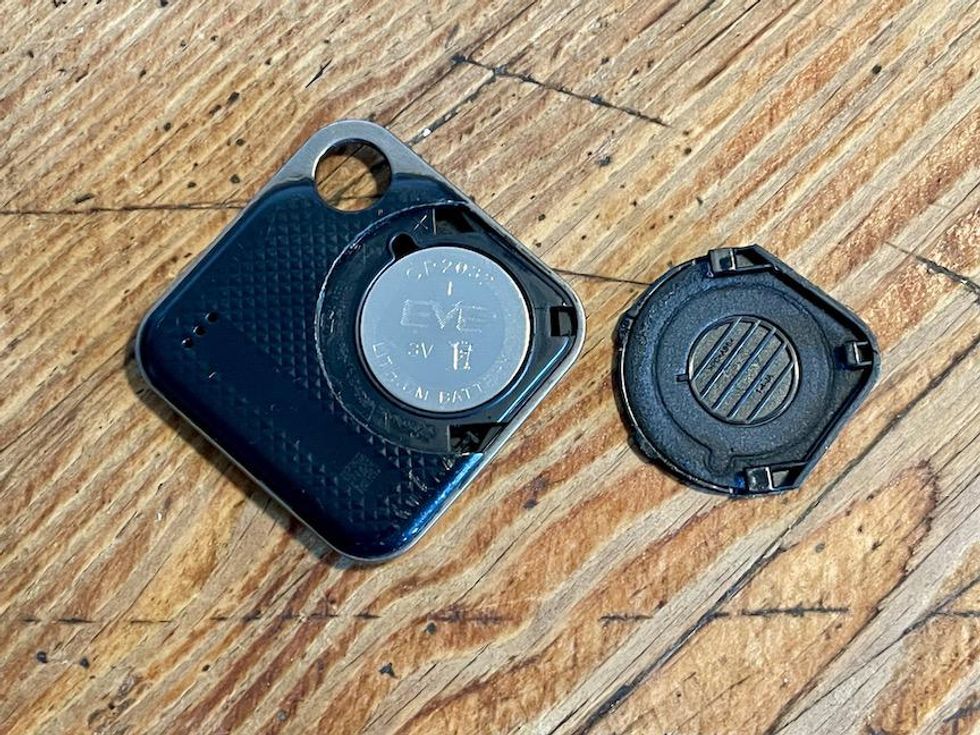 Battery life on the Tile is longer, about one year, and you can remove the battery by sliding off the back coverLauren Barack/GearBrain
Battery

Battery life on the Orbit is said to be 6 months. And you get an extra battery with the Orbit when it ships. But as we found the battery that arrived in the tracker was dead, and we needed to replace the battery immediately. You also need to use a special tool to replace the battery, which Orbit helpfully includes. But you'll want to keep that somewhere safe so you can get to it again.
Tile has a one-year battery life, and you can also replace the battery, like with the Orbit. Removing the battery is actually a bit simpler with the Tile Mate. You just slide off the back cover of the battery, and pop out the battery with something like a paper clip.
Extra features
Both Orbit and Tile can be used to reverse track a smartphone, by pushing the physical trackers to ring the smartphone where the tracker app is installed.
Orbit has a couple of extra features from being able to use the tracker as a remote to take a photo through its camera app. You can also set up Smart Reminders in the app for free, which means the Orbit will ping you if it senses it's a certain distance away from its app.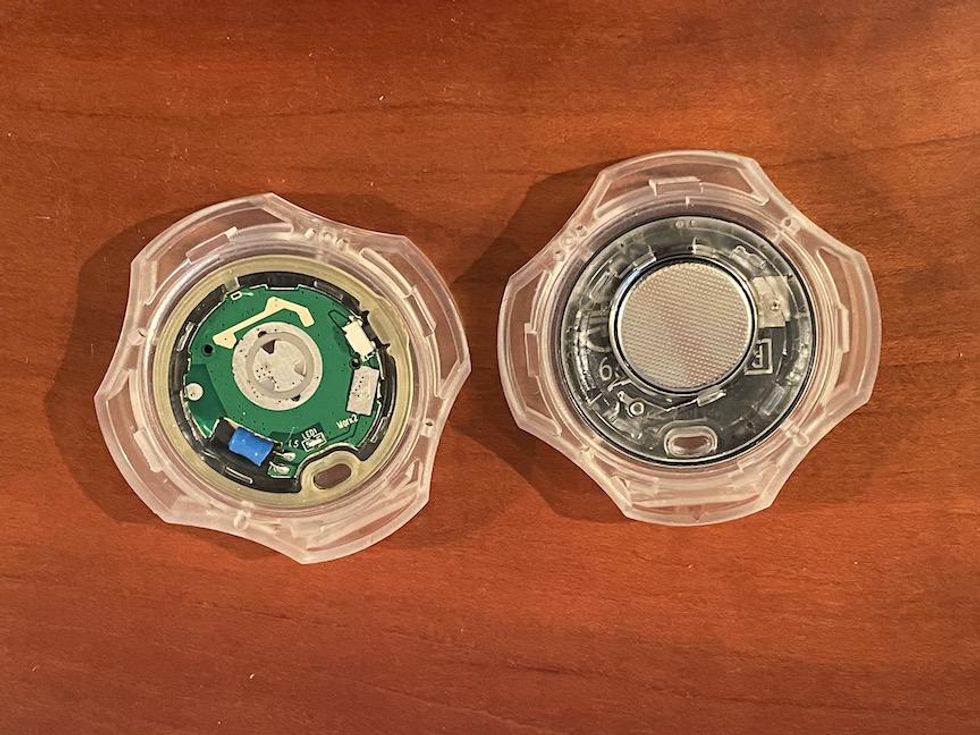 Removing the battery from Orbit requires a special tool, which comes with the tracker Lauren Barack/GearBrain
Price

You can pick up Tile Mate for $24.99 and there's one color option for that style — white. Orbit is also priced at $24.99, and it comes in 12 different colors, although three (black, blue azure and violet) are currently sold out.
Tile has an extra program that Orbit doesn't offer called Tile Premium, which is $2.99 a month or $29.99 a year. This gives you access to 30 days of location history, free battery replacements, unlimited sharing with family and friends and something is calls Smart Alerts, which means you get pinged if you leave a Tile behind.
Be aware that Orbit offers its own version of Smart Alerts, which it calls Smart Reminder, and it's free. But the remainder is not.
Alexa and Google Assistant
Orbit states that it works with Amazon's voice assistant, Alexa. And we were, in our tests, able to link the tracker to Alexa via an Alexa Skill. But we had trouble getting Alexa to actually command the Orbit tracker. When asked to locate the device, Alexa would tell me the tracker was out of range — when it was within two feet of the device.
Tile works with both Amazon Alexa and Google Assistant, and it was simple to link both of these to Tile. They integrated simply, and not through a Skill.
Alexa though required I turn on Find My in the app, which is an iOS option, to locate the Tile. And then it said I did not have a tracker connected.
Google Assistant was able to understand I what I was searching for, and even found the last location of the item (my keys) that it pulled up via the Tile app — and it read that aloud.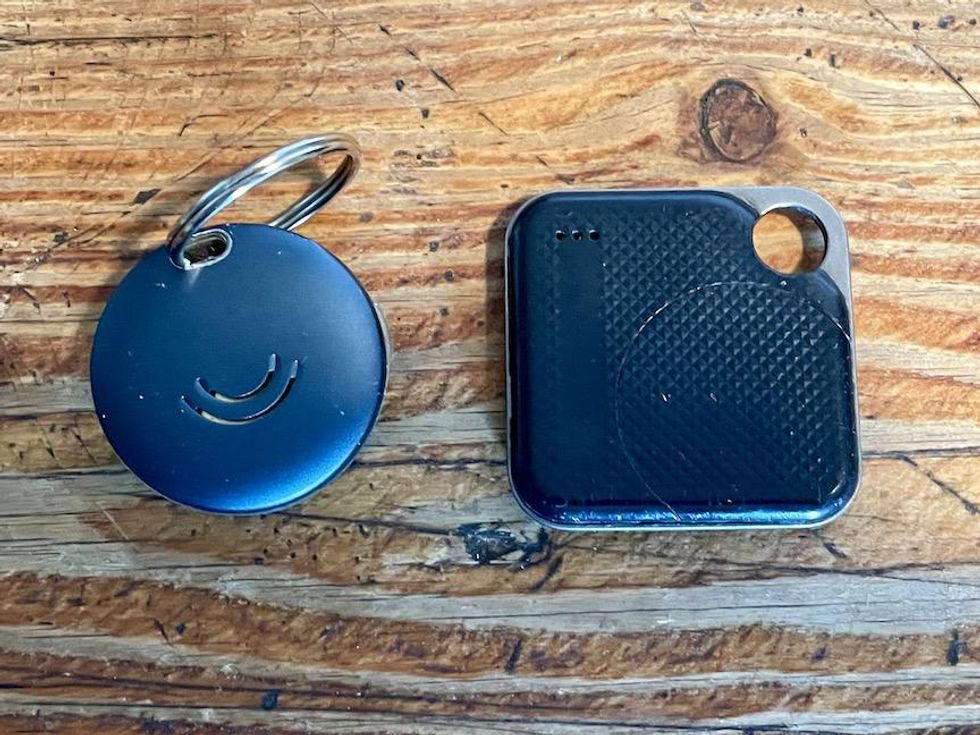 Orbit, on the left, has a 100-foot range while Tile, on the right, covers 200 feetLauren Barack/GearBrain
Which is best for you?

The best tracker? That's the tracker that fits your needs best. Both Orbit and Tile Mate are priced similarly, so budget shouldn't be an issue. They also both work with iOS and Android devices.
Orbit has an edge in terms of some features that are free including working as a camera remote and pinging you if you accidentally leave it behind.
Tile has that second feature, Smart Alerts, but you're going to pay for it. On the other hand, it works more easily, in our tests, with smart assistants, specifically Google Assistant. Neither tracker, in our tests, worked easily or well with Amazon Alexa.
Tile has more style options, its battery lasts for a year, as compared to Orbit's which lasts 6 months, and it can also track 200 feet via Bluetooth compared to Orbit's 100 feet.
We might lean towards Tile for that extra radius of coverage alone, but if style is important we also might take a look at the Orbit for its clean round shape and color options. The decision? That's yours.
Like GearBrain on Facebook