Like GearBrain on Facebook
Televisions are always a big deal at the CES technology show and the 2021 installment, although taking place exclusively online, is no different.
As well as new models from Samsung, LG, Sony and others, Panasonic has taken the covers off its latest TV, the OLED-equipped JZ2000.
Read More:
Available in 55-inch and 65-inch size options, the JZ2000 is an OLED television that promises some of the best picture quality of any television this year. It also has gamers in mind with a higher and variable refresh rate via HDMI 2.1, and artificial intelligence that adjusts the picture depending on what you are using the TV for.
But most interesting is the television's audio capabilities. Where modern TVs tend to suffer from poor sound quality due to their thin frames lacking the space for powerful speakers, Panasonic has come up with a solution.
The JZ2000 features speakers that fire sound upwards and out from the sides of the display. Like the upwards- and sideways-firing speakers of a high-end sound bar, this bounces sound off the ceiling and walls, creating cinema-style surround sound.
The television has support for Dolby Atmos from its 'Tuned by Technics' sound system, which Panasonic says can produce 360-degree sound that surrounds the viewers from all sides. Powerful bass is also possible (another rarity for a television) thanks to an integrated subwoofer.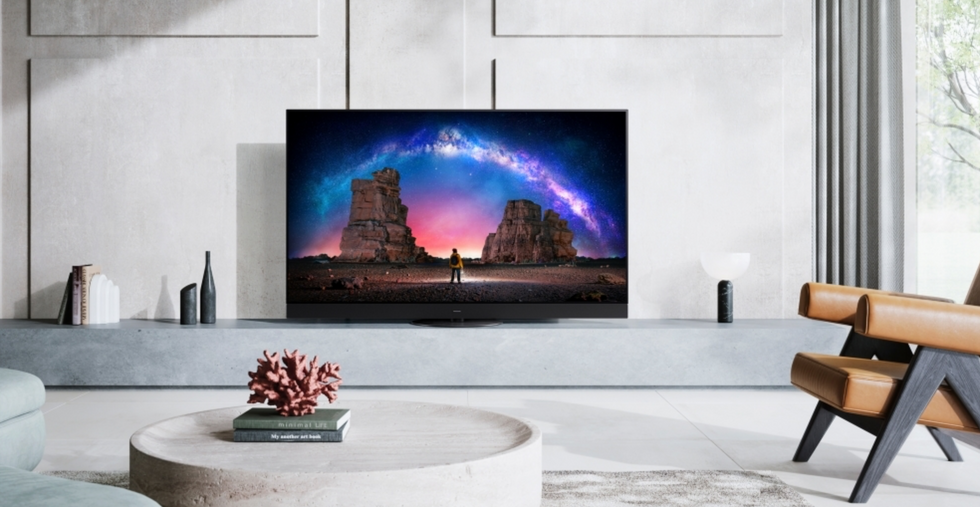 Panasonic JZ2000 is an OLED television with Dolby AtmosPanasonic
Panasonic says: "The addition of more speakers means that the JZ2000 is able to pick out directional sounds better than ever before, giving viewers a real sense of immersion. If they are watching films, they will feel cinematic-level surround sound; if they are watching sports, they will get an even deeper feeling of being in a stadium."

Back to picture quality, and the TV has all of the standards you would expect. There is Dolby Vision and HDR10+, but also Dolby Vision IQ and HDR10+ Adaptive. The latter two formats adjust the picture based on ambient light conditions of the room the TV is in. There is also Filmmaker Mode, where the TV automatically adjusts to display a movie exactly as the director wanted it to be.
The JZ2000 runs Panasonic's own smart TV operating system, called Home Screen 6.0, giving it access to all of the usual streaming apps for movies and TV shows.
Finally, the TV can send sound to two Bluetooth devices at once. This means a couple could watch TV in bed using two pairs of wireless headphones, or children could watch TV without disturbing their parents who might be working from home.
As is often the case with new products announced at CES, there is no price or specific release date yet for the Panasonic JZ2000.
Panasonic TH-75GX650L Smart, Ultra HD 4K, Android LED TV
From Your Site Articles
Related Articles Around the Web
Like GearBrain on Facebook