Like GearBrain on Facebook
Samsung debuted its new TV line up for 2021, screens that show off technology to make your TV brighter, sound more immersive and even help you workout more efficiently at home.
All make use of new LED technology, from microLED to QLED, that enhance how you can use a TV in your home for watching content, connecting with family and even remain productive in this new work-from-home world.
Samsung won't be able to show off its newest line at CES 2021, which has gone virtual this year because of the pandemic, and instead brought its lineup online before the big show.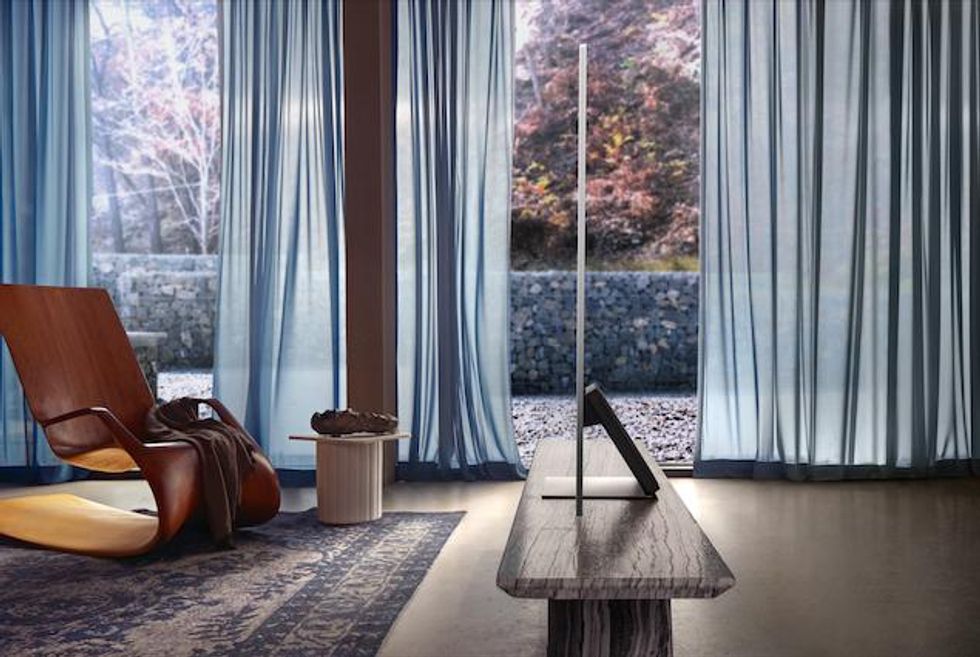 The bezel on the NEO QLED is one of the thinnest yetSamsung
Neo QLED

New Neo QLED screens from Samsung will take advantage of Quantum Mini LED, which are one-fortieth the height of traditional LEDs, and use micro layers so more LEDs can fill one TV screen.
The Neo QLED 8K tech will appear in a new Infinity One Design in 2021, with a screen that has an almost invisible bezel, and also support a new Slim One Connect box, which is attached to the back of the TV and manages the cable management system.
The TVs themselves will have increased brightness from 10 bit to 12 bit, all in a much slimmer design. There's also audio enhancements so sound travels across a screen, with better voice clarity, as well as audio output that fits the specific space and room where the TV sits in a home.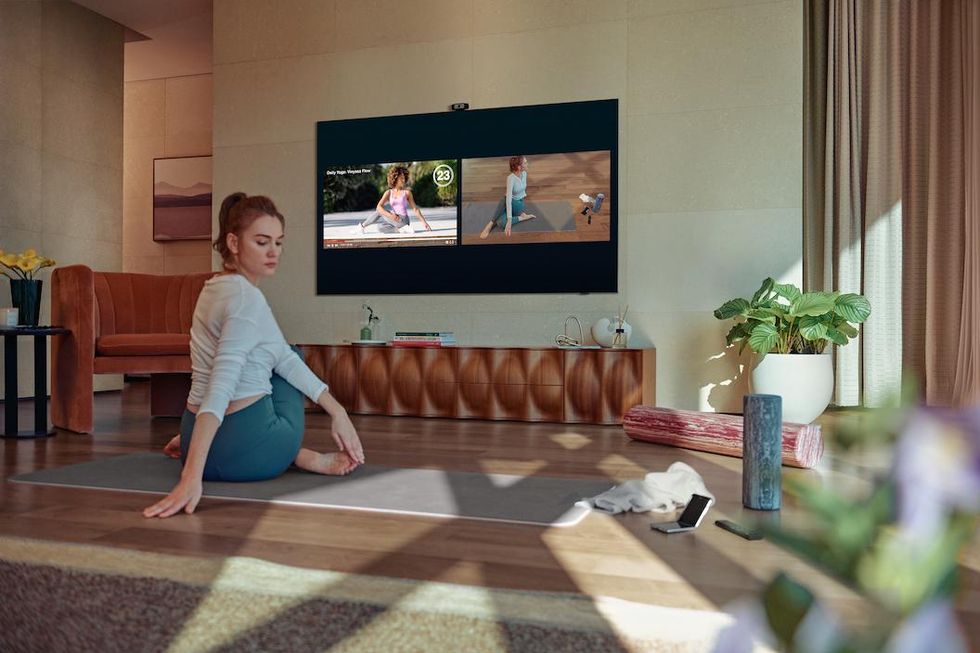 New features on the the Neo QLED Samsung TVs include a fitness training optionSamsung
There are also Samsung-specific features that will be supported on the screens. One includes Smart Trainer, a fitness service which shows an avatar of you on the right, analyzing your form as you're working out, and appears similar to tech now used in The Mirror. People can get their summary, form score, estimated calories after they finish a workout, features we're seeing as well in new launches including Fitness+ from Apple.

There's also a feature called Tap View, which allows you to touch your smartphone to the TV, and bring up a video call via Google Duo and include up 32 people. Samsung also helped out gamers with a new Super Ultrawide GameView, which lets you adjust the action on the screen to someone's specific eye level, and expands the view from a 21:9 aspect to a 32:9 ratio.
Those who continue to work from home can use Samsung DeX which will let people log in and connect to an office PC — right from the TV. And people can also create multiple views on one screen, following several sports games at once, for example, for those who don't want to miss any goal.
MicroLED
A new MicroLED line is coming in 2021 as well, in several sizes from Samsung including a 110-inch, 99-inch and smaller sizes that tap into this new technology. Blacklight and color filters aren't needed, and instead the screen illuminates from within across 24 millions individual LEDs. That will also support what Samsung calls 4Vue or Quad View technology, so four completely separate channels or streams can be seen at once on a screen. And audio is getting an update as well, from something Samsung calls Majestic Sound with 5.1 channel sound.
This technology is going to be at the heart of The Wall, a TV Samsung first debuted nearly three years ago, which is finally going into production in 2021.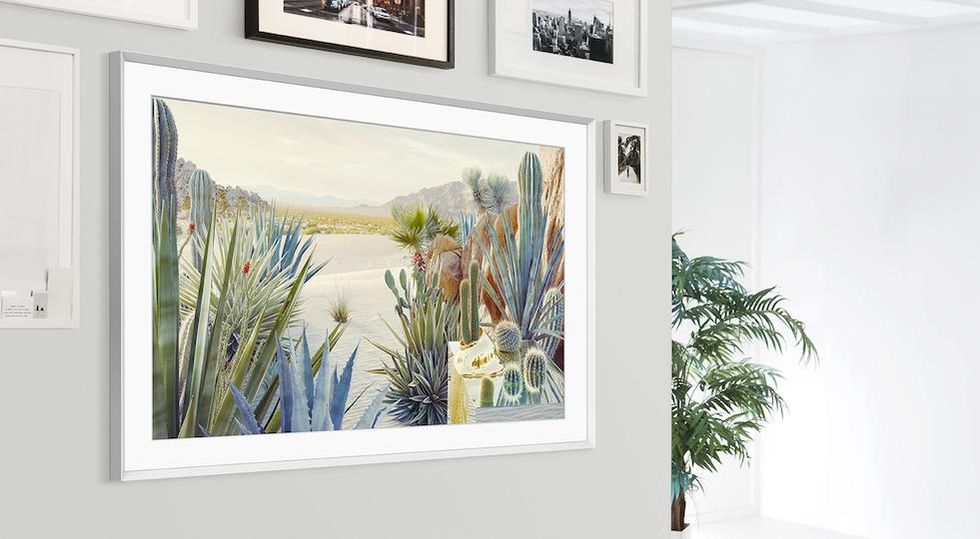 Samsung is expanding the color and bezel options for The Frame in 2021Samsung
Lifestyle TVs

Samsung also talked about The Frame, which debuted at CES 2017, and there is a new makeover with a slimmer screen — about half the size — and more frame options, including five different colors and new styles including a Modern and Beveled choices.
Eco-packing
The company will continue to focus on eco-packing, which in 2020 included its TV line, offering people ways to upcycle their cardboard packaging into new items from cat houses to toys. And this push will continue in 2021 to now include the 2021 Lifestyle TVs and also the majority of its 2021 Neo QLED line.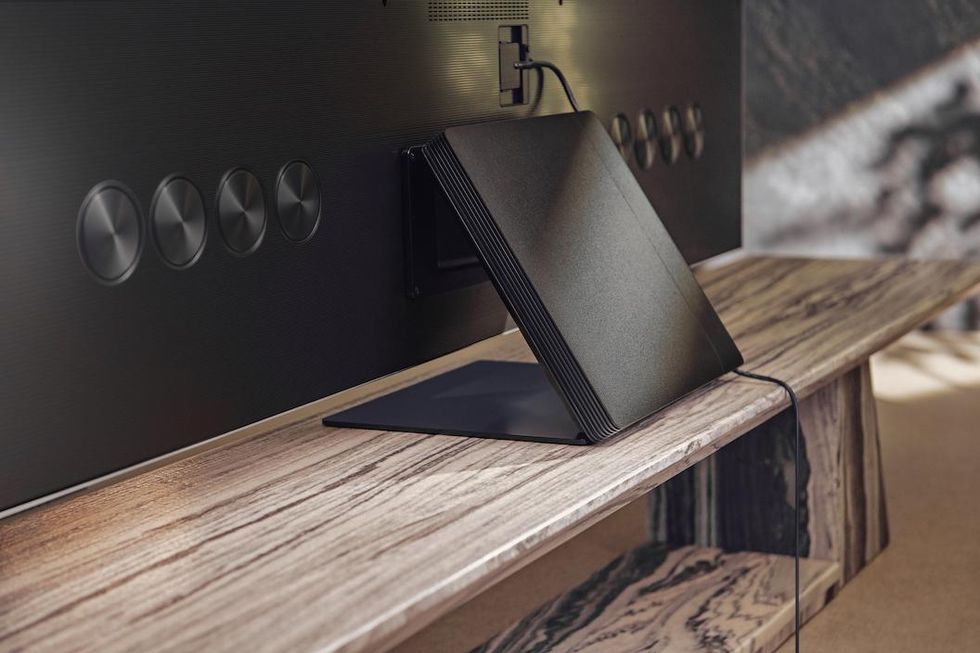 The One Connect cable system will attach in the back to Samsung TVsSamsung
A new solar cell remote control is also coming for 2021 which will be able to recharge via indoor light, outdoor light and also USB chargers. Samsung says this will eliminate 99 million AAA batteries over the life cycle of a TV, which it estimates is seven years. And the remote itself includes 24 percent recycled materials, including those from plastic bottles.

Accessibility is going to be front of mind for Samsung throughout 2021 too, looking at how people with additional hearing and visual needs interact with screens as well. It's a push that other brands including Comcast has been focusing on for years as well. There are enhancements from color enhancements, to shifts like color inversion which increases the contract on menu options, as well as audio descriptions of what you're seeing on a screen, to explanations of buttons you're pushing on a remote.
We expect to see most of these features and also new TVs start to debut and go on sale this year, although Samsung has not released specific details on dates or even pricing.
Samsung QN43LS05TA 43" 4K QLED Ultra High Definition Sero Series Smart TV (2020) (Renewed)
From Your Site Articles
Related Articles Around the Web
Like GearBrain on Facebook