Like GearBrain on Facebook
Why buy two boxes when one will do? That's the perfectly clever and logical solution the Polk Command Bar ($299.99) presents – it's a soundbar plus wireless subwoofer with an Amazon Echo Dot built right inside. This smart soundbar is such a smart idea that Sonos has produced the similar (and far pricier) Beam ($399). And, given this year's flood of smart speakers and Amazon's eagerness to spread its Alexa gospel, we're likely to see a lot more smart soundbars in the months to come.

Knowing it was going to have smart soundbar competition, Polk wasn't content to simply imbed an Echo Dot into its variation. The Command Bar includes a couple of pain point-solving features, such as separate level controls for bass and especially "voice" volume, particularly helpful for baby boomers who want to hear more dialog than sound effects, and content-specific sound modes for listening to movies, sports or music. Plus, the Echo Dot operates as a smart Wi-Fi/Bluetooth speaker with access to Amazon's streaming music sources or music on your smartphone via voice command.
Functionally, the Echo Dot gives you voice-control over the TV volume and, if you jack in an Amazon Fire TV Stick, over streaming content too, such as "Alexa, play 'Glow' on Netflix" – at least in theory.

But the Command Bar's sum is much more – and, in some cases, less – than the sum of its parts.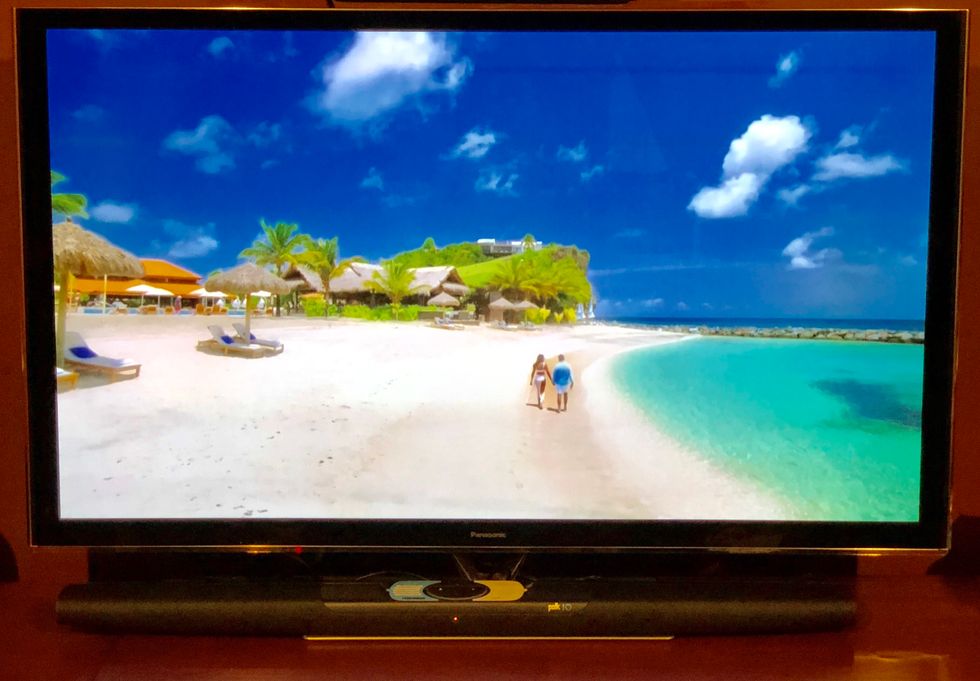 Just two-inches, the soundbar fits neatly in front of the TV.GearBrain
Logistics/Set-up
One of the smartest things Polk has done with the Command Bar is to keep it flat. Unlike many soundbars, such as the rectangular 2.7-inch tall Sonos Beam, the Command Bar is just 2 inches tall, and therefore unlikely to block either a tabletop TV's IR receiver node (so the TV can react to its remote control) or the bottom of the TV screen.
The Command Bar is a sleek strip that tapers toward its ends, with the top of the Amazon Dot rising just above flush on its flat center. Underneath the Command Bar is a recessed jack pack with an HDMI output jack to connect the bar to your TV and two HDMI input jacks, one for your cable/satellite box and a second one in a separate cavity to accommodate an Amazon Fire TV stick or a Blu-ray/DVD player, along with a USB jack that can be used to power the Fire TV Stick or add in a hard drive holding video or photos. Polk includes an HDMI cable, as well as an optical audio cable in case your TV isn't equipped with a compatible ARC (Audio Return Channel) HDMI jack , which sends the sound from a connected source such as a cable/satellite box or Blu-ray/DVD player to the soundbar instead of the TV.
For easy wall-mounting, the rear of the Command Bar is notched for screw-hanging, and Polk has included a convenient paper template that you just tape to a wall and drill through for precise positioning. Since the two-inch thin Command Bar is no thicker than a mounted flat screen TV and is, it won't stick out like a fat shelf.
Since there's an Amazon Echo Dot built in, the Command Bar set-up is a bit more involved than a dumb soundbar. For instance, setting up requires the Polk Connect App for Apple iOS or Android, which you'll use once and likely never again.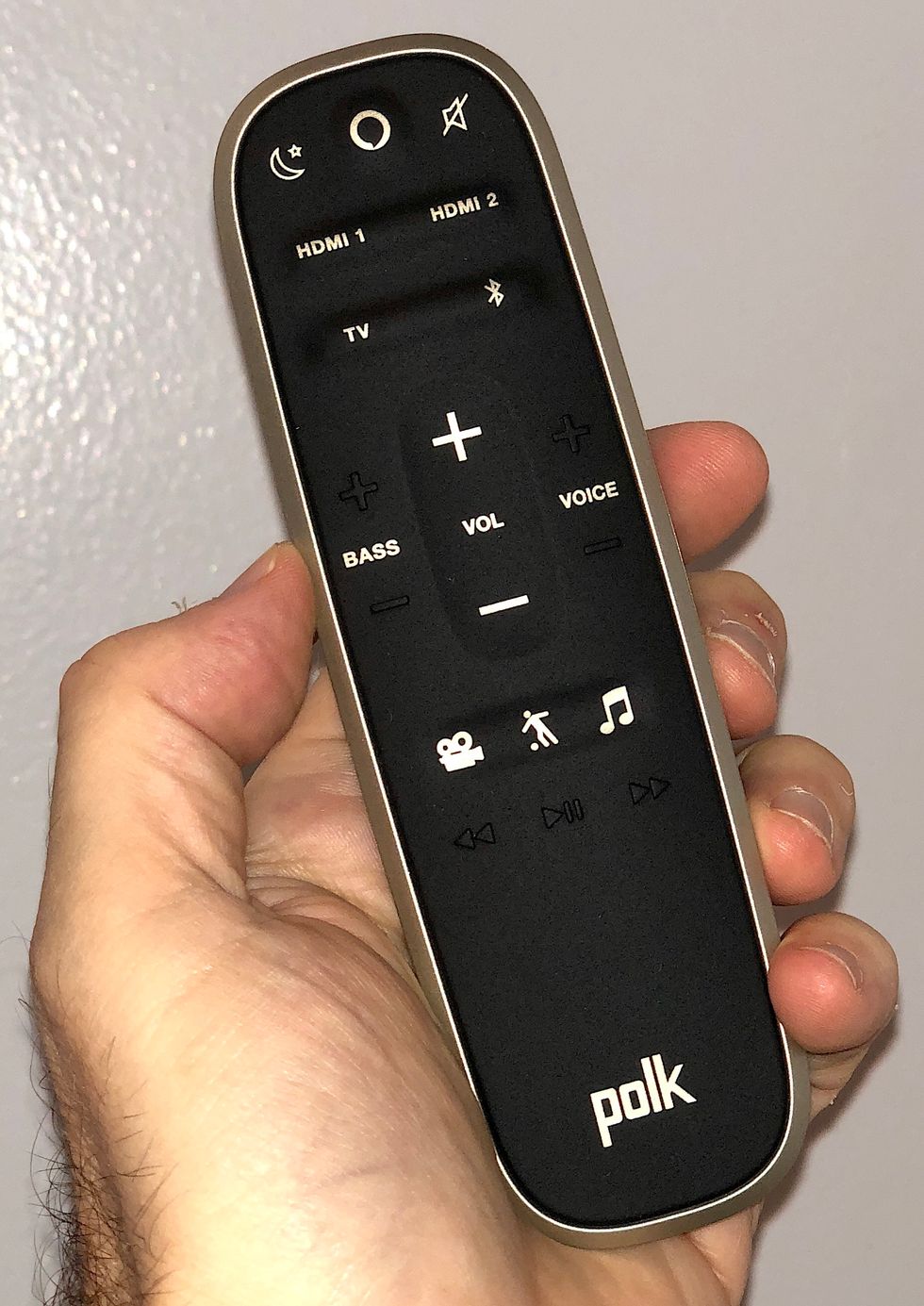 Remote control for Polk SoundbarGearBrain
Smart Functionality
Since you're getting an Amazon Echo Dot, the Command Bar can control any smart device compatible with Alexa. If you have an Echo or or Dot in your TV room, you can now move it to another room.
But Command Bar's smartest aspect is voice controlling its basic TV functions – you can tell Alexa to raise or lower volume by percentage (it'll take a bit of experience to get a sense of the right percentages), to shift between the Movie/Sports/Music sound modes, or to change the HDMI or Bluetooth input.
Then there's the Amazon Fire TV Stick integration. Polk billboards the Fire TV Stick-specific HDMI compartment on the Command Bar's underside, but this "integration" is purely physical and not intuitively functional.

For instance, even though I jacked-in my Fire TV Stick as instructed into its Command Bar compartment, including the power connection to the Command Bar USB jack, I got an on-screen "Unsupported USB Port" message, which told me: "Insufficient USB power detected. Use the included USB cable and Amazon power adapter for proper operation." But the Fire TV Stick seemed to operate anyway, so…I don't know. And there's no accommodation for the lengthy Fire TV Stick USB power cable; you'll have to tuck it behind/under the Command Bar to hide it.
Also, even though you've connected the Command Bar to your Wi-Fi, you'll have to separately add the Fire TV Stick to your home network as well.

Connect Polk soundbar to your tvGearBrain
Worse, there are no instructions for setting up or using a Fire TV Stick with the Command Bar, not in the Command Bar instruction manual or on the Polk Command Bar web site. The Command Bar web site has a link to "Pair Your Command Bar with a Fire TV Stick," which implies a degree of combined interoperability, but this link simply leads to a Fire TV Stick purchase page – "pair" in this context means to accessorize.
With no instructions, I expected to simply use the Command Bar to voice control the Fire TV Stick. But I couldn't. I had to use the separate Fire TV Stick remote to voice control my streaming, which is kind of a drag since I'm already talking to the Command Bar. I found instructions online for pairing a Fire TV Stick to Alexa, which ought to have been included somewhere in the Command Bar manual or the Polk Connect app; not even the Fire TV Stick's included manual includes any Amazon Echo and EchoDot pairing instructions, merely the benefits of doing so. (It turns out that since I already had a Fire TV, I had to link the new Stick to the Command Bar via the Alexa app for voice control.)
There also are drawbacks to building an Alexa into a soundbar. First and foremost, the proximity of the Command Bar's speakers to its sensitive far-field microphones – designed so the Echo Dot can hear you regardless of how loud the sound is – means the Echo Dot is more likely to react to anything that sounds like "Alexa" coming from what you're watching. A separate Echo or Echo Dot can be purposely placed further from your TV to avoid this accidental Alexa activation. And if the Command Bar reacts inappropriately to an "Alexa"-like utterance from the TV, it mutes what you're watching until it realizes you weren't calling for it.

You also can voice command the Echo Dot to pair your smartphone to the Command Bar's Bluetooth to stream music. But if you're watching TV and decide to play a song or two through your phone or via the internet through the Command Bar, there's no intuitive way to return to TV sound, at least none that I discovered.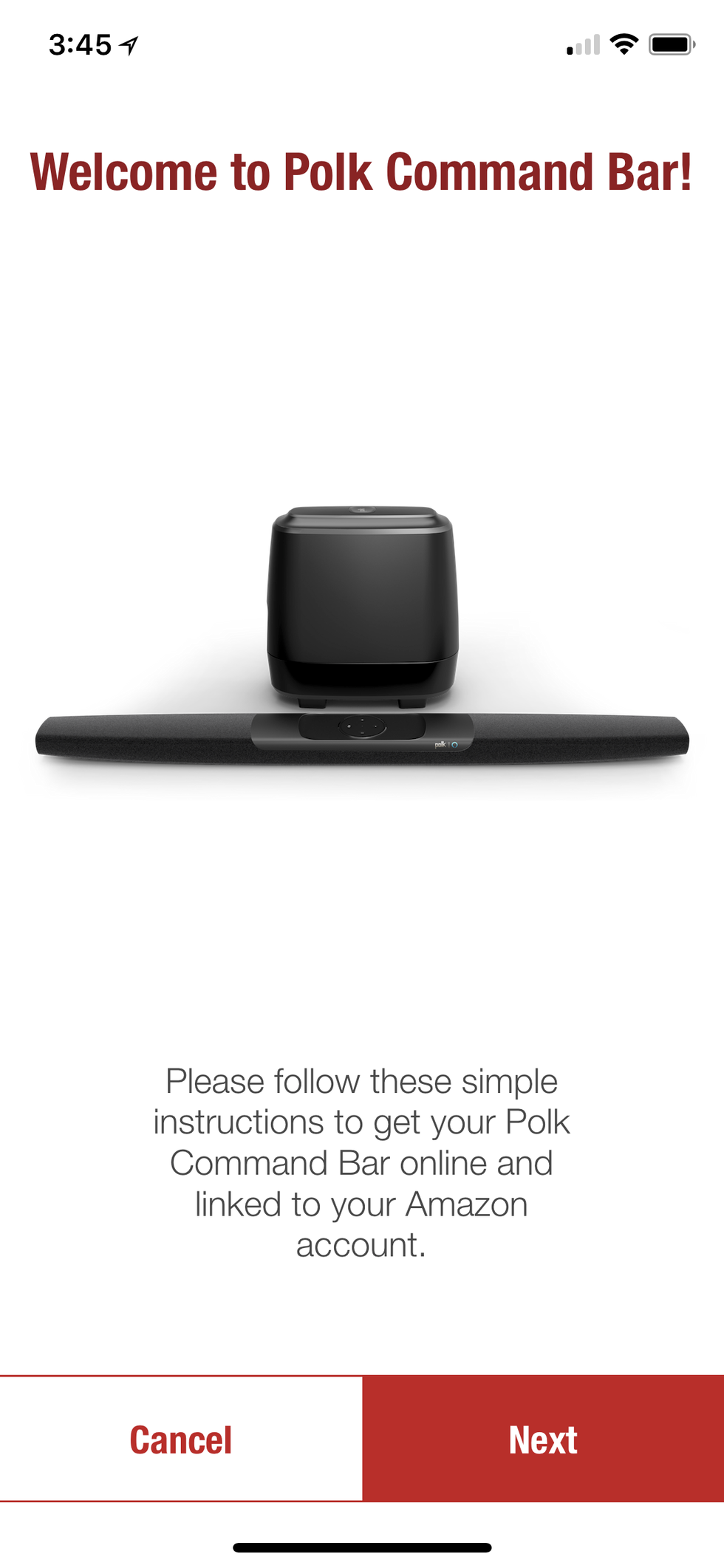 use polk app for setupGearBrain
Sound Quality
Soundbars represent an economic, ergonomic and aural compromise between a TV's usually inadequate integrated speaker(s) and a full-blown surround sound home theater system. Regardless of any included digital sound processing or reflective magic, no soundbar can present the true enveloping 5.1-plus back, side and above surround sound of six-plus well-placed speakers.
With this in mind, any soundbar, and especially the Command Bar, is most appropriate for less aurally particular TV viewers, especially in bedrooms. With that in mind, and forgive the forthcoming vagueness, the Command Bar sounds – okay. In Movie Mode, you get a nice, even sound field across the front, with an equally even omnipresent bass, boomy or subtle depending on the source material, not as overbearing as many separate subs can be. Voices could be crisper. And if the bass does get too oomphy, you can lower the boom via the Command Bar remote or voice command. Similarly, the ability to boost the center/dialog channel is a unique boon and a difference maker for baby boomers when making a soundbar buying choice.
Thankfully, the Command Bar doesn't seem to care how its positioned. It sounded fine standing on its edge, sitting on its flat back, and in all angled positions in-between. I placed some pads underneath to angle it up around 45 degrees on my TVs cabinet top because laying the Command Bar flat at just about eye level makes it hard to see the Echo Dot's circular LED indicator.
I was a bit disappointed in Command Bar's Music Mode presentation, however, which surprised me given Polk's home speaker legacy. Music sounded muddy and mid-range-heavy, especially streaming tunes via Bluetooth from my iPhone compared to other standalone Bluetooth speakers. But, admittedly, music playback will likely be a secondary activity for the Command Bar.
Command Bar's most satisfying mode was Sports Mode, also excellent for watching and listening to news and talk shows. Sports Mode boosts the center channel/dialog and dampens surround effects, such as noise from a crowd, audience and a roaring stadium. Voices are sharp and peaky, which takes a couple of minutes to get used to after you shift from Movie Mode, but ultimately gratifying since you'll be able to clearly discern all parts of the commentary or conversation.

But neither the remote (which isn't backlit) nor the Command Bar visually indicates which sound mode you're in. You need to remember to switch back to Movie Mode when you're done in case another member of your family starts watching TV without you.
Summary
Polk's Command Bar includes several unique functional and sonic advantages – the embedded Amazon Echo Dot, its flat tabletop and wall-mounted-friendly shape, its separate bass/dialog volume controls, its three sound modes – that nearly puts it a whole separate category, especially since it doesn't carry much of a price premium over its less-endowed name-brand competition.
My quibbling complaints, therefore, are more of the wish list sort – better Amazon Fire TV Stick function integration, higher Music Mound sound quality, more discriminating "Alexa" response, crisper voices. None of these add up to major critiques of what is a clever single-box TV sound solution for smart home and smart TV adherents.
Pros:
Combines soundbar + wireless subwoofer with Amazon Echo Dot
Amazon Fire TV Stick-specific HDMI jack
Allows separate control for center channel dialog volume
Three sound modes (movie, sports/talk, music)
Cons:
Poor Amazon Fire TV Stick pairing/integration
Mentions of "Alexa" (or soundalike word) wakes up the Dot
Remote not backlit
Difficult to see LED indicators if placed at eye-level
Like GearBrain on Facebook