Like GearBrain on Facebook
Despite the efforts of Samsung, LG and many others, the sound quality of today's televisions falls a long way short of their stunning picture quality. Because of their thinness, TVs simply don't have the space to be fitted with high-end speakers.
Another shortfall for some televisions is their user interface, which often isn't as slick as that of dedicated streaming devices from the likes of Amazon, Google, Apple — and Roku.
Read More:
To address both of these issues, Roku has created the Streambar. This, as its name and design suggest, is a compact sound bar that also works as a fully-fledged media streamer, with 4K resolution, HDR and Dolby Audio, plus a huge range of streaming apps, a remote control with voice commands, and a smartphone app. There's Alexa and Google Assistant support too.

Priced at $130 it also looks like good value for money, especially when Apple charges $179 for its Apple TV 4K streaming box. If you want a larger sound bar, Roku also sells the $180 Smart Soundbar.
Roku Streambar review: Hardware and design
Although designed to fit in front of any television, I think the compact nature of the Roku Streambar lends itself best to smaller screens — perhaps a computer monitor that you want to use for entertainment too, or a second television in a bedroom or study.
The Streambar instantly feels like a sturdy and well-made product. There's a reassuring heft to its weight that likely helps improve sound quality as much as it makes the box feel like a quality product. Its plastic body is wrapped in fabric (isn't every speaker these days?) and its curved edges give it a homely, unassuming look.
I've been using the Streambar with my 27-inch computer monitor, which I also use as a bedroom TV. I think this is probably the perfect use case for the Streambar, but it really can be used anywhere you have a TV or monitor, given its small size. It is 14 inches wide, 4.2inches deep and 2.4 inches tall, meaning it'll fit neatly on the shelf of any media unit, or right in front of your TV.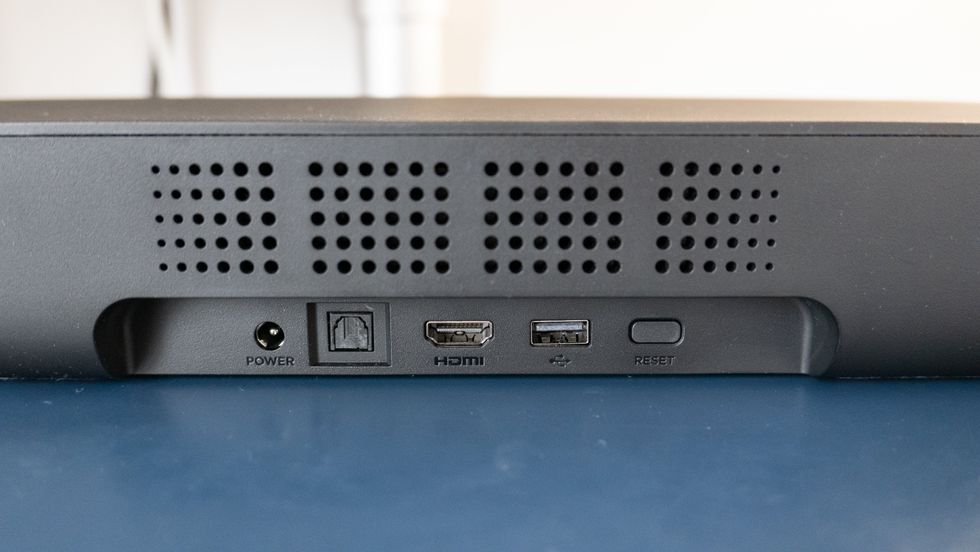 Ports of the Roku StreambarGearBrain
On its rear the Streambar has a power socket, a single HDMI port, a USB-A port for playing media from external storage, and an optical audio socket. I'd like to have seen an extra HDMI port for attaching another device, like a game console or cable/satellite TV box. But if you plug the Streambar into an HDMI port with ARC on your television, the audio of anything plugged into the TV (like an Xbox or Blu-ray player) will come through the Roku.

Alternatively you can use the included optical audio cable to plug a console, satellite box or Blu-ray/DVD player into the Streambar that way instead.
Finally, the rear includes a pair of M6 x 8mm threaded mounting sockets for wall-mounting the Streambar, if that's your thing.
The included remote control will be familiar to anyone who has used Roku systems before, complete with navigation, playback and volume buttons. If you're using your TV's ARC HDMI port, the power and volume buttons should work with your TV as well as the Roku itself.
There is also a microphone on the remote for searching by voice. Just say the name of the movie or TV show you want to watch, and the Roku system will search through all installed applications to find it, then show you where it is available, along with the price to buy/rent, and whether it is HD or 4K.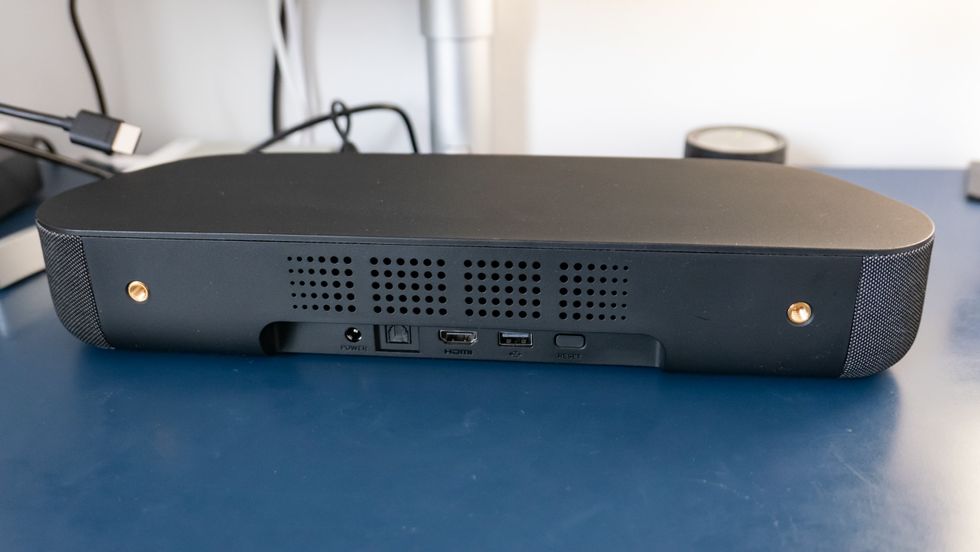 The Streambar includes threaded holes for wall mountingGearBrain
Roku Streambar review: Setup and software

Setting up the Streambar is just like any other Roku device. This means installing the free Roku app on your iPhone or Android handset, then creating an account (or logging in if you already have one) and downloading all of the TV and movie apps you want to the Streambar.
Roku does a great job here with apps like Netflix, Disney+, Apple TV +, HBO, Hulu, Amazon Prime Video, YouTube TV, ESPN, CNN, Spotify, and many more. The sound bar can also be used to stream music from your phone or other devices over Bluetooth.
You can use the remote to install all of the apps from the Roku store, but it's easier to use the Roku app because its keyboard makes entering your usernames and passwords much quicker. Once set up you can use the app or the remote, but I prefer to use the remote.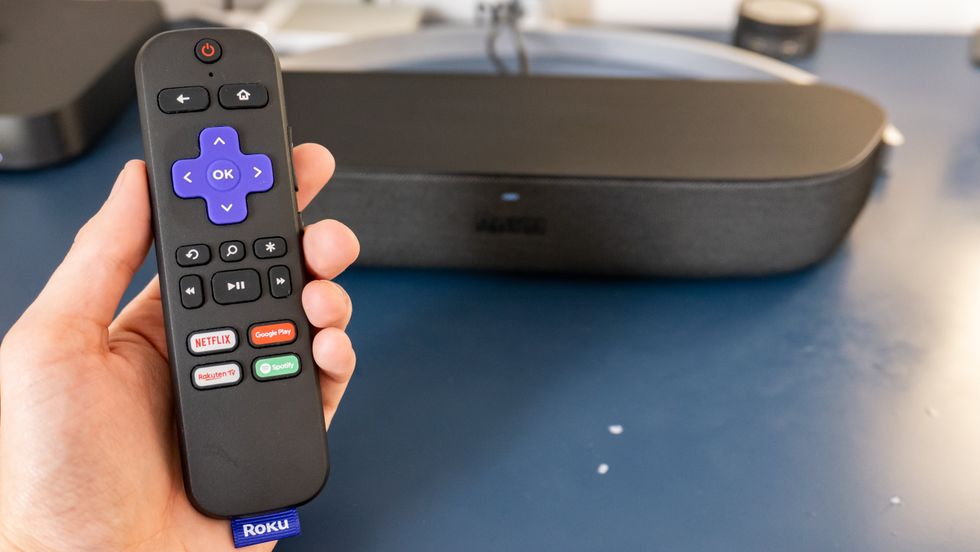 Remote for the Roku StreambarGearBrain
The remote includes four shortcut buttons for Netflix, Google Play, Rokurten and Spotify (or Netflix, Disney+, Hulu and Sling in the US). Since I only use Netflix the other three are a waste (for me personally, I stress) and they can't be reconfigured to do anything else.

I mentioned this earlier, but a great feature of the system on all Roku streamers is how the search function works across all installed applications. Search for a movie and you'll be shown every option where it is available, alongside the price to buy or rent and the resolution (as 4K tends to cost more than HD). It's a real timesaver and means you can wave goodbye to trawling through every app to find what you're looking for, then worry that you aren't getting the best deal.
Finally for software, the Streambar is compatible with both Amazon Alexa and Google Assistant. This means you can tie your Roku account with your Amazon or Google account, then control the Streambar by speaking to one assistant or the other on a nearby smart speaker.
Roku Streambar review: Picture and sound quality
Now to what really matters: Sound and picture quality. For $130, I think the Streambar produces really good sound, regardless of what type of content you are watching. There isn't the bass to match a larger home cinema system with its own subwoofer, but mids and highs are punchy and good, with dialogue much clearer than it is through any TV speaker.
I was also impressed by the breadth of the soundstage, which is much wider than I had expected from such a small sound bar. Helping this is how the Streambar's four 1.9-inch speakers are positioned with two facing forwards and two facing diagonally outwards, filling the room with sound.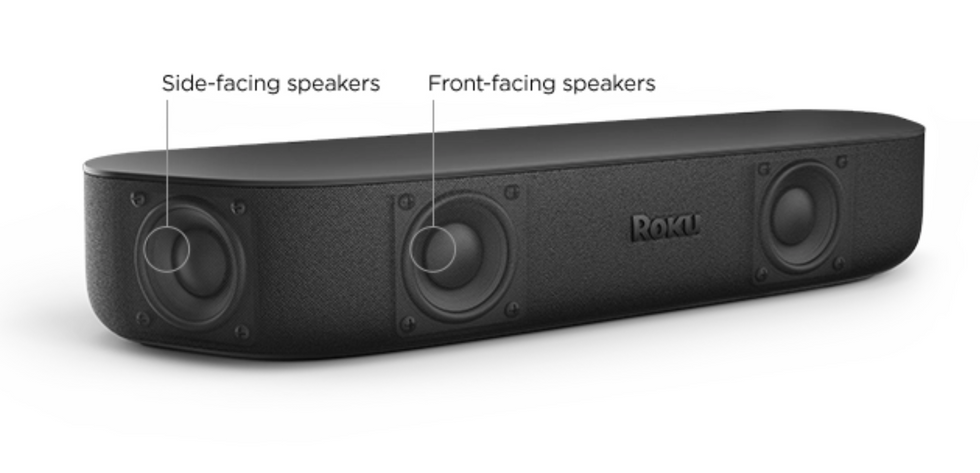 The Streambar includes four 1.9-inch speakersRoku
It isn't quite a surround sound system — there are no rear speakers and sound isn't being bounced off the ceiling – but it's still an immersive experience, especially considering the price and size. I've been very happy using the Streambar with a computer monitor in my bedroom; it's brought a huge improvement over the screen's own speakers, and takes up very little space.

If you want more sound, Roku also sells the $180 Smart Soundbar, which works in exactly the same way but has larger speakers and is more suited to bigger rooms. Roku also sells a pair of wireless speakers for adding to any of its streaming devices, and which could be used as rear speakers in this setup. But at $150 they are quite an expensive upgrade, considering they cost more than the Streambar itself.
The only thing missing from the Streambar's audio repertoire is support for Dolby Atmos, but then I doubt buyers of a device lille this will be expecting, or indeed looking for, cinema-grade surround sound.
As far as picture quality goes, the Streambar ticks most of the home cinema boxes, with 4K and HDR, meaning you can watch the best quality ultra HD content from services like Amazon Prime Video, Netflix and Apple TV+. The only thing missing here is Dolby Vision but, as with Dolby Atmos, I don't think buyers of a $130 sound bar and media streamer will mind too much about this omission. Especially given the smaller bedroom TV best suited to this sound bar is unlikely to have Dolby Vision support anyway.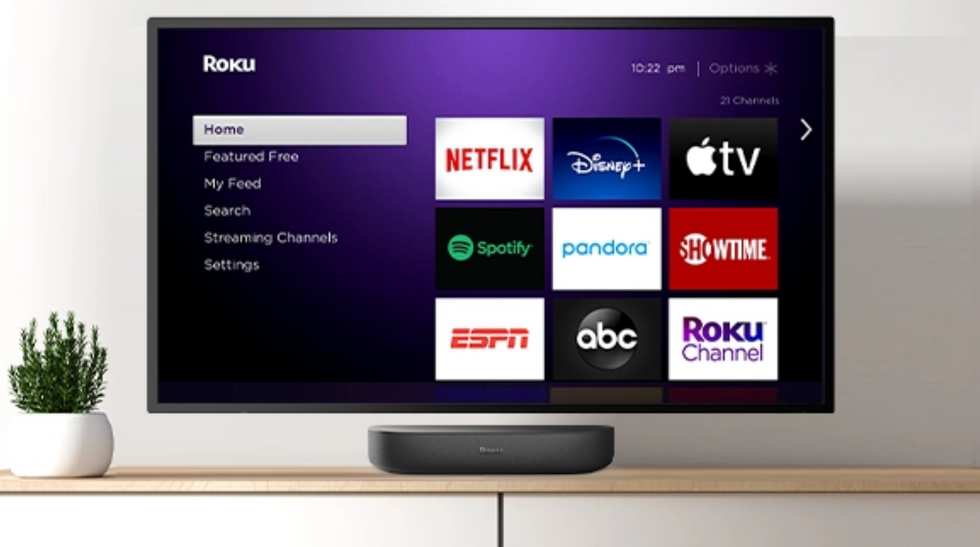 The Roku interface includes all major streaming appsRoku
Roku Streambar review: Verdict

The Roku Streambar packs a lot into its compact body and is priced well for what's on offer. I like how this small box can act as a one-stop-shop for streaming (or buying/renting) 4K content with HDR from a wide range of services, while producing sound that will be a massive improvement on your TV's own speakers.
It isn't a cinema-grade experience, but then nor is it priced like one. You can easily spend $1,000 or more on a sound bar with more speakers, a subwoofer, much more power and Dolby Atmos. But that isn't the point, and not the area of the market Roku is aiming for.
Instead, if you have a smaller TV in your bedroom, kitchen, office or study and want to improve its sound quality, while adding an excellent streaming system with a global search function, the Roku Streambox is a great option.
Pros
Compact design
4K video with HDR
Global search across all apps
Cons
Lacks bass
Shortcut buttons will be redundant for some
HDMI inputs would add flexibility
Roku Smart Soundbar, 4K/HD/HDR streaming media player & exceptional audio includes Roku voice remote
Like GearBrain on Facebook