Like GearBrain on Facebook
Despite the continued efforts of driverless vehicle companies like Waymo and Uber, convincing the U.S. population that robo-taxis could be safe is still proving to be an uphill struggle. The latest polling data, released by Partners for Automated Vehicle Education (PAVE) this week, reveals that almost half (48 percent) of Americans say they would never get in a taxi or ride-sharing vehicle that was driving itself.
Read More:
Just a third of the 1,200 respondents agreed that the advantages of autonomous vehicles outweigh any potential disadvantages, and only 18 percent agree with the statement: "If there was a website to get on a waiting list for the first autonomous vehicle, I'd put my name down."
The telephone survey took place across the U.S. between February 27 and March 5, 2020. The headline figures are at least on a downward trajectory; a similar survey in 2018 found 73 percent of Americans admitted they were too afraid to try a driverless vehicle.
Do people feel safe?
Three-quarters of respondents said they felt autonomous cars were "not ready for primetime." Although not available widely to the general public (even if the world wasn't currently in coronavirus lockdown), some services are permitted to ride on the road. These include a driverless taxi service by Waymo, the Google sibling, which has a license to operate driverless taxis on public roads in Phoenix, Arizona without safety driver behind the wheel.
What's interesting here is, despite the widespread disapproval of driverless cars, many were unsure about whether these cars were actually on sale or not. People cannot buy robo-taxis for their own use, but only 55 percent of respondents knew this, with 19 percent believing these vehicles could be purchased today, and 26 percent answering "not sure."
Furthermore, few respondents knew about accidents that have occurred involving driverless or partially autonomous vehicles.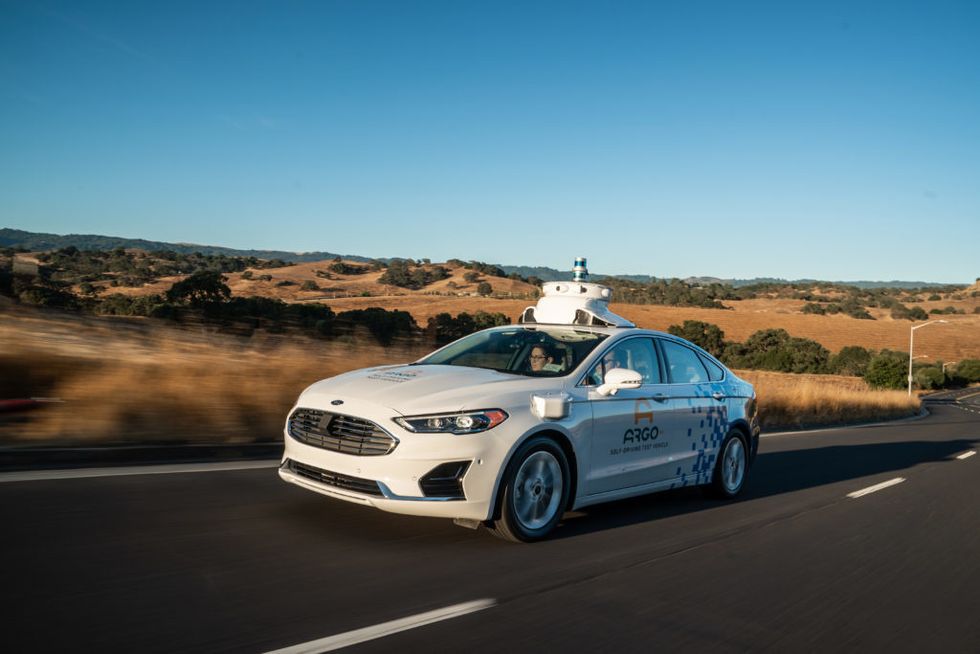 Ford recently delayed its driverless car service to 2022 due to Covid-19 Ford
When asked if they were familiar with the 2018 incident in Tempe, Arizona — where an autonomous test car operated by Uber hit and killed a pedestrian pushing their bicycle across the road — 51 percent of respondents said they knew "nothing at all."

Those who said they knew "a lot" about the incident (seven percent) were also those more likely to say they felt autonomous cars were now safe. Those who knew less about the incident were less likely to trust autonomous cars today.
The same is true of fatal incidents involving Tesla cars with their Autopilot driver assistance system engaged. Only half of respondents said they knew at least something about the incidents, but of the eight percent who said they knew a lot, 26 percent said they felt the cars are safe now.
Understanding autonomous technology
On a similar theme, 60 percent of people said they would trust autonomous vehicles more if they better understood how the technology works, although 23 percent said a better understanding would not increase their trust. Similarly, 58 percent said their trust would increase if they could experience a ride in a driverless vehicle.
Exposure to autonomous driving systems should help build consumer trust and confidence. Half of respondents said they owned a car with some form of driver assistant, like automatic emergency braking.
While consumer confidence has a long way to go, becoming familiar with these systems, and confident in their abilities, will be key to encouraging drivers to step aboard autonomous vehicles with no one behind the wheel — and, indeed, no steering wheel at all.
"The results of this survey confirm that autonomous vehicles face major perception challenges, and that education and outreach are the keys to improving trust," said Tara Andringa, executive director of PAVE. "These insights provide both motivation and direction to our efforts to confront this educational challenge."
PIONEER FH-S520BT Pioneer FHS520BT Double Din Bluetooth in-Dash CD/Am/FM Car Stereo Receiver W/USB, Smart Sync, Amazon Alexa Compatible
From Your Site Articles
Related Articles Around the Web
Like GearBrain on Facebook