Like GearBrain on Facebook
Car rental often means picking up something bland at the airport, then returning it a week later without a care in the world, its name and character deleted from your memory the moment you enter the departure lounge — all with your wallet made significantly lighter.
But it doesn't have to be this way. Just like how Airbnb opened travelers' eyes to quirky, interesting, affordable and downright spectacular properties all over the world, replacing our dependence on identikit hotels, app-powered startups are now doing the same for cars. And many of these apps include electric and hybrid cars from Tesla, BMW, Nissan and others.
Read More:
These peer-to-peer services provide the platform — and, crucially, the insurance — so all you have to do is search, book, then collect the car, drive it for a few hours or days, and give it back. The owners get to list their car, tell the platform when it is available, and earn money from a vehicle which would otherwise be sat on the driveway doing nothing but depreciating.
Through these platforms, you can pick up a cheaper car than you'd find through a major rental firm, or you can look for something more interesting — an electric car perhaps, or a hybrid. Or, if your pockets are particularly deep, book a classic or a supercar for the weekend.
Here are some peer-to-peer car rental firms to consider next time you need to borrow some wheels:
Turo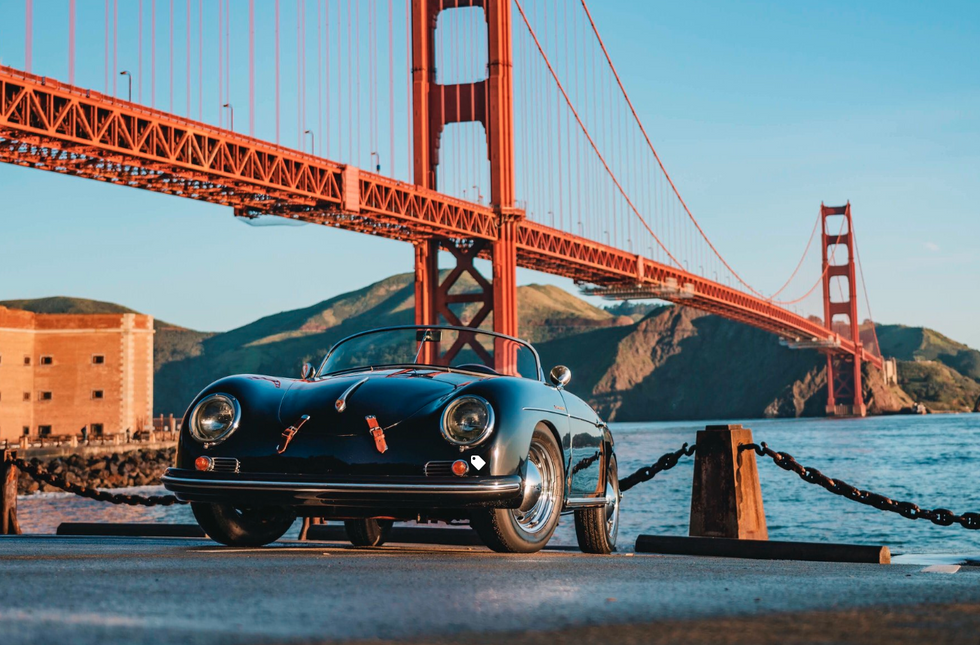 Turo prides itself on offering rare and classic carsTuro
Perhaps the most well-known of these relatively new companies, Turo (formerly called RelayRides) operates in over 4,500 U.S. cities, as well as Canada, the UK and Germany. The company claims to have over 10 million users and more than 350,000 vehicles are available for hire.

Turo says it offers 850 different models of car, so you should be able to find exactly what you're looking for.
It's up to the owners of the vehicles, but many are delivered to the customer and collected again when you are done, while Turo claims it can cost up to 35 percent less than a traditional hire car company. As for car owners, Turo says the average earnings of its U.S. users is $500 per month, which goes up to an average of $3,000 per month for those who rent out three vehicles or more on the platform.
As well as cars, you can hire trucks, vans, SUVs and electric vehicles. Turo prides itself on offering rare and classic cars, such as Ferraris, Porsches and Lamborghinis
The minimum rental period is one day, and insurance is included.
Electric cars we found on Turo:
A quick search of Los Angeles for next week unearthed a wide range of electric and hybrid cars to rent, including a 2013 Tesla Model S for just $98 a day, a Tesla Model 3 for $110 a day, and a BMW i8 hybrid supercar for $136 a day. There was also a Tesla Model X for $190, and the Toyota Prius hybrid starts from around $35 a day. We found a BMW i3 for $47, and an electric Fiat 500E for just $29.
Some vehicles also included desirable optional extras, like this $126 Model 3 which comes with Autopilot and lets renters log in to the Tesla smartphone app for the full ownership experience.
Car2Go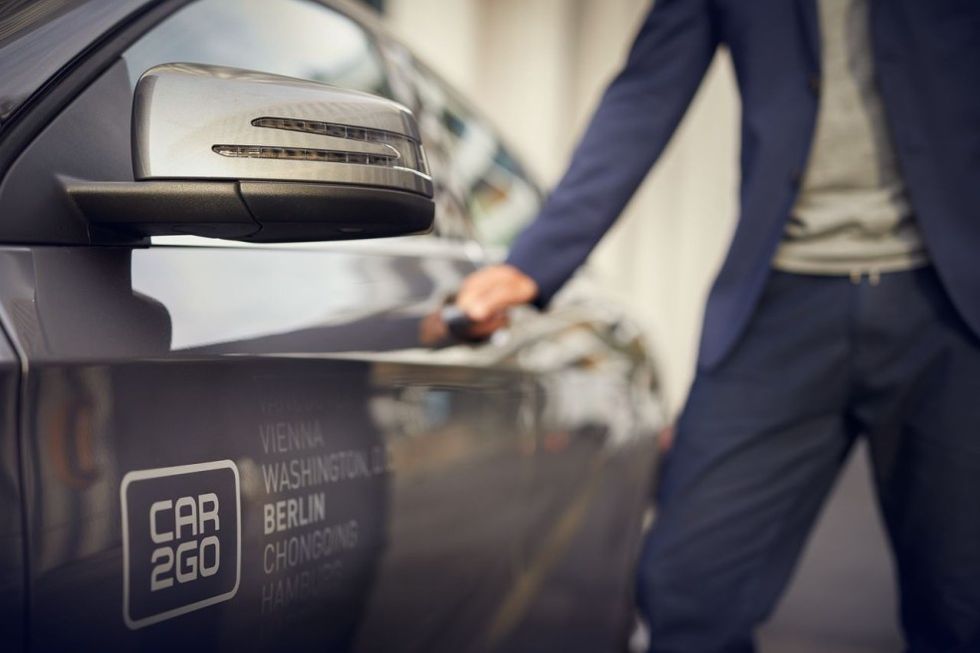 Mercedes and Smart cars are available with just 30 minutes noticeCar2Go
Car2Go is available in 10 US and Canadian cities, including Austin, Chicago, New York, Seattle, Washington, Montreal and Vancouver. The company also operates in Austria, France, Germany, Italy, Spain and the Netherlands.

Vehicles are all from Daimler, with the fleet including compact two-seat Smart cars and a range of Mercedes vehicles, including the A-Class, GLA, CLA and B-Class, along with the compact Smart ForTwo.
Instead of picking a specific make and model, like with Turo, Car2Go is more of a mobility solution, where you can quickly search for nearby vehicles, book one with 30 minutes notice, drive to where you need to be, then leave it in a designated parking space (within the vehicle's 'Home Zone') and only pay for the minutes you were behind the wheel.
There is an initial joining fee of $5, but this comes with $10 of credit towards your first rental, and there are no ongoing membership fees. Insurance, parking fees, roadside assistance and gas are all included, and while convenience is key, you can book vehicles for entire days if you so wish.
Rates vary by model, but pricing starts at around $0.41 per minute, $14.99 per hour, or $84.99 per day. Each rental has a 150 mile limit
Enterprise CarShare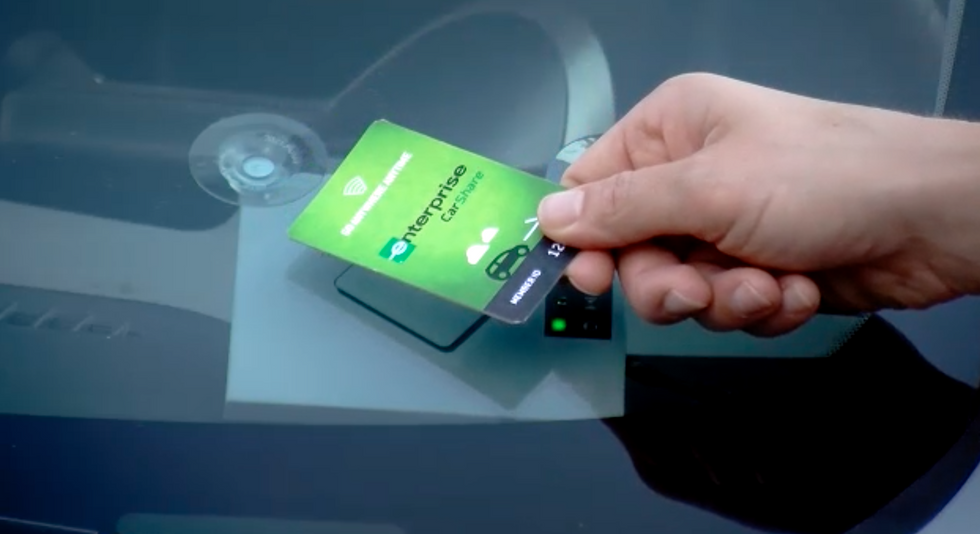 Cars are accessed by tapping your membership card on the windshieldEnterprise
A car sharing service from rental giant Enterprise, this platform operates across 27 cities in the U.S. (including at 130 college campuses), plus parts of Canada and the UK. The big-brand nature of Enterprise CarShare offers an extra degree of trust which may be appealing to some renters, and prices are roughly in line with the startup competition.

There is a wide variety of vehicles to pick from, including SUVs, compacts, trucks, hybrids and luxury cars. Gas and insurance is included, but the rates can vary depending on the day and week of your booking - unlike most startup alternatives, which offer a flat daily rate throughout the year.
On the plus side, vehicles can be hired by the hour and prices start at around $8, with daily rates starting at $69. Vehicles can also be collected and dropped off without meeting the owner to collect the key, as the car is unlocked by holding a membership card against a sensor on the windshield; the key is then inside the vehicle.
GetAround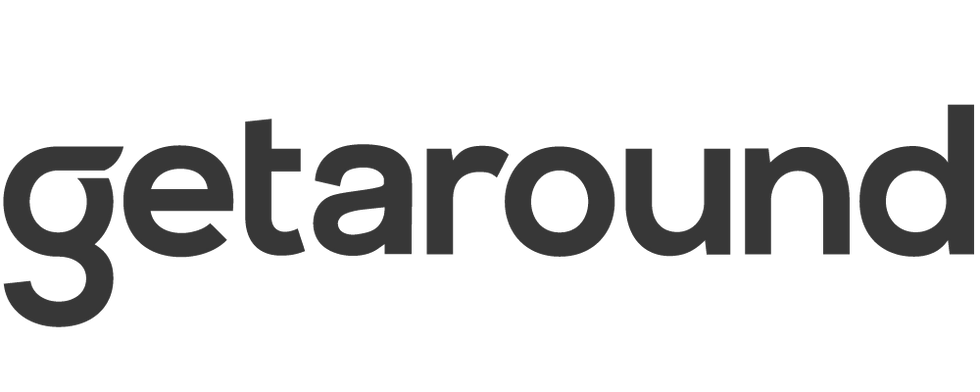 A range of cars can be rented from $5 an hour in 300 cities worldwideGetAround
GetAround is available in over 300 cities worldwide and works in a similar way to Turo, but rentals start at $5 for an hour, instead of having to book for at least one full day. Insurance is included and there are no signup or membership fees, while the service offers a wide range of vehicles types.

The company says drivers are "screened to ensure they have a safe driving record" and $1 million of primary insurance is included. Thousands of vehicles are available, GetAround says, with options including sedans, SUV, hatchbacks, wagons, convertibles, minivans and pickup trucks. We found several Teslas were available, for anyone keen to try out an electric car before they buy. We found cars costing from around $30 a day or $5 per hour.
Teslas were somewhat more expensive, with a couple of Model 3s available in New York for $128 and $136 a day. In Los Angeles, we found a Model 3 for $100 a day, and a Model S for $97.
GetAround looks like a decent option for renters, but for car owners there are some fees which other companies don't have. There is a $99 set-up fee, plus a $20 monthly subscription to use the company's remote unlocking and tracking system. An Owner's cut of the rental price is also lower than Turo, at 60 percent compared to 75 percent.
From Your Site Articles
Related Articles Around the Web
Like GearBrain on Facebook