Like GearBrain on Facebook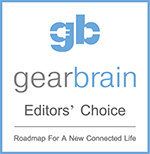 There is so much more to the smart home of 2022 than an Alexa smart speaker or display, a Wi-Fi door lock and some color-changing smart LED bulbs. But, as we have previously addressed at GearBrain, those who live in rented accommodation are restricted with just how smart they can make their homes. Thermostats, smart switches, outlets and locks, for instance, are mostly off the table.
But with your own property, things are often quite different. Here, with the freedom to change door locks, dig up gardens and even replace the entire plumbing and electric if you so wish, the limits for smartness go as far as your imagination, or your budget.
What follows is GearBrain's guide to the most popular smart home products available to homeowners. This is by no means a complete list, but serves as an overview of what smart devices are available, and what can be installed to make your home smarter.
We'll also address issues with installing devices in shared buildings like apartment blocks, where issues like a security camera with a view of your neighbors' driveway, or a video doorbell looking into a shared hallway, come into play.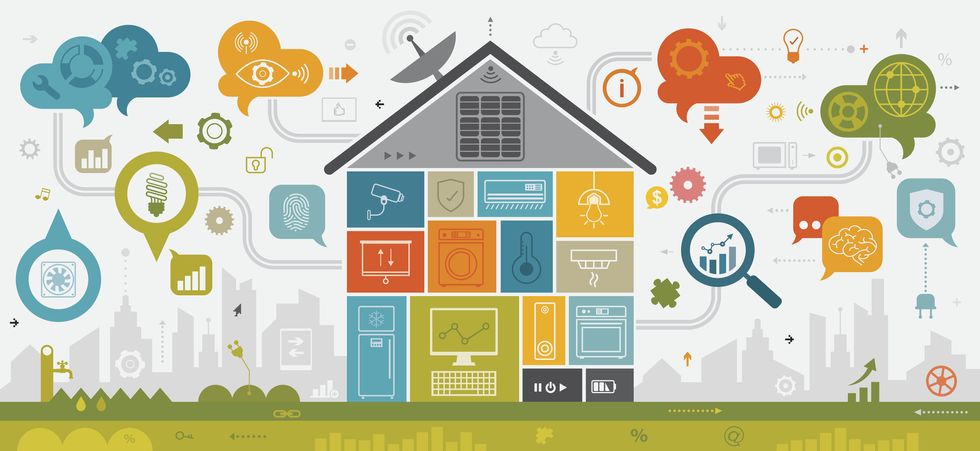 Owning the property gives you more freedom to make the perfect smart homeiStock
Routers, wires and networks
Just like the building itself, your smart home needs to be built on solid foundations. This means your internet connection, home network and — as has increasingly become the case in recent years — a smart speaker or display from the Google Home (now called Nest) and Amazon Echo ecosystems.
Owners in larger homes or older properties with thick walls should begin by searching for any black spots in their Wi-Fi network coverage. This is because almost all smart home devices rely on a wireless connection, either to your router directly or to a hub plugged into the router. So-called mesh networks can help remove black spots by using several hubs, also known as nodes or points, to broadcast Wi-Fi throughout the property.
Installing two or three Nest Wifi points should be enough for most large houses, unless you happen to live in a Scottish castle and demand 4K Netflix in every turret.
Small and medium-sized properties might work perfectly with the router offered by your Internet Service Provider, but if coverage is patchy a better router or a mesh network from Google Nest, Amazon-owned Eero, or Netgear's Orbi could help your smart home run more smoothly. You might also want to consider installing Ethernet cables for a solid connection in every room, but this isn't as necessary as it once was.

Lastly, it is worth considering replacing your wall outlets with ones fitted with additional USB ports and integrated smartness. Or, if your budget won't allow, then you could pick up a few extension cables with USB ports. If your home is anything like ours, you'll need every last port to keep a house full of smartphones, tablets and other devices powered.
Read More:
Smart speakers, hubs and smart displays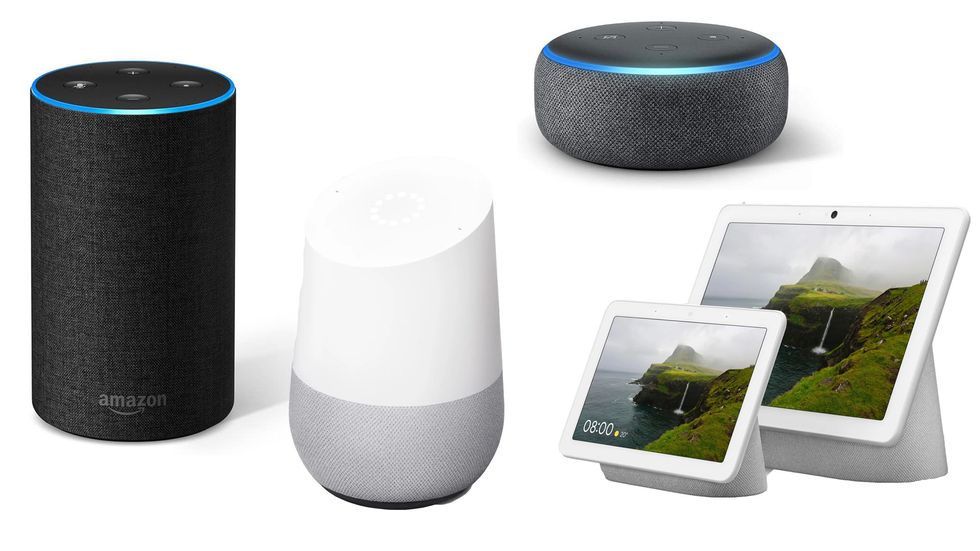 Smart speakers and displays are the starting point for most smart homes Amazon/Google
Next you will want to buy a hub to control your smart home. While this isn't strictly necessary for most of the simpler items - smart lights, locks and cameras can all work with their own hub and app - voice control and automation features offered by Amazon Alexa and Google Assistant, as well as Apple and Siri, are hard to ignore. And they make the perfect hub for your smart home.

The Google Home/Nest and Amazon Echo systems are a good place to start, with the former generally better at answering questions and internet search queries, while the latter offers a marginally more complete smart home control system. There's nothing stopping you from buying both, but using both systems to control your home will quickly get confusing, so we recommend you picking one and sticking to it.
Samsung SmartThings is another option, especially if you aren't interested in using a voice assistant to control your home (although SmartThings can be controlled with Alexa and Google Assistant, if you so wish). SmartThings sells a hub, plus a range of sensors and other smart home accessories, and is compatible with many devices from other smart home devices.

Apple is also a player here, albeit with a far smaller share of the market. The HomeKit app for iOS can be used to control smart home devices, with the Apple TV, HomePod mini or iPad acting as a hub, and you can control devices like lights, plugs, door locks and the garage door by speaking to Siri.
If you opt for Google Home or Amazon Alexa, you'll want to buy additional Echo Dot or Nest Mini speakers and place them throughout the home, where they can hear your instructions and speak back to you. Alternatively, products like light switches by iDevices and the Ecobee SmartThermostat have Alexa built in — but remember that Alexa run on non-Amazon products does not always have the same features as an Echo, as is the case with the Sonos One speaker.
Read More:
Lights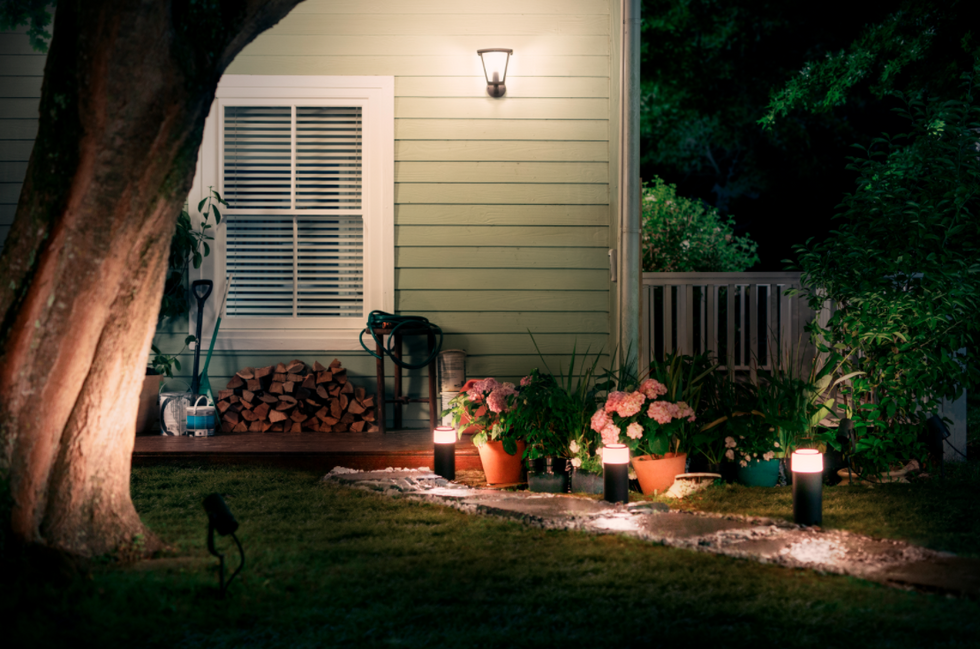 Philips Hue smart lights will soon be available for your garden tooSignify
As we explained in our guide to smart home tech for renters, lights are among the easiest to install and set up. Unless market leaders like Philips Hue and LIFX don't offer bulbs compatible with your fittings (in which case you'll need to modify yours or install new ones), fitting smart lights is very simple and a great thing to expand over time.
Home owners have the extra freedom of fitting lights wherever they like, but otherwise this is one area of the smart home which can be enjoyed by just about everyone.
Unlike renters, homeowners or Airbnb owners are likely more inclined to work on their garden, which is where outdoor Hue lighting comes into play. Launched in 2018, the ever-expanding range includes lights for illuminating pathways and flowerbeds, and for mounting to your external walls.
Other internal smart lighting options include bulbs by Wiz, Ikea and Cync (GE Lighting) and Sengled.
Read More:
Smart plugs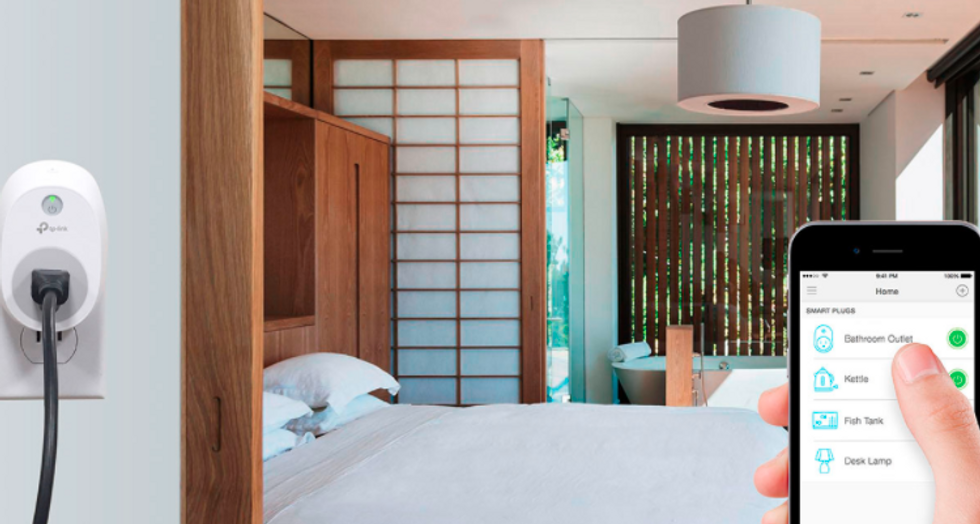 Smart plugs are a quick and easy way to make simple devices smartTP-Link
Similarly, smart plugs are a great way to make your home smarter without breaking the bank. Plug something like the TP-Link Smart Plug into a wall outlet, connect it to your Wi-Fi network via the included app, plug a device into the smart plug, and that product can now be switched on or off with your phone or, with Alexa and Google Assistant support, your voice.
Just be aware that some devices don't fully power up when switched on at the plug. For example, most televisions fitted to a smart plug will only enter standby mode when powered up, although they will switch off on command.
More recently, manufacturers have offered smart wall outlets. These fit into the wall as normal, but connect to your Wi-Fi network and can be controlled like a smart plug, but without taking up any unnecessary space.
Read More:
Security cameras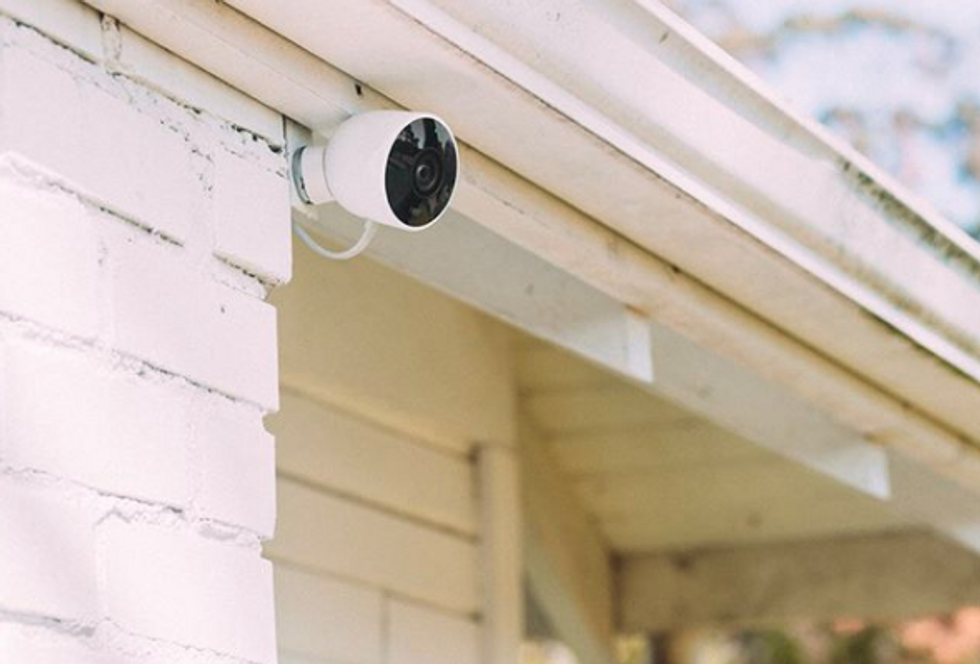 When installing cameras, be aware of your neighbors' privacyNest
Now we're getting into areas where smart home renters and owners need to go down separate paths. Where renters can put a Google Nest Cam Indoor/Outdoor or Wyze Cam on a shelf in the hallway, they are likely unable to get landlord permission to fit external cameras to the building. Homeowners have no such issues, so cameras like the Nest Cam Outdoor can be installed to monitor your garden, driveway and external doors.
However, you should always bear in mind the privacy of your neighbors when setting up security cameras. For example, the house next door might object to your camera if it can see into their garden, even if your intention was for it to keep an eye on your garage.

Another consideration to make is if you live in an apartment block or other form of shared building. You might own your unit within the building, but a security camera focused on your doorstep will be recording in a private area which is not yours. As such, you should check with the owners or managers of the building before proceeding.
Once you have some cameras set up, you should consider helping them see at night with LIFX's 'night vision' bulbs, which emit invisible infrared light at night, giving bright and clear pictures for any infrared-equipped security camera nearby.
Google Nest Cam Outdoor or Indoor, Battery - 2nd Generation - 2 Pack
Doorbells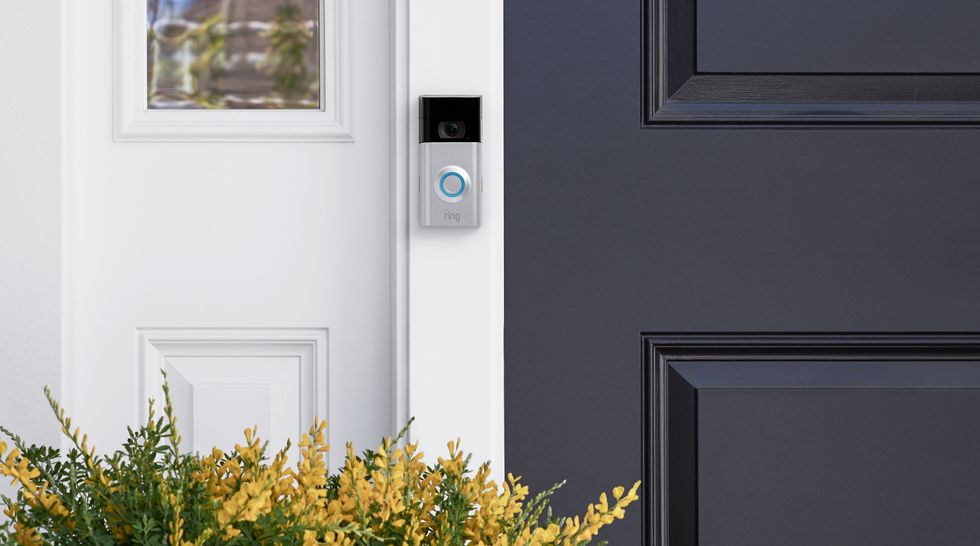 As with CCTV, be aware of what your doorbell camera can seeRing
Doorbells often need wiring to your home's electrical supply, which is a problem for renters but means property owners can go right ahead and fit a new, smarter alternative. Manufacturers like Vivint, Arlo, Lorex and Amazon-owned Ring and Blink all produce smart video doorbells with integrated cameras for seeing who is there and Wi-Fi for alerting you via your smartphone no matter where in the world you are.
The Ring Video Doorbell 4 conveniently can be powered by a wired connection to the house, or by its own rechargeable battery, making it suitable to both renters and owners.
As with security cameras, you should be aware of where the video doorbell is pointing, what it can see, and how its recordings are captured, stored and deleted. Doorbell cameras are designed to work best at close range, so a view of a house across the road is unlikely to cause concern, but it might be worth checking with your neighbors to be safe - even if that just means explaining that the device is a doorbell and not a security camera recording 24/7.

You should also check with building management if you own an apartment, as the video doorbell camera will likely be facing a communal corridor, and potentially at the front door of someone else just a few feet away.
Read More:
Locks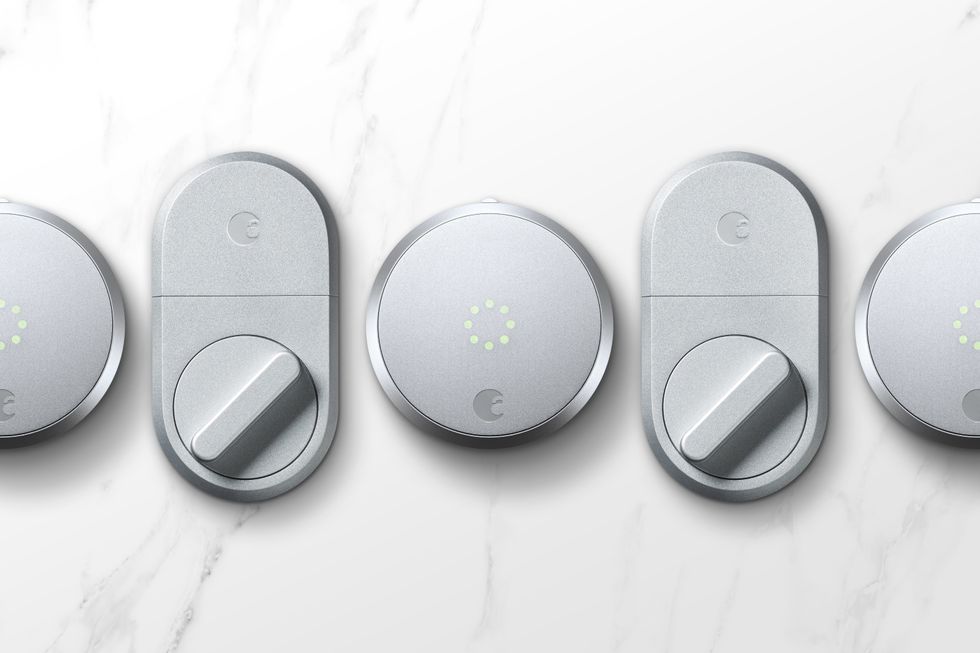 Most smart locks can only realistically be installed by home owners, not rentersAugust
This is another area where there is some crossover between renters and owners, but not much. Where renters might be able to install something like the August Smart Lock Pro, which uses your existing door and deadbolt, owners have the freedom to fit any option they like. This means other locks from August, or alternatives from Yale, Kwikset, Level Lock, Schlage or whoever you prefer.

Picking a smart lock will depend on what features you want from it, the configuration of your current lock, whether you would consider installing a new deadbolt, and of course which manufacturer you feel most deserves your trust. Some smart locks open with a PIN, others unlock when they detect your smartphone is nearby; most offer an option to grant temporary access to other people, like the clearer, and others work with Amazon's in-home delivery service, Key. (Kwikset Halo smart lock is another good smart lock that works with Amazon Key.)
Read More:
Thermostat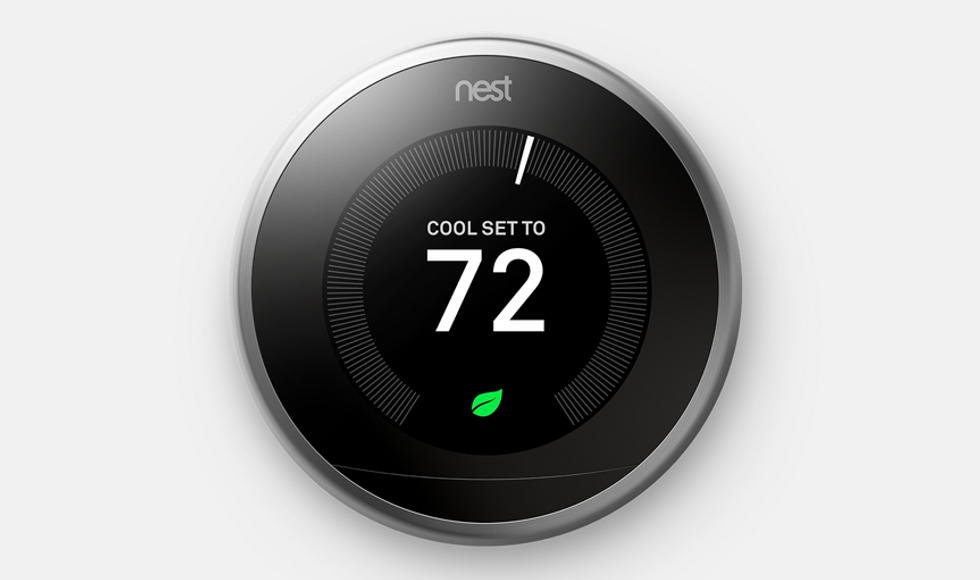 Nest's thermostat learns your habits to help cut your energy bills Nest
Now we are firmly into home-owning territory, as it is very unlikely that landlords will let a renter fit their property with a new thermostat. Units from Google-owned Nest, Honeywell, ecobee, Cyn, Tado and even Amazon's own Alexa smart thermostat connect to your Wi-Fi network and control your home's heating and cooling system.
They perform all regular thermostat duties like switching the hot water on according to a schedule, or keeping the house at a set temperature. But they can also be adjusted remotely via your smartphone, and even alter their schedule based on your routine, in a bid to lower your energy bills.
As well as thermostats, German smart home company Tado sells controls for each radiator in your home, so you can adjust the temperature on each using your smart home, phone app, or by speaking to Alexa. The system also adjusts based on the weather forecast.

Read More:
Honeywell Home T9 WiFi Smart Thermostat with 1 Smart Room Sensor, Touchscreen Display, Alexa and Google Assistant
Water leak detection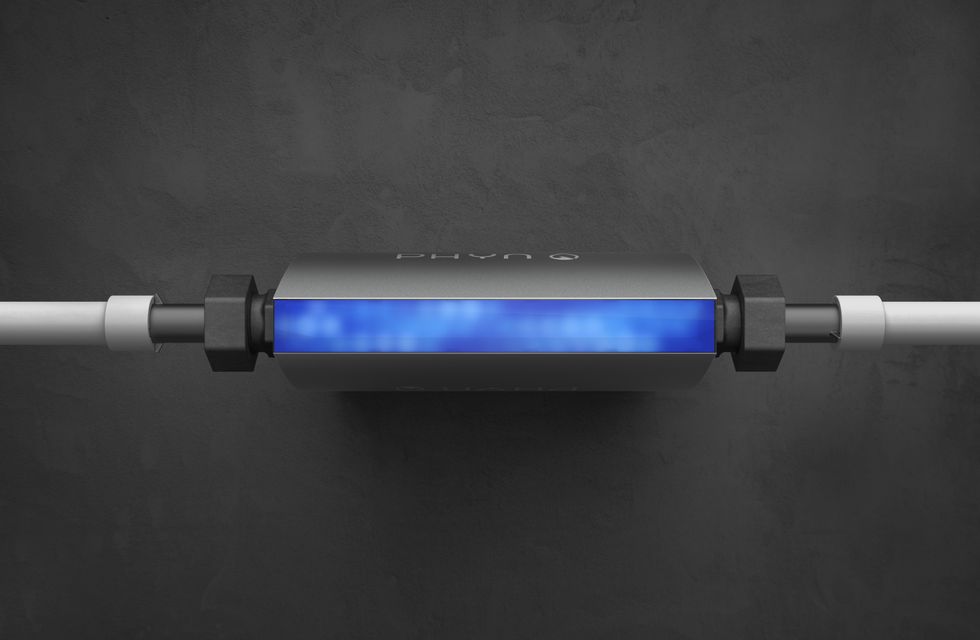 Phyn monitors water flow 240 times per second to check for leaksPhyn
As fun as it is to control smart lights with Alexa, some aspects of smart home technology are more serious — but potentially worth their weight in gold. One such category is water leak detectors, which at their simplest detect when the floor becomes wet and let you know with a smartphone notification.
More complex systems, like those from Phyn and Moen's Flo, can automatically shut off your water supply in the event of a leak being detected. Phyn, which is part of the Belkin group (itself owned by iPhone manufacturer Foxconn), monitors your water flow 240 times per second to make sure everything is working correctly. The system learns over time to better tell the difference between regular water flow and a lack of pressure due to a leak.
Good water leak detectors to consider for your rental property are made by LeakSmart, Phyn, Vivint, Orbit, Fibaro, Eve and D-Link.
Read More:
Phyn Plus Smart Water Assistant + Shutoff: Professionally-Installed Smart Home Water Leak Detector w/Automatic Shutoff & Water Usage Monitor (Compatible with Alexa)
Garden sprinklers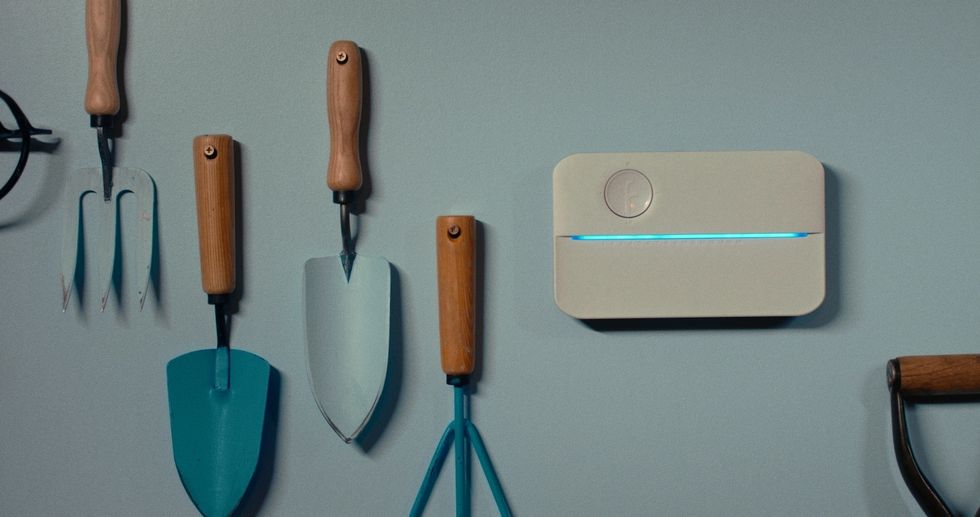 Rachio 3 smart garden sprinkler controller Rachio
For home owners with gardens there are plenty of ways to make your yard smarter and more connected. Products like automatic sprinkler systems can be installed to help keep your lawn and plants fed, but also save you money by not wasting water. A sprinkler controller like the Rachio or Orbit B-hyve fits onto your existing system and can save you thousands of gallons of water every year - in testing, a friend of GearBrain saved 29,000 gallons in 12 months.

Systems like the Rachio split your yard into zones (usually eight or 16) and you can tell a smartphone app what type of soil is in each zone, how much shade there is, and the type of vegetation growing there. You can leave the Rachio to do its thing, or control things manually with the app - or issue commands to Alexa and Google Assistant. (Check out The GearBrain, our smart home compatibility checker to see the other compatible products that work with Google Assistant and Amazon Alexa enabled devices.)
Read More:
Rachio 3 Smart Sprinkler Controller, 8 Zone 3rd Generation, Alexa and Apple HomeKit Compatible with Hyperlocal Weather Intelligence Plus and Rain, Freeze and Wind Skip
Blinds, shades and curtains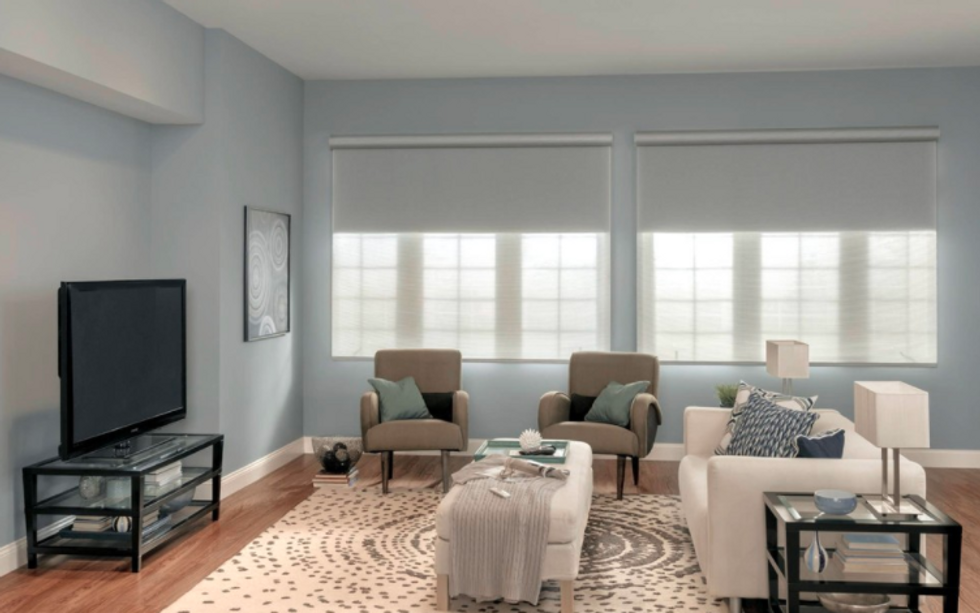 Smart blinds are not cheap, often priced at over $300 per blindSomfy
Another one for property owners - not least because of the high installation cost — is motorized window blinds. Manufacturers of such systems include Lutron, Pella, Somfy, Ikea, Ryse and Wazombi, and they mostly do as you would expect - they raise and lower when you ask.
These systems each have their own physical controllers, but some also hook up to Alexa, Google Assistant and Siri for that extra living-in-the-future touch. With Alexa and a house full of Lutron Serena blinds you could, for example, say: "Alexa, good morning" and have the blinds all raise, or set them through an Alexa Routine to lower at the same time each evening.
Not only is such a system fun and time-saving, but when combined with automated smart lights, helps give the impression to potential burglars that your property is occupied even what it isn't.
That high cost we alluded to will of course depend on how many windows you have and what material you want to use, but with the cheapest systems starting at around $130 per blind, then quickly heading up to between $300 and $500, they represent a serious investment.
Read More:
Lutron Caseta Wireless Smart Lighting Dimmer Switch and Remote Kit for Wall & Ceiling Lights, P-PKG1W-WH, White
GearBrain video on what you need to know before building a smart home.GearBrain
Like GearBrain on Facebook