Like GearBrain on Facebook
The Reolink E1 Zoom is an indoor security camera with HD video recording, infrared night vision and Google Assistant integration, with Alexa coming soon.
So far, so much like many other indoor security cameras on the market. Even the Reolink's $72 price point doesn't make it stand out from what has become a very crowded market in recent years. But what does make the E1 Zoom stand out (as you may have guessed from the name) is its zooming capability.
Read More:
As well as panning 355 degrees and tilting up and down by 50 degrees, the camera has 3X optical zoom with autofocus. This means you can, using the Reolink smartphone app (free for iOS and Android) pan, tilt and zoom without any loss in video quality.
Reolink E1 Zoom: Hardware and design

We consider security cameras to mostly be set-it-and-forget-it devices that, once set up and installed, don't need to be interacted with anymore. As such, it shouldn't really matter what a security camera looks like, so long as it is appropriately small and robust.
The Reolink E1 Zoom passes this test, but does little more to impress aesthetically. It's fairly compact at 111mm tall and 79mm wide, with a circular base that rotates through 355 degrees (it can't quite go all the way around). The camera doesn't exude quality, but then at $72 we don't mind too much; and anyway, this isn't a device you constantly touch like a smartphone. It's to be set up, mounted to a wall or shelf, then mostly forgotten about. It's how you interact with it through the smartphone app that matters most.
As well as panning through 355 degrees, the lens tilts up and down by 55 degrees, and when tilted fully up it reveals a microSD card slot. No card is included with the camera so you'll have to provide your own if you want to store video locally.
If not, you can upload footage using Reolink Cloud, which is priced from $3.49 a month for 30 days of access to up to 30GB of stored video. Up to five cameras can be attached to this service, while up to 10 (and 80GB of storage) is possible with the $6.99 Premier Plan. Both of these tiers are currently reduced by 30 percent from their usual price of $4.99 and $9.99 a month respectively.
We must stress that these subscriptions are not compulsory, and you can save footage to a microSD card instead.
The E1 Zoom isn't USB powered, so you have to use the power adapter and cable that comes in the box. This could pose a problem if you want to install the camera more than the cable's circa 10-foot length from a wall outlet.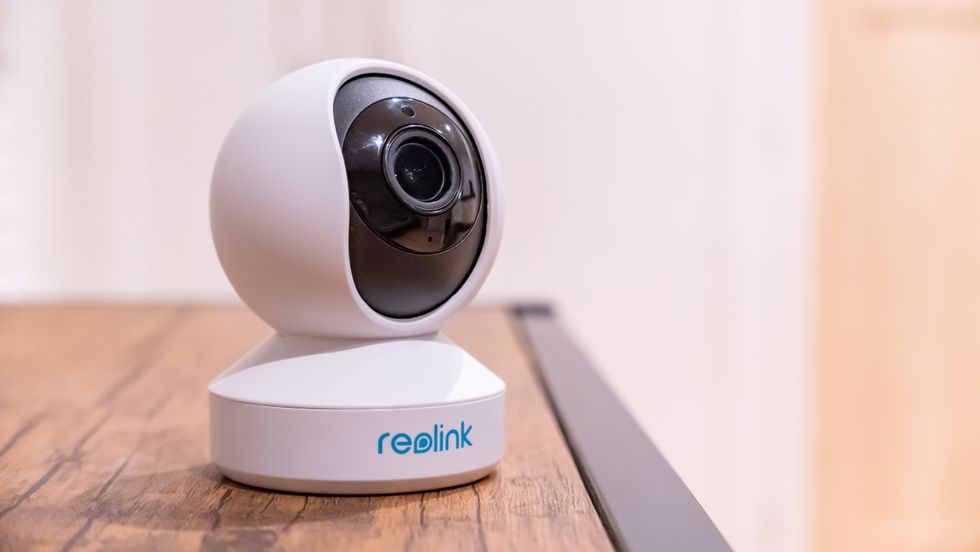 The Reolink E1 Zoom indoor security cameraGearBrain
Reolink E1 Zoom: Software and setup

Setting up the E1 Zoom and adding it to your smart home is a fairly simple process. As with most devices, it's a case of downloading the Reolink onto your smartphone, plugging the camera into a wall outlet, and following the instructions to connect it to your Wi-Fi network.
Interestingly, there is no demand to create a Reolink account if you don't want to. You only need this to access the company's cloud storage service. Another plus point is earned by Reolink, as the app requires you to change the camera's default password before the setup can be completed (however, there is no option for two-factor authentication).
After that, there are plenty of features to fine-tune for your exact use case. At this point you should put the camera exactly where you plan to use it, so you can adjust the pan, tilt and zoom to get the perfect view. These can be adjusted later, of course, but we doubt many users will spend much time panning around from the phone app, unless perhaps when checking up on a pet while away from home.
For the most part, we think the camera's movement and zooming ability is best used to perfectly frame your shot. Once you have done that, there are settings to add blacked-out sections to avoid the camera recording something (like a door or window that isn't part of your property, if the camera is facing outside).
You can also set activity zones, where parts of the frame are ignored; that way, you can stop the camera from alerting you every time your dog walks past at knee height, or whenever a car drives through part of the camera's view. Further settings can be used to decide when push alerts come through to your phone. That way, your own movements through the home won't disturb you during the day, but anything spotted by the camera at night will come through to the Reolink app.
Alerts can also be emailed, and there's the option to have the camera sound an alarm when movement is spotted. This function is best for when any movement is a critical problem, such as when a room like the garage, or an outbuilding, is accessed at night, thus the camera acts as a burglar alarm as well as surveillance.
There's plenty of customization here to get exactly the shot you want from the E1 Zoom, and of course you can take control of the camera from the phone app if you ever need to look around the room remotely.
One final point to note is how the camera works with both 2.4GHz and 5GHz Wi-Fi networks, so there's no need to fiddle around with creating a second network, or switching your router from one to the other, as is sometimes the case with devices like this.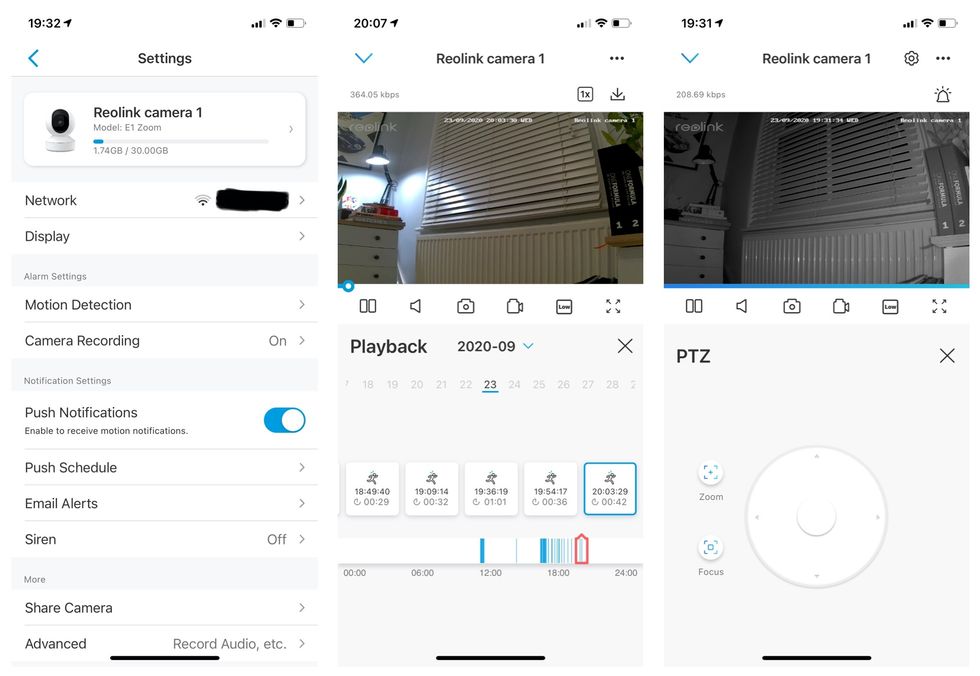 Eeolink app for iPhoneGearBrain
Reolink E1 Zoom: Performance and audio/video quality

Once everything is set up the way you want it, the E1 Zoom reliably goes about its business. Smartphone alerts arrive quickly, just a couple of seconds after the camera spots something moving, and it's easy to start watching a live feed, or watch a 30-second recording of what caused the alert.
These recordings are plotted along a timeline that, while not the last word in refined application design, is at least functional and simple to use.
Reolink says the E1 Zoom uses a five-megapixel CMOS imaging sensor to record video at a resolution of 2560 x 1920 through a lens that has a horizontal view of 98 degrees and a vertical view of 75 degrees. These shrink to 48 and 37 degrees respectively when zoomed into the maximum 3x.
Video clips are easy to download to your smartphone if needed, but the resolution doesn't always live up to Reolink's 'Super HD' claims. There are three video settings to pick from, called Fluent, Balanced and 5MP, with the latter being the highest quality. We tried 5MP, but was told by the app that the camera's connection to our Wi-Fi network wasn't quite up to the challenge, so a lesser quality should be selected.
The camera is two rooms away from the router, so the signal isn't going to be perfect. But we had expected to be able to run the camera at full resolution without issues. As it so happens, on trying again a few hours later we were able to up the quality to full without any connection issues. As ever with wireless technology, your mileage may vary.
Moving the camera is simple enough, thanks to on-screen controls for zooming, panning and tilting. However, these are fairly slow to respond and it can be tricky to get the camera into exactly the right position at the first attempt. You might struggle to smoothly follow an object around the room, but for setting up once and leaving it we're willing to forgive the slightly clunky controls.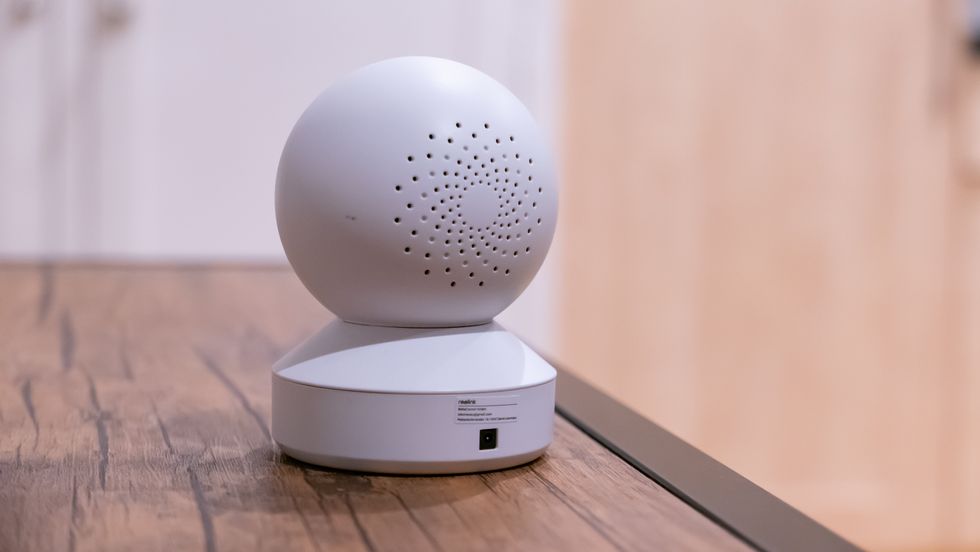 Reolink E1 Zoom indoor security cameraGearBrain
Autofocus is also quite slow, taking a good couple of seconds to adjust once you have zoomed in or out. It at least produces a pin-sharp image once focused, however, and still means the camera's flagship feature, the 3x optical zoom, is worthwhile. You can also adjust the focus manually from the app.

We should note that moving the camera is an entirely manual affair. Unlike some other motorized security cameras, the E1 Zoom cannot follow a moving subject on its own.
The Reolink Zoom E1 has infrared night vision that is effective up to a distance of 12 meters (40 feet). We found it works very well, providing plenty of detail (enough to read the names of books on a shelf) in a completely dark room. You could improve this further by fitting smart light bulbs that emit IR light when switched off, like those by Lifx.
Audio performance from the camera's speaker and microphone is acceptable, but nothing to write home about. Conversations can be had through the camera and its smartphone app, but given this isn't a weatherproof camera you are unlikely to use it to communicate with someone outside, as you would with a video doorbell.
You are more likely to use it to shout at your dog when he's jumped onto the couch while you're out. For that it's perfectly acceptable, although the speaker is quite harsh at higher volume. You'll discover this when first setting up the camera, as it repeatedly yells at you to install the Reolink app. Seriously, don't set this thing up at night or you'll wake the neighbors.
One last note on performance is how, on several occasions, the app would at first say it couldn't connect to the camera in order to adjust its settings. This never affected the live video feed, but popped up when we went to make changes to how the Reolink is set up. Thankfully, tapping the 'retry' button always fixed this in an instant. This seems more like a strange bug, rather than an actual loss of connection.
Reolink E1 Zoom: Smart home integration

Google Assistant integration is available now and Reolink says Alexa support will be added in the future. This means you can pair your Reolink and Google Home accounts, then ask the Google Assistant to display the camera's live video feed on a Nest smart display, or on a television or monitor with a Chromecast attached.
Once Alexa support is added, this same functionality will be possible with Amazon Echo displays and televisions with a Fire TV attached.
Asking your voice assistant to show a security camera feed on your TV is a cool feature, and really helps to make any camera feel like it is a part of your smart home system.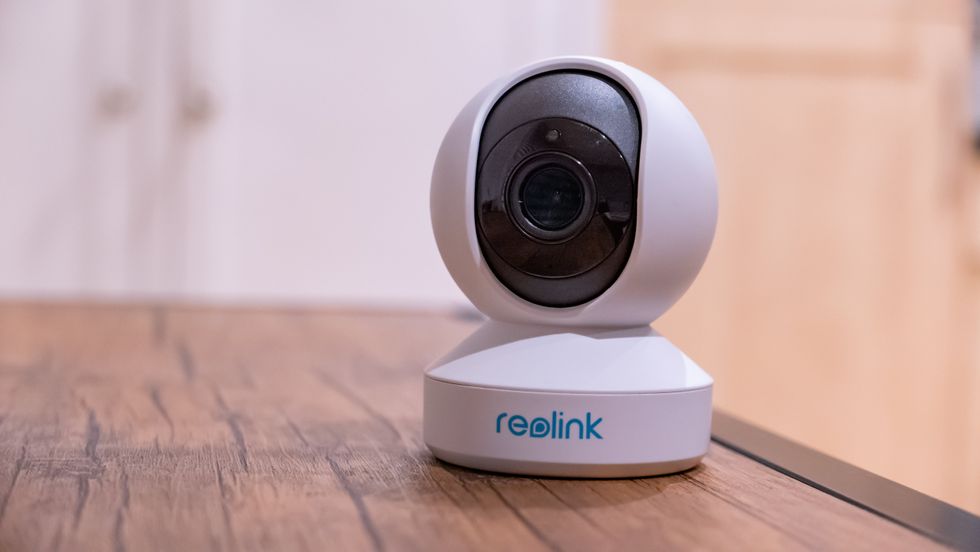 The Reolink E1 Zoom is currently priced at $72GearBrain
Reolink E1 Zoom: Verdict

For under $75, the Reolink E1 Zoom gets plenty right. It might not win the security camera beauty contest (not that there really needs to be one), and it of course lacks any form of weatherproofing. But it's still a solid enough indoor security camera that is fairly simple to set up, has plenty of options to adjust how video is recorded and saved, and crucially it has the ace up its sleeve, in the form of 3x optical zoom.
That, paired with remote panning and tilting, makes the camera a useful addition to any smart home, especially if you plan to use it with Google Assistant. In that set up, it could also double as a baby monitor, presenting its video feed on a Nest Hub at your bedside.
The software isn't the most attractive or visually engaging, but it does the job and the most important functions (alerting you to movement, recording video and downloading it) worked flawlessly in our experience. Video quality could be better and the speaker is only just acceptable, but if you are looking for a 'set-it-and-forget-it' indoor security camera on a fairly tight budget, the E1 Zoom is a solid option.
Pros
3x optical zoom with autofocus
355-degree panning and 50-degree tilting
Google Assistant integration, with Alexa coming soon
Cons
Doesn't move automatically to follow subjects
Occasional error messages from app
No two-factor authentication
Introduction of The GearBrain, The First Compatibility Find Engine for Smart Devices www.youtube.com
From Your Site Articles
Related Articles Around the Web
Like GearBrain on Facebook