Like GearBrain on Facebook
It might not be a traditional holiday gift, but for what they lack in entertainment, smart home security devices make up for in their usefulness, and the potential to keep homes and families safe. And with more of us working from home these days, it is better to be safe than sorry. Therefore, we have compiled a list of smart devices which can make good gifts this holiday season.
Products in this category include primarily video doorbells and cameras for indoors and out, and sensors to detect movement, unauthorized entry and threats like carbon monoxide.
Read More:
Here we have rounded up some of our favorite and most-recommended smart home security devices to consider as gifts this holiday season. (Note: we will be updating this article as new deals come to market. Last updated November 24, 2021)
Security Cameras
New Google Nest Cam Indoor Wired 2nd Gen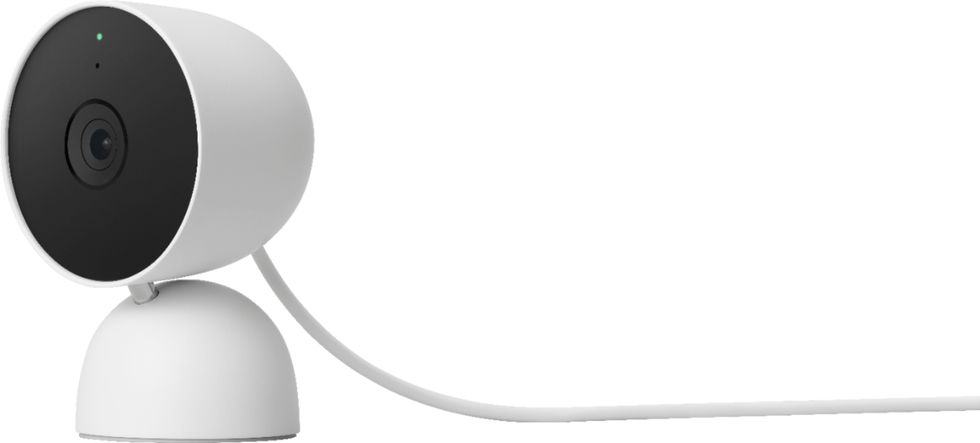 Google Nest Cam Indoor Wired 2nd GenBest
Nest is a smart home company owned by Google parent Alphabet. Its products include smart speakers and displays, thermostats, smoke sensors and security cameras, among others. Their new camera is, as the name suggests, meant for indoor use and is wired.

This means it isn't weatherproof, but instead is designed to be plugged into a wall outlet and positioned to keep an eye on the doors and windows of your property, or for checking up on your pets while away from home.
The camera records in 1080P Full HD and has a microphone, speaker, 135 field-of-view and 3 hours of free event video history which allows you to go back and see what you missed.. The indoor Nest Cam also comes with the intelligence alerts which allows it to tell the difference between a person, pet, and vehicle, and alerts you about the things that matter to you. It costs $99.99 and available at Best Buy, Walmart, The Home Depot and Google Store.
Read GearBrain's review here on New Google Nest Cam Indoor Wired Security Camera (2nd Generation).
Blink Outdoor Camera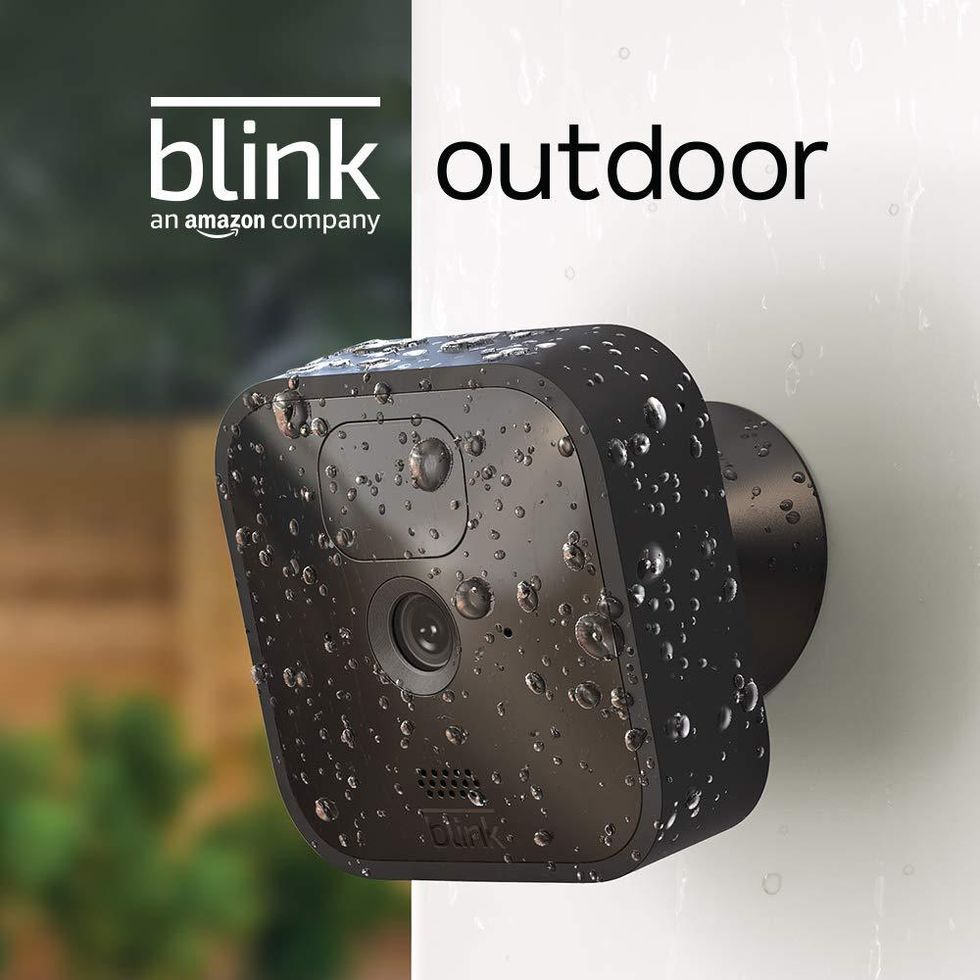 Blink Outdoor CameraAmazon
If you are looking for a reliable wireless outdoor security camera that is compatible with Amazon Alexa smart displays and has excellent battery life, look no further than Blink Outdoor Camera. This smart battery powered security camera comes with two-year battery life, day and night 1080p HD vision, two-way talk and motion detection. It works with Alexa and is easy to setup. The Blink Outdoor Camera costs $99.99 but for the holiday season, you can get a 2 Camera Kit for the same price, $99.99. This is a 44% savings ($80 off). And if you buy a bundle of two Blink Outdoor Cameras and new Echo Show 5 (2021), this bundle is only $154.98, 41% off (or $110) the retail price of $264.98. All are available on Amazon.


Nest Cam Indoor/Outdoor Security Camera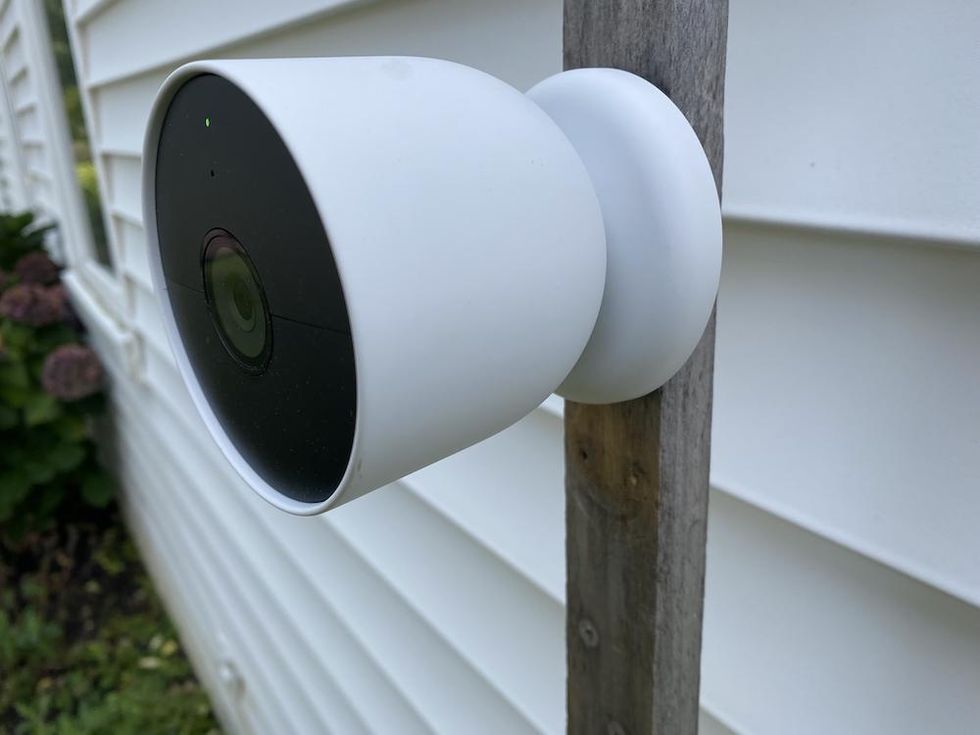 Google Nest Cam works either inside or outside your smart home.GearBrain
The new Google Nest Cam is a battery powered outdoor and indoor security camera. If you are using Nest Cams or have a DIY home security system with Google Assistant acting as the hub, you must consider getting this new 1080p HD security camera. It can tell if a viewable object is a person, animal or vehicle. It works on a Wi-Fi connection and has two-way talk, 130-degree field of view, easy to install and costs $179.99. It's a great addition to any DIY smart home security system.

Abode Cam 2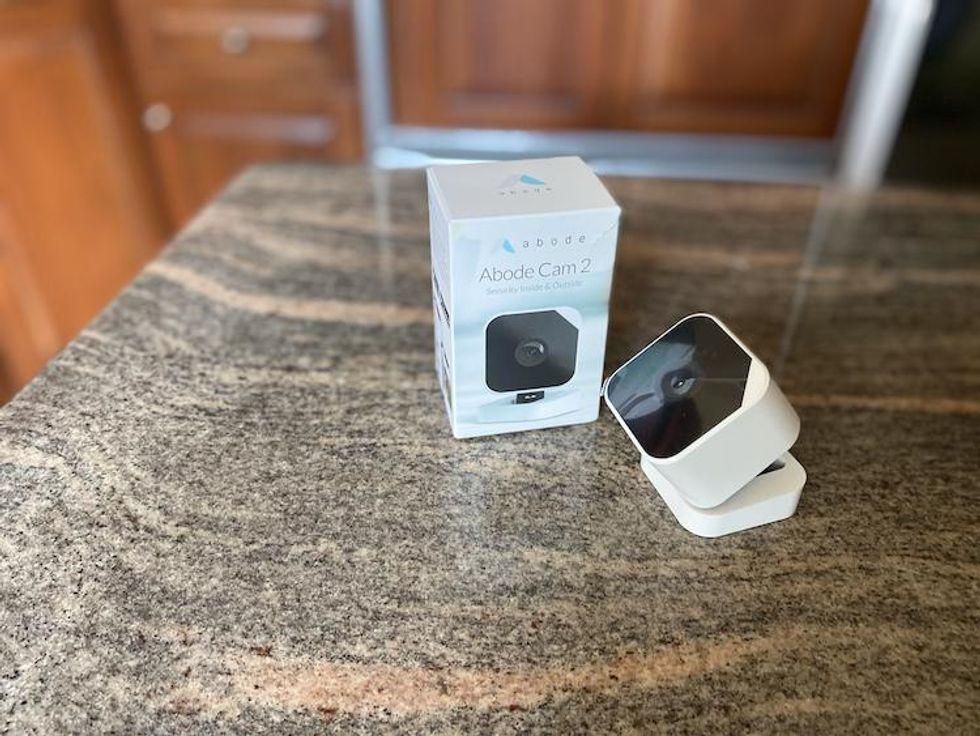 abode cam 2 unboxed GearBrain
Abode Cam 2
is a weatherproof compact versatile smart home
security camera
. It works on a 2.4 GHz Wi-Fi connection and comes with two-way communications, full color low-light night vision, 121-degree field of view (FOV), 1080p Full HD and 24/7 recorded video capabilities. It's the perfect addition to your
Abode DIY smart home system
or a good first security device to start building your own smart home security system. The price, $34.99 and its flexible mounting options make this one of our best choices for the person looking for a good reliable smart home security camera.
Read the GearBrain review of the Adobe Cam 2 here.
Wyze Cam v3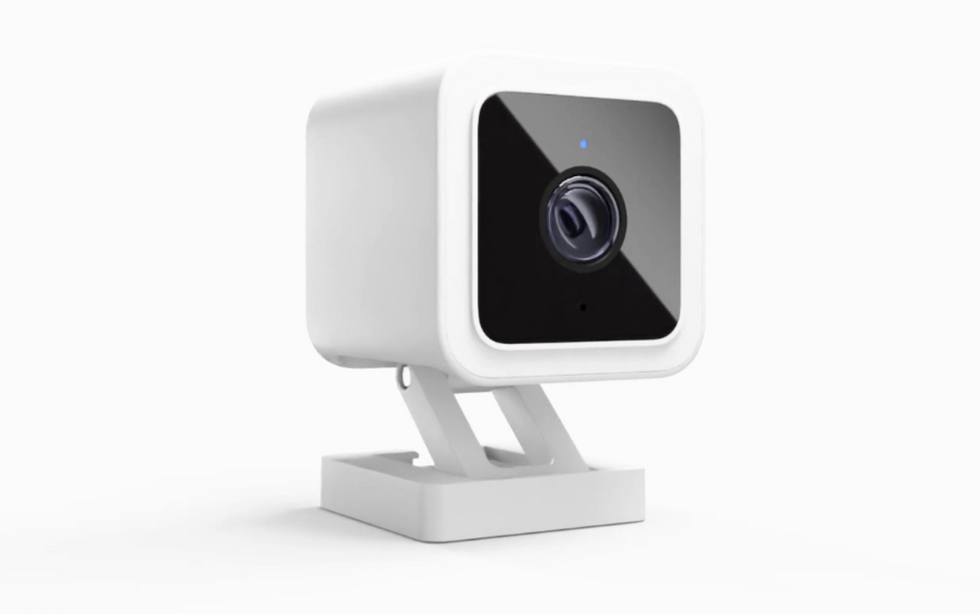 The latest, third-generation security camera from WyzeWyze
Chicago-based Wyze offers a cheap option for smart home security. The company's latest indoor Wyze Cam v3 is priced at just $20, yet records in 1080p Full HD and integrates with the Alexa, Google Assistant and IFTTT smart home system. There's also 8x digital zoom, two-way audio, night vision, weatherproofing, and the camera can listen out for smoke and carbon monoxide alarms too.

Video clips are saved online for free for 14 days, so you can view and download them if they're needed as evidence.
Read the GearBrain review of the Wyze Cam v2 here.
Wyze Sense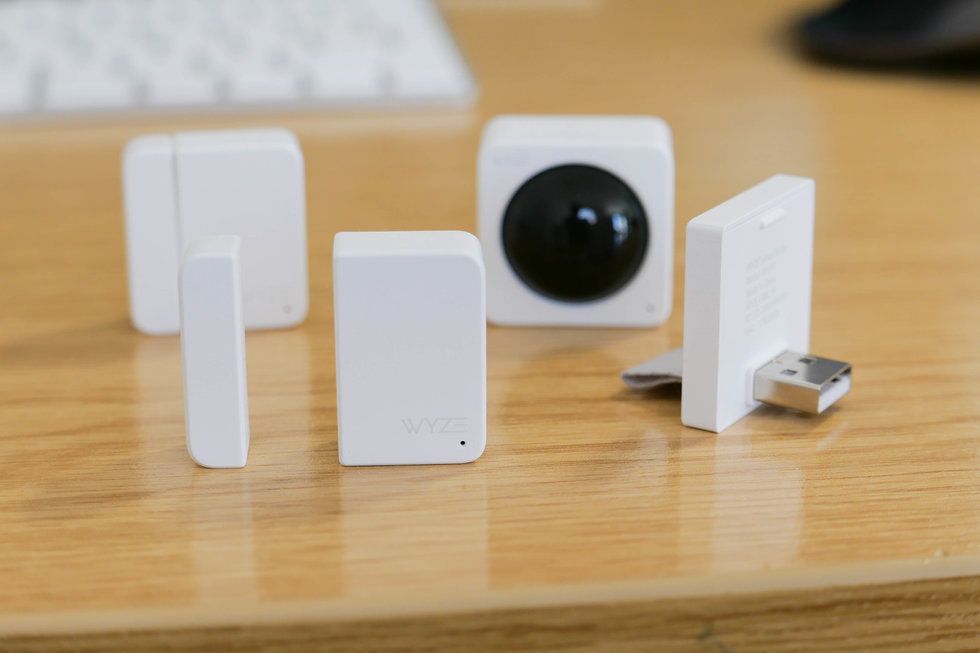 Wyze Sense smart home security system GearBrain
Wyze also sells a sensor kit called Sense. Priced at $20, this includes a motion sensor, a pair of sensors that alert you when the door or window they are fitted to is opened, and a hub that attaches to the Wyze Cam and is used to control the Sense kit.

Excellently priced, the sensor alerts you via the smartphone app and each has a 12-month battery life. They can also be set to control other Wyze devices; for example, when a door sensor is opened a Wyze bulb can be set to switch on. Additional sensors can be added to your system.
Read the GearBrain review here.
SimpliSafe Outdoor Security Camera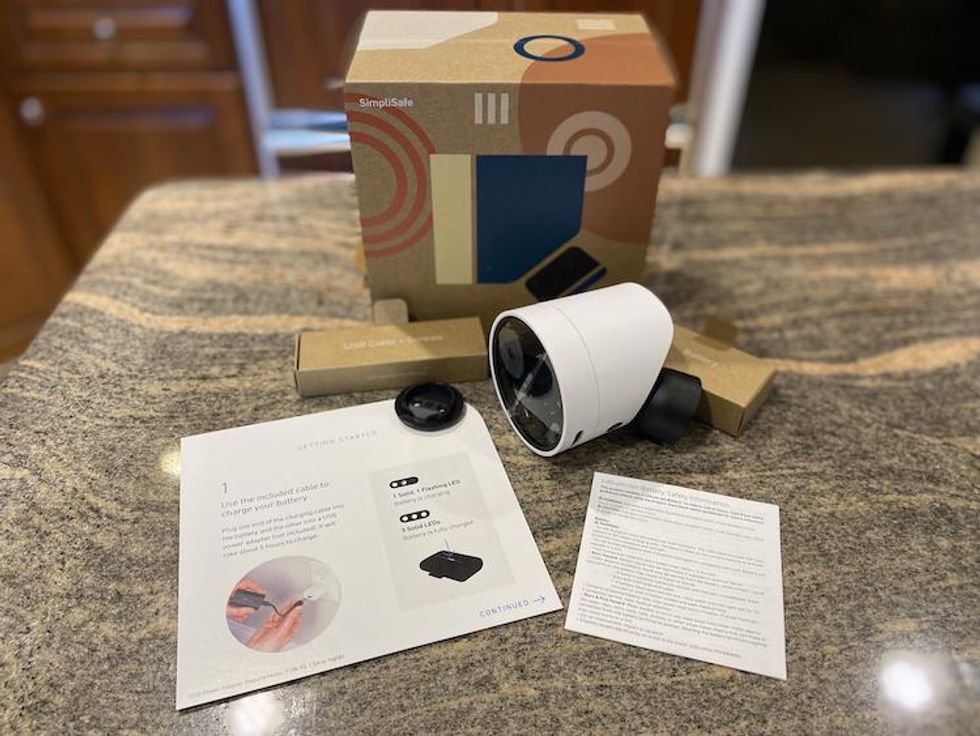 SimpliSafe Outdoor Security Camera unboxed. GearBrain
If the person you are buying a smart home security gift has a smart home powered by SimpliSafe, you should consider their new outdoor security camera. It is a wireless security camera with 1080P HD video resolution, 140-degree ultra-wide field of view (FOV), with digital zoom and full color night vision. It has a built-in spotlight with HDR to help you see clearly 24/7 and has a rechargeable battery which can last up to three to six months before it needs to charge. And when you need to charge it, you can easily remove it and recharge it in less than five hours. But the magnetic mount is what makes this security camera because it can hold the camera in place through all kinds of weather and provides the optimal viewing angles for you. It costs $169.99 and available on the company's site as well as at Best Buy or Amazon. See GearBrain review here.
Smart Video Doorbells
Ring Video Doorbell 4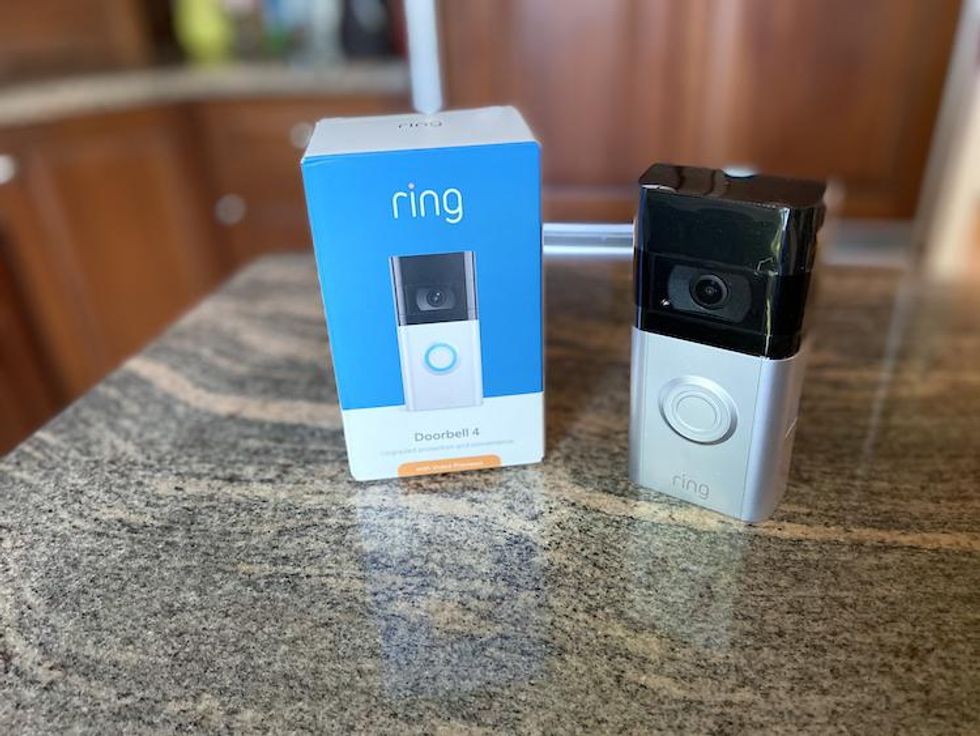 Ring Video Doorbell 4 GearBrain
Another good smart home gift to consider this year is Ring Video Doorbell 4, especially if they are using Amazon Alexa enabled devices. Reason: Ring is owned by Amazon and Ring devices work seamlessly with smart displays and speakers with Amazon Alexa voice platform. Ring Video Doorbell 4 is resourceful smart Wi-Fi video doorbell packed with the latest technology and security features to protect your smart home. It features a 1080p HD camera, 160-degree field-of-view (FOV), two-way communication with noise cancellation, a Live View of your doorbell in the free Ring app, color night vision and customizable motion controls. It also works on either a 2.4 GHz or 5 GHz Wi-Fi connection and setup is quick and easy. If you you have an existing wired doorbell or not, this doorbell is a breeze to install. It costs $199.99 and is available on the company website, Amazon, Best Buy, The Home Depot and other consumer electronics stores.
Read the GearBrain review here.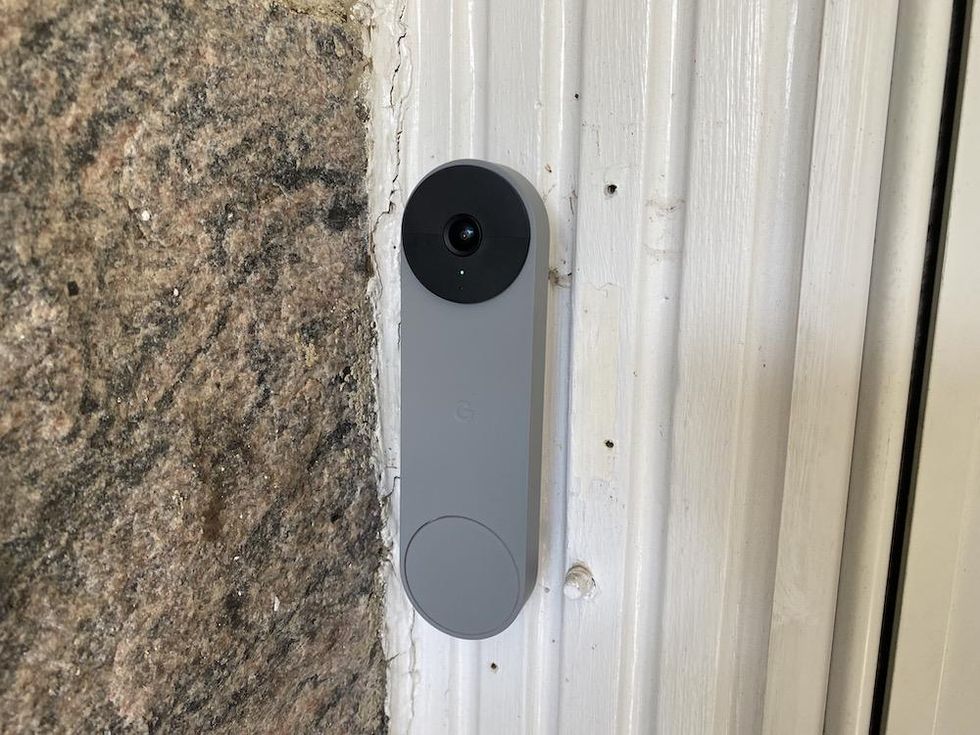 Google Nest Doorbell installed.GearBrain
If the person you are buy a smart home gift is using Google Assistant enabled devices as the hub in their home, you have to consider the new Google Nest Doorbell. The Google Nest Doorbell is a battery powered smart video doorbell with all the expected features you need to secure your front or backdoor. It's easy to install and comes with a 1.3-megapixel color sensor, PIR (Passive Infrared) motion sensor, 6x digital zoom capabilities, a 145-degree field of view (FOV) and 3:4 aspect ratio. The 3:4 ratio is unique and provides a full glimpse at the person at your door. This means you will be able to see the visitor from head to toe on a smartphone or smart display screen. It costs $179.99 and it comes in four colors (Ash, Ivy, Linen and Snow). This doorbell is available on Best Buy, Walmart, ABT Electronics and other electronic outlets.
DIY Smart Home Security Systems
Frontpoint Security Systems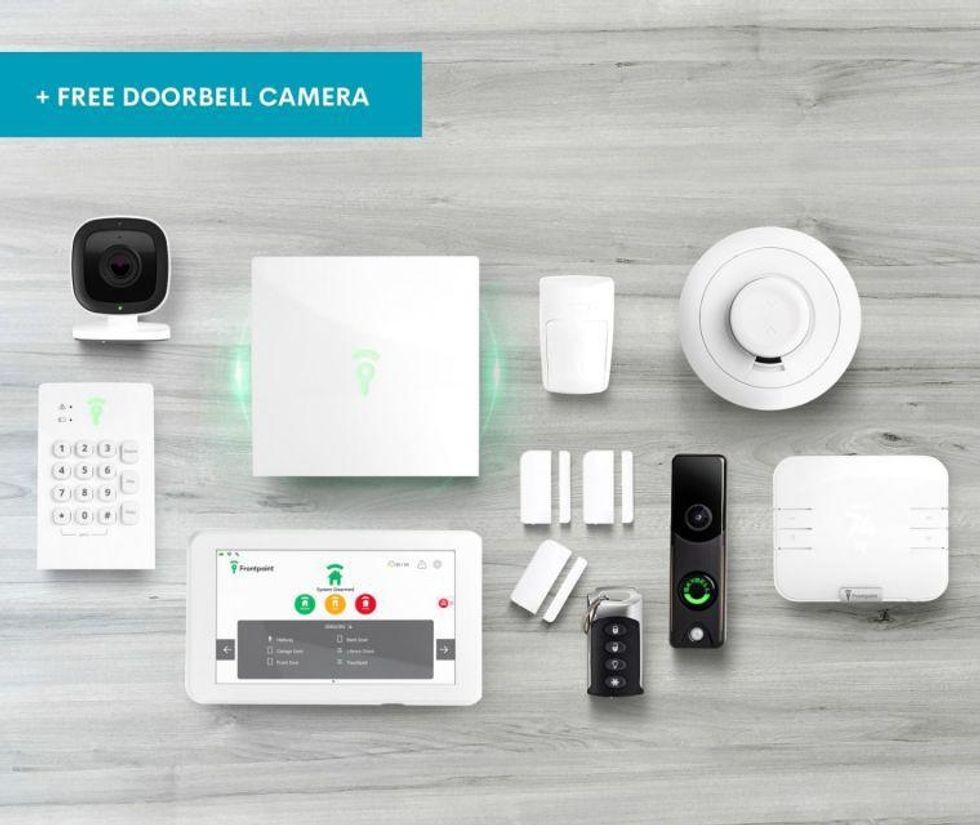 Frontpoint Security SystemsFrontpoint
For those of you looking for a good DIY-installed home security system with professional monitoring at an efficient cost, Frontpoint Security is the system for you. Frontpoint Security systems are very easy to install, and provide the protection you need for all areas of your home. Once activated, you can add additional home automation devices like smart locks or wireless thermostats to Frontpoint's systems. Just make sure these extra devices are Z-Wave compatible. For Black Friday, the company is offering packages that start at $99 and provide a FREE Video Doorbell Camera and 40% OFF Accessories. Here is the deal to consider this Black Friday. which starts now and runs for 5 days:
Smart Locks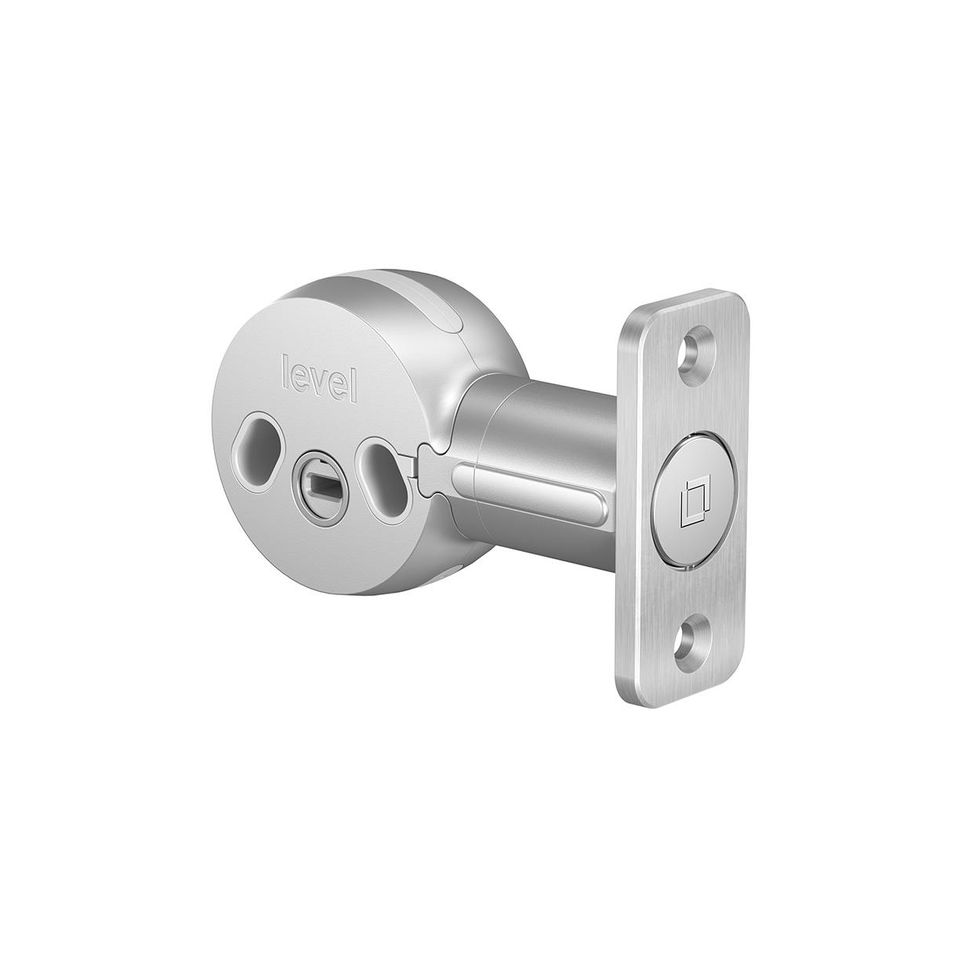 Level BoltLevel Home
Designed by a group of former Apple engineers, the Level Bolt is a smart door lock that hides all of its components inside the door itself. This means the Level Bolt is far smaller and more subtle than most rivals, like those from August, while boasting the same amount of intelligence.
This year, the company announced a partnership with Rocky Mountain Hardware, a manufacturer of elegantly designed door handles. Thanks to this partnership, people can preserve the design of their door without trading design for the convince.

Level Bolt automatically opens and locks as you approach and depart, and it has Apple HomeKit compatibility for extra smart home integration. (If you have a Ring Video Doorbell Pro, the Level Bolt is compatible with this smart lock too.) The lock is battery powered, and if that runs out it can be operated using your original key. Not the cheapest smart lock around ($199 on Amazon), but certainly one of the most attractive. Read the GearBrain review here.


Level Lock - Touch Edition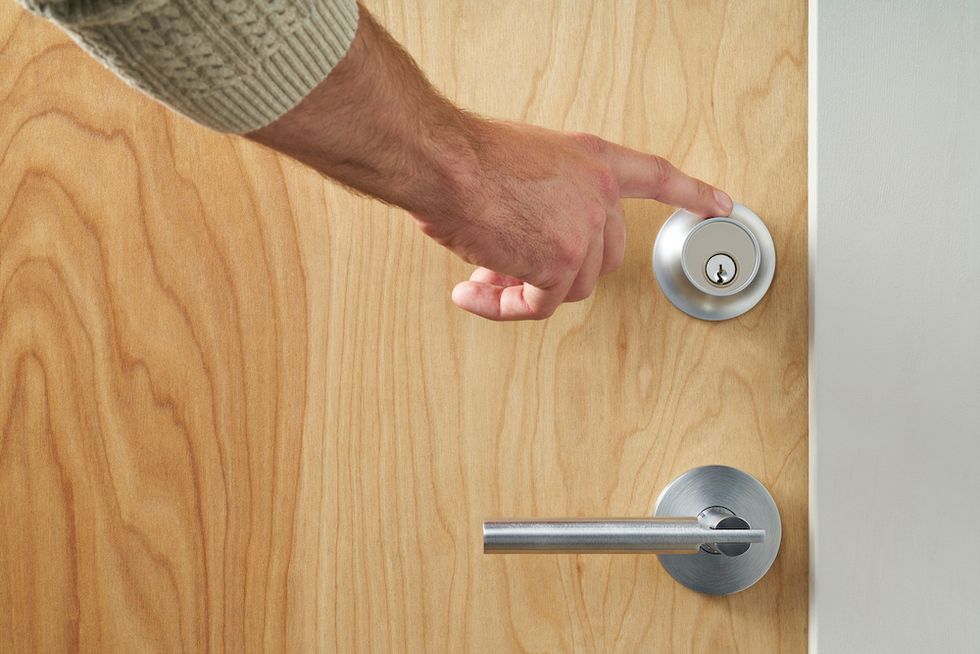 Level Home announces Level Lock - Touch Edition, a new advanced smart lock Level Home
Also from Level Home is the HomeKit-friendly Level Lock - Touch Edition, a smart door lock that is just as subtle as the Lock shown above, but includes touch sensitivity as one way of locking and unlocking it. (Note: Level Lock - Touch Edition is also compatible with Ring Video Doorbell Pro.)

With Level Lock - Touch Edition, the technology is thoughtfully hidden, offering smart home conveniences in an elegant and timeless lock design. With Touch Edition, keys are optional - you can enter and exit in any way that is most convenient for you, with the touch of a finger, using your voice or even an included programmable keycard. All of this while maintaining the highest level of residential security of any smart lock to date. Read the GearBrain review here.
Schlage Encode Smart Deadbolt Lock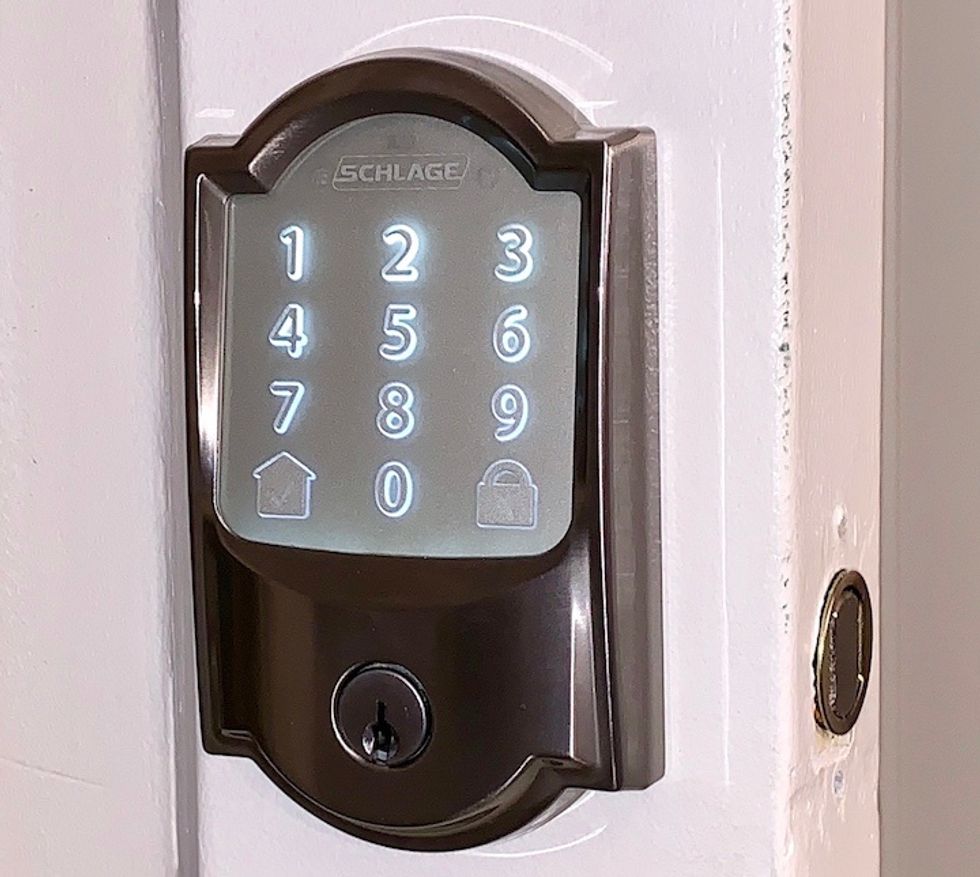 Schlage Encode Wi-Fi Smart Deadbolt Lock GearBrain
If looking to give a smart lock as a gift this holiday season, take a look at Schlage Encode Wi-Fi Smart Deadbolt Door Lock. It's a smart lock with Wi-Fi built-in and has voice control capabilities using either Google Assistant or Amazon Alexa enabled devices. You can get in a variety of designs and finishes and costs start around $249.99. What makes this smart lock special is its compatibility with other smart home devices. It's the only smart lock that works with all Ring video doorbells. If you are using Amazon Key, Yonomi or Schlage Home, this smart lock is compatible. And recently the company announced a new integration with Leviton which allows you to pair your smart lighting with your Schlage door lock. This smart lock will make a good gift for the smart home security minded friend or family member who needs a good reliable smart lock. Read the GearBrain Review here.
For more ideas on how to find the right smart home security gift for your friend or family member, don't forget to use The GearBrain, our smart home compatibility find engine . It's free and easy to use. And it will assist you in finding not only compatible products that work with Google Assistant and Amazon Alexa enabled devices. but any smart device that is compatible with the devices you already own or plan to buy for your smart home.
How to Find Products in The GearBrain, Our Compatibility Find Engine for Smart Devices www.youtube.com
Like GearBrain on Facebook