Like GearBrain on Facebook
One of Lenovo's newest smart displays is meant less for your table, and more for your wall — a 21-inch panel that can highlight your photos or select from hundreds of pre-curated art pieces that are in a free app you get with the screen.
Called the new Lenovo Smart Frame, the display is similar to other wall-mounted screens and is designed to add a more finished and artistic look to home spaces, allowing people to create their own digital decor.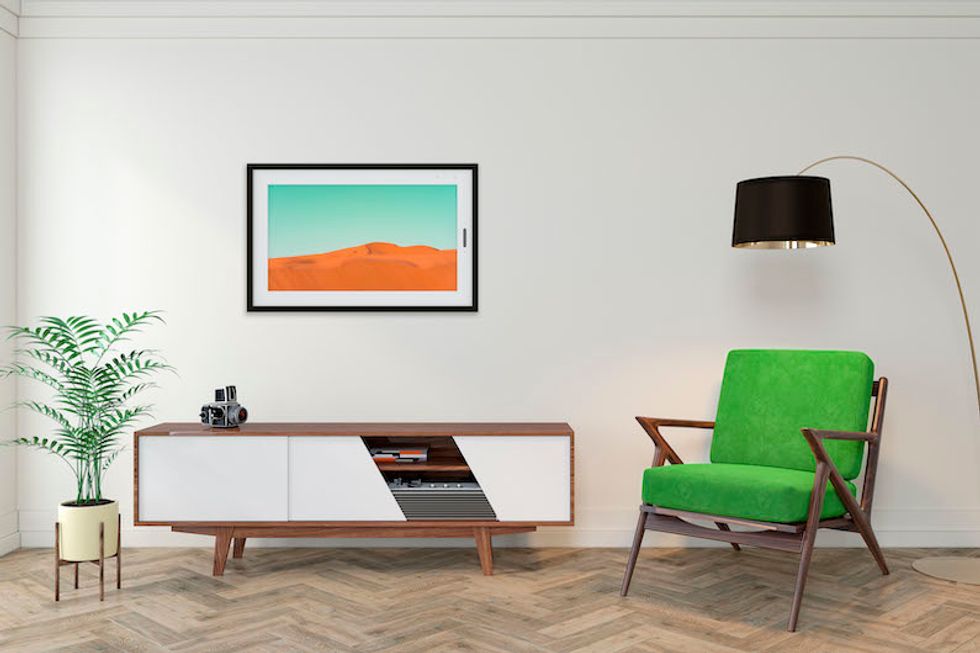 The Lenovo Smart Display can rotate 90-degrees and be turned horizontally and vertically Lenovo
The screen, $399, has a matte finish, and anti-glare layer on top, and will be available starting August. There's also a color tone sensor which can lighten and dim the screen depending on the light shining in a room. You can play video on the screens, and stop or start playback, or move through individual photos just through hand gestures.
Photos and images can also scroll through, or you can keep one in a static mode, on screen. Frames can be linked together in the app, and images can be broken up and displayed across these frames in a visual collage.

The frame snaps into a mount, which can be easily rotated 90-degrees — so you can show this horizontally or vertically depending on where you want the screen to be in a room. But you can actually turn the frame 360-degrees if you want, letting people decide any angle they want to position the frame. There is a power cord, and the mount on the back will allow you to wrap the cord, lock it into place (so it can't be accidentally pulled out), and also slide it through into a wall space.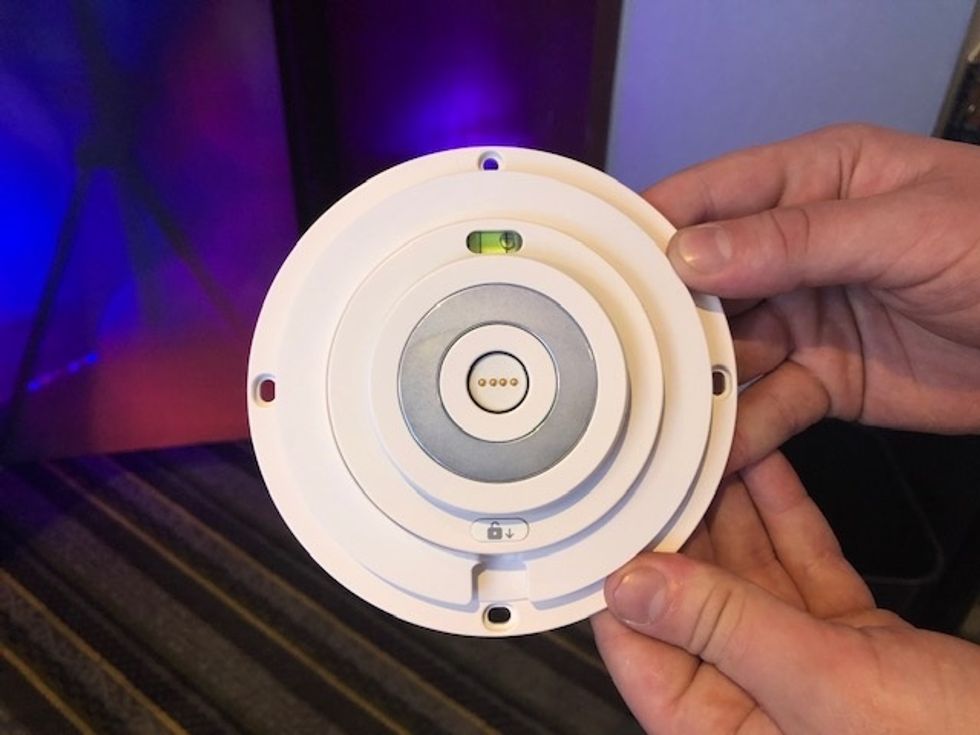 The wall mount for the new Lenovo Smart Frame lets you turn the frame varying degrees so people can choose how to display the screenGearBrain
There is a camera on the front to help to adjust the image color, and is also used for reading gestures, plus two far field microphones, which are currently inactive. There are also two speakers in the back.

The inner frame is made of a white plastic, but the exterior frame will come in different options, all wood, including white, slate and a light wood color which will snap into place. Because the outer frame is removable, customers will also be able to have their own custom frames made.

Lenovo Smart Tab P10 10.1" Android Tablet, Alexa-Enabled Smart Device with Fingerprint Sensor and Smart Dock Featuring 4 Dolby Atmos Speakers - 32GB Storage with Alexa Enabled Charging Dock Included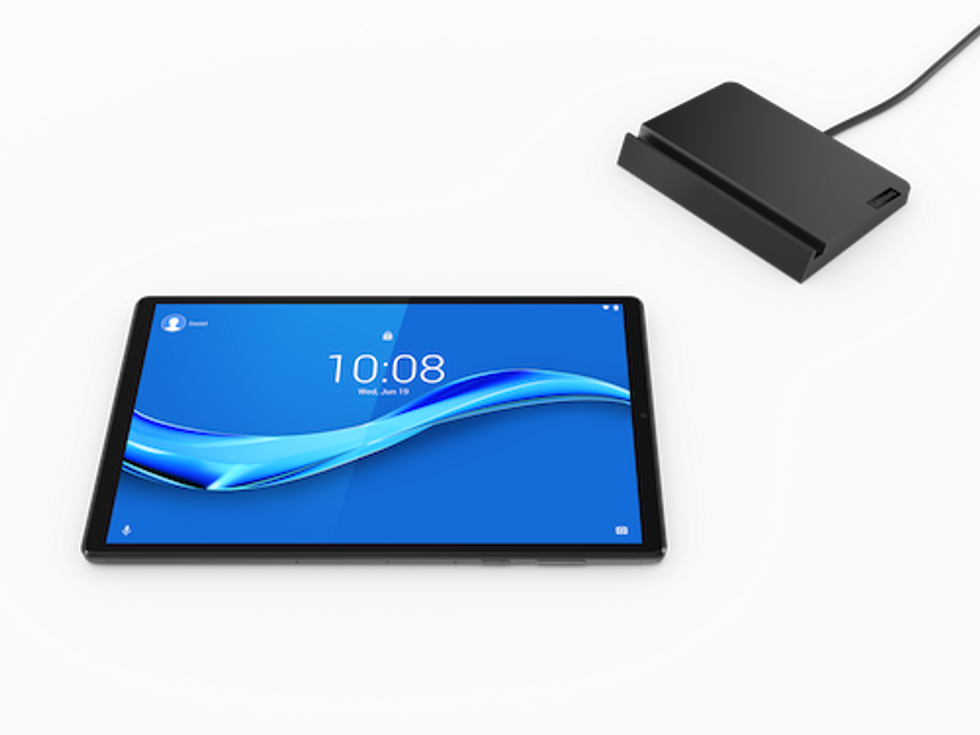 The Lenovo Smart Tab M10 will come with a Smart Charging StationLenovo
Lenovo Smart Tab M10 gets an update

Lenovo is also updating the Lenovo Smart Tab it launched last year with a new device called the M10, which now has a hands-free Google Assistant-activated screen, through Ambient Mode. The new Lenovo Smart Tab M10 will be available in 2020 for $189.
The screen is 10.3-inch, with Full HD, and an extremely thin .18-inch bezel with Dolby Atmos side speakers. And when you're not actively using the display you can use it as a digital photo frame. Plus you also get a Smart Charging Station, which juices the display while in standing mode.
For security, the screen will use face recognition, unlocking specifically for each user, and there's a Kid's Mode with parental controls, plus two alerts — one called Posture Alert, that remind you via a vibration to sit up straighter, and then a Bumpy Environment Alert which can tell if you're in a car and tells you, yes, please put down the display.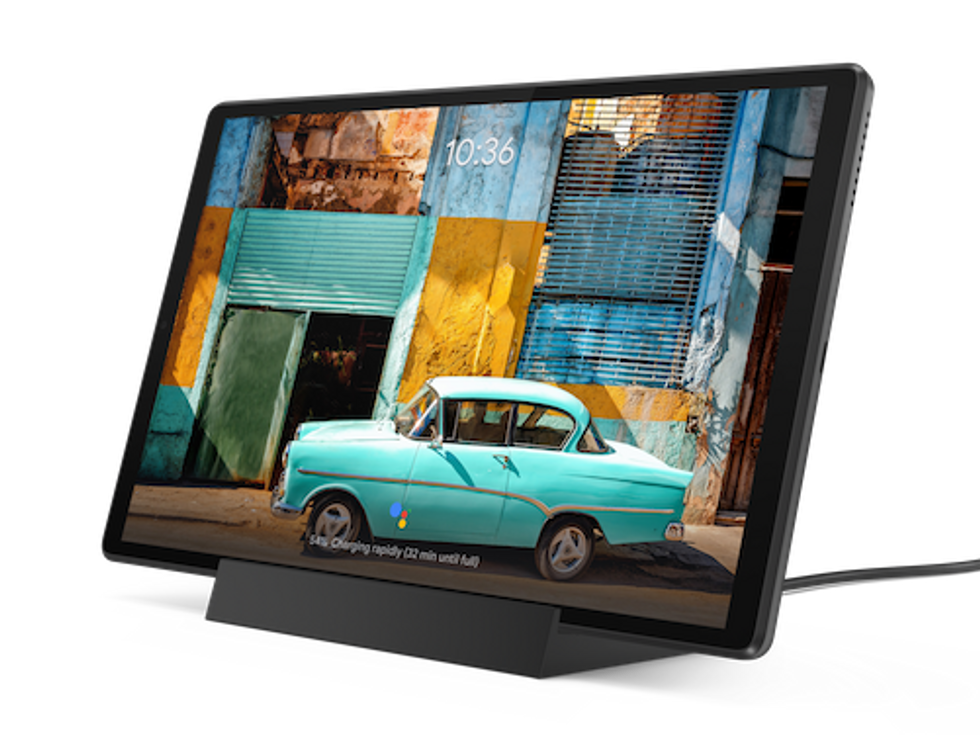 The Lenovo Smart Tab M10 will be able to work with the new Connected Home Security toolLenovo
Connected Home Security

The Lenovo Smart Tab M10 is also going to be able to take advantage of a Connected Home Security feature Lenovo is releasing through its Lenovo Vantage software update, 3.1.1. The feature will detect if there's an attempt to access the device from an unauthorized user trying to get into the network whether that's a phishing attack or online hacking.
The new feature is for Lenovo PC users using Windows 10, and those who use Lenovo Vantage, and then can decide which of their Lenovo products they want to include from the Lenovo Smart Lab to the Lenovo Smart Clock, Lenovo Smart Display and Lenovo Smart Home Essentials line.
The new home security feature goes live in January, and customers can try it out for free for a 30-day trial in the U.S. After 30-days the price is $29.99 a year per family, which can be picked up through the Lenovo Vantage Store, but then can be widened to include non-Lenovo devices that are running on their home's Wi-Fi network or any family-related network, like a child's dorm room.
Check out The GearBrain, our
smart home compatibility checker
to see the other compatible products that work with
Google Assistant
and
Amazon Alexa enabled devices.



Lenovo Tab M10 HD 10.1" Android Tablet (32GB)
Like GearBrain on Facebook