Like GearBrain on Facebook
There are many factors that go into a review when I test headphones—from comfort to audio quality to ease of use. The variables seem endless. Which is why I was struck by how good this inexpensive set of true wireless earbuds performed: I found that the Monolith for Monoprice M-TWE pair of earbuds was simple to use, straight forward and for the most part, gave me an intuitive experience when listening to audio or answering a phone call or simply switching on the noise canceling features.
Everything just worked, and worked well, which is rare in testing products. So, let's take a look at just what makes this relatively inexpensive truly wireless earbuds from Monolith by Monoprice so enjoyable to use.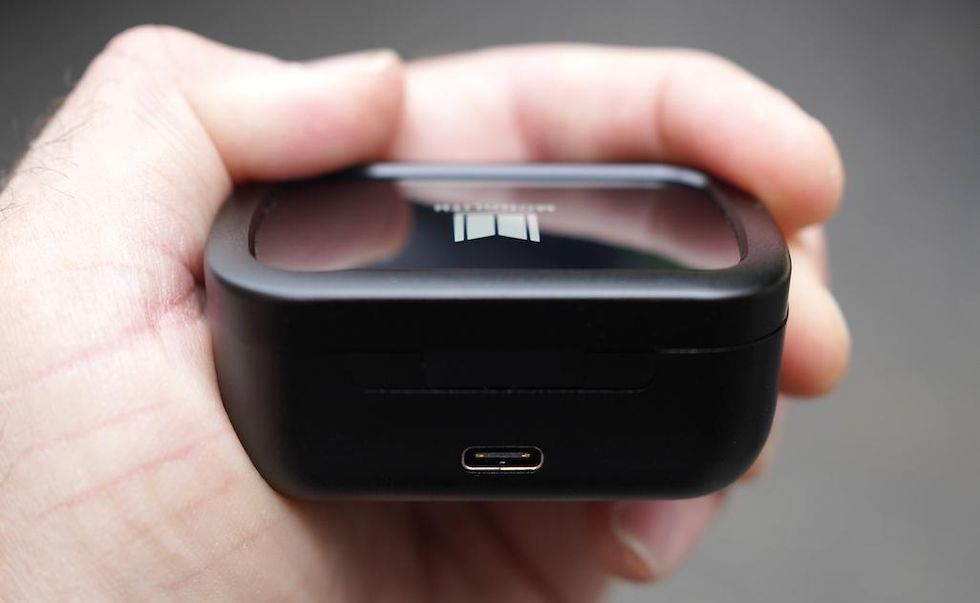 Monoprice designed a very alluring charging case for this inexpensive pair of ear buds. Terry Sullivan/GearBrain
What's in the Box, Design and Fit

When you open up the M-TWE's product box you'll see the charging case—a small, snazzy little black box about the size and color of a GoPro—set down in the bigger box so that just the shiny black cover shows as well as the Monolith logo, which is in the center of the charging case's cover. All around it, you'll see a sheet of black foam, which makes it look a little like a jewelry box. When you lift the cover and you'll see the M-TWE ear buds, they look not unlike a pair of dark colored earrings.
In addition to the M-TWE earphones and charging case, you also get a USB type-A-to-type-C charging cable in the box, plus a soft pouch and a user manual. But you also get a set of four pairs of different-sized ear tips (extra small, small, large and extra-large) for each ear bud. It's great to have this "extra" because in order for any earbuds to deliver decent sounding bass, it needs to form a seal inside your ear canal. That's just a fact of how almost any set of portable truly wireless ear buds work. And if you can't produce that seal, you're left with bass that will sound middling at best. But with these tips, you select the one that feels most comfortable for your ears, and produces the best seal.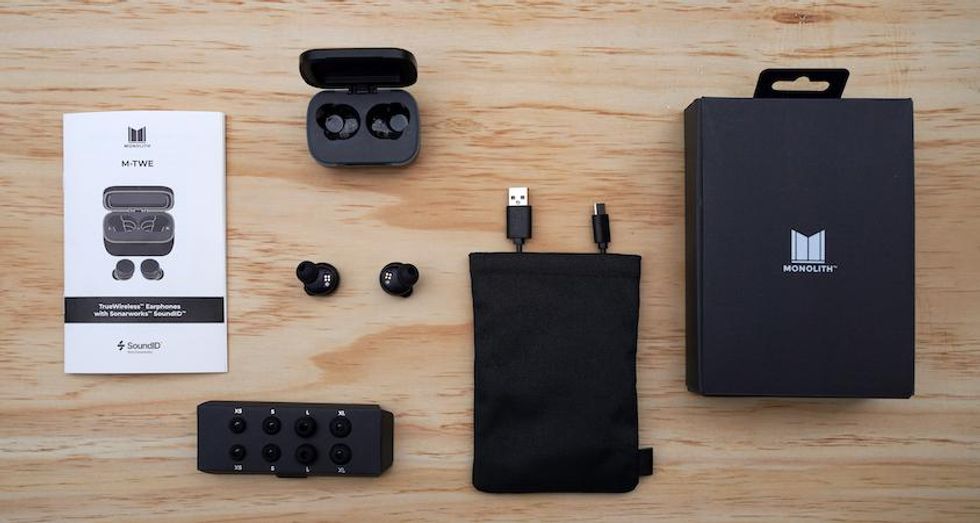 Including a set of different sized earpiece is such a valuable addition to include with any set of ear buds, since forming a seal in your ears with those tips is an essential to produce a deep-sounding bass.Terry Sullivan/GearBrain
Comfort is always important, and in my ears, I felt they were relatively comfortable. However, I'm not sure if everyone will agree, since comfort is so personal. Overall, I liked the design, finish and texture of the Monolith by ear buds.

I had another quibble: I found it difficult to make out the "L" (for left) and "R" (for right) on each ear bud. Luckily, inside the charging case, it's easier to read each of those letters next to the earbuds.
How they worked
When removed from the case, the manual states the earbuds will pair to each other. Then they'll be ready to pair with your device. I found this auto-pairing mode worked well, both with my iPhone 12, and later on, when I tried it with Google Pixel 3a phone. If for some reason the auto-pairing mode doesn't work, you can manually pair each ear bud individually by pressing the touch pad on one of the ear buds. Then, you'll be able to pair the other ear bud.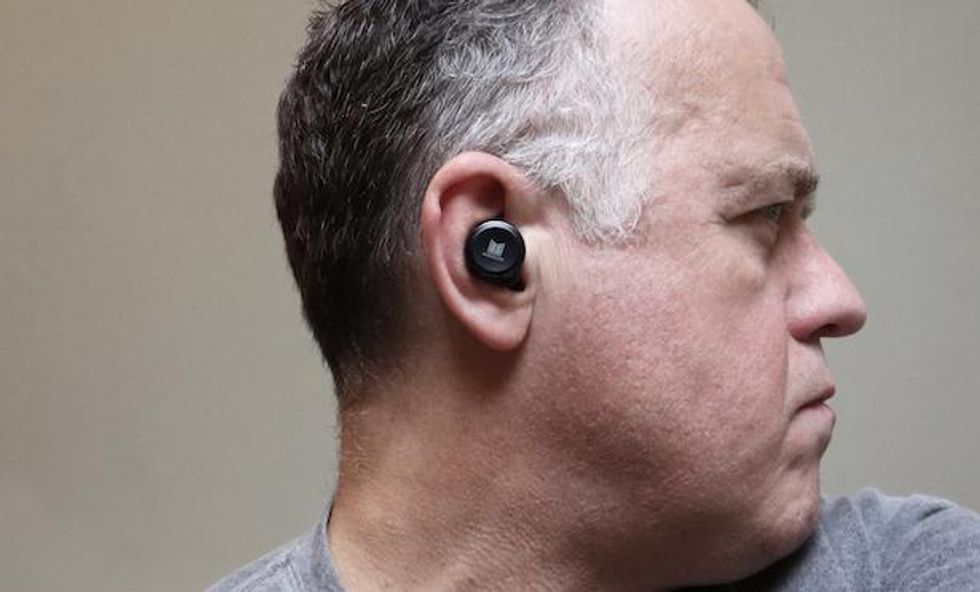 The earbuds were comfortable in my ears, and could be controlled manually through touch pads on each earbud.Terry Sullivan/GearBrain
Another very handy feature that worked without fail was the touch controls, which worked similar to manually pairing each ear bud. To increase or decrease or decrease the volume, you can swipe up or down on either earphone. You can also cycle through two additional audio modes—active noise cancellation and ambient sound (I'll discuss both below). The third mode turns off both ANC and ambient sound modes. The touch controls also made it easy to pick up a call or reject one if I so chose.

Battery life for the M-TWE is quite good: The company states that playback time is up to 10 hours on one charge. You also get an additional 20 hours of playback with a fully charged charging case. Additionally, the earphones (but not the case) have an IPx4 waterproof protection rating.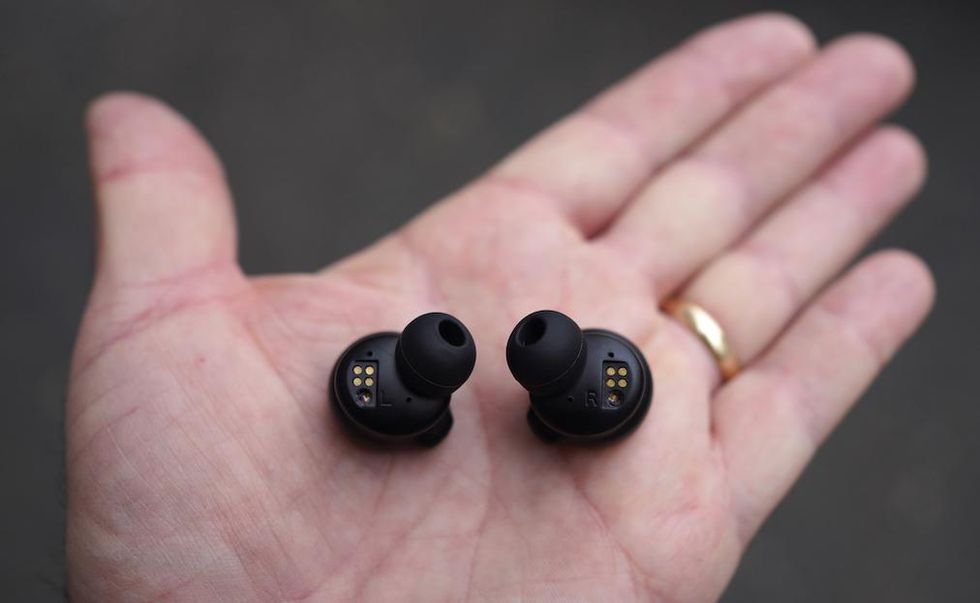 As far as true wireless earbuds go, the M-TWE might a be a tad on the large size, but they were quite lightweight.Terry Sullivan/GearBrain
Sound and ANC

I was impressed with the audio quality on the M-TWE as well as its additional feature—that its compatible with the SoundID app from Sonarworks, which adds an additional level of customization to this inexpensive pair of earbuds. I also found both the active noise cancelling mode and ambient mode effective.
But as I noted at the start of the review, it was important for me to select the right-sized ear tip, since doing so allowed it to produce an enhanced bass tone on the tracks I listened to: For example, there was dramatic booming quality to the explosion in listening to the track "2049" from "Blade Runner 2049" (music by Hans Zimmer and Benjamin Wallfisch), which is then followed by all sorts of mysterious quirky musical and non-musical sounds, both real-world and synthesized sounds, making listening to it very delightful. Also, when I listened to "A Day in the Life", from The Beatles' "Sgt. Pepper's Lonely Hearts Club Band," Paul McCartney's bass had a very nice thumping quality. And the bass on Nora Jones' song, "Lonestar," also sounded really impressive.
So, I was pleased in listening to each of these three very different songs, particularly with the bass tones. Additionally, all the tracks provided very good mid- and treble-tones, reproducing both subtle details but also prominent accented notes and sounds. All in all, the audio sounded quite good. (To get the best quality audio sound, I made sure I turned the ANC and ambient features off.)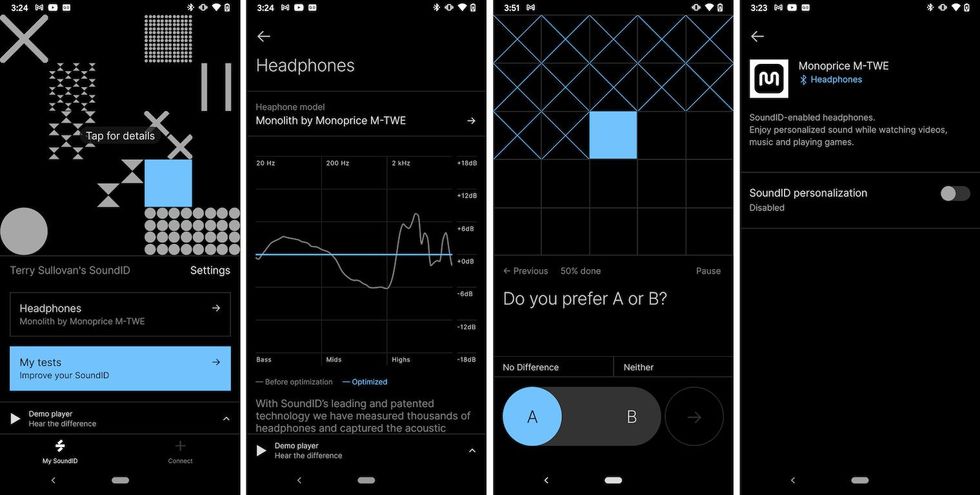 Four screens from the SoundID app, which is compatible with Android and iOS phones: The home screen (far left), the sound profile screen for the Monolith by Monoprice M-TWE profile (near left), a screen from the testing section of the app (near right) and a screen that lets you enable the profile.Terry Sullivan/GearBrain
The M-TWE also supports the SoundID app from Sonarworks, (for iOS and Android), which allows you to create a sound profile based on listening to various versions of a chosen audio clip. Once you've completed the short audio test, you can then enable or disable that SoundID profile, which will work on everything from listen to my streaming music account to watching videos. For mine, there was even a more pronounced bass effect to all audio tracks, but that was at the expense of hearing some of the fine details in the mid-tones and higher treble tones.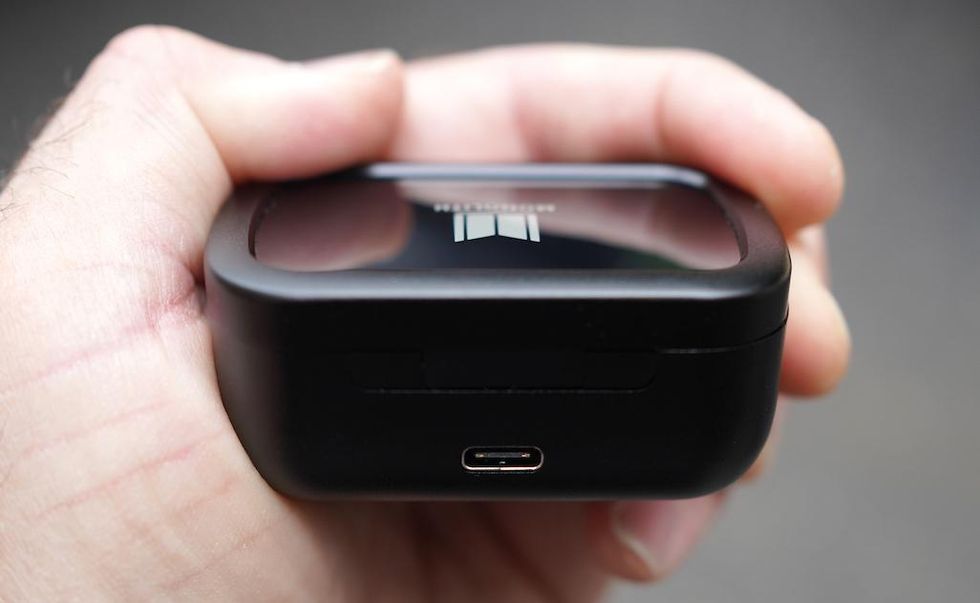 The charging case is charged via a USB-C type cord—and the ear buds come with a short USB-A-to-USB-C cord for charging.Terry Sullivan/GearBrain
Price / Is It Worth Getting?

Although the Monolith by Monoprice M-TWE True Wireless Earbuds were introduced for $129.99, they're currently available for just $99.99. At that price, I highly recommend this for those who are interested in getting a pair of true wireless earbuds for either their Apple iPhones, Android devices, tablets or laptops.
Pros:
Relatively inexpensive
Intuitive and easy to use
Offers very good overall sound, including bass
SoundID app tailors the ear buds' audio to suit your preferences
Effective noise cancelling features
Includes set of different sized ear tips
Very good battery life of 10 hours per charge
Cons:
Hard to read the "L" and "R" labels on the ear buds
Some might find the ear bud a tad uncomfortable, since it mostly sits in the bowl of the ear
From Your Site Articles
Related Articles Around the Web
Like GearBrain on Facebook