Like GearBrain on Facebook
Compared to the gargantuan smartphone industry, it is easy to dismiss the smartwatch as an also-ran. Despite giants like Apple and Google pumping millions of dollars and years of development into smartwatches, they haven't enjoyed the limelight of the cell phone.
The smartwatch had a difficult birth, as the early efforts by LG, Motorola and Samsung - all running Google's then-new Android Wear - had ugly designs, limited use, and batteries which struggled to last a single day.
Read More:

Apple took things forward with the Watch, but spent a misguided year pitching the wearable as a fashion accessory sold at Parisian boutiques. Only more recently has the Watch transitioned into a bone fide fitness tracker, capable of syncing with gym equipment, identifying the symptoms of undiagnosed heart conditions — and, with cellular support, encouraging you to leave your iPhone at home when headed to the gym.
Samsung quickly switched in 2015 from Google's software to its own, called Tizen, and saw some success with its Gear smartwatch range. But last year the Gear S4 failed to materialize, and although the sport-focused Gear Sport launched instead, it missed out on the mainstream appeal of Apple.
Meanwhile, Google's efforts have felt half-baked ever since Android Wear arrived in 2014. The company is yet to produce a smartwatch of its own, and the name change from Android Wear to Wear OS felt more like an emergency life-saving procedure than a brave, bold reimagining of what the smartwatch could be.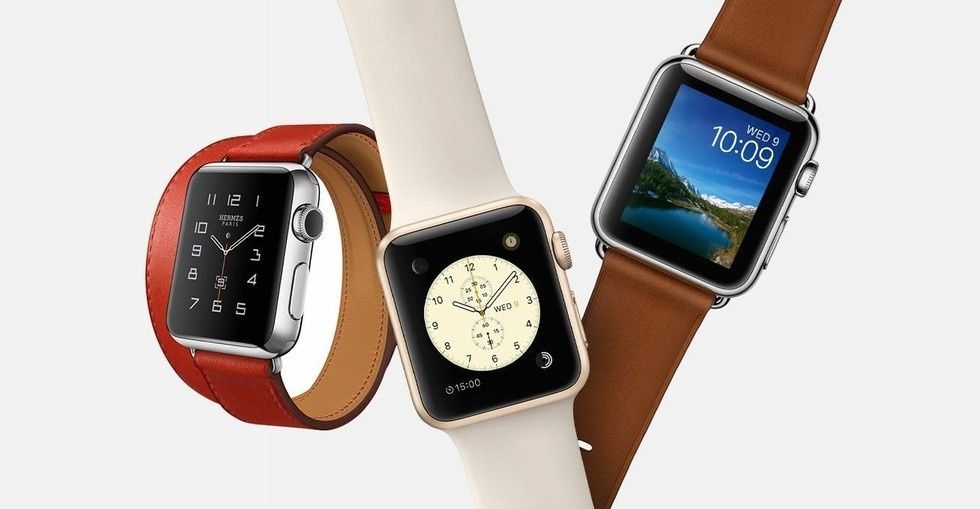 Although luxury options exist, the Apple Watch is more focused on fitness than ever beforeApple
Thankfully, the smartwatch market is about to get the shot in the arm (or, indeed, the wrist) that it needs. Over the coming weeks, Apple, Google and Samsung are all expected to launch new models.
First, Samsung is tipped to be revealing the Galaxy Watch at one of its August press events on the 9th and 30th of the month. Our money is on a teasing glimpse at the end of the Galaxy Note 9 reveal on August 9, before a full launch at the IFA technology show in Berlin at the end of the month.
Next up, Apple is tipped to be showing the Watch Series 4 alongside its new range of iPhones at a media event in September.

Then it will be the turn of Google and its widely-rumored Pixel Watch, due to arrive alongside the Pixel 3 and 3 XL smartwatches (and perhaps a new Google Home speaker) at an event on October 4.
This focus on the wrist comes at a good time for consumers and companies alike. A report by industry analysts IDC in June said the wearable market (including smartwatches and cheaper, simpler fitness trackers) will grow by 8.2 percent this year to 124.9 million global shipments. And the growth will be sustained, IDC claims, with double-digit increases predicted until at least 2022.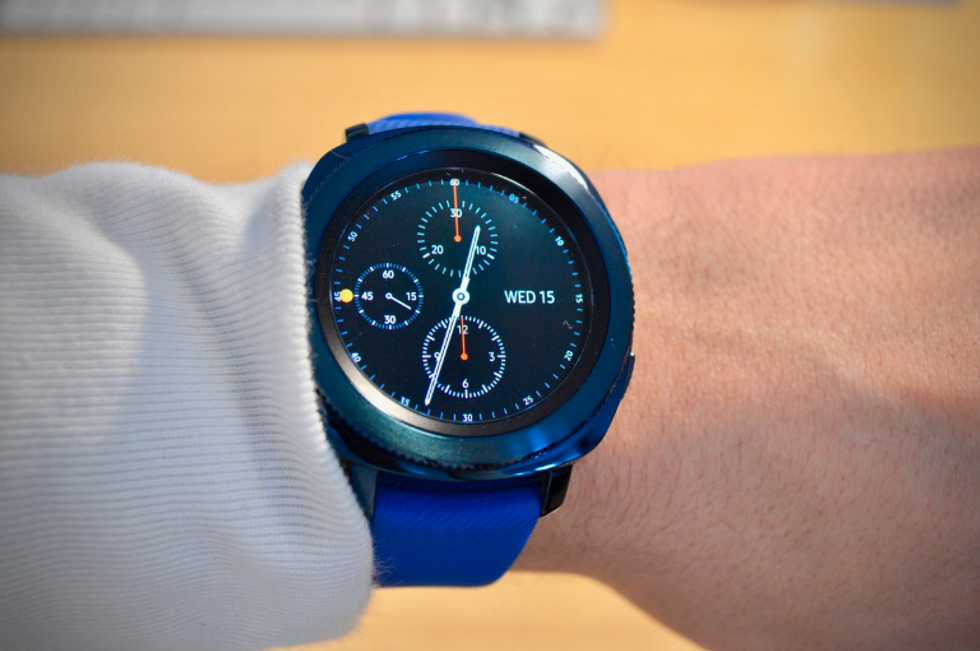 The Samsung Gear Sport was a fitness-focused smartwatch from 2017GearBrain
"The shift in consumer preferences towards smartwatches has been in full swing these past few quarters and we expect that to continue in the coming years," said Jitesh Ubrani, a senior research analyst for IDC's Mobile Device Trackers division.

It's easy to say this growth is down to the smartwatch finally making commercial sense, with batteries lasting several days, chunky designs slimming down, and a sense of purpose becoming clear. But a change in consumer mindset is also at play. "Consumers are finally starting to understand and demand the utility of a smartwatch," Ubrani said in March.
You can almost feel the relief in Ubrani's voice, as consumers who were initially unsure of smartwatches begin to see reasons for owning them.

This changing consumer mindset is multifaceted. "At present," Ubrani said, "fitness uses lead by a mile, but mobile payments and messaging are starting to catch on. The addition of cellular connectivity is also starting to resonate with early adopters and looking ahead the emergence of new use cases like music streaming or additional health sensors will make cellular connectivity pivotal to the success of the smartwatch."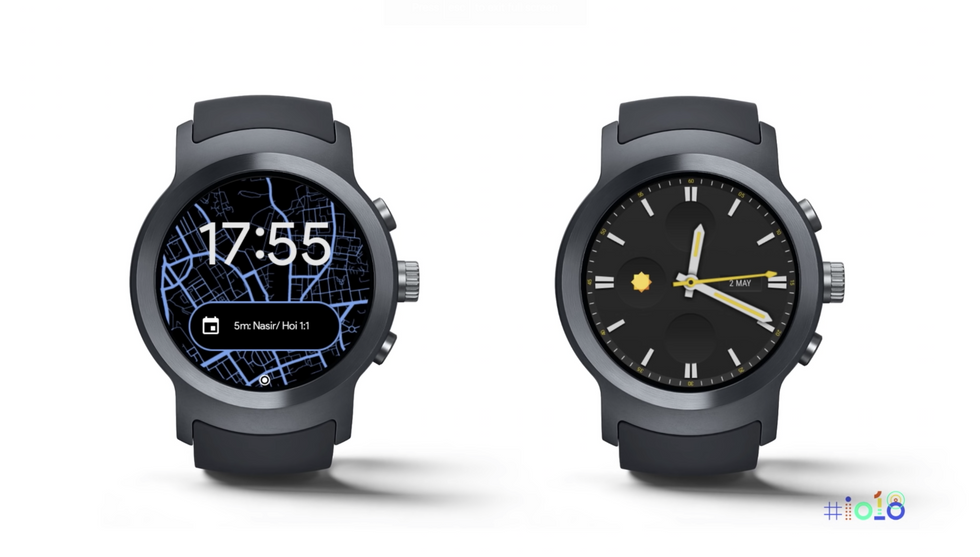 Android Wear was recently renamed Wear OS, on account that its watches also work with iPhonesGoogle
A cellular connection on the new Apple Watch is a dead cert, and Samsung is highly likely to offer a connected version of the Galaxy Watch too, as it did with the Gear S3. Google's position is less clear, and while it could perhaps be forgiven for omitting the feature on its first smartwatch, such a move could (unless the price is significantly lower than its rivals) see consumers go elsewhere.
Taking consumer attention away from their smartphones and towards the simpler interface of a smartwatch comes at an interesting time. Both Apple and Google will introduce 'wellness' features in their next smartphone operating systems, iOS 12 and Android P, respectively. These each encourage smartphone users to be more aware of how much time they spend staring at the screens in their pockets, and this month tools arrived for Facebook and Instagram giving users ways to limit their usage time and curb their social media addiction.
Leaving our smartphones at home because our smartwatches can keep us connected could, in this sense, be a good move. When setup right, a smartwatch can serve up a handful of carefully curated notifications when our attention is actually needed, rather than act as a social crutch for when we feel like drifting away for a few minutes of mindless scrolling. The fact these devices also serve as accomplished fitness trackers and digital exercise coaches could further entice consumers looking for a cure for their smartphone addiction.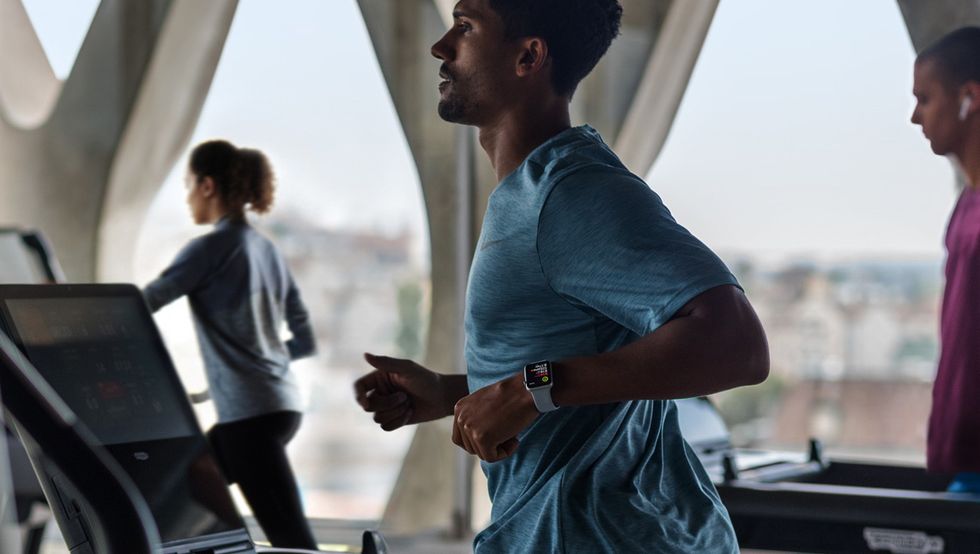 Apple's GymKit software syncs exercise data between the Apple Watch and gym equipmentApple
Ramon T. Llamas, research director of IDC's wearables team, said in June: "The smartwatches of 2022, even 2020, will make today's smartwatches seem quaint. Health and fitness is a strong start, but when you include cellular connectivity, integration with other Internet of Things (IoT) devices and systems, and how smartwatches can enable greater efficiencies, the smartwatch market is heading for steady growth in the years to come."
Apple, Google and Samsung are all looking at evermore advanced health features for wearables, and patents filed by Apple reveal plans to embed a medical-grade heart monitor into a future wrist-worn device.
Away from health, and the smartwatch can also prove its worth in the smart home sector, acting as a wearable controller for our lights, heating, music and more - again, helpfully severing us from our smartphones.
It is unlikely that any of 2018's new smartwatches will be genuine game changers - we'll see improved batteries here, larger screens there — but with all three tech giants arriving on the scene within weeks of each other, the battle for your wrist is going to be more fiercely fought than ever.
Like GearBrain on Facebook