Samsung is working on a smart shirt which uses microphones and other sensors to detect respiratory problems and potential signs of lung disease.
This news comes just a month after Samsung was granted a patent for smart shoes which use embedded sensors to track steps while walking, jogging and running.
Read More:
The shirt is the subject of a patent which was filed with the World Intellectual Property Office in January 2017, and was approved on January 24, 2019. The patent filing is for a device described as: "Electronic apparatus and method of controlling the same".

This may sound rather vague, but descriptions and drawings filed alongside the patent shed light on what Samsung is working on. Spotted by Dutch website LetsGoDigital, the patent explains how the smart shirt could be used to spot signs of chronic obstructive lung disease, pneumonia, respiratory obstruction, pulmonary emphysema, asthma, and bronchitis.
As well as potential warning signs, the sensor-laden shirt can also be used, Samsung says, to measure the frequency and strength of the wearer's breathing, which could help explain their general fitness level. Naturally, the shirt can be connected to a smartphone, where an app displays data collected by the sensors.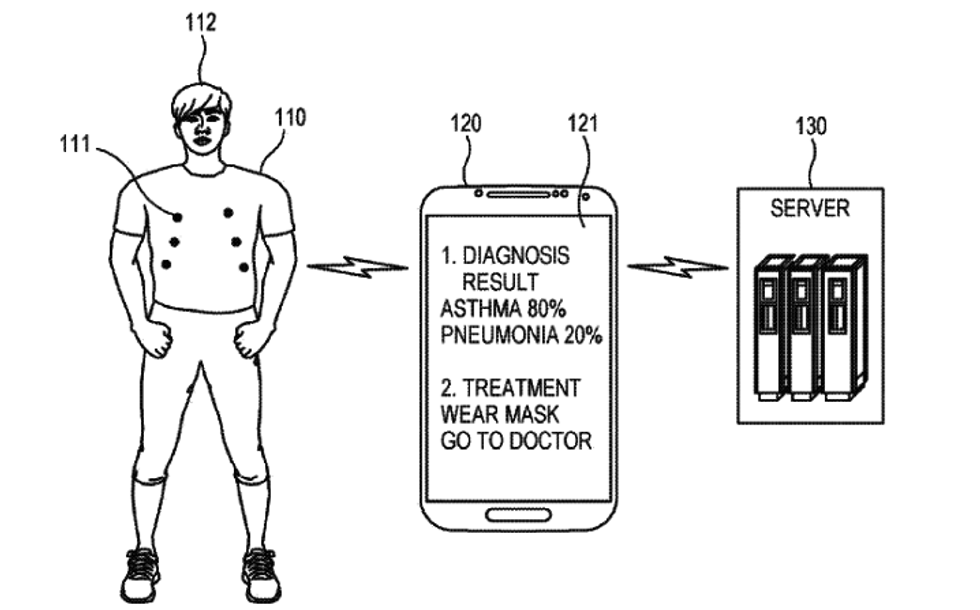 Patent shows how sensors alert the wearer about respiratory issuesSamsung
Drawings included with the patent filing show the kind of information the shirt could deliver to its wearer, via a smartphone application. This includes alerts about abnormal breathing, such as when a wheezing sound is detected by the shirt's sensors, and information on potential issues with the airway.

Another drawing shows how the app could tell the wearer to go to a doctor, suggesting Samsung wants this technology to be medically certified, which would require approval by the Food and Drug Administration to be sold in the US.
As for how the shirt would be powered, the patent mentions a battery pack, but also suggests it could be powered by the wearer themselves, "since it may be rechargeable in accordance with a user's motion or body temperature."

As well as showing the shirt being worn by an adult, the patent also suggests how the technology could be used on children as young as three years old, to monitor their breathing and sleep. One drawing, below, shows how the shirt could alert a parent when it detects their child is showing symptoms of a cold.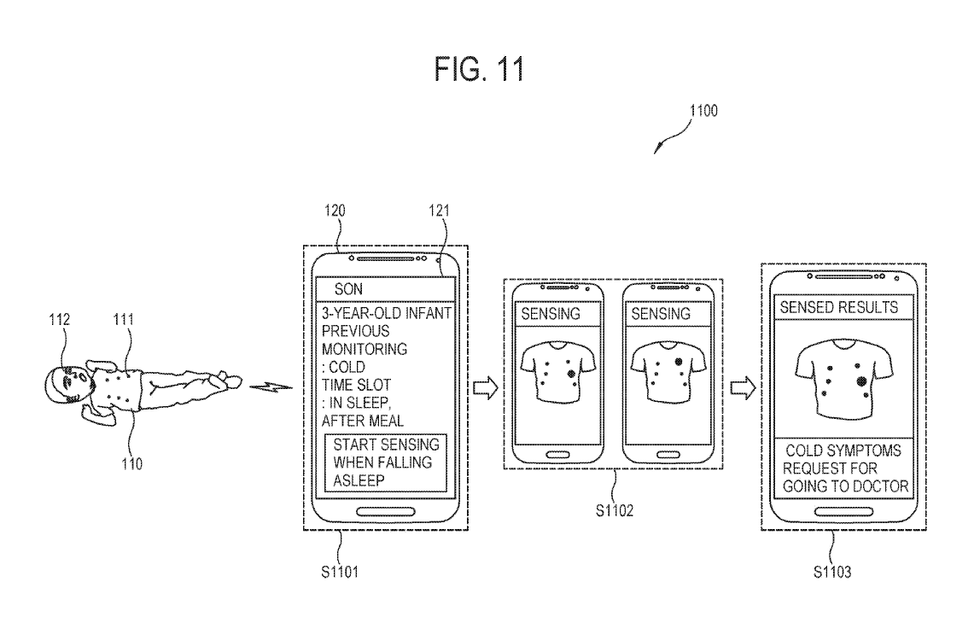 The shirt could also be used to monitor a child's healthSamsung
The sketches show how the shirt could include six or more sensors, arranged in pairs to provide a detailed insight into the wearer's breathing.

As ever, we must stress that companies file patents on a regular basis, often for products and services which never go on sale, and sometimes never even see the light of day. While it seems perfectly logical that Samsung would be developing smart clothing like this to complement its smartwatches and fitness trackers, the patent is not proof that a smart shirt like this will be launched by Samsung any time soon.