Like GearBrain on Facebook
Amazon this week launched a new tier to its music streaming service, called Music HD, in a bid to compete against Tidal.
Costing $12.99 a month for Prime users ($5 more than regular Amazon Music), the new HD service offers tens of millions of tracks in HD, and a smaller number in Ultra HD; there is currently a 90-day free trial.
What this means is, the tracks are of higher quality than those available from Spotify, Google Play Music and Apple Music. Amazon says its new HD catalogue includes over 50 million HD tracks at launch, with "millions" branded as Ultra HD.
Read More:
But what does this actually mean, and can you tell the difference?

There is no hard and fast answer to the latter, because it depends entirely on what device you are using to stream the music, and how you are listening to it. So let's start with the former — what does HD and Ultra HD music actually mean?
Similar to TV shows and movies with the same branding, HD and Ultra HD tracks contain more data than the standard definition (SD) songs offered by Apple, Google and Spotify. Where those services play music which is compressed to take up less space and be easy to stream over a slow internet connection, Amazon Music HD delivers uncompressed music — like watching a movie in 4K Ultra HD instead of compressed down to HD or worse.
Often referred to as 'CD quality' or 'lossless audio,' HD music tracks stream at a bitrate of up to 850kbps (kilobits per second), which is far higher than the up-to 320kbps rate of standard definition music streams. Most streaming services tend to offer music at 126bps, while on the desktop Spotify gets closer to the 320kbps maximum.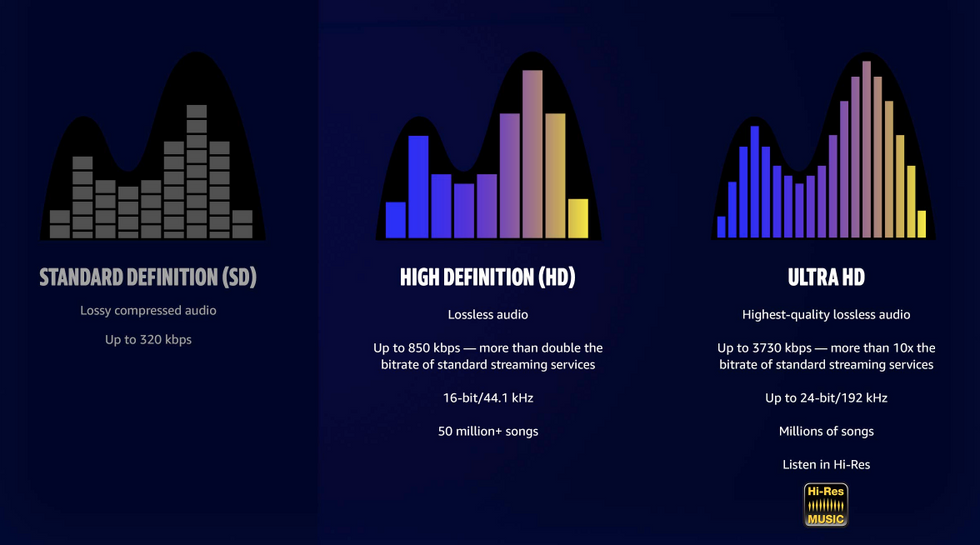 HD and Ultra HD music compared to SD streaming tracksAmazon
Amazon's Ultra HD tracks take this much further, cranking the bitrate up to 3,730kbps, which is more than 10 times the bitrate of streaming services like Apple Music.

All of Amazon's HD tracks are 16-bit, and with a sample rate of 44.1kHz — the same as a CD. The Ultra HD content also takes this a step further, with up to 24-bit and 192kHz on offer.
HD and Ultra HD tracks are clearly labeled as such in the Amazon Music apps, and the company has created entire playlists to show off the higher-quality content. Tapping on the HD or Ultra HD identifier while a track is playing reveals the maximum quality of that track, what your device is capable of, and what quality the music is currently playing at.
This is where things start to get complicated.
I've been listening to Amazon Music HD content using an iPhone X and a couple of different headphones, the Bose QC35 and Bowers & Wilkins P5. Both models were high-end when new, but are a few years old now. For most tracks, I am limited to listening at 16-bit (not 24-bit) and at no higher than 44.1kHz (well short of the 192kHz maximum).
That said, I was able to listen to some Ultra HD tracks at 24-bit, but the sample rate wouldn't go beyond 44.1kHz, as that's all the hardware I'm using is capable of. Sometimes the app told me I was listening at merely 'standard', without displaying a bitrate at all.
Amazon states: "Audio properties are based on the sound recording, operating system-reported device capabilities, and network conditions. Choice of speakers, headphones, and listening conditions will impact overall sound quality."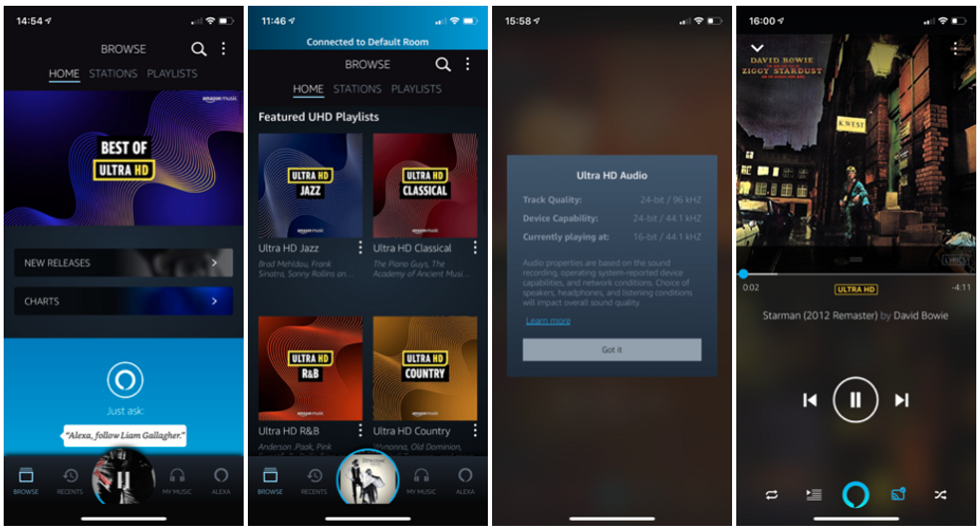 Ultra HD tracks and playlists are clearly signed across the appGearBrain
Does it sound better?

In short, yes it does. I'm aware that there may be a degree of placebo effect going on here, with the service being new and more expensive, therefore carrying a degree of perceived value before the first bar is even played. But listening to exactly the same track on Spotify then on Amazon Music HD, with the same phone and headphones, showed up clear differences.
Individual instruments sound clearer and more precise, like the noise was made by real, physical percussion, rather than a computer impersonating an instrument. Drums and vocals carry a little more resonance, bass feels more powerful, and the overall feeling is one of a greater sense of depth and complexity to the sound.
I listened to a wide range of tracks, from David Bowie and The Beatles, to Daft Punk and Mozart. I switched repeatedly back and forth between Spotify and Amazon Music HD, and the differences were usually easy to spot, albeit less so in some cases.

For anyone who is even half interested in quality music — by which I mean, anyone who has upgraded from the earbuds that came with their smartphone — the extra $5 a month is money well spent if you're already a regular Amazon Music subscriber.
Switching from Spotify or Apple Music to Amazon for the extra quality (and paying a couple extra dollars a month) is a more difficult sell, depending on how heavily invested you are in one of the other services. If you have years' worth of carefully curated Spotify playlists, you might not want to jump ship just yet, but for those seeking the best quality to compliment their expensive headphones, it's likely still a move worth making.

Audio companies compatible with Amazon Music HDAmazon
Internet speed requirements

Naturally, higher quality music requires faster internet. Amazon recommends a connection of 1.5-2Mbps for CD-quality HD streaming, and 5-10Mbps for Ultra HD music.
Storage requirements
You can download HD and Ultra HD tracks to listen offline, but be warned: they are huge compared to regular music files. Amazon states that normal SD tracks are around 9MB in size, whereas HD tracks at 44.1kHz are about 51MB, and Ultra HD songs at the maximum 192kHz sample rate weigh in at around 153MB — that's 17 times the size of a track from Apple or Google.
Listening to Ultra HD music
This is tricky, because wireless streaming protocols like Apple AirPlay 2 don't support 24-bit/192kHz music, so even if you are listening with the world's best headphones or stereo speakers, you won't be hearing the music at full resolution.
Sonos speakers have a similar issue, as even though the company is listed on Amazon's Music HD page as being compatible, the Sonos system as a whole doesn't support Ultra HD audio yet, so is limited to 44.1kHz HD.
You'll also need to look out for speakers and headphones with the Hi-Res Audio logo, meaning they can produce frequencies higher than 40kHz.
To get the full 24-bit, 192kHz experience on an iPhone, you'll need to connect it to an external DAC (digital-to-analogue converter) capable of the higher bitrate, then plug your headphones or speakers into that.

Even high-end streaming speakers from the likes of Naim can't produce Amazon music at Ultra HD, even though they do actually support high-resolution audio from other sources. Hopefully software updates will fix this in due course.
In all honesty, this is a complex topic and one which doesn't offer a one-size-fits-all solution. Amazon has a produced a detailed FAQ document, which you can view here to better understand if you can achieve Ultra HD music with your current hardware.
For now, I hope this is the start of a shift in how music is listened to through digital services. For too long, consumers have obliviously made do with sub-par quality because the abilities of free, bundled earphones are all they know. Hopefully, once those with the right hardware have tried out Amazon Music HD, then told all of their AirPods-owning friends that better quality headphones really are worth it, we might see a shift — and perhaps then Apple, Google, Spotify and others will offer HD tracks of their own.
Until then, Amazon gets to offer something most of its rivals can't match.
Like GearBrain on Facebook