When testing security cameras, unique features as well as qualities normally found in a camera, are important details to weigh. These include video resolution, field of view, zoom capabilities and motion detection — all features we considered when reviewing Swann's new indoor security camera, the Swann Alert Indoor Security Camera. Trying this in a real home, we took a look at its features and its new app, and here's what we found.
What is it?

The Swann Alert Indoor Security Camera is an HD 1080p indoor smart security camera with two-way communication, a 110-degree viewing angle or field of view (FOV), sound sensors and seven days of free cloud storage. The camera includes Swann's True Detect technology which provides heat motion and people sensing, helping the camera determine if it's seeing a person or an object, and one of the unique features Swann can offer buyers.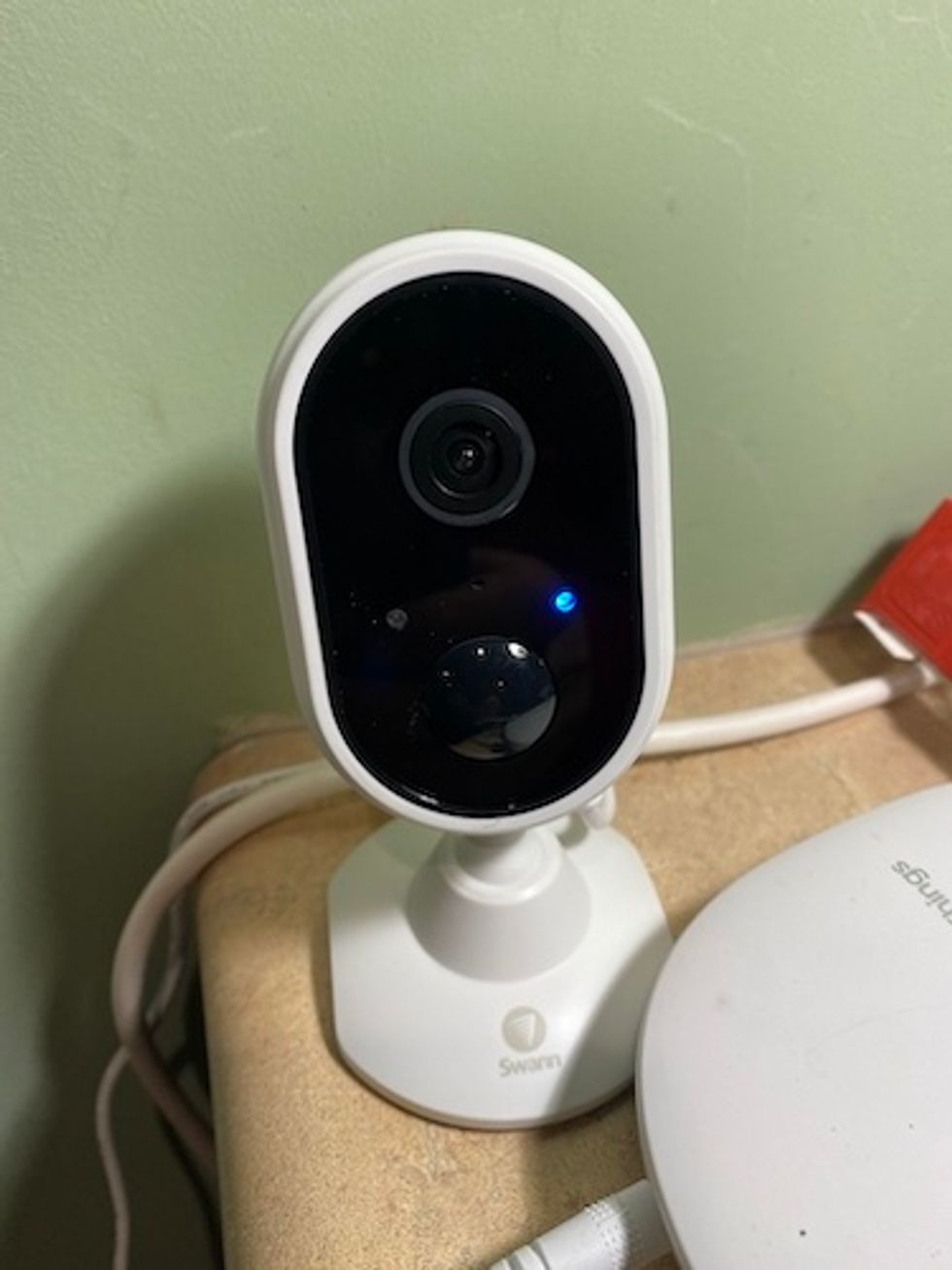 Swann Alert Indoor CameraGearBrain
The Swann Alert camera sends smart sound alerts and notifications to people, which you setup in the free mobile app, called Swann Security. This a new app, which works on both Android devices, 8.0 and up, and iOS devices using 11.0 and up, where people can build their own security ecosystem for their space, tying their smart cameras, doorbells, sirens, alarms, lighting and any other compatible devices together.

Other features included in the Swann Alert camera include infrared night vision, automatically generating a black and white image in low light and at night, plus a 10x digital zoom that can be viewed in Swann Security app. The night vision and motion sensors both have a range of up to 32 feet (10 meters), although these ranges do depend on the room's conditions. Keep in mind, because the camera has True Detect technology, the camera's sensors are very sensitive, able to see if the motion detected is from a person walking by, or something else in the room.
How do you install?

Setting up your Swann Indoor Security Camera is rather easy. After unboxing the camera, download the Swann Security app and then plug in your Swann camera. Next, follow the installation instructions in the app — it will take a few minutes to pair the camera with your home Wi-Fi network. Note that the camera only works on a 2.4GHz wireless connection, not 5GHz. If you have a dual band router, make sure your settings are on 2.4GHz and not 5GHz.
As you pair your Swann Indoor Camera, you'll see color LED lights blinking, which can clue you in to the state of your camera. A solid red light means you are live streaming or recording motion. A slow, blue, blinking light means you are in Wi-Fi pairing mode, while a fast, blue, blinking light means your camera is pairing to your home Wi-Fi network.
Once your camera is paired to your home's Wi-Fi, it's time to mount or position your Swann Indoor Camera, and the mounting bracket is included with the camera. Depending on the size of your home, make sure you position the camera where you have a good Wi-Fi signal. If you don't, you will have performance issues.

Video streaming cameras can take a long time to connect to a home's Wi-Fi network, the way videos are sent to your app. According to Swann, "a delay of 5-10 seconds or so is not uncommon for security apps and/or video streaming. In fact, Swann's benchmarking shows that some apps in the security market take 12 seconds to begin streaming. The lag is due to the time required for messages to travel from your phone to Swann's servers to your camera and back again. The speed is also dependent on the type of internet router you are using and the upload speed of your internet connection."
While we agree with Swann, that typically there is a delay in connecting to security camera apps, we think anything more than three seconds is a bad experience.
We also recommend you have, at home, a high-speed internet connection when using a smart Wi-Fi security cameras, with a minimum upload speed of at least 512kbps, although a faster connection of 1Mbps+ is preferable. Also, keep in mind the speed to connect to the app for a security camera is also impacted by the number of security cameras you have in your home as well as each camera's video resolutions and whether they are linking through a wired or a wireless connections.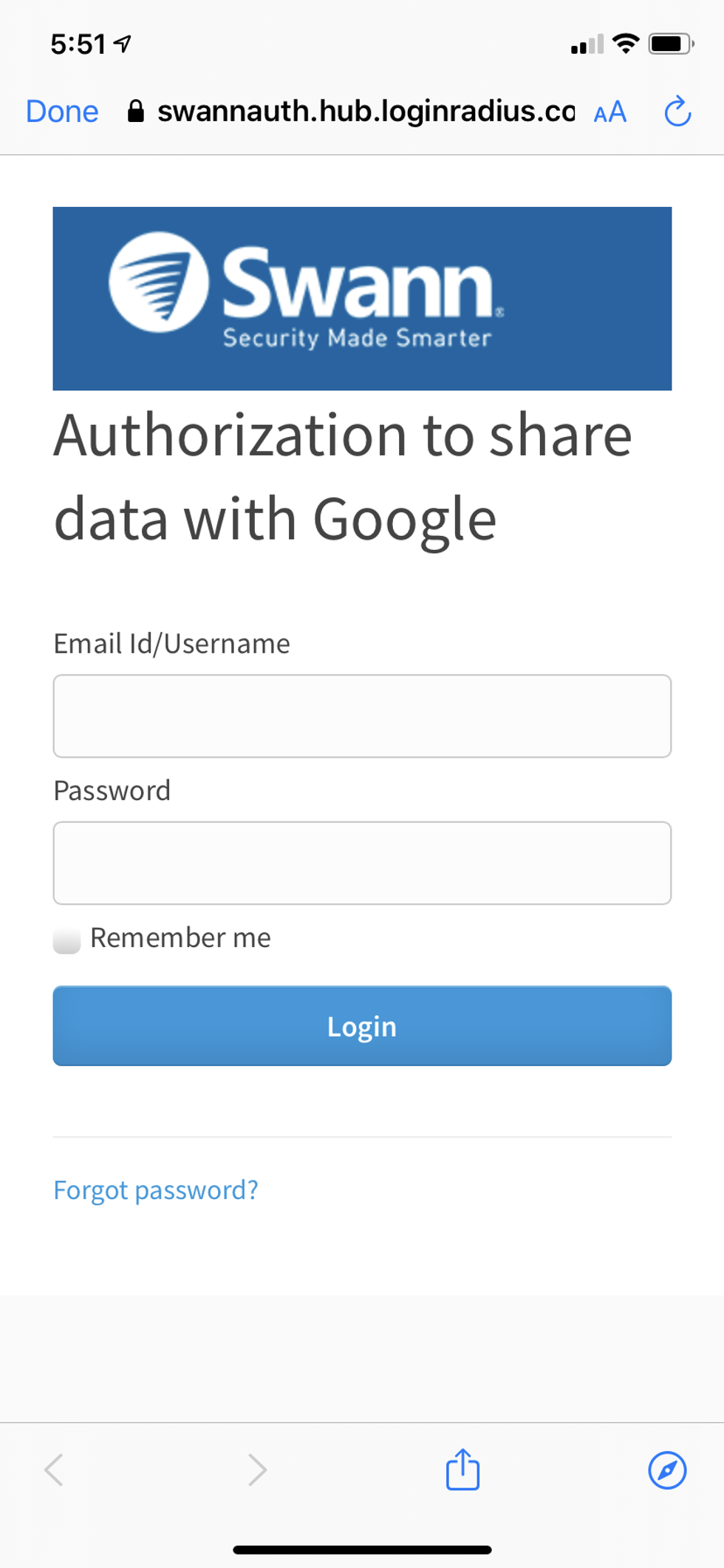 Swann Alert Indoor Camera connects with Google Assistant smart displaysGearBrain
Smart Home Integrations
You'll be able to use the Swann Indoor Security Camera is compatible with Google Assistant- and Amazon Alexa-enabled devices. That includes smart display that work with either voice assistants, which can connect to the camera with voice commands, letting you view video on these displays. To add this feature, you need to enable either Swann's Alexa Skill for the Amazon Echo Show, or go to 'add devices' in your Google Home app and add Swann Security. Just make sure, with either option, that you give your Swann Indoor Camera an easy name to use with voice commands. We used a 10-inch Lenovo Smart Display with Google Assistant to test the video feed from the camera, and we could easily connect and view videos.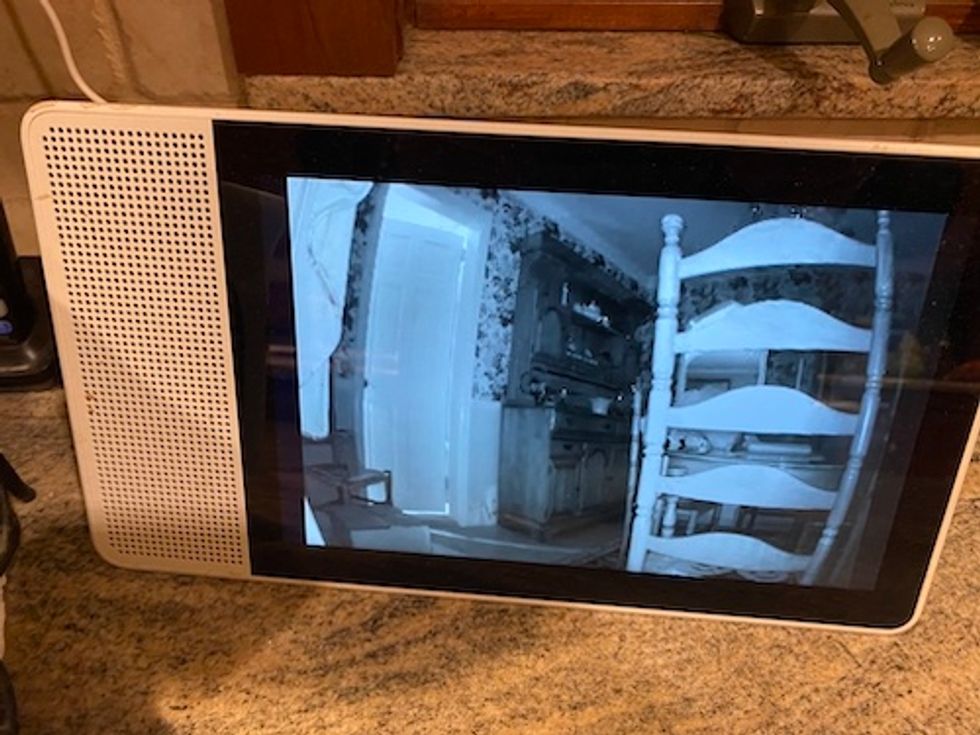 Stream video from Swann Alert Indoor Camera on Google Smart Displays like this one by Lenovo.GearBrain
Performance

As we testes the Swann Alert Indoor Security Camera, we found the camera worked as advertised, positioning it in a several areas of the home to see how it would perform. We found that video quality was ok, and when compared to other HD 1080p security cameras we've tested, the camera's daylight video was a little grainy and not as clear. Also, while the 10x zoom capability is good, the grainy video made it harder to see things visibly the more we zoomed. However, the camera's night vision was better than others.
We also found delays in the app as we moved the Swann camera further from the home's Wi-Fi router. Often, we would lose the signal and the app would try to reconnect with the camera. This, however, is common with IP security cameras and we would recommend a Wi-Fi extender if you plan to place the security camera in a location far from your Wi-Fi router. If you have a Wi-Fi Mesh Network, like Nest Wi-Fi or eero, that would work well too.
In the new Swann app, we did like the live view screen option. Two-way communication was also clear, and we also liked how you can take a picture or start recording video right in the app. Swann also does a nice job of organizing your videos for playback. However, we experienced several delays in pulling up our videos through the Swann app, and once we did connect to our videos, we would suddenly lose our connection.
Examples of Video Quality for Swann Alert Indoor Security Camera
In this slideshow, we will compare the video quality of Swann Alert Indoor Security camera with Vivint's 1080p indoor security camera. We will show pictures of video taken on both cameras during the day and nighttimes.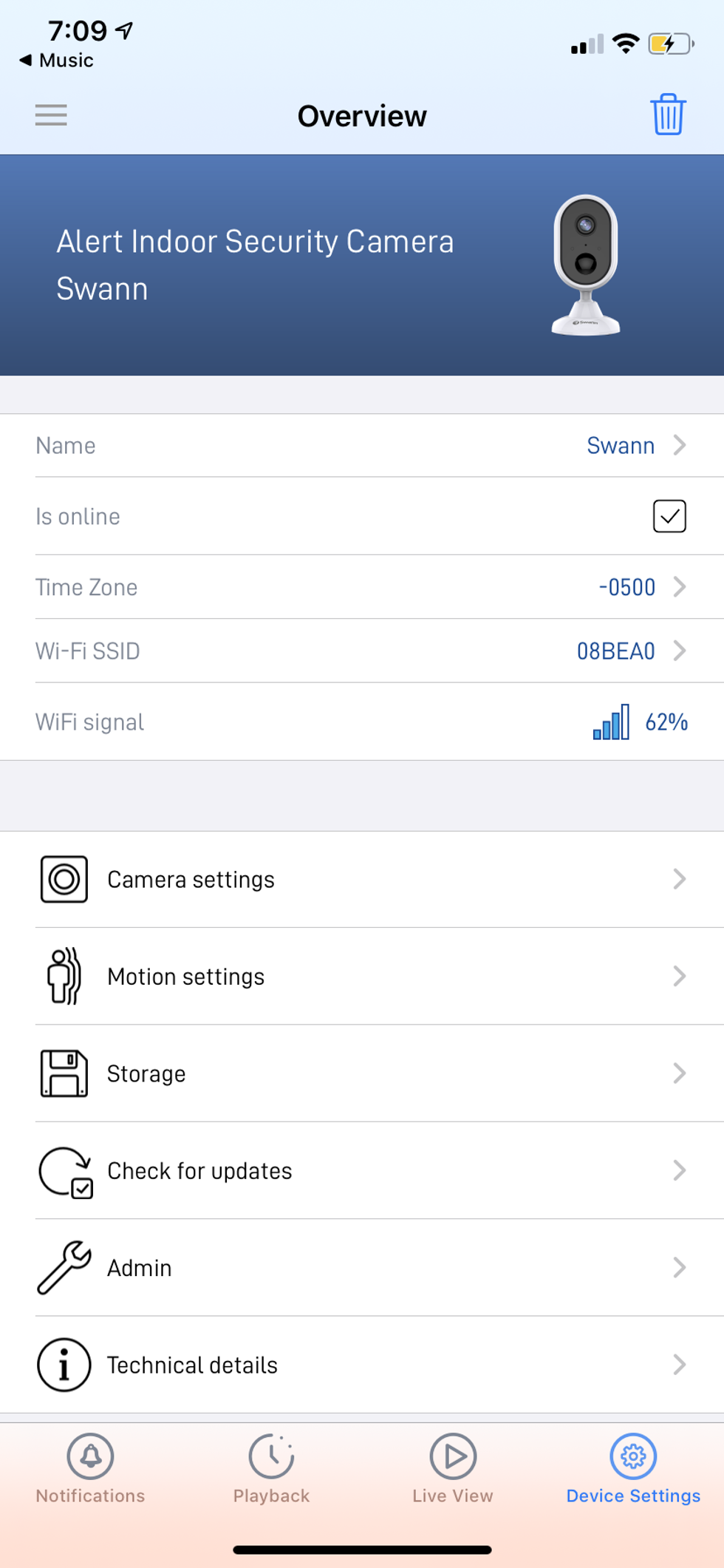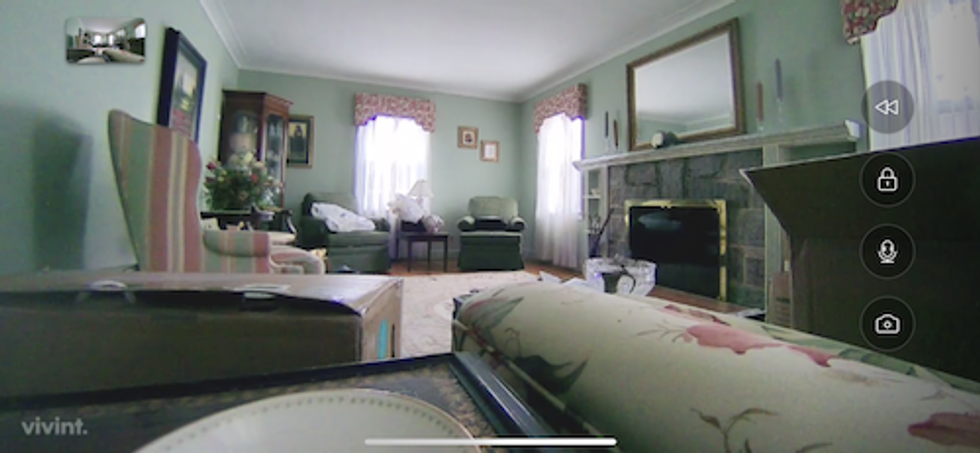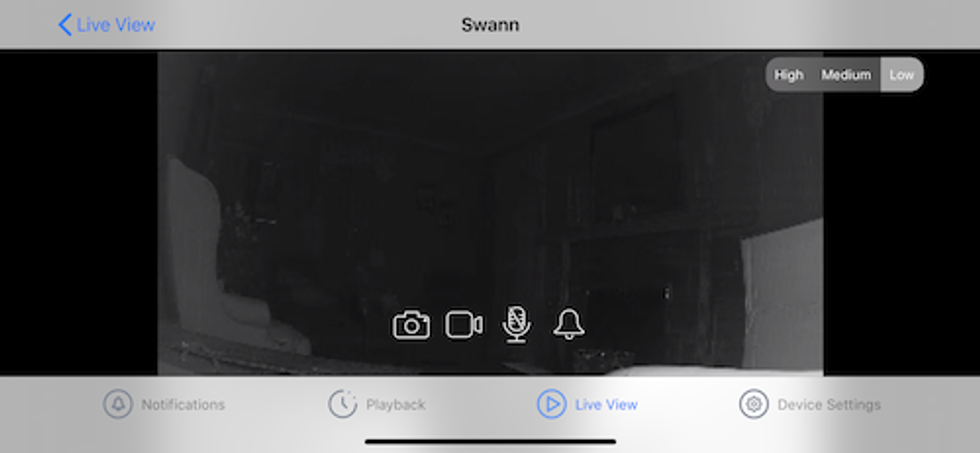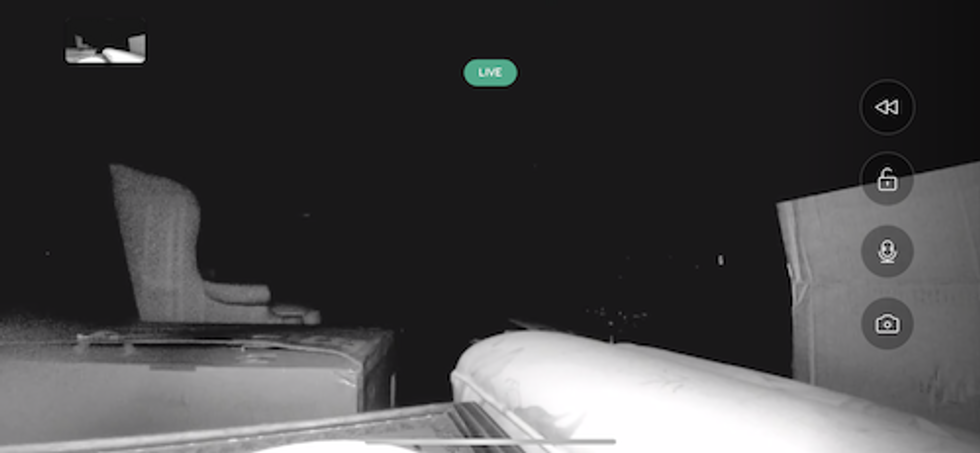 Cost
The Swann Alert Indoor Security Camera costs $89.99, and it's available on the company's website, as well as Amazon. The camera includes not just the device, but a power adapter and cable, mounting screw and plugs, the operating manual and also theft Swann Security deterrent stickers.
Summary

After testing the Swann Alert Indoor Security Camera, we believe this is respectable indoor security camera that provides a loud siren, clear two-way communication and compatibility with smart speaker displays that integrate with Google Assistant and Amazon Alexa.We like Swann's True Detect technology, which uses heat sensing to set off alerts or initiate recordings, as well as the seven days of free cloud storage for your videos. Many companies offer just one to three days for free storage before you have to pay a monthly plan to store your videos — a full week is a good timeframe for you to have before deciding whether you want to download the videos or pictures taken from your camera.
If you are looking for a security camera to connect with a DVR or NVR, do note that Swann cameras can't be connected to these type of surveillance systems. But you can download videos from your Swann camera, and then add them to your DVR or NVR system. Many new model DVRs and NVR use 'XVR' technology, and include a USB port, which means you can download your Swann videos to a thumb drive, and then add them to your DVR or NVR.
Who should buy this indoor security camera? If you are looking for a good, inexpensive, indoor Wi-Fi security camera with night vision, two-way communication, heat sensing detection, 1080p video resolution and 10X zoom, this is certainly a camera for you to consider. Swann's new app also helps people build a nice do-it-yourself (DIY) home security system too. The camera has a siren to scare unwanted visitors away, you get ample amount of time to download videos and pictures, and setup is very easy. Our only recommendation? Make sure you have a good strong Wi-Fi connection. If not, just be prepared for delays in both viewing videos and picking up live feeds from your camera.
Pros
Easy setup, loud siren
Heat sensing technology and clear two-way communication
7 days of free video cloud storage and works with smart speaker displays
Cons
Connectivity issues between app and camera
Low FOV and grainy video resolution
Extended delays with uploading videos