As people get older, moving out of a home becomes less palatable. People are creature of habits, and we're used to our routines, our hallways — our own bed. However, aging at home is not a simple affair, particularly for those who live alone, which is about 28 percent of all Americans as of 2018. Smart technology though is changing this scenario, putting a virtual window into a loved ones home, extending the time they live in their own space.
The number of people over the age of 65 is expected to double from 46 million in 2016, to more than 98 million by 2060, according to Population Reference Bureau. That a huge chunk of the population. Not all will be able to move into retirement communities, or in with a child, or pay for home caregivers — and family caregivers spent an average of $6,954 on expenses in 2016.
Perhaps, though, a great aunt or grandfather does not need 24-hour care. Keeping an eye on their movements, however, can be a helpful step for children and family just to make sure they're doing well daily — and may live thousands of miles away.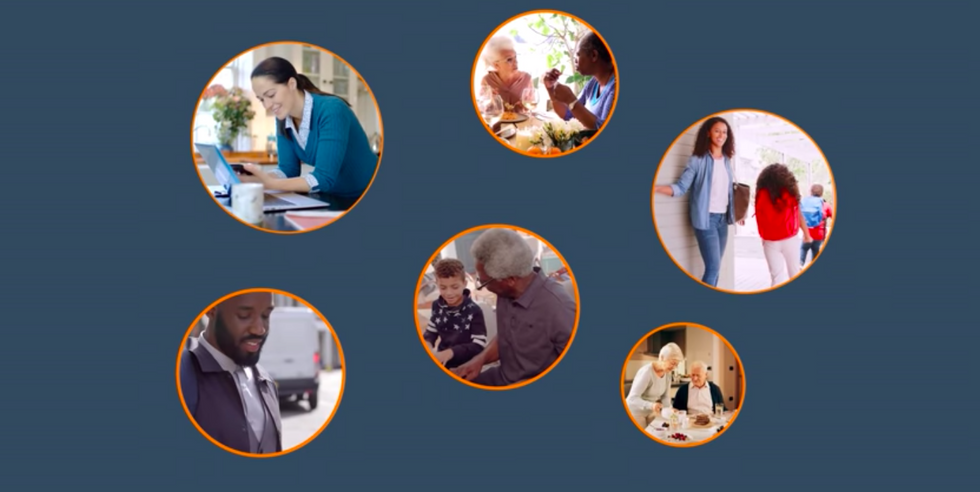 Hive Link can alert family if a medicine cabinet was not opened, or the refrigerator was so you know a loved one is eating.Hive
Is the refrigerator open?
Technology is already in play helping people keep an eye on aging loved ones. Think security cameras and video doorbells that people usually tap to make sure unwanted visitors aren't walking through their door. In the house with an older relative, these same devices can now tell you if the refrigerator was open, or the medicine cabinet not opened, and if a loud crash was detected in the bathroom.
At Alarm.com, the company just added a new feature to its Wellness program, designed for older people to read their movements at home through sensors for the door and even the bed. Now, these devices tap into artificial intelligence giving the sensors and panel more insight into someone's movement.
Launching at CES 2019, the ability, called Wellness Insight, takes about three to five days to learn the regular routines in a home. After learning how someone acts in their home, it send a notification to a caregiver or family member when something is not right.

"Maybe there was a wandering situation and the door was opened at 4 am," said Steve Chazin, vice president of products at Alarm.com.
Adding to the company suite of solutions for aging is a new camera called the Wellcam. The device, which has two-way audio, can be added to someone else's home, and not the subscriber.
For example, a daughter who is an Alarm.com subscriber can buy one for her mother and place it in that second home. The device — although in a second location — is still part of the subscriber's package. Siblings can be invited to the app as well, allowing everyone to crowdsource a parent's health without having to buy an Alarm.com subscription.
"We want to make it really easy to take care of people who aren't living with you," said Chazin.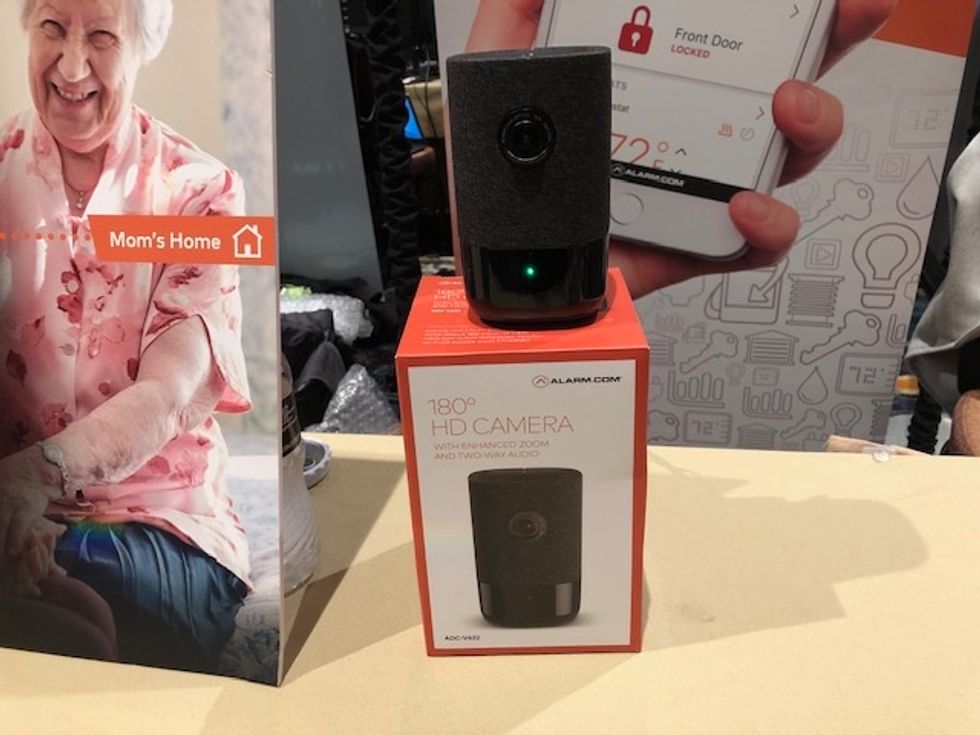 Alarm.com's new Wellcam keeps watch over a parent's movements, and lets you talk to them through the device.GearBrain
Privacy addressed

At Hive, a similar service is in play called Hive Link, one where you set up sensors in someone else's home — but monitor yourself. Live now in the U.K., the service costs £149 ($190) to start, and £14.99 ($19) a month for monitoring, with plans to eventually bring the service to the U.S.
The professionally-installed service includes two motion sensors and two door sensors with one, Hive suggests, placed on the refrigerator to make sure someone is eating. Smart plugs are included in the service, with a kettle or even a TV plugged in, to see if mom has been up all night.
Here though, notes the company, there isn't a camera, so privacy concerns are skirted a bit. There's a bit of a babysitter aspect certainly with watching our parents or grandparents — but not having a camera around can help loved ones feel their space and home is still under their control.

Leeo Ping is another recent product launch for the aging family member — and live now in the U.S. The service creates a trusted circle who can make sure older loved ones are safe and doing well. At CES 2019, Lee showed the Ping service at work with its existing Smart Alert nightlight, which launched in 2014, and has a motion sensor built in that also listens for loud noises such as a door slamming or a dog barking. Conversations and talking, however, are not heard.
Leeo refers to its service as a "mutual aid network," said Leeo. While the service is designed for people who are living at home, and older, can really support and link all generations together whether that's aging parents, or grandparents and the next generation.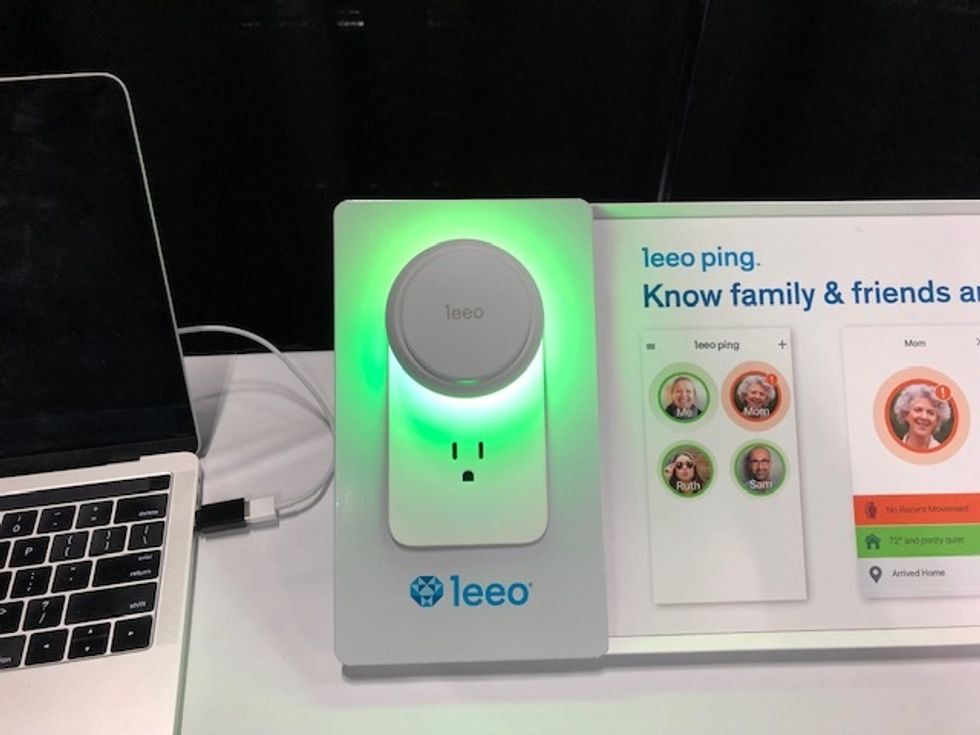 Leeo Ping is a new service which listens for loud noises, like a fall.GearBrain
A comforting presence

Sensors and nightlights bring a sense of comfort to family members worried about their loved ones, but for those living alone these gadgets don't offer a real connection. Enter ElliQ, a robot from the Israel-based Intuition Robotics that feels more like a companion than a connected device.
"Older adults call it an entity in their home," said Dafna Presler, Intuition Robotics' vice president of marketing. "They get emotionally attached to her."
A stationary device, ElliQ comes with a large base that includes the ElliQ robot, a tablet and a camera all attached together. ElliQ itself has three point of movement, allowing the head, neck and base to move so she can turn and talk to someone directly, crane her neck as she makes a point, and even bow her head when she makes a point. These are intentional, said Presler, to give her the presence of a friend.
In addition to responding, like other voice assistants, ElliQ is pro-active. She'll remind you to take your medication, suggest a game of Sudoku and will start talking offering tips and facts over a length of time. She'll also greet you with a 'Good morning,' when you walk through the door — but stop if she senses that you don't like that interaction learning from someone as they spend time together.
GearBrain meets Intuition Robotics' ElliQ youtu.be
Currently in pre-order, ElliQ is priced at $1499 — an upfront cost that includes installation. There's a monthly fee, that's being fine-tuned, but will range between $35 and $0 said Presler. But early adopters will have their first year free. All that's needed at the home front is a power source and Wi-FI.

Content is curated by ElliQ's team provided a select number of music options, images and queries that can be answered on demand. Photos, for example, need to be sent from a family member to the company, and then they are upload to that particular account.
While ElliQ is only listening when someone speaks to it, the cameras are always on — helping the robot know, for example, when someone has walked in the room, or there are guests, or there hasn't been any movement for an extended period of time. But crucial is that ElliQ is controlled by the user — which means you can certainly call and check-in, if your great aunt has given you permission.
"Just like she needs to give you a key to her house, she needs to be given your permission to add things to her schedule," said Presler.
For those with family members who are growing older, but living alone at home, devices like ElliQ and services including the new Wellness Insights, may bring a sense of relief to people who want to watch over loved ones, but still give older people the dignity and autonomy they've earned.
"We want people to buy these solutions not to protect their front door, but the people they care about," said Chazin.