Like GearBrain on Facebook
Tesla boss Elon Musk says his company's charging network is being made available for use by electric cars from other manufacturers.
Musk said back in 2014 that other manufacturers are welcome to integrate with Tesla's Supercharger network, but no company has yet taken him up on the offer.
Read More:
This could well be about to change, however, as Musk tweeted this morning (December 21) about the chargers being made accessible for other cars.
In response to a tweet by Marques Brownlee asking why other electric car makers don't use Tesla's Supercharger network, Musk replied: "They are, although it's kind [sic] low-key. Tesla Superchargers are being made accessible to other electric cars."
Musk is yet to elaborate on this and it isn't clear what he means by it being "low-key". Despite the vagueness, this is potentially a big deal for Tesla and other EV manufacturers, as well as the owners of non-Tesla EVs. The company has long been praised for offering a high-speed charging network that works better than any other, from the location and number of charging stations, to their speed and ease of use.
They are, although it's kind low-key. Tesla Superchargers are being made accessible to other electric cars.
— Elon Musk (@elonmusk) December 21, 2020
The Supercharger network is a compelling reason to buy a Tesla over other electric cars, as no other manufacturer provides a charge network in the way Tesla does. Instead, some manufacturers offer an own-branded charging service that allows cars to fill their batteries at public chargers provided by several different companies.

Allowing other manufacturers to use the Superchargers would be a good PR move for Tesla, but would also give EV owners access to thousands of extra high-speed chargers, which are plentiful and often conveniently located in the parking lots of hotels, officers and shopping malls, and at existing highway service stations.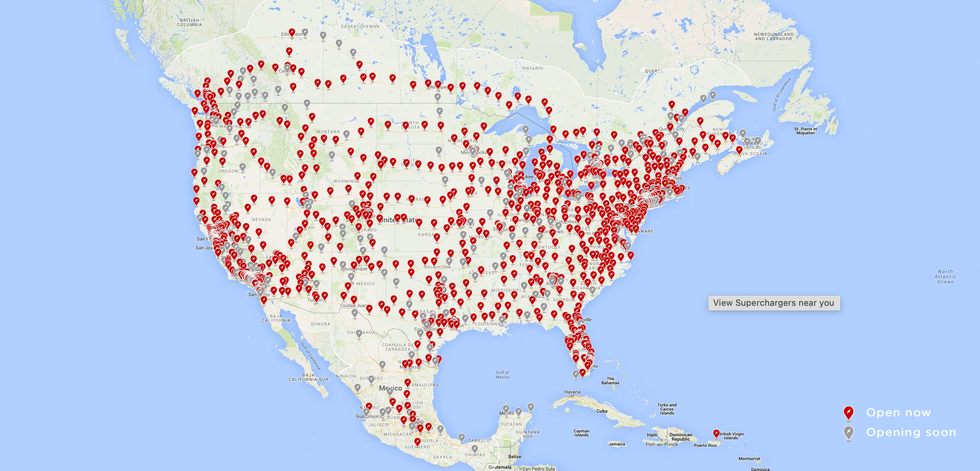 Tesla Superchargers in the United States as of December 2020Tesla
Tesla also operates a broad network of so-called destination chargers, which offer a slower rate but are designed for lengthy stops, such as while staying at a hotel.

In Europe it would be particularly easy for manufacturers to use Tesla's chargers, as the Supercharger network recently adopted the CCS connector standard. As Electrek points out, the compatibility has already been proven; a bug with the Supercharger network in September 2020 allowed EVs from other manufacturers to charge, for free, using Tesla's chargers.
This was later fixed, but goes to show that Tesla's CCS chargers can already be used by EVs from companies like Volkswagen, BMW, Hyundai, Renault and Porsche.
ChargePoint Home Flex Electric Vehicle (EV) Charger upto 50 Amp, 240V, Level 2 WiFi Enabled EVSE, UL Listed, Energy Star, NEMA 6-50 Plug or Hardwired, Indoor/Outdoor, 23-Foot Cable
Like GearBrain on Facebook